February 25, 2015
Mini Baileys Chocolate Cheesecake Trifles
These Mini Baileys Chocolate Cheesecake Trifles are full of chocolate and Baileys flavor! I am totally in love with the fun mix in textures. Between no bake cheesecake, cookie crumbles and whipped cream – these trifles have it all!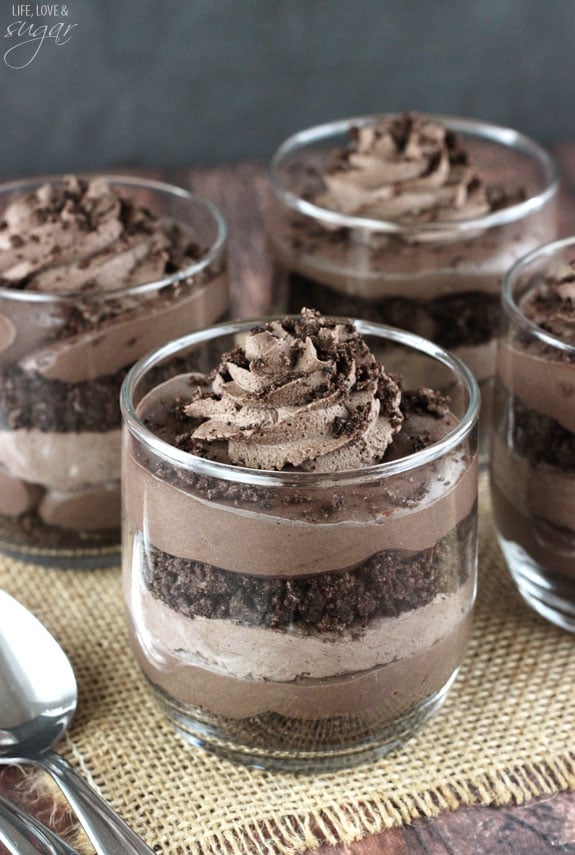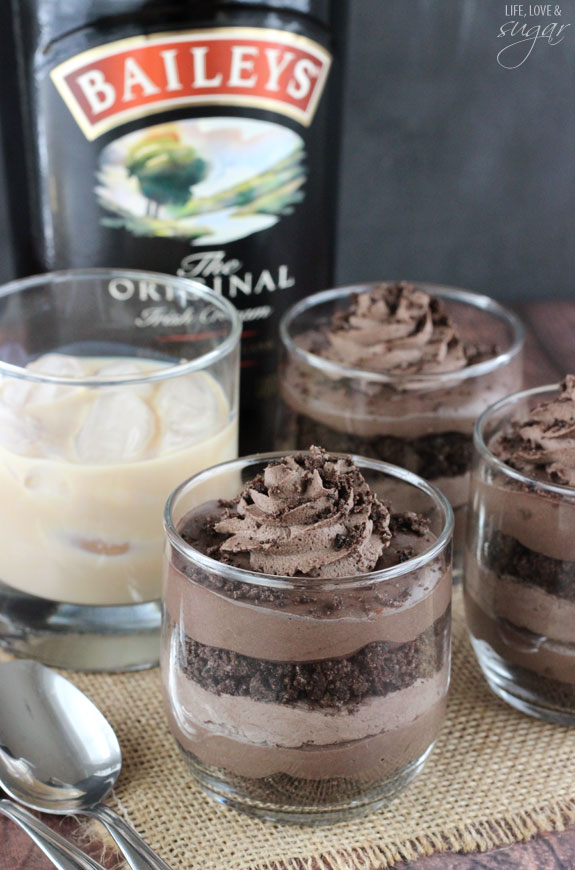 You know those days where you totally think you're killin' it? At least in one aspect. And then…
Well, that happened to me the other day. I bought all the stuff to make dinner in the slow cooker for a night the latter part of last week. I try to have a slow cooker meal at least one night a week – usually Wednesday, since that's the night we go to small group.
Well for some reason I just could not remember to put everything into the slow cooker in the morning. Twice I forgot to do it. Twice.
#fail
So finally Monday morning, I was all ready to go. The meat needed to be used since we'd been out of town for the weekend and I couldn't use it. So I put the stuff I needed right in the middle of the counter Sunday night so that there was no way I'd forget the next day.
And I didn't! I put everything into the pot and felt awesome about it. I couldn't wait to get home to dinner already made, leaving me more time to bake.
Then I walked in the door after work and realized that while I had put everything into the slow cooker, I never turned the thing on. FAIL! For the third time.
It's the story of my life lately. Too many things swirling around in my head at one time. Too many fails.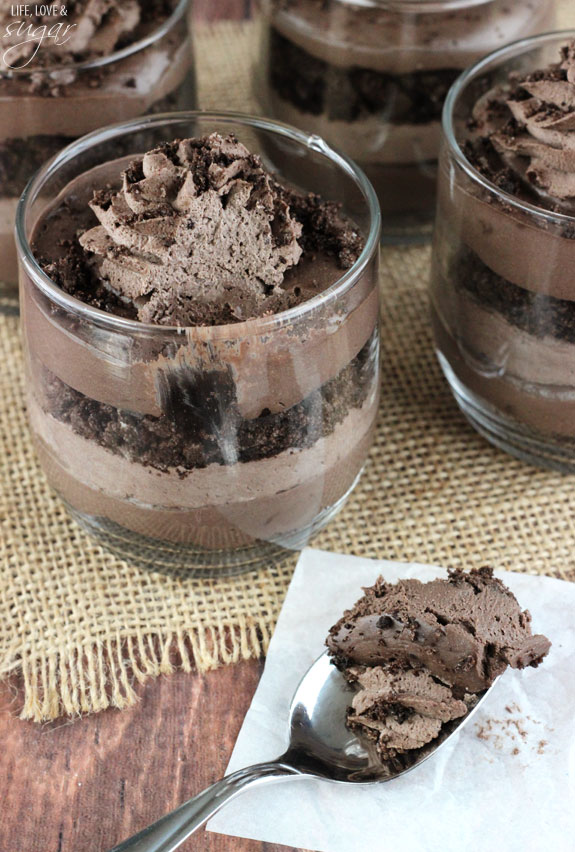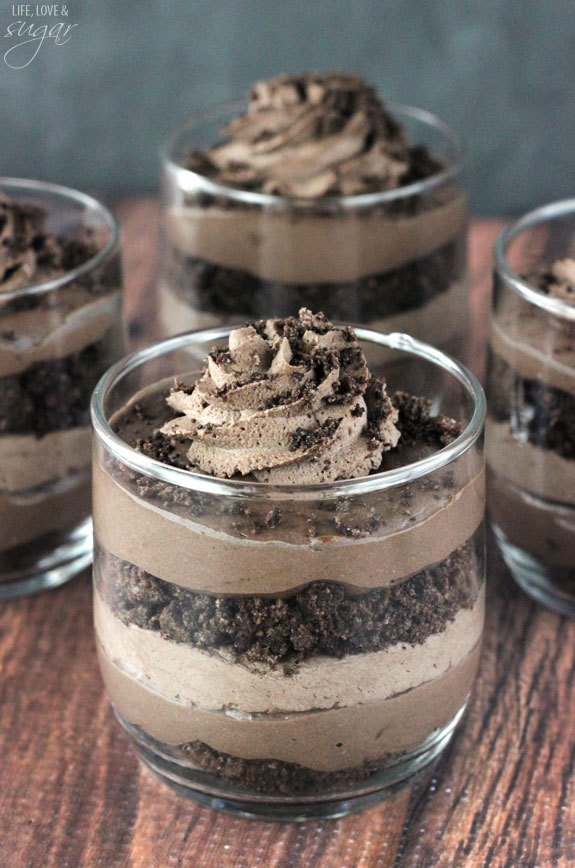 Fortunately it was something I could throw on the stove and cook and it turned out fine. The hubs was happy with it, so that was what mattered.
Clearly I need chocolate to make me feel better though. These Mini Baileys Chocolate Cheesecake Trifles will do just fine. Not only are they chocolate, but the are spiked. 🙂
I sure hope you love Baileys as much as I do. I have used it in so many recipes – Baileys Puppy Chow, Baileys Chocolate Pie, No Bake Baileys Cookie Balls, Baileys Chocolate Cookies dipped in white chocolate.
I decided I wanted to use it in some cheesecake, but keep it kind of simple and layer it in a jar/cup. I love the way textures can be combined when you pile everything into a cup or jar. Here are our layers in this particular dessert:
– Thick, creamy Baileys chocolate cheesecake – no bake, I might add
– Light and lovely Baileys whipped cream
– Crumbly, crushed Oreo cookies
So many things to love with two layers of each. The Baileys, the chocolate – yum! I used dark cocoa, so these have a very deep chocolatey flavor. You could certainly use regular cocoa, if you prefer.
These cheesecake trifles would make an awesome treat for St. Patrick's Day, or for any time you're looking to spice things up with some Baileys action. I mean really, is there ever a bad time for Baileys? Not in my opinion!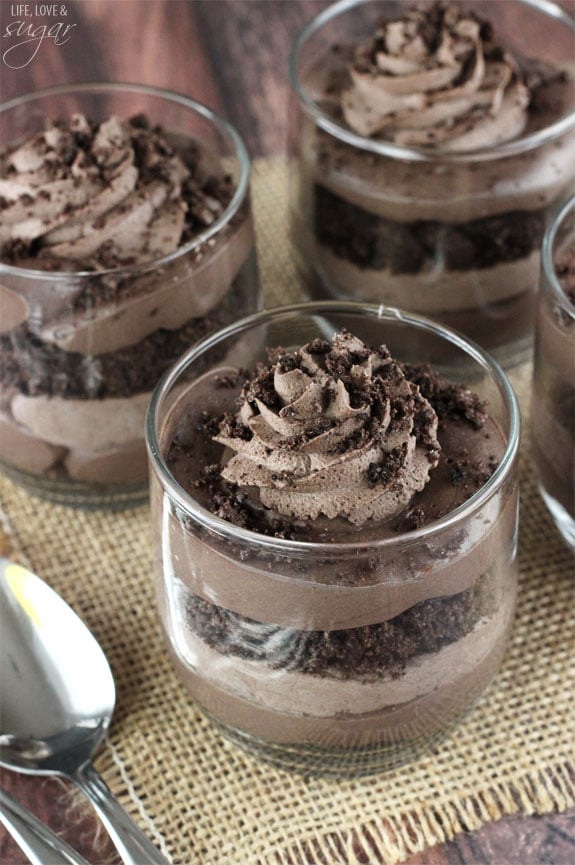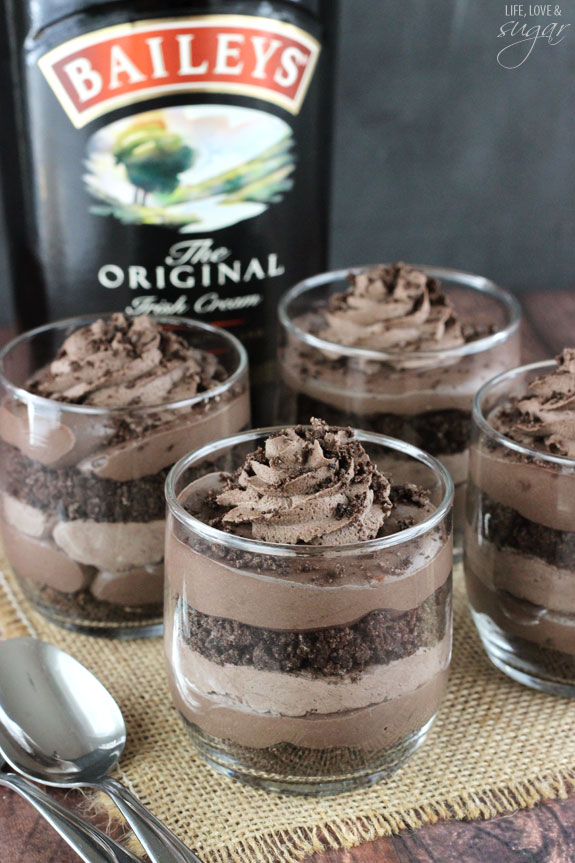 Mini Baileys Chocolate Cheesecake Trifles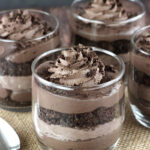 Yield:

4

Trifles

1

x
Category:

Dessert

Method:

No Bake

Cuisine:

American
Ingredients
CHEESECAKE LAYERS
16 oz

cream cheese, room temperature (I use Challenge Cream Cheese)

1/2 cup

sugar

1/4 cup

cocoa (I used Hershey's Special Dark)

4 tbsp

Baileys
WHIPPED CREAM AND COOKIES
1 cup

heavy whipping cream, cold

2 tbsp

Baileys

1 1/2 tbsp

cocoa

3 tbsp

powdered sugar

15

Oreo cookies, crushed
Instructions
1. Beat cream cheese, sugar and cocoa together in a bowl until smooth.
2. Add Baileys and mix until well incorporated. Set aside.
3. In another bowl, whip heavy whipping cream until it starts to thicken.
4. Add Baileys, cocoa and powdered sugar and continue to whip until stiff peaks form.
5. To make the trifles, divide half of the cookie crumbs evenly between the four cups (or jars) and spread into an even layer in the bottom of the cups.
6. Pipe, or spoon, an even layer of cheesecake filling on top of the cookie crumbs in each of the four cups. You should only use about half of the filling.
7. Pipe, or spoon, an even layer of whipped cream on top of the cheesecake filling in each of the four cups.
8. Divide remaining cookie crumbs between the four cups and evenly distribute the second layer of crumbs on top of the whipped cream. You can keep a little bit of crumbs aside, if you want to use them to sprinkle on top of the finished trifles.
9. Pipe, or spoon, remaining cheesecake filling on top of cookie crumbs, distributing evenly between the four cups.
10. Top each trifle with a swirl of whipped cream and a few more cookie crumbs, if you kept some aside in step 8.
11. Refrigerate until ready to serve. I recommend setting them out for about 15 minutes prior to eating, so that they aren't too firm.
Enjoy!

You might also like:
Mini Baileys Chocolate Chesecakes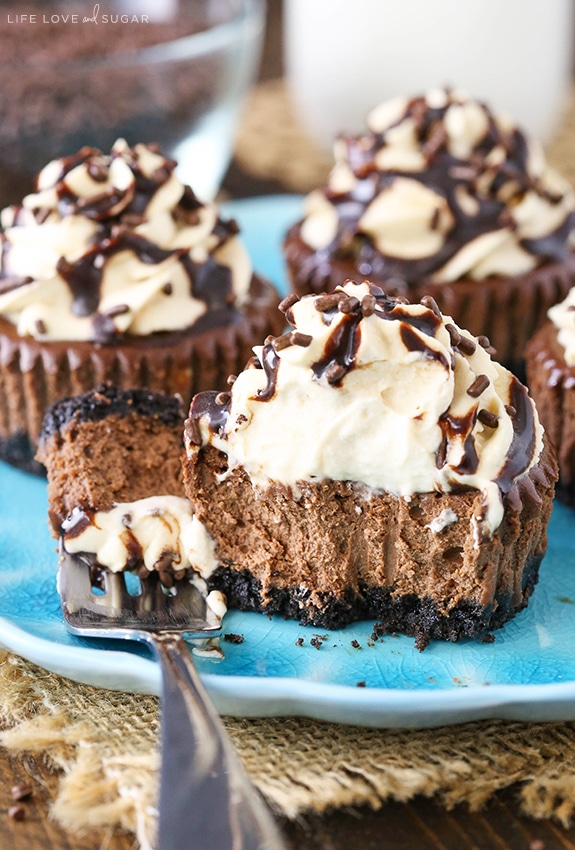 No Bake Bailey Irish Cream Cookie Balls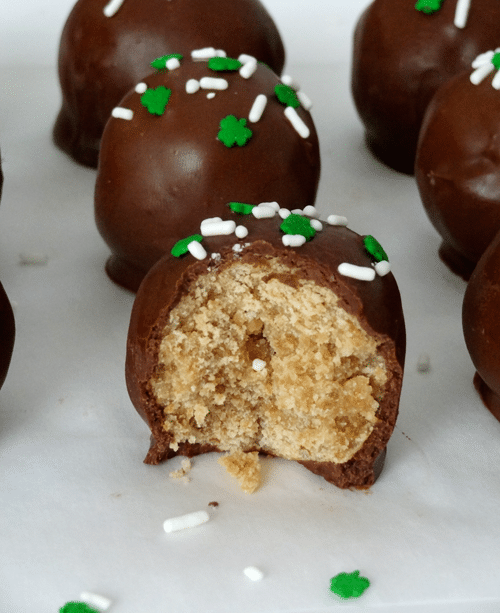 Baileys Irish Cream Puppy Chow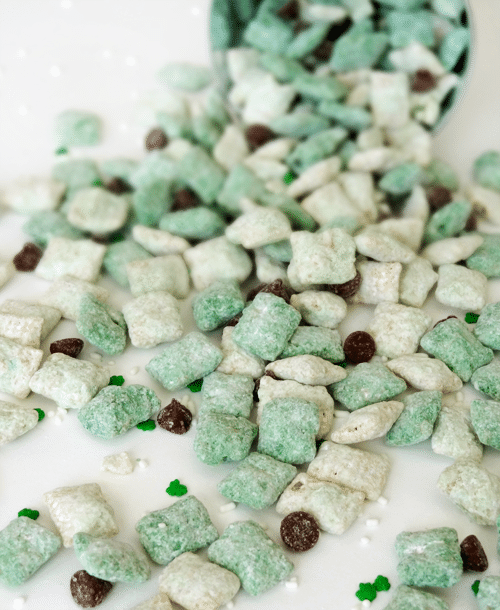 Recipes from friends:
Baileys Spiked Ice Cream Cake from Beyond Frosting
Baileys Mint Chocolate Cream Pie from Grandbaby Cakes
Baileys Irish Creamer Cheesecake Pie from Crazy for Crust