Deviled eggs are one of my favorite things about Easter. I make them for other holidays as well, but Easter is the main one given all the eggs. So today I'm sharing my super simple traditional recipe with only 3 ingredients, as well as a dressed up version with bacon, jalapenos and cilantro.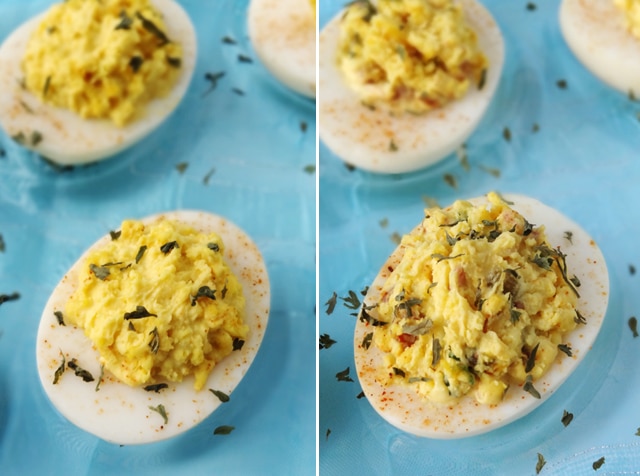 Traditional Deviled Eggs (left) and Bacon, Jalapeno and Cilantro Deviled Eggs (right)
I have been making my traditional deviled eggs every year since I can remember. As kids, my younger brother and I would hunt for eggs in the morning and then my mom would make brunch. Or dinner depending on how late it got – she's never been one to be on time (love you mom 🙂 ). I always helped her in the kitchen (not just for Easter) and I always made the deviled eggs. Always.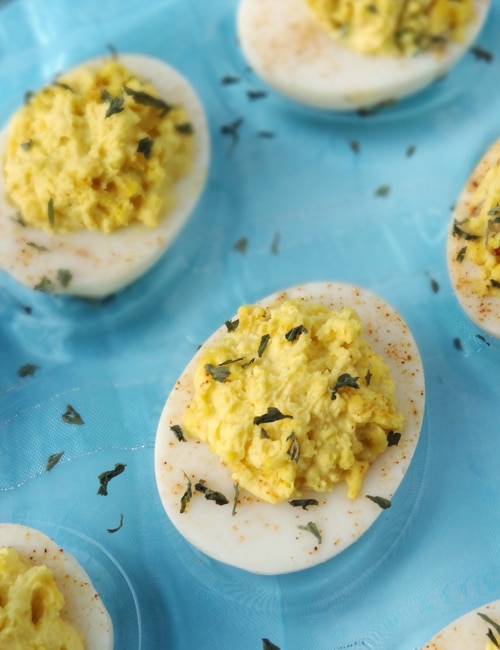 Even after all these years, I still LOVE deviled eggs. Normally it seems like things taste better when someone else makes them but in this case I never got tired of them. I eat them until I'm going to burst.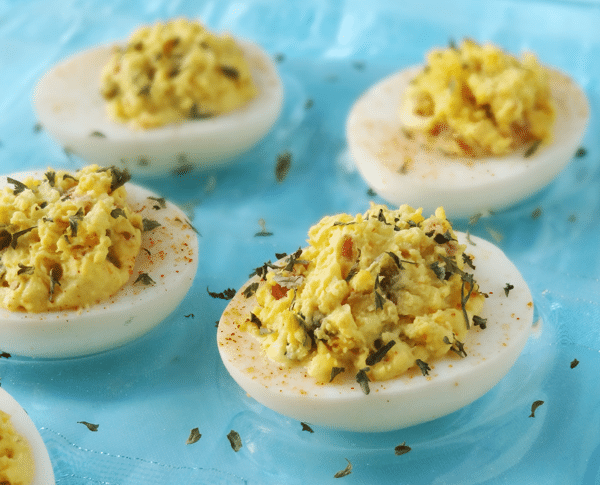 My traditional recipe needs only eggs, mayo and mustard. It seems most recipes use dry mustard, but I have never even tried that. Like I said, I grew up doing them this way. I love them and people I make them for love them, so I see no reason to change that now. 🙂 Since I haven't tried them with dry mustard, I can't say if it makes a difference, but I have always loved the kick that the real yellow mustard gives these. And I always have mustard on hand, but not always dry mustard.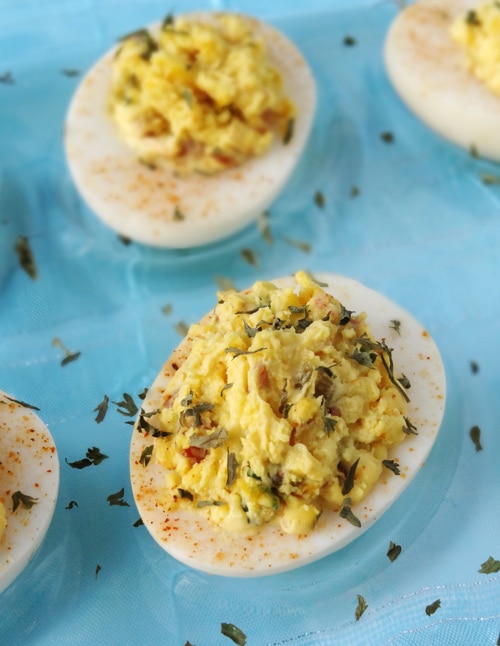 The bacon, jalapeno and cilantro deviled eggs are a new thing for me, but they are SO full of flavor. The hubs is a huge fan, as am I. They have a great kick of extra flavor. I am such a cilantro kid too, so I get all happy inside when I taste it in my egg. Both recipes start with the same basic ingredients I mentioned above, you just add some bacon, jalapeno and cilantro for these. So easy, even your kids could do it. 😉
Print
Print
Enjoy!
This post may contain affiliate sales links. Please read my disclosure policy.