June 30, 2017
Three Potato Salad
This Three Potato Salad is a fun mix of three kinds of potato – sweet, russet and red – and it makes a delicious potato salad! Highly addictive!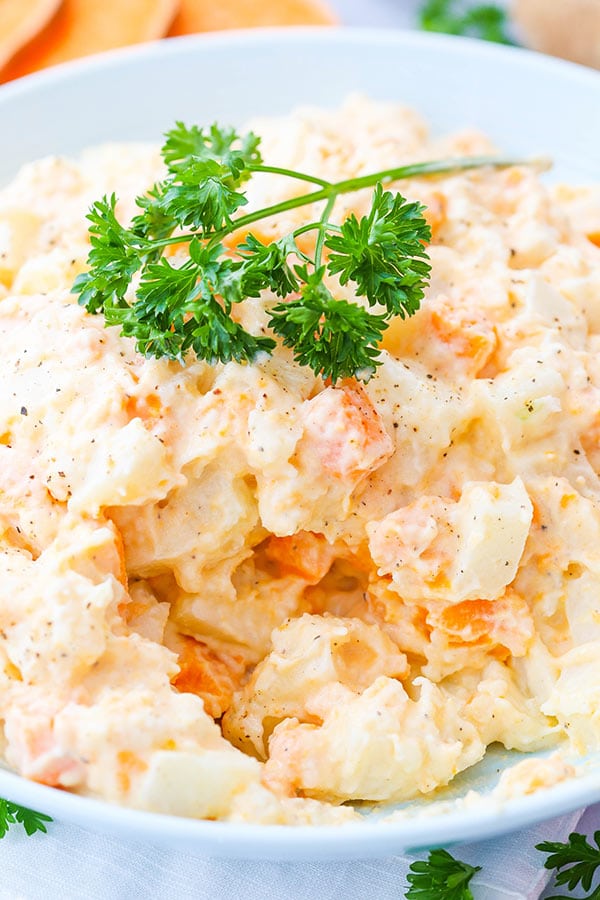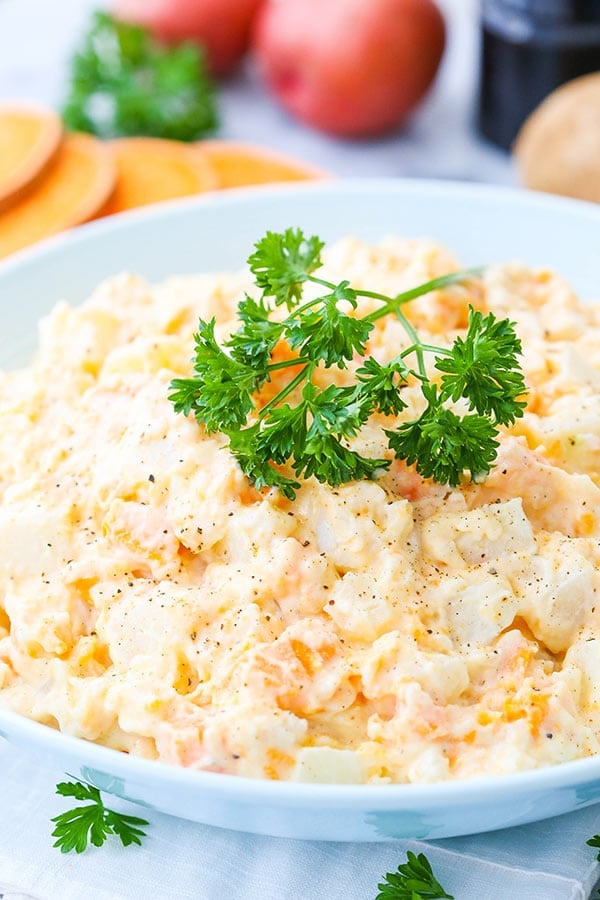 So we had a bit of a crazy day the other day. Jessie got out of the fenced in back yard while the hubs was working in the yard. Not too long after, he realized he couldn't find her and came to get my help looking. She typically doesn't make it far – sniffing in someone's back yard or getting up to the top of the hill behind our house. Since we now have the fence though, it seemed unlikely that she'd gotten up behind it.
We were looking for a solid 15 minutes or so and it felt like an eternity. I was calling for her and finally walked up the hill behind the house, outside of the fence, just to be sure she didn't somehow get up there. I got to the top of the hill and there she was! She took off running towards me! She was trying to get down to where I was calling her, but clearly couldn't find her way around the fence. Such relief!
Naturally I rubbed her and kissed her and gave her some big hugs. Shortly after, I realized she was covered in poo. She has a habit of chasing what we think is a bunny. She must chase it to it's home and stick her whole head and neck in there because she comes back covered in poo. As soon as I realized we both now had poo particles on us, we were both in the shower. I'd say that's sufficient punishment for disappearing. 😉 The good thing is that she was fine and now she's nice and clean. She had me worried for a minute there!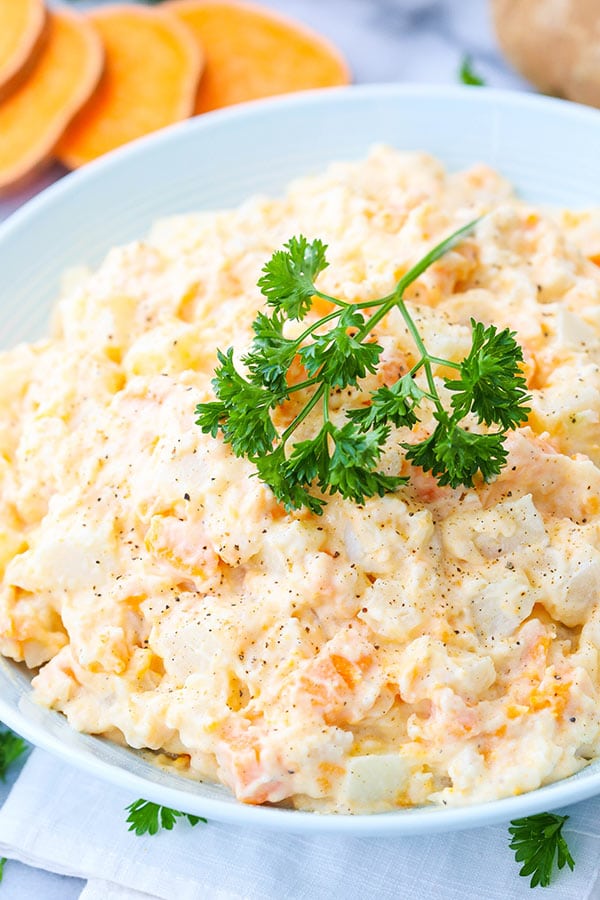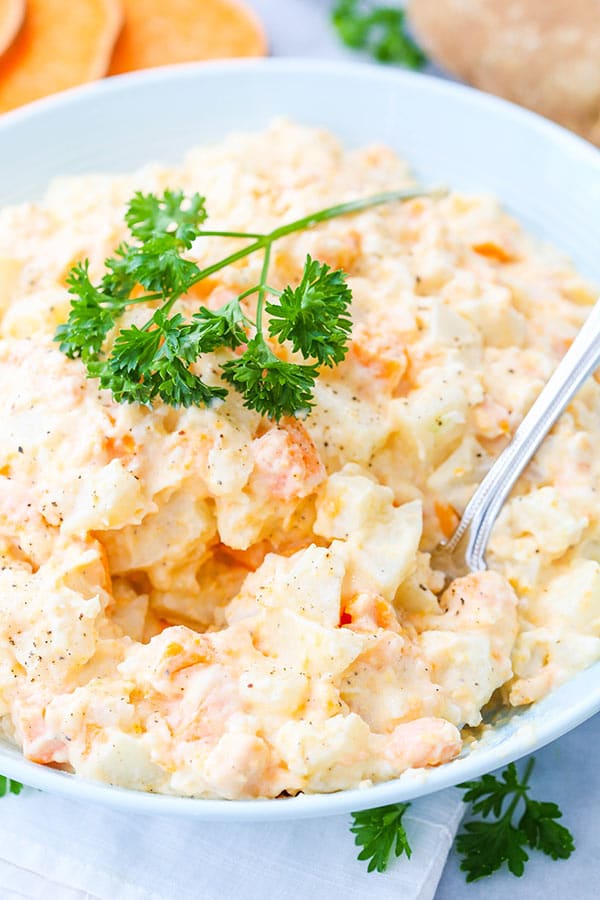 Now onto this potato salad! When we were in Hilton Head with the family back in May, we had a three potato salad at a restaurant where we had lunch one day. I was totally intrigued by it and ended up loving it! It's a little different than your average potato salad. While not overwhelming, the flavor from the different potatoes is totally delicious and fun. Plus, I feel extra healthy because of the sweet potatoes. 😉
So naturally I had to come home and recreate it. To start, grab some red, russet and sweet potatoes. Peel and chop them and boil them until softened. It takes a little time, but it's nice and easy. Once the potatoes are done cooking, put them in the fridge to cool completely. When they cool, they firm back up a bit and when you start stirring the dressing into them, they don't fall apart.
The dressing is just a few simple ingredients you likely already have. A little mayo, onion, sugar, vinegar and of course salt and pepper. Delicious, easy and such a fun and different potato salad. It's got just enough dressing – not too much and not tool little. It'd be great for the holiday this weekend!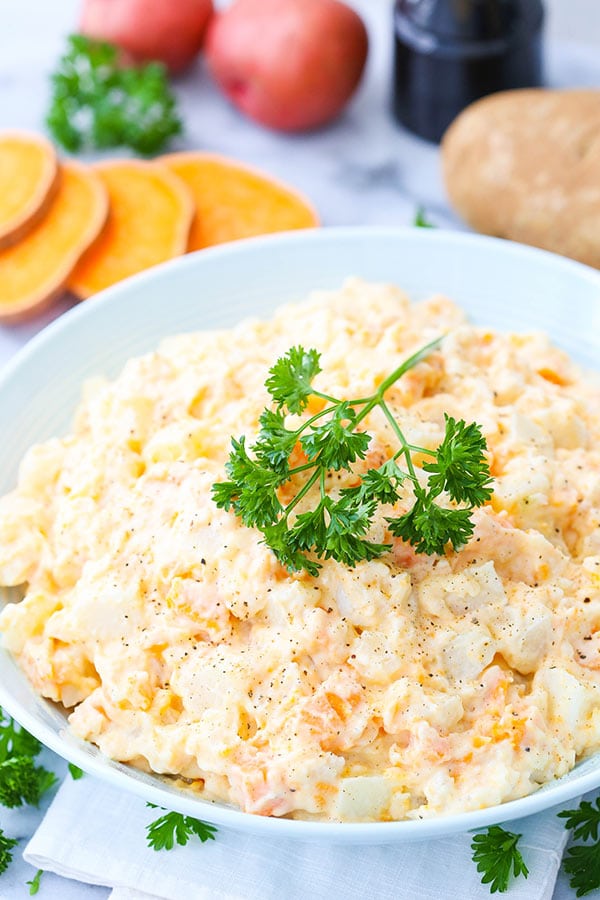 Three Potato Salad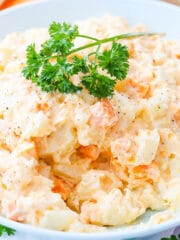 Yield: About

8

Servings

1

x
Category:

Side

Method:

Stove

Cuisine:

American
Ingredients
2

medium russet potatoes, peeled and chopped*

2

medium sweet potatoes, peeled and chopped*

3

–

4

medium red potatoes, peeled and chopped*

1 cup

mayonnaise

1/4 cup

finely chopped onion

1 tbsp

sugar

1 tbsp

white vinegar
Salt, to taste
Pepper, to taste
Instructions
1. Add the chopped potatoes to a large pot and fill with enough water to fully cover the potatoes.
2. Bring the water to a boil and boil the potatoes for about 15-20 minutes, or until softened.
3. Drain water from potatoes and refrigerate until cold.
4. Add the mayonnaise, onion, sugar and vinegar to the potatoes and stir until well combined.
5. Add salt and pepper to taste.
6. Serve the potato salad immediately or store in the fridge until ready to serve. The potato salad gets even better as it sits overnight.
*You should end up with about 1 cup of each of the potatoes once peeled and chopped.
Enjoy!


Recipe modified from Taste of Home.