August 14, 2017
Creme Brûlée Cupcakes
These Creme Brûlée Cupcakes are made with a moist vanilla cupcake and pastry cream filling, then topped with caramel frosting and a lovely caramelized sugar top! They are so fun and absolutely delicious!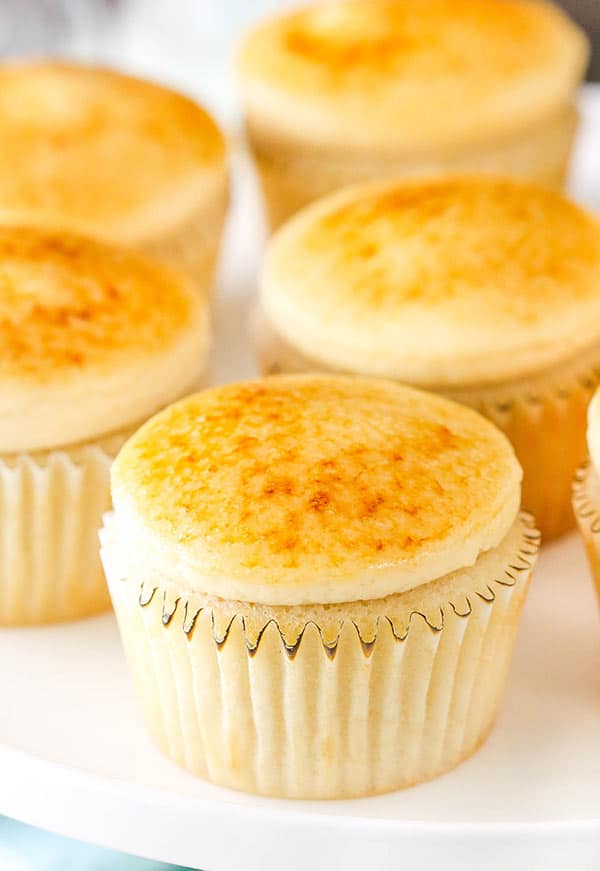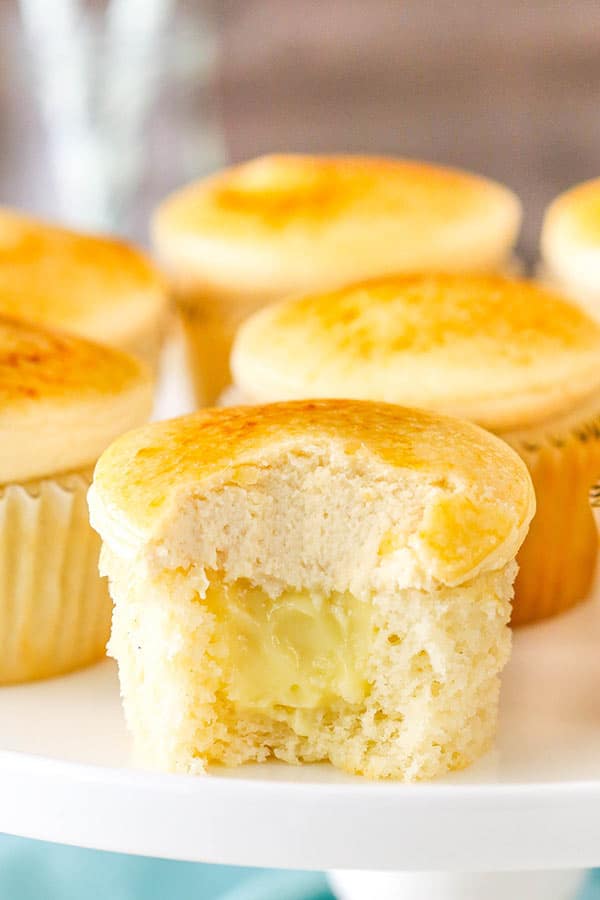 So after wanting to get my hair cut for several weeks now, I finally went and got it cut on Saturday morning. I'm the kinda gal that doesn't get her hair cut super often. I normally wait until it's so long (for me) that I can't take it anymore and then several weeks later I finally show up somewhere begging for an open spot to get it all chopped off.
I planned a bit ahead last week and called Friday evening for a Saturday appointment. 😉 Of course at that point, the only appointment remaining was at 8:30am. I debated waiting longer still for a cut, but went ahead and took the early appointment. I was definitely the first customer there that day.
Being early, it was nice and quiet and I thought for a second I might fall asleep. I'm very good at falling asleep when people are playing with my hair – I've even fallen asleep at the dentist before. It's a talent. When my stylist was pretty much done cutting, he started drying my hair and as he did he said, "You have the healthiest hair, good job! It's so healthy, I could date it!" HA! Not exactly the kind of thing I'd think of regarding hair, but we've all got our thing. 😉 At least I know waiting to cut it doesn't seem to hurt it.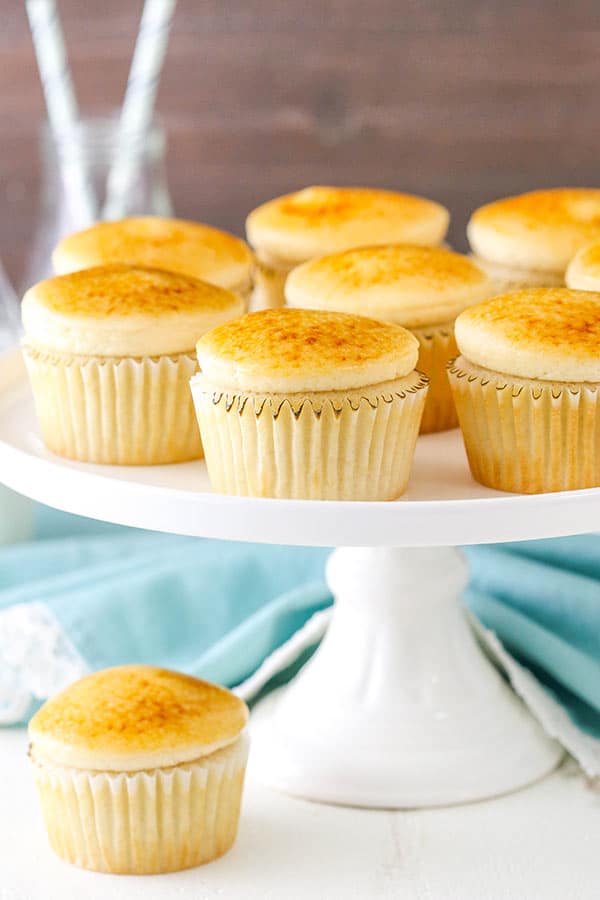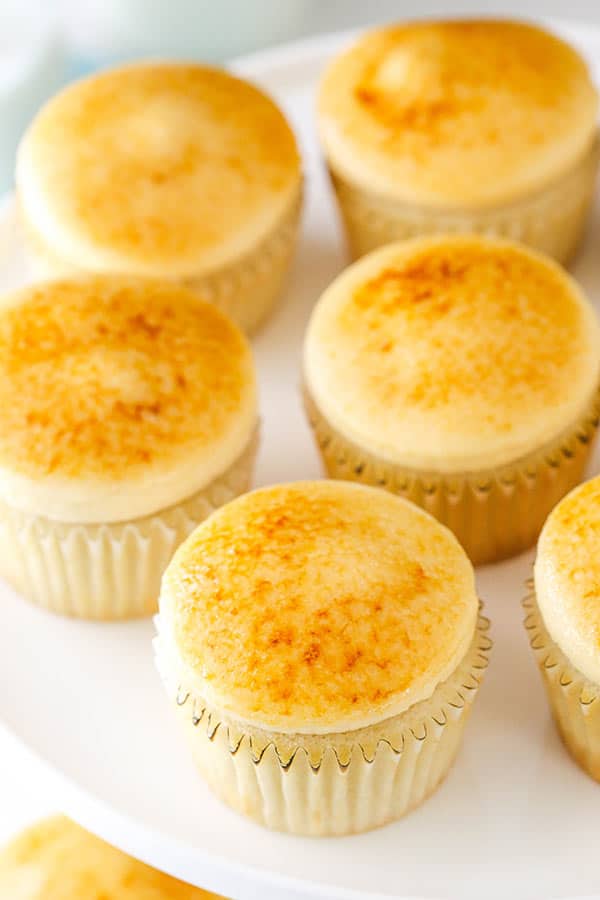 And while these cupcakes might not necessarily be described as healthy, I would certainly date one or two of them. Dating baked goods would definitely be my thing. 😉
These cupcakes are so stinking good! To get started, I used one my favorite vanilla cupcake bases. They are fluffy, soft and super moist. They use the creaming method so as usual, I'll encourage you to be sure to fully cream the butter and sugar. It's super important for the ultimate fluff factor!

MY OTHER RECIPES
The filling is your classic vanilla pastry cream. I could totally eat it by itself with a spoon. Pastry cream is fairly similar to actual creme brûlée. Similar ingredients, but cooking it over the stove as opposed to in the oven. In the case of these cupcakes, it's the perfect method for creating our filling.
On top of the cupcakes is a delicious caramel frosting! When you cook sugar, you get caramel and since creme brûlée has caramelized sugar on top, I thought a light caramel frosting would be the perfect compliment!
To frost the cupcakes, I used my large round tip, the Ateco 808. It's nice and big and I love it. You hold the tip over the top of the cupcake, perpendicular to it and squeeze out the frosting until it spreads out to the edges. Then slowly lift the piping bag as you continue to pipe so that you create a nice dome shape.
Once the cupcake is frosted, turn it over and dip it into some sugar. Next is torching the sugar with a lovely little kitchen torch. Arguably the most fun part of making these cupcakes. 🙂 I found that I got a better result with the caramelized sugar if I refrigerated the cupcakes for 30 minutes for so first. The frosting gets cold and firm that way and doesn't melt when you torch the sugar on top.
When you're done, take a big bite and enjoy your hard work! You deserve it! 🙂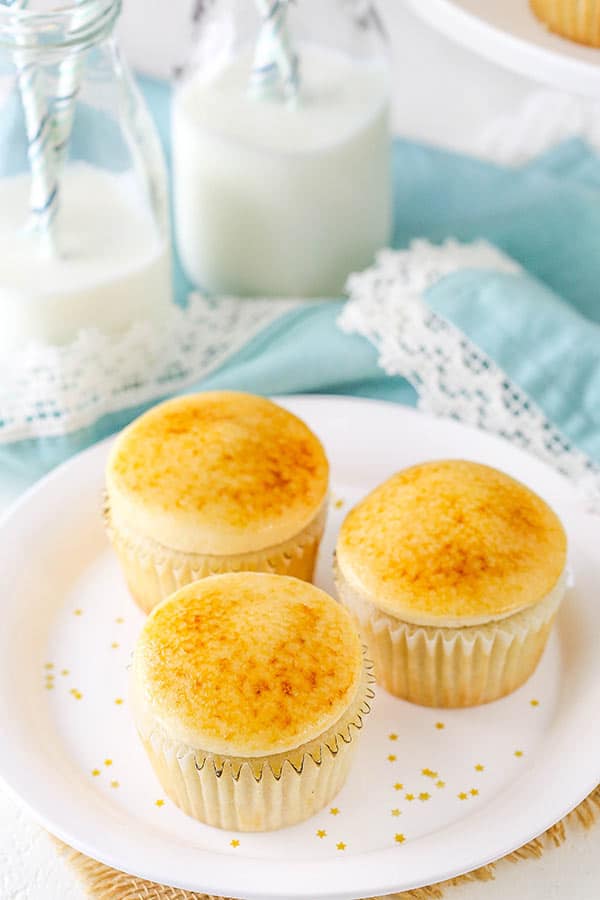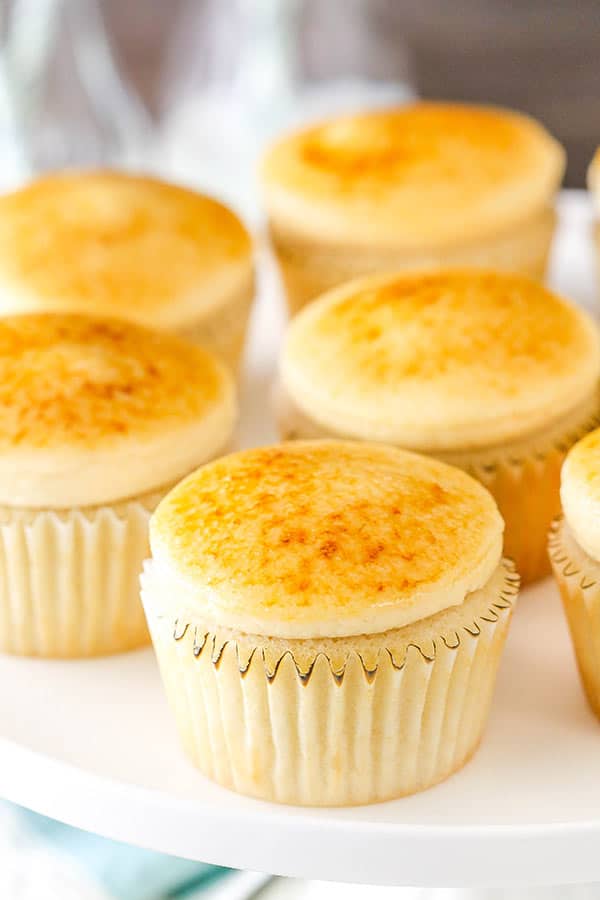 Creme Brûlée Cupcakes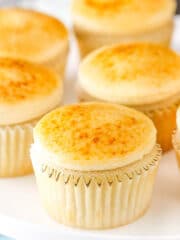 Yield:

12-14 Cupcakes

Category:

Dessert

Method:

Oven

Cuisine:

American
Ingredients
VANILLA CUPCAKES
6 tbsp (84g), unsalted butter, room temperature
3/4 cups (155g) sugar
6 tbsp (86g) sour cream, room temperature
2 tsp vanilla extract
3 large egg whites, room temperature
1 1/4 cups (163g) all purpose flour
2 tsp baking powder
¼ tsp salt
6 tbsp (90ml) milk, room temperature
2 tbsp (30ml) water, room temperature
PASTRY CREAM FILLING
2 egg yolks
6 tbsp (78g) sugar
1 1/2 tbsp cornstarch
1 cup (240ml) milk
1 tbsp (14g) salted butter
1 tsp vanilla extract
CARAMEL FROSTING
1/2 cup (112g) salted butter
1/2 cup (95g) shortening
4 cups (460g) powdered sugar
3-4 tbsp caramel sauce
2-3 tbsp water or milk
1/4 cup (52g) sugar
Instructions
1. Preheat oven to 350°F (176°C) and prepare a cupcake pan with cupcake liners.
2. In a large mixing bowl, cream butter and sugar together until light in color and fluffy, about 3-4 minutes. Do not skimp on the amount of creaming time.
3. Add sour cream and vanilla extract and mix until well combined.
4. Add egg whites in two batches, mixing until well combined after each. Scrape down the sides of the bowl as needed to be sure all ingredients are well incorporated.
5. Combine dry ingredients in a separate bowl, then combine the milk and water in a small measuring cup.
6. Add half of the dry ingredients to the batter and mix until well combined. Add the milk mixture and mix until well combined. Add remaining dry ingredients and mix until well combined. Scrape down the sides of the bowl as needed to be sure all ingredients are well incorporated.
7. Fill the cupcake liners about halfway. Bake for 15-17 minutes, or until a toothpick inserted comes out with a few crumbs.
8. Remove cupcakes from oven and allow to cool for 2-3 minutes, then remove to cooling rack to finish cooling.
9. While the cupcakes cool, make the pastry cream. Put the egg yolks in a medium sized bowl and gently beat them together. Set aside.
10. Add the sugar, cornstarch and milk to a large saucepan and mix until smooth.
11. Cook, stirring continuously, over medium-high heat until mixture begins to thicken and bubble.
12. Reduce heat to medium and simmer for 2 minutes. Remove from heat.
13. Add a little bit of milk mixture to the egg yolks and whisk together, then add egg mixture to milk mixture. This process ensures that you don't cook the egg yolks.
14. Place the pan back on the heat and bring to a light boil. Allow to boil for 2 minutes, stirring continuously.
15. Remove from heat and add butter and vanilla extract. Stir until smooth, then set aside to cool to room temperature.
16. To make the frosting, beat the butter and shortening together in a large mixer bowl until smooth.
17. Add about half of the powdered sugar and mix until smooth and well combined.
18. Add 3 tablespoons of caramel sauce and and mix until combined.
19. Add the remaining powdered sugar and mix until smooth.
20. Add additional caramel sauce and the water or milk, as needed, to get the right consistency frosting.
21. Use a cupcake corer or knife to remove the centers from the cupcakes, then fill them with the pastry cream.
22. Pipe the frosting onto the cupcakes. I used Ateco tip 808 to create the dome of frosting.
23. Add the sugar to a small bowl and turn the cupcakes over and dip them into the sugar, one at a time.
24. Refrigerate the cupcakes until the frosting is cool and firm, about 30 minutes to an hour.
25. Use a butane kitchen torch to caramelize the sugar on top.
26. Refrigerate the cupcakes until ready to serve. Best served cool, but not cold.
Enjoy!