These BAILEYS® Coffee Creamers Macadamia Brittle Cupcakes are moist, sweet and full of the most wonderful, almost indescribable flavor. These cupcakes both are nutty and caramel-y and the perfect dessert for a crowd.
If you enjoy these Baileys cupcakes you should also try this recipe for Baileys Chocolate Cupcakes!
This is sponsored by BAILEYS® Coffee Creamer, but all opinions are 100% my own.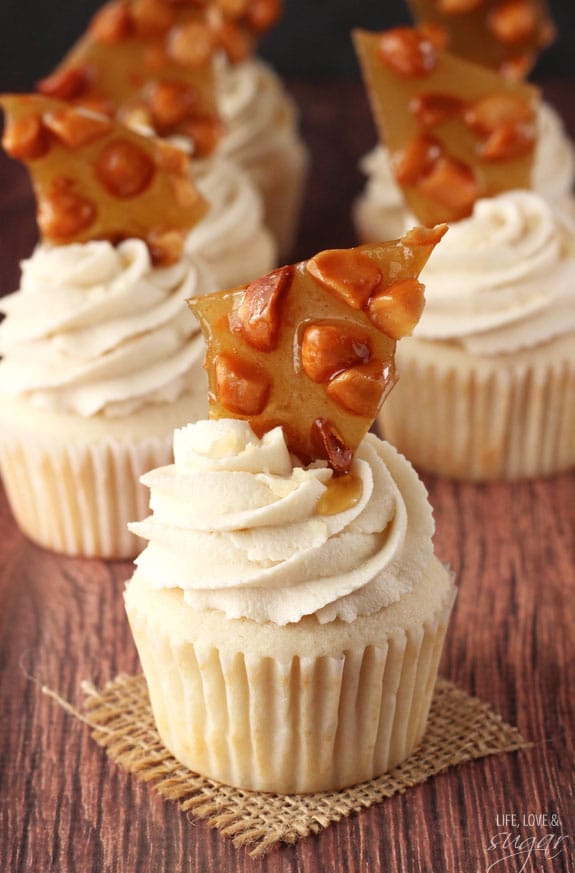 Baileys Coffee Creamer Is Perfect For Making Desserts
If you've been reading this blog long, then you know I'm a fan of all things BAILEYS®. I love the liqueur and the coffee creamers and have used them in a number of recipes (Cinnamon Roll Poke Cake, Baileys Chocolate Cookies, Baileys Chocolate Pie). They could make just about anything and I'd want to eat it or drink it.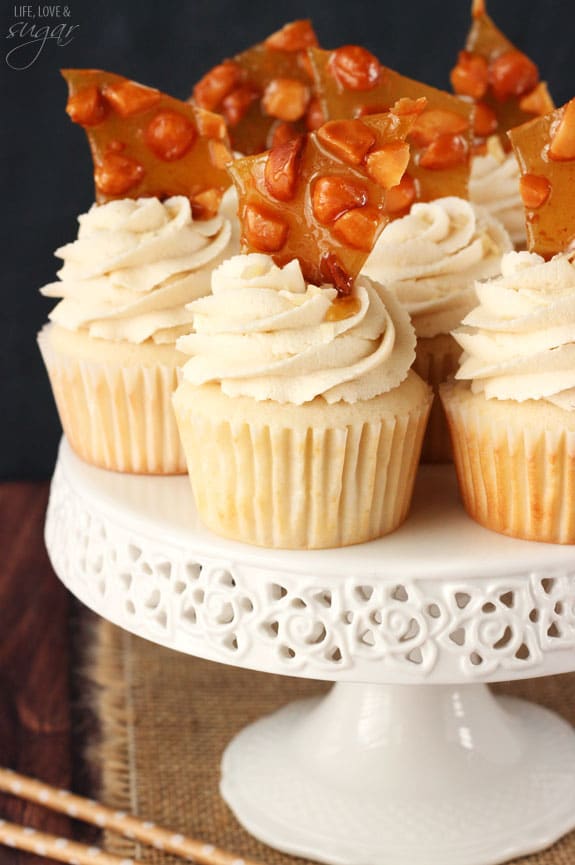 So when I got a chance to taste a couple of their new coffee creamer flavors and make a recipe with one of them, I couldn't wait! They sent me the two new flavors for 2015 – Macadamia Brittle and Bourbon Vanilla Pound Cake. The Macadamia Brittle combines the flavor of macadamia nuts with a rich buttered caramel flavor, and the Bourbon Vanilla Pound Cake captures the essence of a traditional vanilla pound cake infused with a sweet bourbon. Both were right up my alley. Delicious and perfect for drinking with my morning coffee. So good, I could almost drink them straight. You'll want to be sure to pick one up so you can make these cupcakes. 🙂
The Macadamia Brittle one is sweeter and my favorite of the two and I knew immediately I wanted to use it in a recipe. I debated with myself over what to make and finally decided on a cupcake.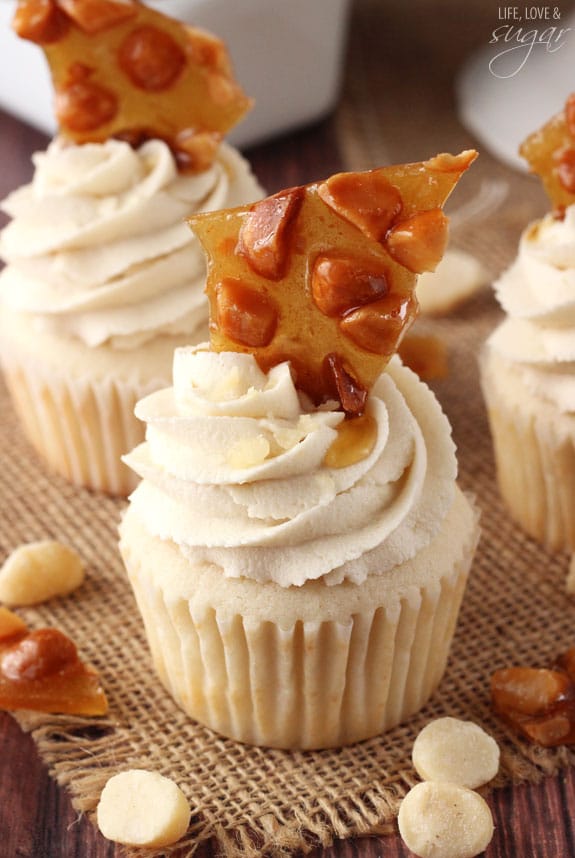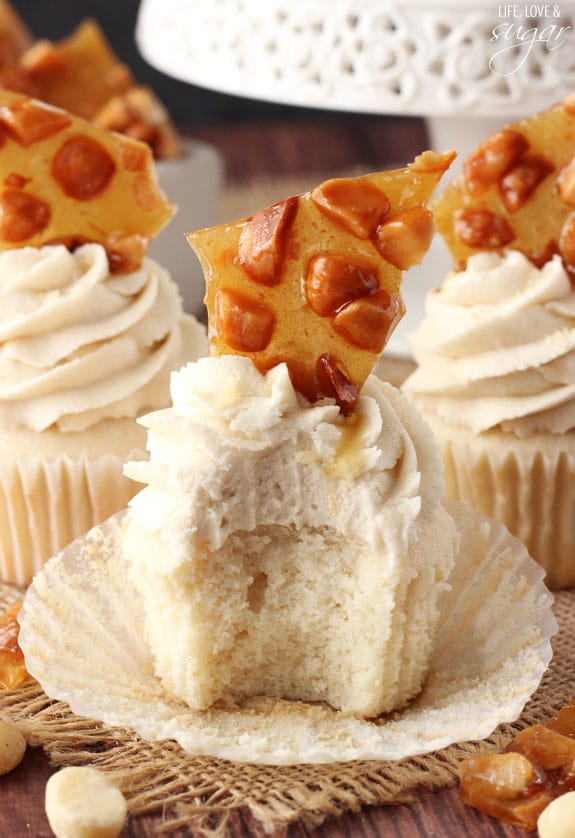 Is Macadamia Brittle Easy To Make?
The cupcake and icing both have the creamer in them and they are so, so good. The cupcake is moist and full of the creamer flavor. There's no other way to describe it than macadamia brittle heaven.
While the cupcakes cooled, I made the macadamia brittle that I wanted to put on top of the cupcakes. I'd never made brittle before and was a bit intimidated. I found a simple enough recipe and it was so much easier than I thought. And oh my gosh, so good.
Because we're already making a cupcake and icing, I went with a simpler version of brittle. Sugar and water are melted in a saucepan. The mixture will come to a boil and turn a golden color, then the macadamia nuts are added and the mixture in poured out onto a baking sheet to harden. Easy, right?
Ok, ok, I know it's not quite that easy. But really, that's the gist of it. It only takes about 10 minutes total. It almost looks like the sugar isn't going to turn golden, but then all of a sudden it does. Once it does, you do need to work quickly to add the nuts. I stirred them in for another 30 seconds or so – but be sure not to burn the sugar. And once it's spread onto the baking sheet, it cools quickly.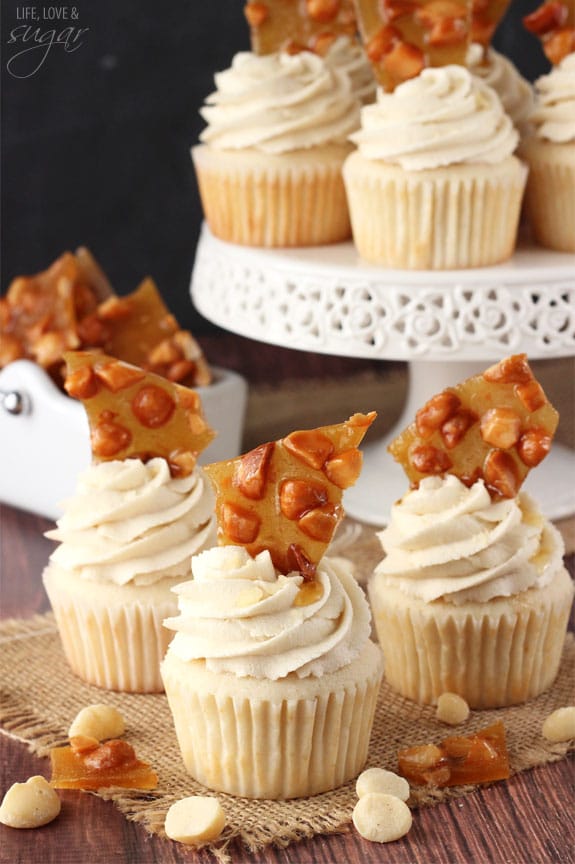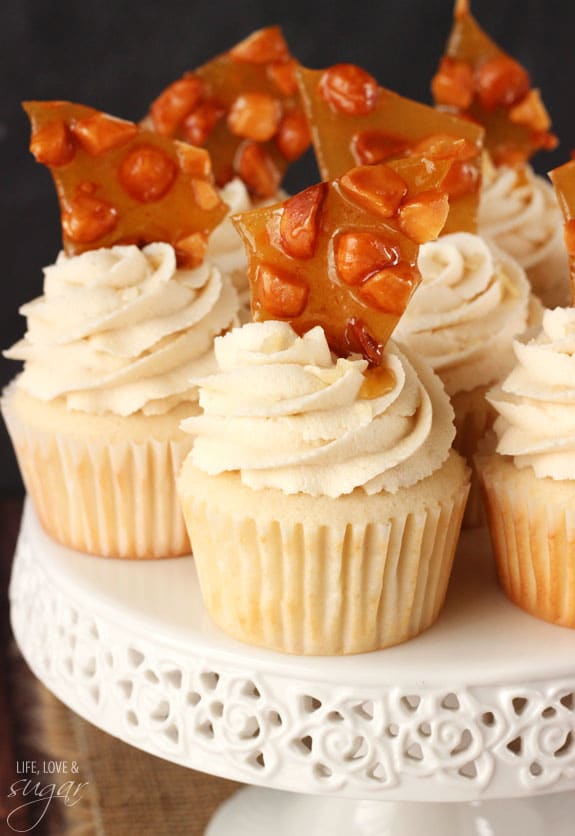 How To Make Caramel Icing
To add the caramel flavor to the icing, I went with the microwave method. The butter and brown sugar are melted together in increments until the sugar is mostly dissolved. The caramel mixture is added to the icing, along with the creamer and the final result – I can't even tell you how good it is.
Initially, the icing might seem a little gritty from the brown sugar, but after it sits for a few hours, it's completely dissolved into the icing. I went ahead and iced the cupcakes and let them sit overnight. They were perfect.
Taking a bite of the cupcake full of the creamer and with the brittle makes the perfect cupcake experience. The flavor from the creamer is absolutely perfect. I'm not kidding when I say it's my new favorite cupcake. I had to give them away or I'd have eaten them all at once. And they were a hit with everyone. We all went crazy over them.
Do I Need To Use Baileys Coffee Creamer To Make These Cupcakes?
I'm sure you're wondering if you really have to use the BAILEYS® Coffee Creamer and the answer is definitely yes. These cupcakes would not be the same without it. The flavor of it with the caramel and brittle is what makes the cupcake.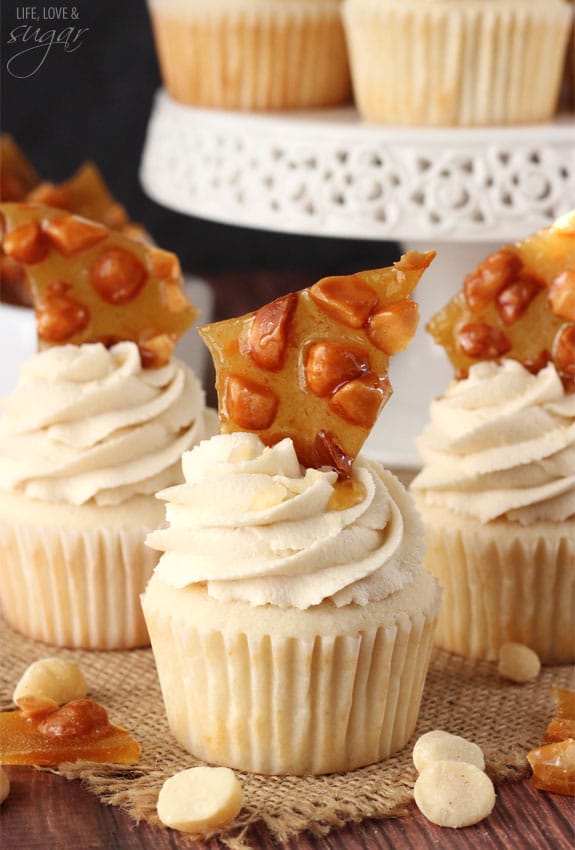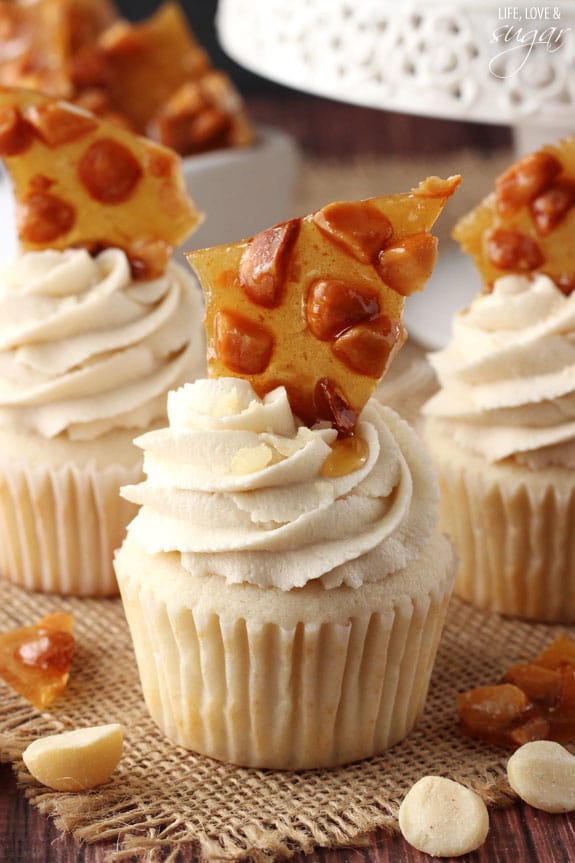 One quick note about the brittle. I would recommend adding it on top of the cupcakes shortly before serving. I added it on top of my cupcakes and then stored them in an air-tight container overnight. The brittle seemed to melt a little – I guess from all the moisture. The brittle that remained in a plastic bag didn't melt at all, so it's not the brittle's fault. The cupcakes are just very moist. As they should be.
If you're looking for a beautiful dessert that is just as tasty as it is fun to look at, be sure to make these cupcakes. They rock.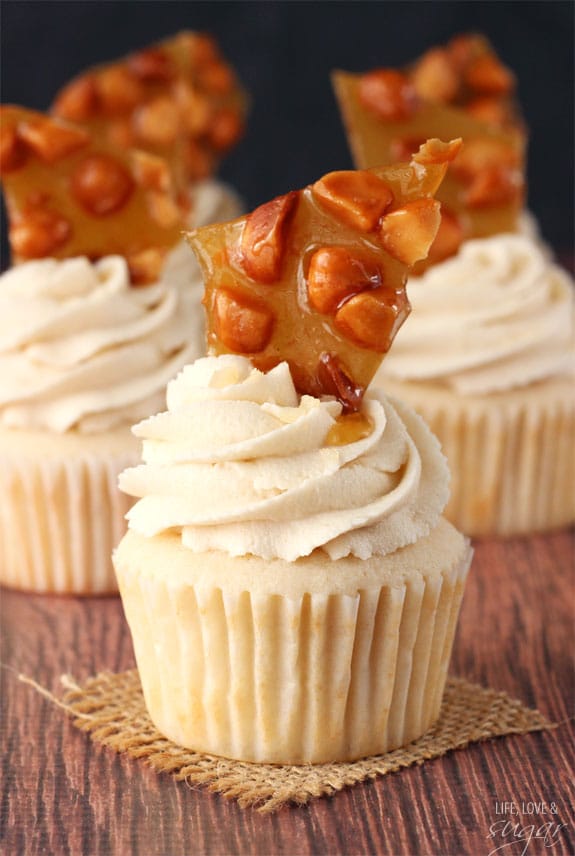 More Baileys Dessert Recipes You Might Like:
Baileys Brownie Cheesecake
Baileys Chocolate Cream Pie
BAILEYS® Chocolate Cookies
BAILEYS® Chocolate Pie
Baileys Spiked Ice Cream Cake

Print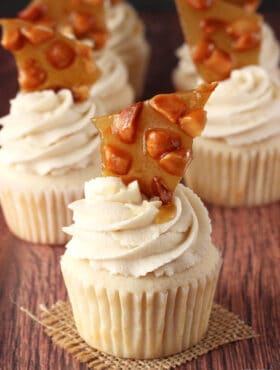 Recipe
BAILEYS® Macadamia Brittle Cupcakes
Author:

Prep Time:

25

Cook Time:

34

Total Time:

59 minutes

Yield:

12-14 Cupcakes

Category:

Dessert

Method:

Oven

Cuisine:

American
---
Description
These BAILEYS® Coffee Creamers Macadamia Brittle Cupcakes are moist, sweet and full of the most wonderful, almost indescribable flavor. These cupcakes both are nutty and caramel-y and the perfect dessert for a crowd.
---
Ingredients
CUPCAKES
1 2/3 cups

all purpose flour

1 cup

sugar

1 1/4 tsp

baking powder

3/4 cup

salted butter, room temperature

3

egg whites

1 tsp

vanilla extract

1/4 cup

sour cream

1/4 cup

milk

1/2 cup

Macadamia Brittle BAILEYS® Coffee Creamer
MACADAMIA BRITTLE 
2 cups

sugar

1/2 cup

water
pinch of salt

1 cup

macadamia nuts, chopped
ICING
1 cup

butter, divided

1/2 cup

brown sugar

1/2 cup

shortening

4

–

5

cups powdered sugar

3

–

4

tbsp baileys creamer
---
Instructions
CUPCAKES
1. Preheat oven to 350 degrees.
2. Whisk together flour, sugar and baking powder in a large mixing bowl.
3. Add butter, egg whites, vanilla, sour cream, milk and creamer and mix on medium speed just until smooth. Do not over mix.
4. Fill cupcake liners a little more than half way.
5. Bake 18-20 minutes.
6. Allow to cool for 1-2 minutes, then remove to cooling rack to finish cooling.
MACADAMIA BRITTLE 
1. While cupcakes cool, make macadamia brittle. Line a cookie sheet with a silicon baking mat, set aside.
2. Stir together sugar, water and salt in a medium saucepan.
3. Cook over high heat without stirring, until sugar begins to melt and turn golden, about 3 minutes.
4. Continue to cook, stirring occasionally, until sugar has melted and mixture turns golden amber, about 10 minutes. Mixture will turn amber quickly, so keep a close eye on it.
5. Once mixture turns amber, stir in macadamia nuts.
6. Immediately remove mixture from heat and pour onto baking mat. Quickly spread to about 1/2 inch thick.
7. Let cool completely, about 15 minutes. Break brittle into pieces.
ICING
1. Place 1/2 cup of butter and brown sugar into a microwave-safe bowl. Microwave for about 30 seconds at a time, stirring after each interval, until the sugar is mostly dissolved, about 3 minutes. It'll boil and bubble up. Set caramel aside to cool.
2. Cream remaining 1/2 cup butter and shortening until smooth.
3. Add 3 cups powdered sugar and 1 tbsp creamer and beat until smooth.
4. Pour caramel into icing and mix until smooth.
5. Add another 1-2 cups of powdered sugar.
6. Add more creamer to reach desired icing consistency.
7. Ice cooled cupcakes, then top with a piece of macadamia brittle.
---
Notes
You may notice little bits of butter in the batter, but that's ok. They will melt into the cupcake as they bake.
Macadamia Brittle modified from Martha Stewart's Peanut Brittle.
Nutrition
Serving Size:

1 Cupcake

Calories:

899

Sugar:

122.8 g

Sodium:

280.6 mg

Fat:

39.6 g

Carbohydrates:

137.2 g

Protein:

3.7 g

Cholesterol:

66.8 mg
Keywords: baileys cupcakes, cupcakes with baileys, baileys dessert, homemade cupcakes, best cupcake recipe, easy cupcake recipe, frosting for cupcake recipe, homemade cupcake recipe
Filed Under:
Macadamia Brittle modified from Martha Stewart's Peanut Brittle.
Enjoy!

This post may contain affiliate sales links. Please read my disclosure policy.