May 11, 2016
Banana Split Ice Cream Cake Loaf {Gluten free}
This post is sponsored by Walkers Shortbread, but all opinions are my own.
This Banana Split Ice Cream Cake Loaf is perfect for summer! It takes one of my favorite summertime treats and layers it beautifully into cake form. The flavors are delicious and it's sure to keep you cool on those hot days!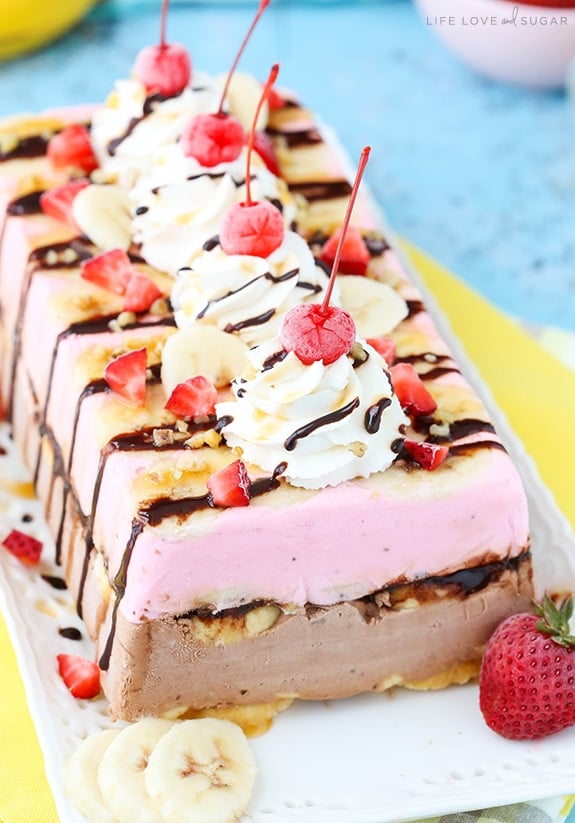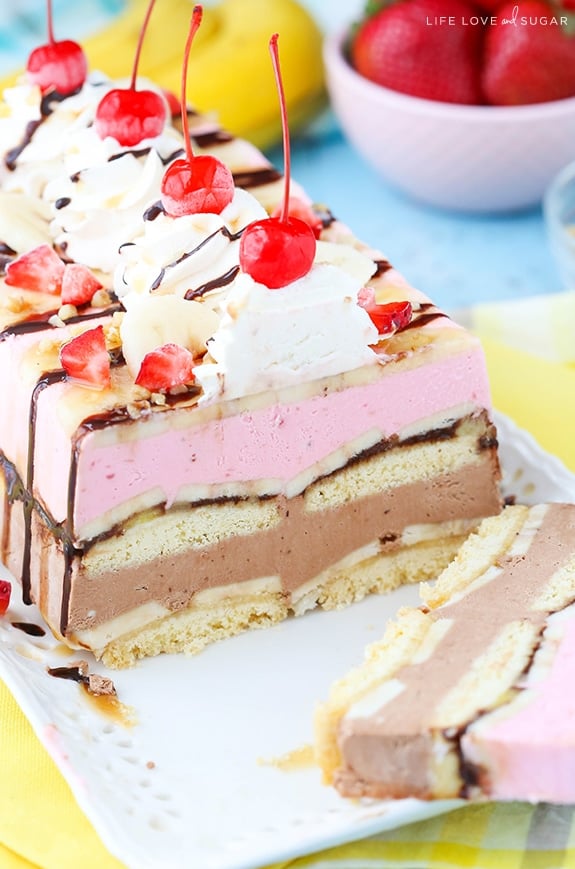 There are many things to love about this ice cream cake. For starters, thanks to the gluten free line of shortbread by Walkers Shortbread this cake is gluten free. How awesome is that?! A cake that's gluten free AND delicious!

Plus, it's made with no churn ice cream. There are several reasons that's awesome. One – it's easy to make. There's no need to break out your ice cream maker. The base is cream cheese and whipped cream. They are sweetened with some sugar and a few other flavorings to get the chocolate and strawberry ice cream. So good, so easy. And nobody ever guesses it's not store-bought ice cream. 🙂
Another reason it's awesome is that because of the consistency it doesn't really melt the same way as a traditional ice cream. On a really hot day that's wonderful because you don't have to slice it and eat it as fast as you can. You have some time before you need to get it back in the freezer so there's more time to enjoy it.
And no banana split would be complete without the bananas, a little pineapple and sprinkle of nuts so those are incorporated in the layers and on top. A few cherries even sit on top as well.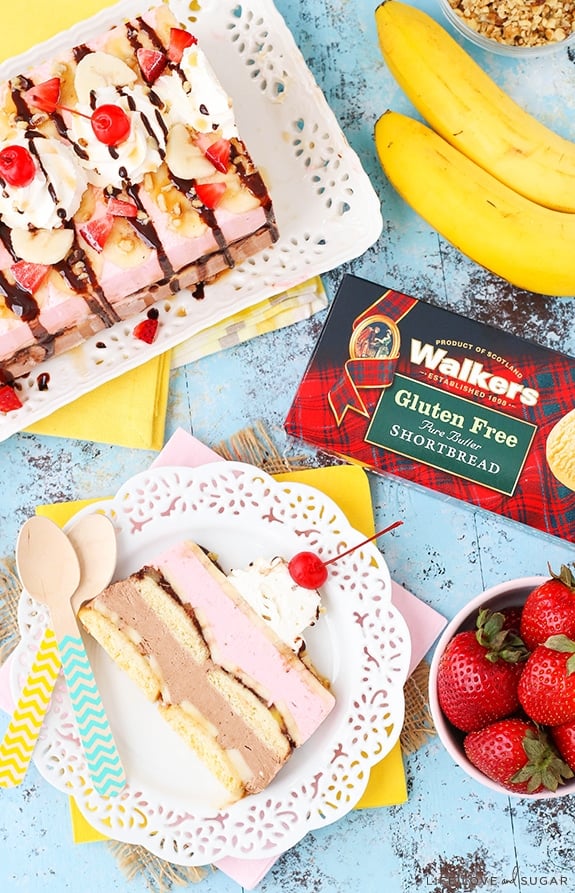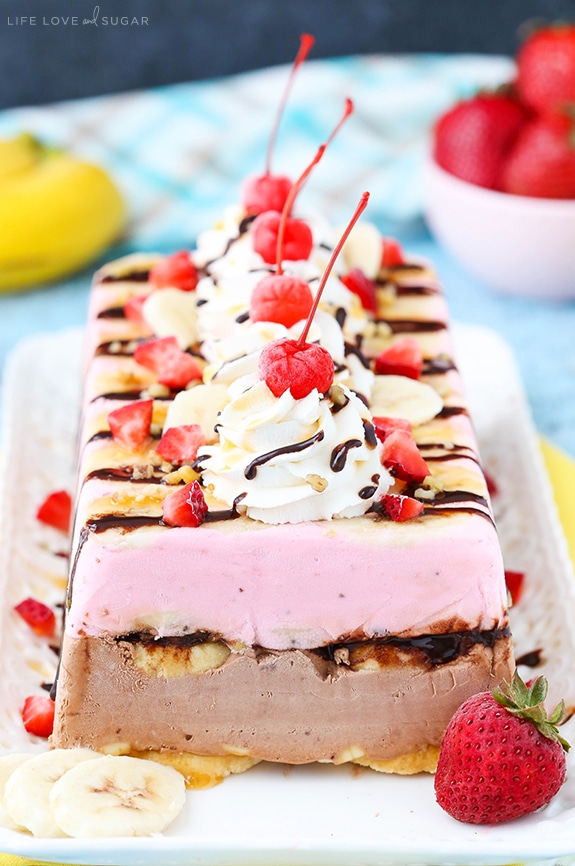 The addition of the shortbread layers really gives this a "cake" feel without having to worry about baking a cake. And with the gluten free shortbread, your "cake" layers are easily gluten free and worry free. They get dipped in a little bit of milk (I used almond milk) to soften them up and make them even more cake-like.

MY OTHER RECIPES
Now this is my first real foray into gluten free baking. Learning more about it, it seems like I probably have some gluten free recipes on the site already but didn't really realize it. Allergies can be a scary thing and I certainly wouldn't want to advise anyone incorrectly. When sourcing your ingredients for this cake (aside from the shortbread, which is clearly gluten free – yay!) be sure to look for versions that are definitely gluten free. Typically the things included in this cake are naturally gluten free, but there are some sugars, etc that are more stringent on their ingredients. If you already bake and cook gluten free a lot, then I'm sure you've totally got that down. 🙂
This Banana Split Ice Cream Loaf Cake is really terrific. It's so cute but also easy to put together, making it great for an occasion or even for the average day when you want an occasional ice cream snack or dessert. It's light and so easy to eat and even easier to share.
There's nothing the hubs and I love more than a tasty banana split flavored treat, so I know this is going to be a popular recipe for us this summer. It should definitely be a hit and at the top of the list for you too. 😉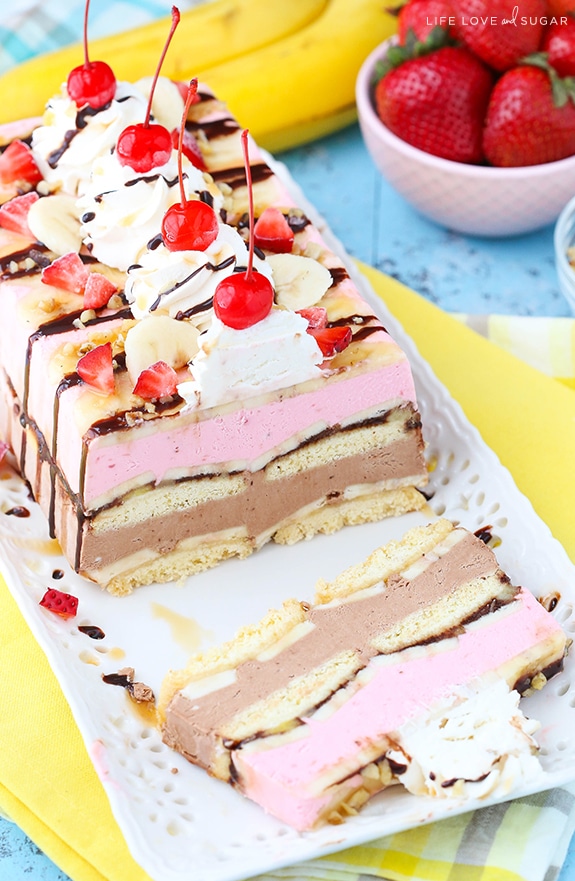 Banana Split Ice Cream Cake Loaf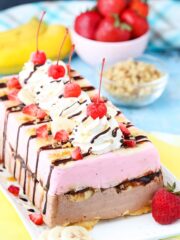 Ingredients:
Strawberry Filling
1/2 cup (80g) chopped strawberries
1 tbsp water
2 tbsp sugar
1/2 tbsp cornstarch
1/2 tsp strawberry extract
1-2 drops pink food coloring
Ice Cream Layers
8 oz cream cheese, room temperature
1/2 cup sugar
2 tbsp almond milk
1/2 tsp vanilla extract
1 1/4 cup heavy whipping cream, cold
1/2 cup powdered sugar
2 tbsp natural unsweetened cocoa powder
Additional Ingredients
3 medium bananas, sliced
2 tbsp chocolate sauce
2 tbsp finely chopped nuts
1/4 cup crushed pineapple, drained
1/3 cup almond milk
two 4.9 oz packages Walkers Gluten Free Pure Butter Shortbread
2 tbsp caramel sauce
Cherries, for topping
Additional chocolate and caramel sauce, for drizzled topping
Additional strawberries, nuts and banana slices, for topping
Whipped Cream
1/2 cup heavy whipping cream, cold
1/4 cup powdered sugar
1/2 tsp vanilla extract
Directions:
1. Line a 9x5x3 inch loaf pan with clear wrap or parchment paper (you'll use that later to help get the cake out of the pan).
2. To make the strawberry filling, puree the strawberries in a food processor until smooth.
3. Combine 1/4 cup of strawberry puree, water, sugar and cornstarch in a small bowl. Microwave 10 seconds at a time, whisking well between each interval.
4. Once strawberry mixture begins to boil, microwave for about 15 more seconds, allowing it to boil, then whisk until smooth. Mixture should be thickened. Total time should be about 2 minutes. Set aside to cool to room temperature.
5. To make the ice cream, beat cream cheese and sugar in the bowl of a mixer until smooth.
6. Add the almond milk and vanilla extract and beat until well incorporated. Set aside.
7. In another mixer bowl, add the heavy whipping cream and powdered sugar. Whip on high speed until stiff peaks form.
8. Gently fold about 1/3 of the the whipped cream into the cream cheese mixture, then add the remaining whipped cream and fold until combined.
9. Divide the ice cream base evenly between the two bowls. Add the cocoa powder to one bowl and fold to combine. Add the completely cooled strawberry filling to the other bowl and fold to combine. Set aside.
10. To build the cake in the pan, add a layer of sliced bananas in the bottom.
11. Spread the strawberry ice cream in an even layer over the bananas.
12. Top the strawberry ice cream with another layer of sliced bananas.
13. Drizzle the chocolate sauce over the bananas, then top it with the nuts and pineapple.
14. Add the additional almond milk to a small bowl. Dip each piece of shortbread into the almond milk, then add to the pan and in even layer. Press the shortbread into the ice cream and toppings.
15. Top the shortbread with the chocolate ice cream.
16. Add a third layer of sliced bananas, then top the bananas with the caramel sauce.
17. Add a second layer of shortbread, dipping each piece of shortbread into the almond milk before adding it to the pan. Press the shortbread into the ice cream and toppings.
18. Freeze cake until firm, 4-5 hours.
19. Remove the cake from the pan and place on a serving dish.
20. To make the whipped cream, add the heavy whipping cream and powdered sugar to a mixer bowl. Whip on high speed until stiff peaks form.
21. Pipe 4-5 swirls of whipped cream on top of the ice cream cake, down the center. I used Ateco tip 844, but Wilton tip 1M or 2D would work too. Finish cake off with a drizzle of caramel and chocolate sauce and sprinkle a few chopped strawberries, sliced banana pieces and nuts over it. Top the whipped cream swirls with cherries. Freeze until ready to serve.
Enjoy!