No Bake Berry Vanilla Cheesecake
This No Bake Berry Vanilla Cheesecake is super easy to make and was a big hit! With the fresh berries on top and in the cheesecake, it's also the perfect summer treat!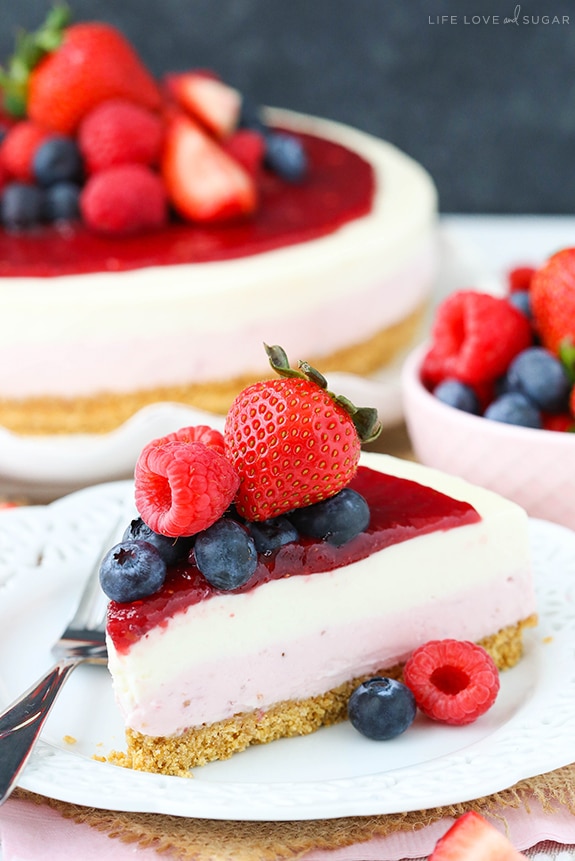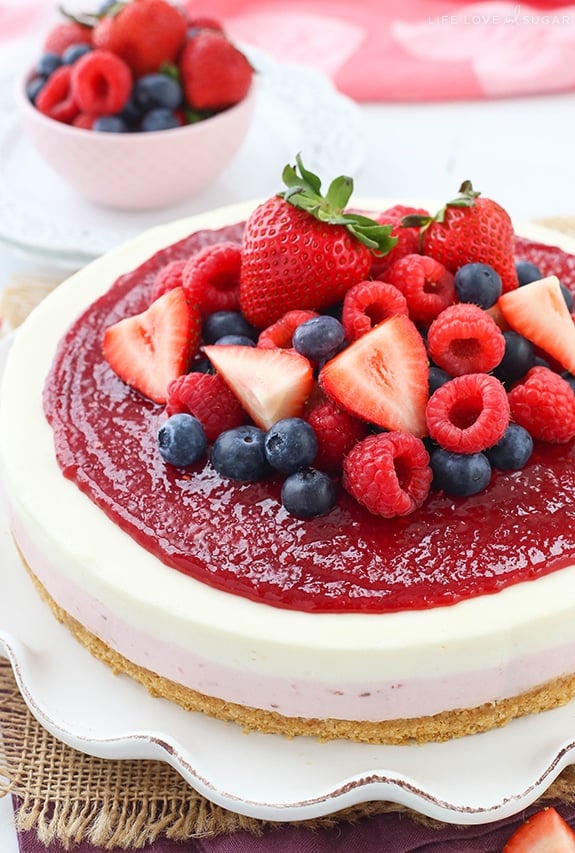 This past Sunday I went to a little photography workshop in our area that was held by some local photographers and a local lifestyle blogger. The focus of the session was more on people photography than food, but I thought it'd be nice to break out of my normal box – both my food photography box and my food blogger box – and change things up. I got a little more familiar with some settings on my camera, which was nice. Plus, it was a really fun group and I had a great time.
I don't know about you, but I personally feel like no matter how much you think you know there's always more to learn. I love hearing other people's perspectives and learning how others do things. Whether I make any changes to my workflow based on it (and I will be making some small changes here and there) it's nice to expand my knowledge. It makes me feel like I've got a little something in back pocket for another day.
And like I said, it broke me out of my box. I've been so buried in my cookbook and photographing cakes that it was nice to spend some time out of the presence of sugar and flour and in the presence of some beautiful, fun women (and a couple guys). 🙂 Photographing people definitely has similar elements to it – the camera works the same no matter what you're shooting – but the approach can be different. I love that I can apply that approach in one way or another to my photos and spice things up a bit. It helps to re-inspire me and open my mind up a bit!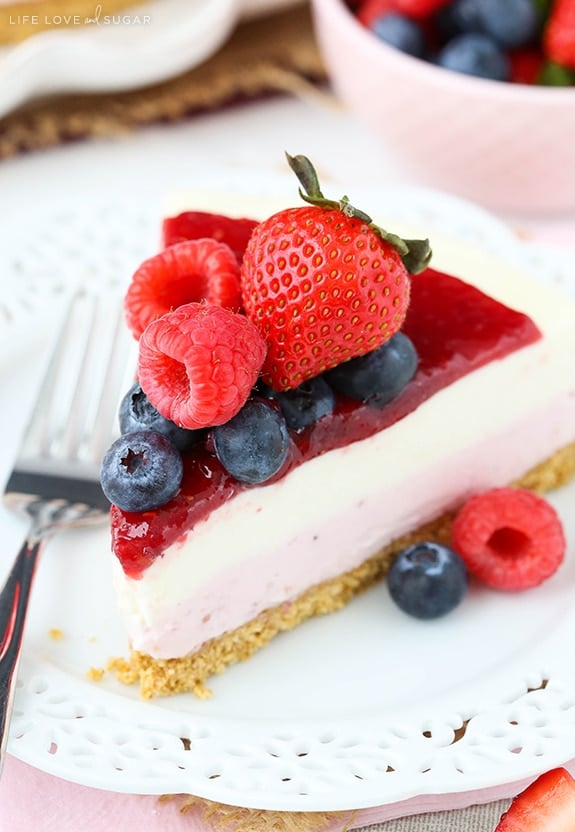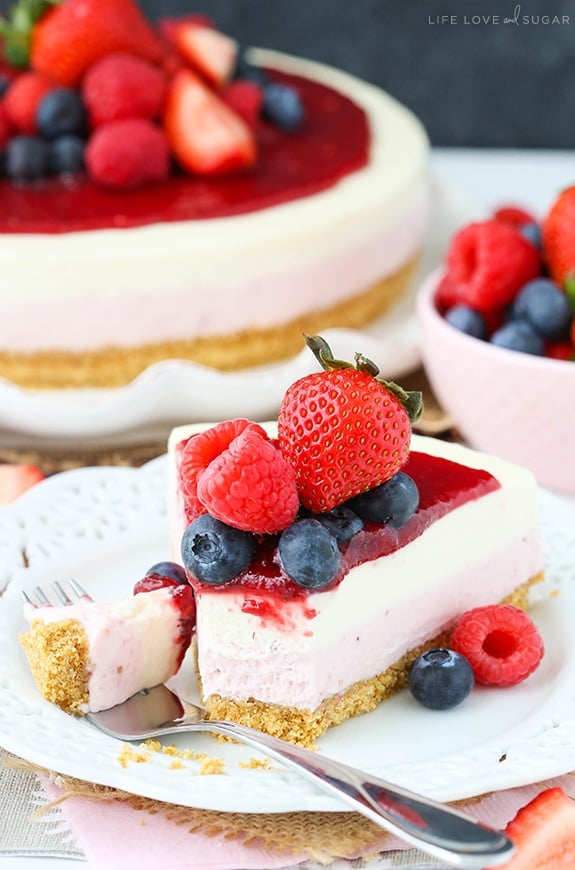 I sure hope this cheesecake inspires you to get in the kitchen and non-bake it. 😉 You do use the stove a bit, but other than that, it's seriously easy to make. The fruit puree is mixed with some sugar for sweetness and some cornstarch to thicken it and then heated over the stove. That cools while you start to put the rest of the cheesecake together.
The crust is a classic graham cracker crust. I decided to keep the crust just in the bottom rather then pressing it up the sides. That way you see the pretty cheesecake layers. 🙂 Plus, keeping all the crust on the bottom thickens it up – and I do love a good, thick crust.
The cheesecake filling has a layer of vanilla cheesecake and a layer with some of the berry topping added to it. After adding the berry layer to the pan, I spooned the vanilla layer gently over top, then smoothed it into an even layer. It works better that way than piling it all in the center and then spreading it. Because the lower layer isn't firm yet, you want to be gentle when spreading to maintain that clear line between them that looks so nice when you cut it.
The cheesecake should firm up in the fridge for several hours. I usually leave mine overnight, just to be sure it's good and firm. Once it's firm and out of the pan, the remaining berry topping is added. I heated mine for just a few seconds so that it was a little more spreadable. The cheesecake is topped with some fresh berries for a nice presentation and you're done! I considered adding some whipped cream, but then skipped it. I wanted to make sure the berry flavor didn't get lost.
This cheesecake was a BIG hit with our friends at our church group. You know when you go to put a cheesecake away and get stopped because people want second pieces that it's good. It was met with lots of happy moaning during bites and strange as it may be, that's one of my favorite sounds. 🙂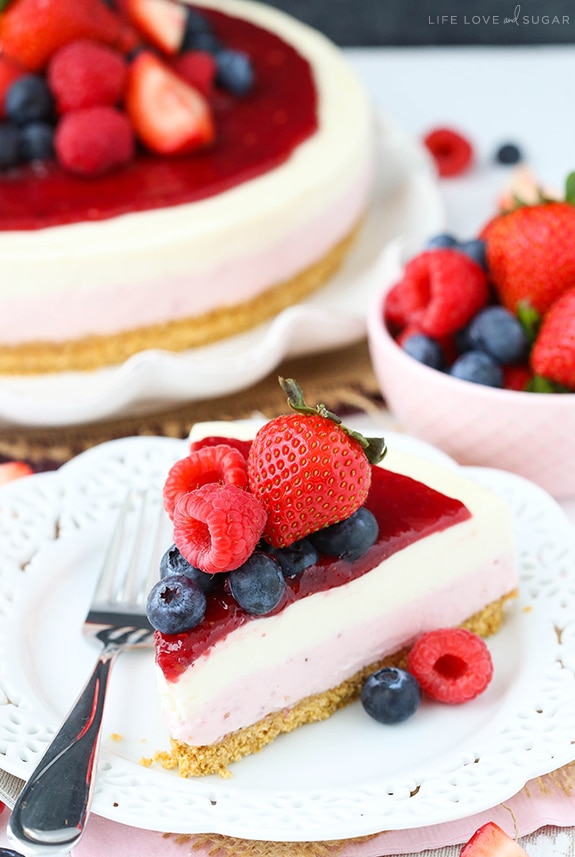 You might also like:
Easy No-Bake Strawberry Cheesecake
Berry Lemon Cheesecake Cookie Cups
Mini Berry Almond Cheesecakes
Red Velvet Berry Trifle
Mini Blackberry Lavender Cheesecakes
Fresh Berry Vanilla Layered Cake
Strawberry Brownie Cheesecake
Summer Berry Cheesecake Salad
No Bake Berry Vanilla Cheesecake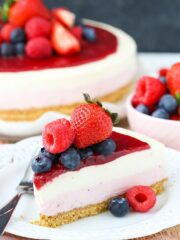 Category:

Dessert

Method:

No Bake

Cuisine:

American
Ingredients
BERRY TOPPING
1 cup

(160g) mixed berries (I used strawberries, blueberries and raspberries)

2 tbsp

(15ml) water

1/2 cup

(104g) sugar

2 tbsp

cornstarch
CRUST
1 1/2 cup

s (201g) graham cracker crumbs

3 tbsp

(39g) sugar

1/2 cup

(112g) butter, melted
CHEESECAKE FILLING
24 oz

(678g) cream cheese, room temperature

1/2 cup

(104g) sugar

2 tsp

vanilla extract, divided

1 1/4 cup

s (300ml) heavy whipping cream

3/4 cup

(86g) powdered sugar
Additional berries, for topping
Instructions
1. To make the berry topping, add mixed berries and water to food processor and puree until smooth. You should end up with about 2/3 cup puree.
2. Combine the sugar and cornstarch in a medium saucepan. Stir in the berry puree.
3. Cook over medium heat, stirring constantly until mixture thickens and comes to a boil, about 8-10 minutes.
4. Allow to boil for 1 minute, then remove from heat. Set aside and allow to cool completely.
5. To make the cheesecake, grease the bottom and sides of a 9 inch springform pan.
6. Combine graham cracker crumbs with sugar. Add melted butter and stir to coat. Press crumbs into en even layer in the bottom of the pan.
7. Mix cream cheese, sugar  and 1 teaspoon of vanilla extract together in a mixer bowl until smooth and well combined.
8. In another mixer bowl, add the remaining 1 tsp vanilla extract, heavy whipping cream and powdered sugar. Whip on high speed with the whisk attachment until stiff peaks form.
9. Gently fold about 1/3 of the whipped cream into the cream cheese mixture until combined, then add the remaining whipped cream and fold until fully incorporated.
10. Divide the mixture evenly between two bowls. Add 1/4 cup of the berry topping to one of the bowls and combine. Refrigerate remaining berry topping until later.
11. Spread the berry filling evenly into the crust and smooth the top.
12. Gently add the vanilla cheesecake filling and smooth into an even layer.
13. Refrigerate for about 6-7 hours or until firm.
14. Remove the cheesecake from the springform pan, then spread remaining berry topping evenly on top. If needed, heat the berry topping up a bit so that it's a more spreadable consistency. You don't want it hot though, or it'll soften the cheesecake.
15. Top the cheesecake with fresh fruit and refrigerate until ready to serve.
Enjoy!