These white chocolate chip cookies are soft and chewy on the inside with lightly crisp edges and they are easy to make. They're also packed full of white chocolate and will have any white chocolate lover (like me) swooning.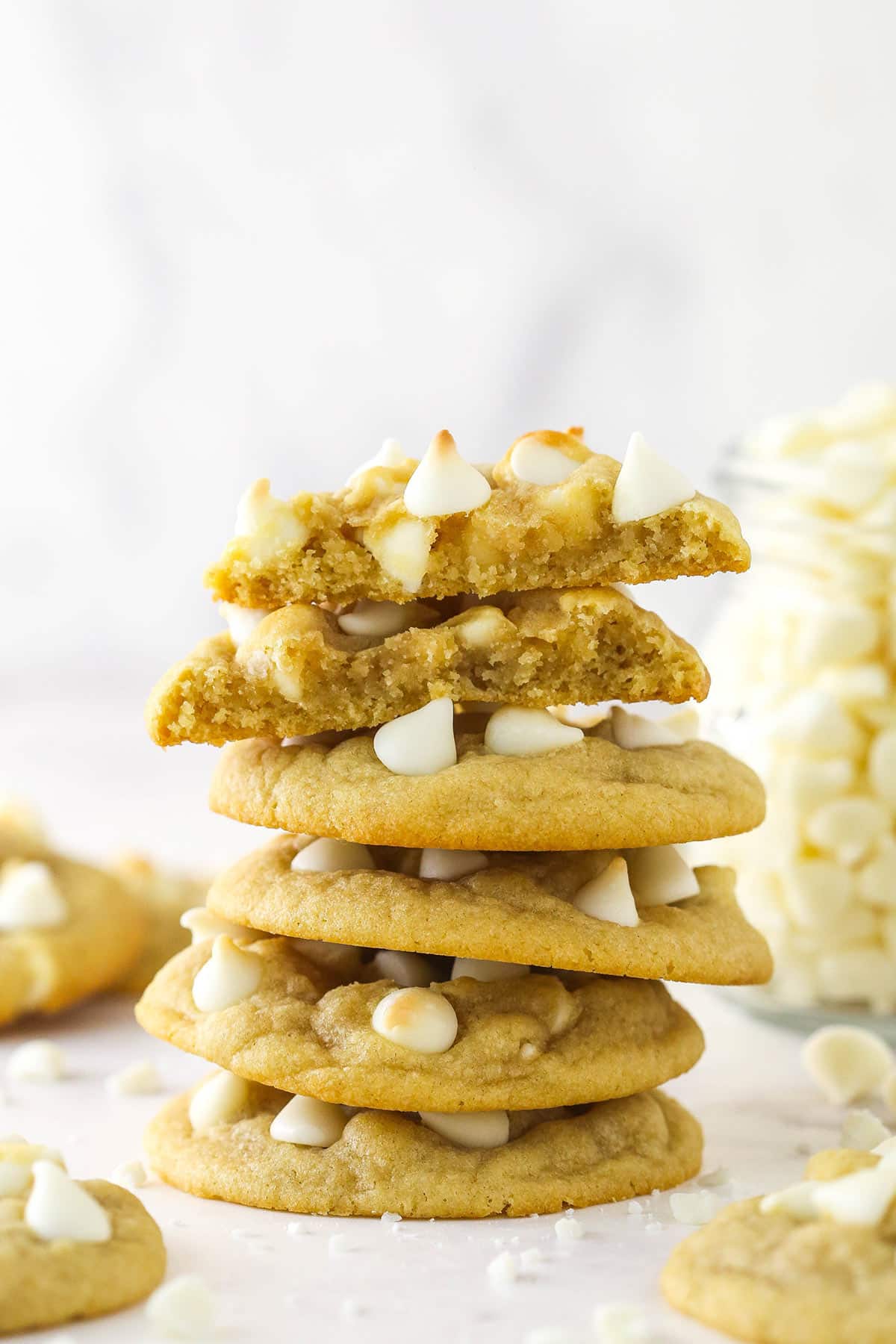 This may not be a popular opinion, but I think white chocolate chip cookies are the ultimate in chocolate chip cookies. I am such a white chocolate fan and always have been. Given a choice between these white chocolate versions and my regular chocolate chip cookies, I'll always choose these. I just love white chocolate. To make these cookies, I actually started with my White Chocolate Macadamia Nut Cookie recipe and went from there.
I often see white chocolate macadamia nut cookies in stores and bakeries, but rarely do I come across a cookie with just white chocolate chips. This recipe breaks that norm. Little white chocolate morsels are tucked into a cookie dough that is then baked to a perfect golden brown. The cookie is a brown sugar cookie that is chewy on the inside and perfectly crispy around the edges and served as the perfect canvas for white chocolate chips. Time to start baking!
What is White Chocolate?
White chocolate is a creamy, sweet accumulation of cocoa butter, milk, and sugar. It is set apart from milk chocolate and dark chocolate in that it does not contain any cocoa nibs or solids. Where milk and dark chocolate boast the more bitter taste of the cocoa nib, white chocolate carries the subtle, buttery richness of cocoa butter.
These really are some of my favorite cookies. It's hard to pick just a couple of reasons to love them but I will do my best.
Just the white chocolate. I know not everyone is the same, but I love white chocolate. These cookies allow it to shine above all else. You can find white chocolate macadamia nut cookies almost everywhere…but just white chocolate? Not so much.
Chewy. Chalk it up to brown sugar and extra egg yolk. Subbing brown sugar in for some of the white sugar in a cookie recipe really yields a chewier, more decadent cookie. The extra yolk adds just enough additional moisture and fat to keep these cookies soft and chewy.
Easy. White chocolate chip cookies are pretty straightforward to make. So, if you are new in the kitchen, this is a great place to start.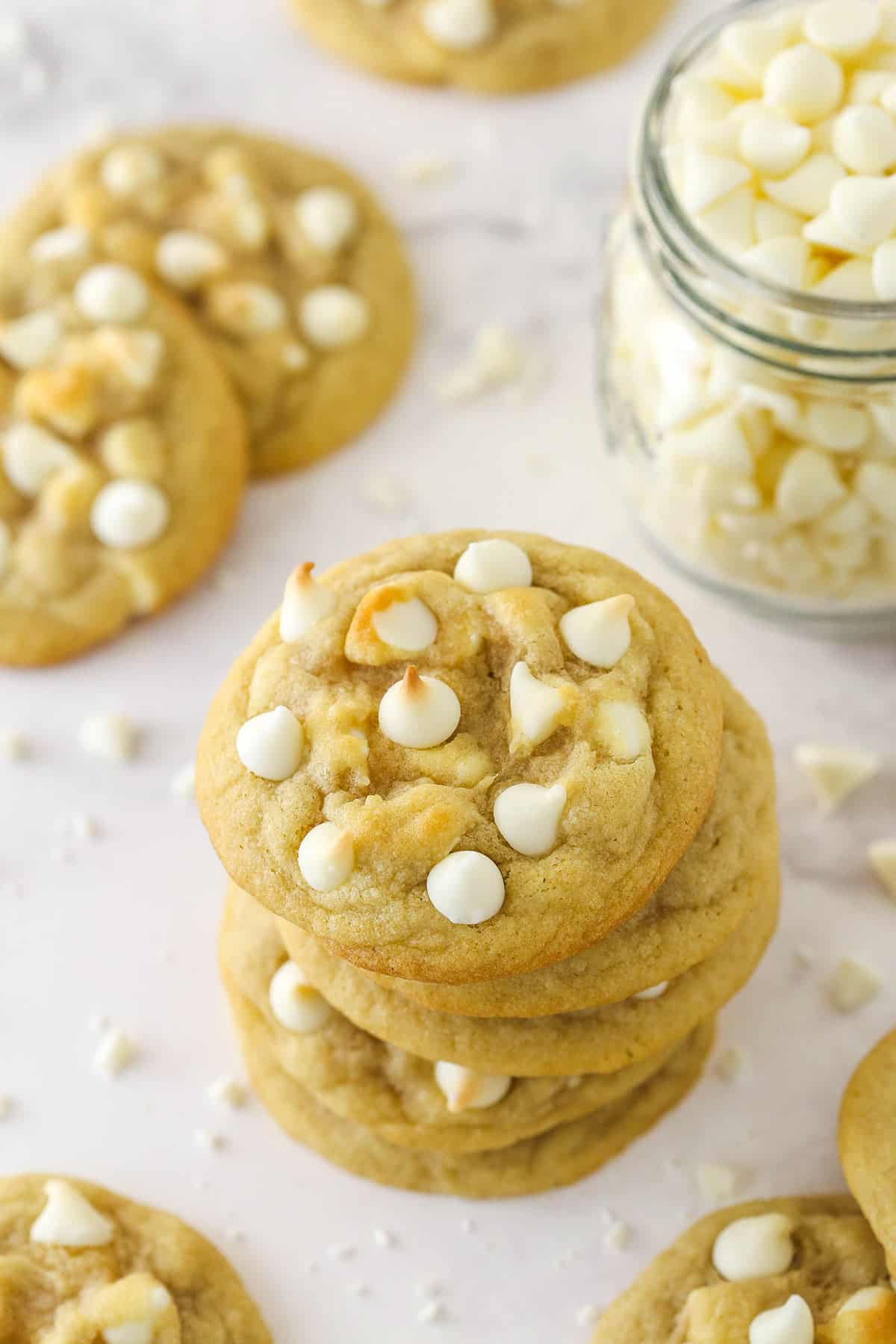 Recipe Ingredients
It doesn't take much to make white chocolate chip cookies. You might already have many of the ingredients in your pantry and/or fridge. Here's what you'll need. Don't forget to scroll to the recipe card below for details on measurements and more.
All-purpose flour – Be sure to measure your flour accurately or you'll end up with dry and crumbly cookie dough and cookies.
Baking soda – For a dense, chewy cookie.
Salt – For flavor.
Unsalted butter – Be sure it's at room temperature.
Light brown sugar – For extra flavor and moisture.
Granulated sugar – For sweetness and moisture.
Egg – A large egg is used to bind the cookie dough together.
Egg yolk – The extra egg yolk helps add moisture and chewiness to these cookies.
Vanilla extract – For flavor.
Milk – I use 2%. Only use as much as needed. Too much will cause your cookies to spread.
White chocolate chips
White chocolate chip cookies are not complicated to make. I have listed the basic steps here but don't forget to scroll to the recipe card below for a more in-depth look at how to create these delicious goodies.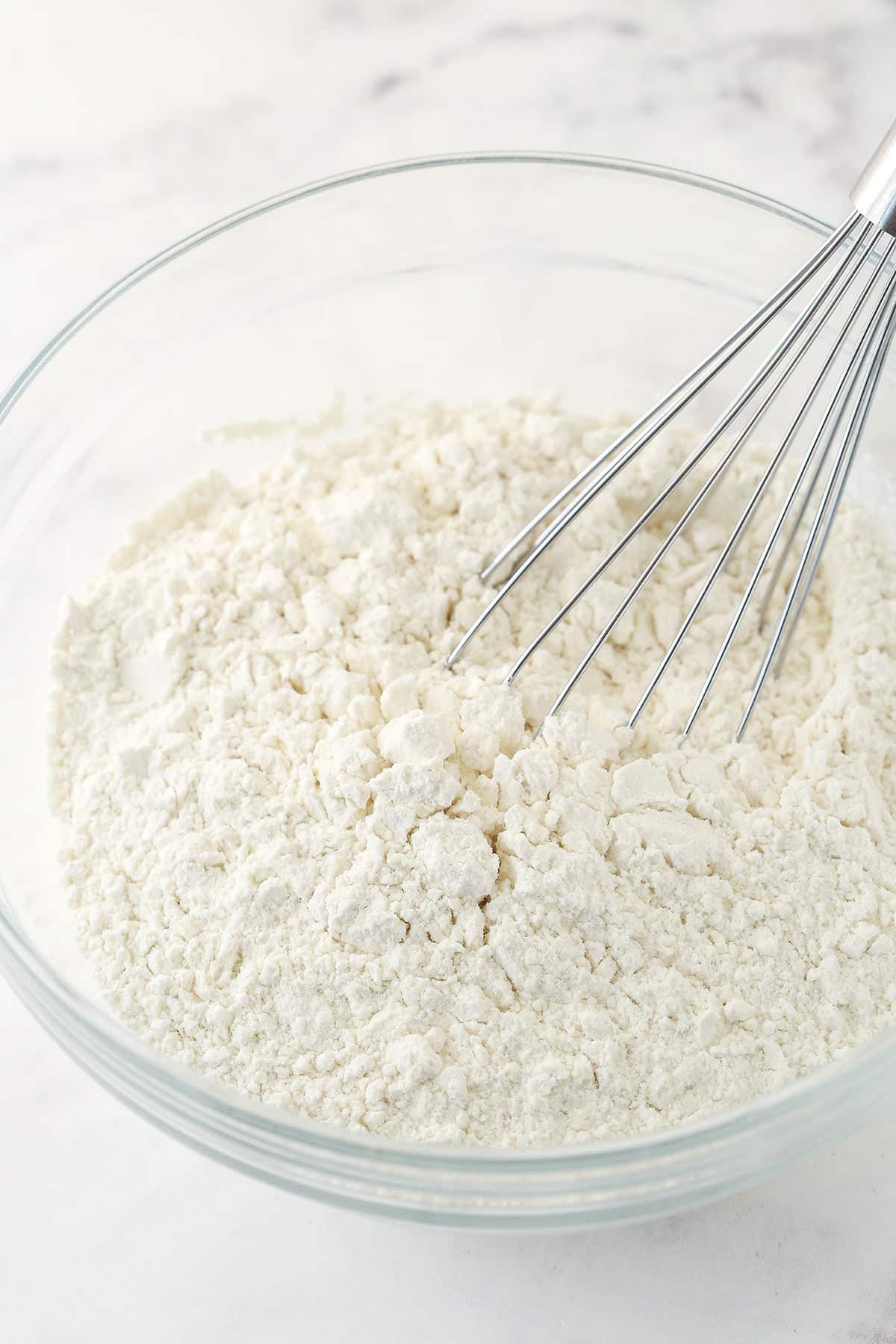 Combine the dry ingredients. Just flour, baking soda, and salt.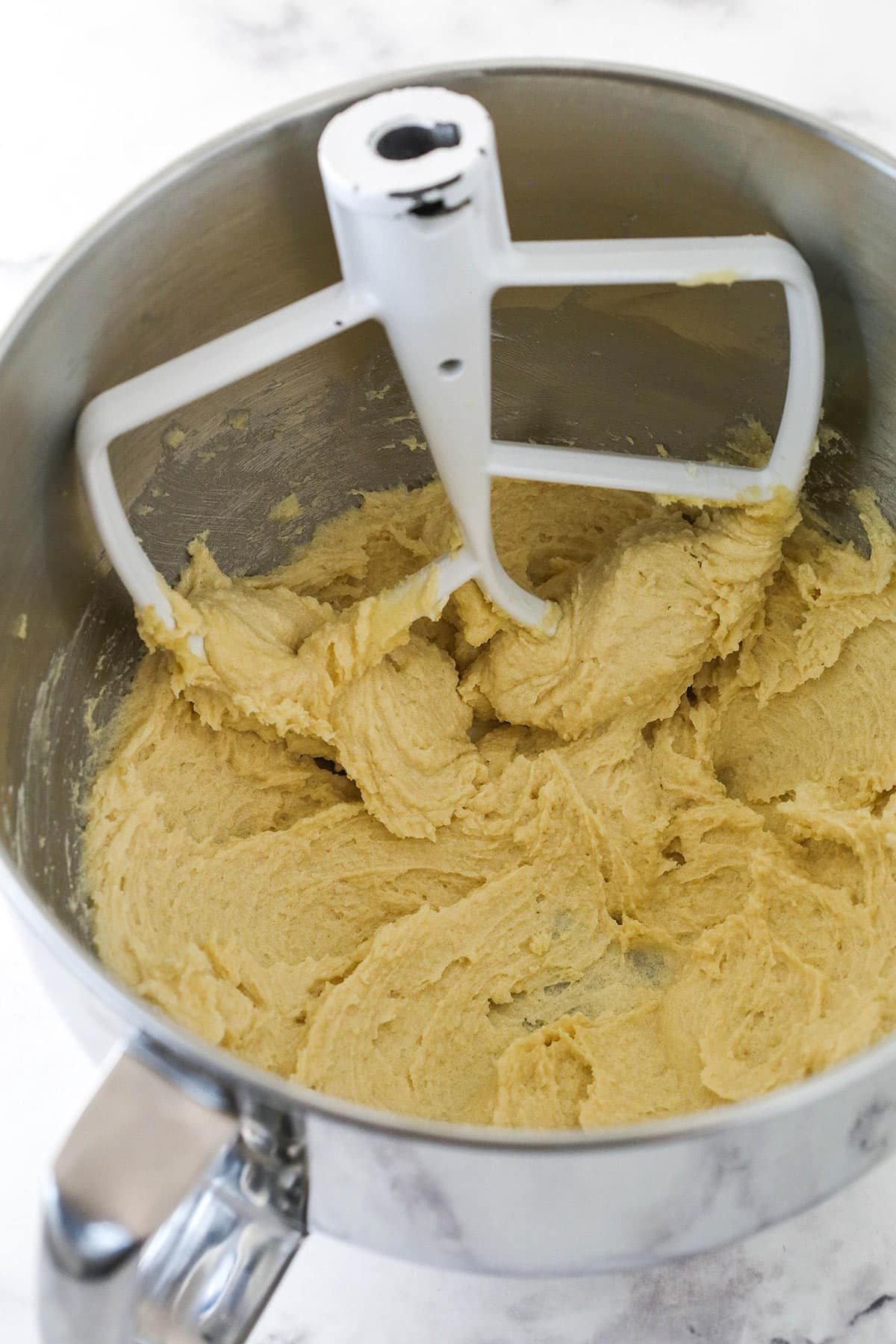 Cream. Cream together the butter and sugars. They should become light and fluffy.
Add the eggs. Add the whole egg first, mix, add the egg yolk, and mix again to incorporate.
Add the vanilla and mix to combine
Add the dry ingredients and mix to combine.
Add the milk and mix to combine.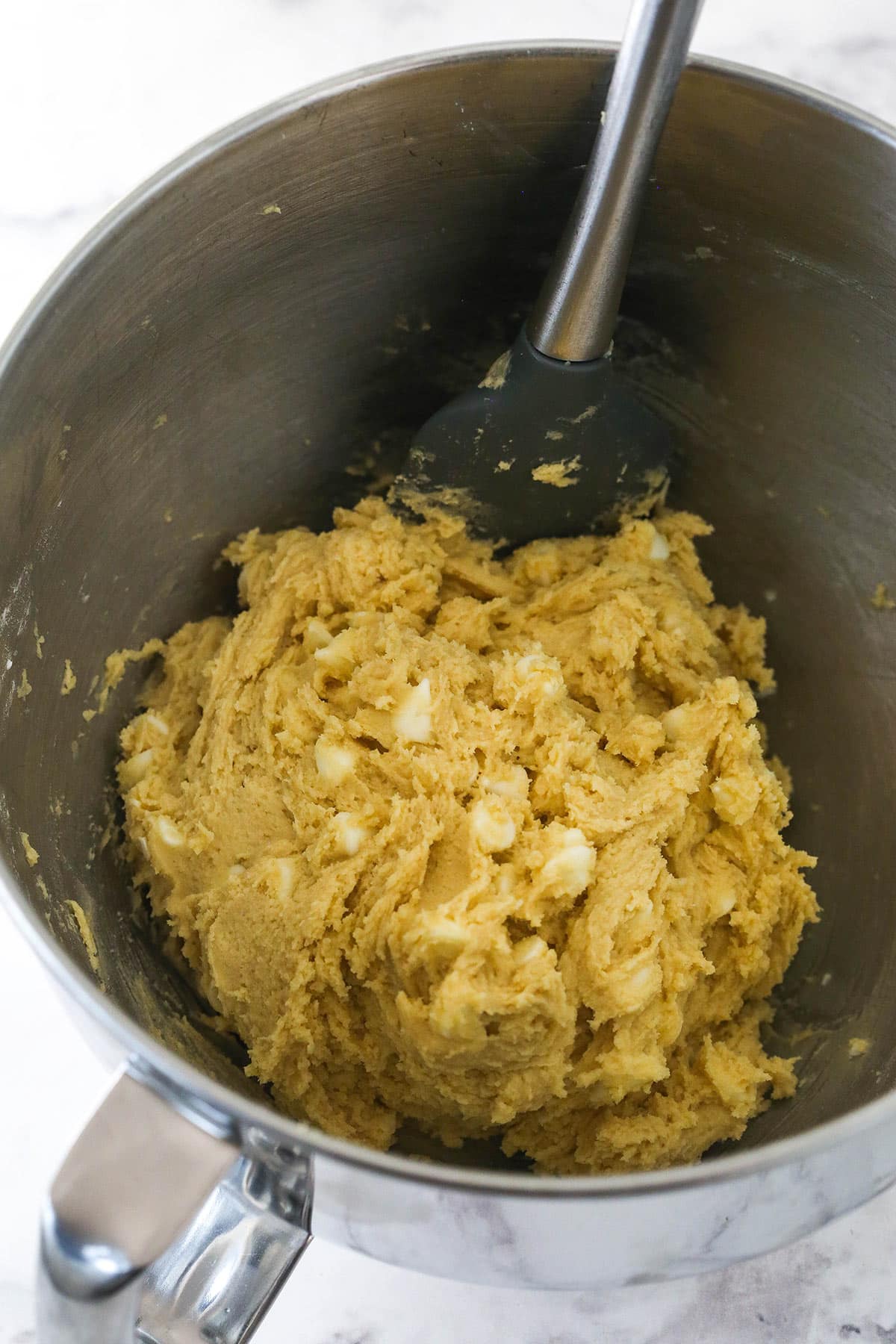 Incorporate the white chocolate chips. You want to stir them evenly throughout the dough.
Form the dough balls. Use your hands or a cookie scoop to make dough balls.
Refrigerate. Chill the dough balls in the refrigerator for 2-3 hours or overnight.
Prepare to bake. Preheat the oven to 350°F, line baking sheets with parchment paper or silicone baking mats, remove the dough from the refrigerator, and allow it to come to room temperature.
Bake. Arrange the dough balls on the cookie sheets and bake for 8-9 minutes. Allow the cookies to cool for a few minutes before transferring them to a wire rack.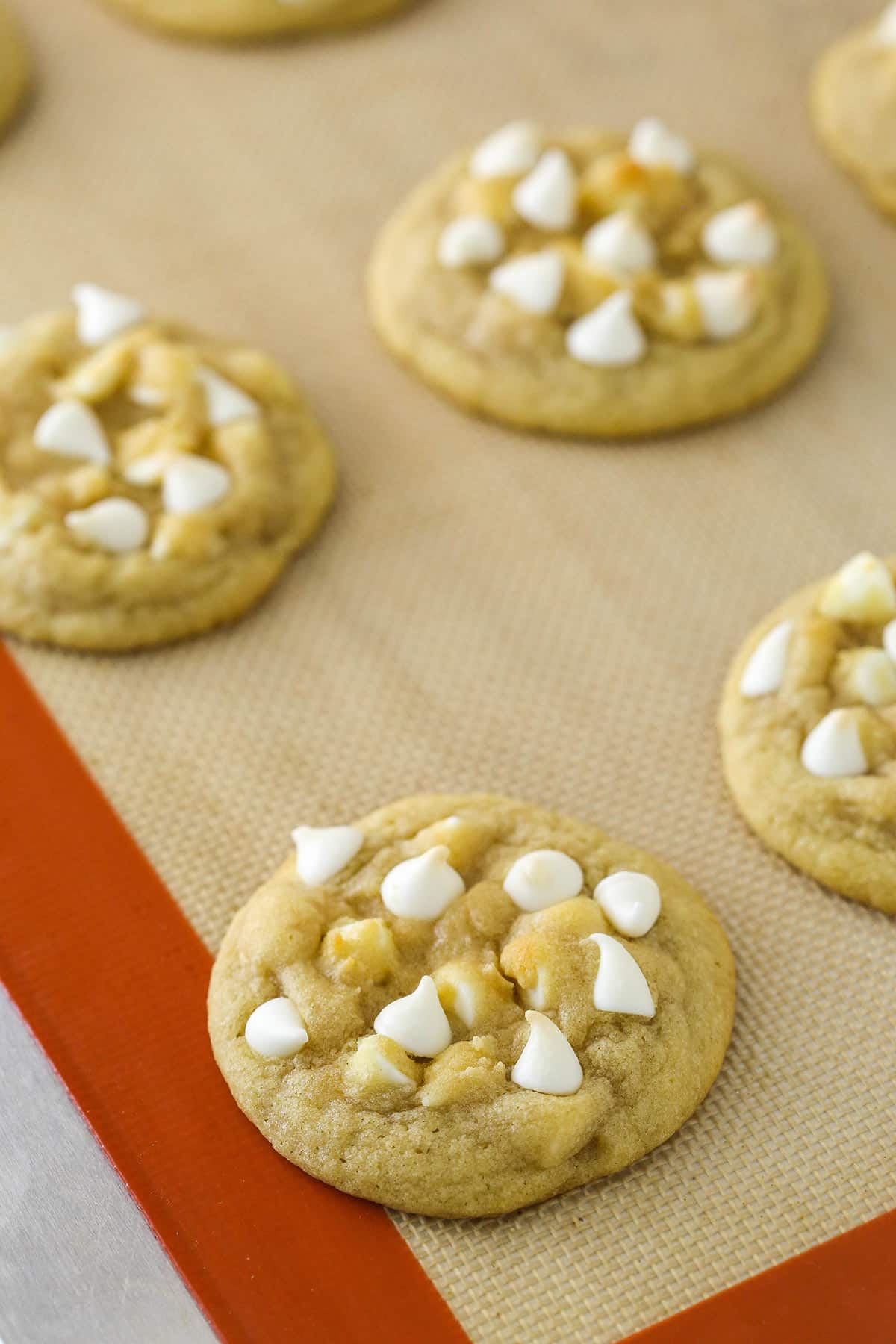 As always, I have some tips and tricks that will help you achieve the cookies you are looking for. These tips can really be applied to any cookie recipe, so soak them up.
Measure carefully. Especially when it comes to sugar and flour. Proper measuring plays a huge roll in determining how much your cookies will spread during the baking process. Too much sugar and/or too little flour will cause the cookies to spread too much. Too little sugar and/or too much flour will prevent them from doing so at all. So measure carefully. If you have a scale, great! If not, use the spoon and level method. Whatever you do, don't pack the flour into the measuring cup.
Use room-temperature butter. Butter that is too cold will not incorporate well. Butter that has been over-melted in the microwave will not hold air as well as room-temp butter and will thus leave you with a denser dough.   
Refrigerate the cookie dough. It will give the dry ingredients a chance to soak up the moisture from their wet counterparts thereby preventing over-spreading during the baking process and giving you a chewier cookie.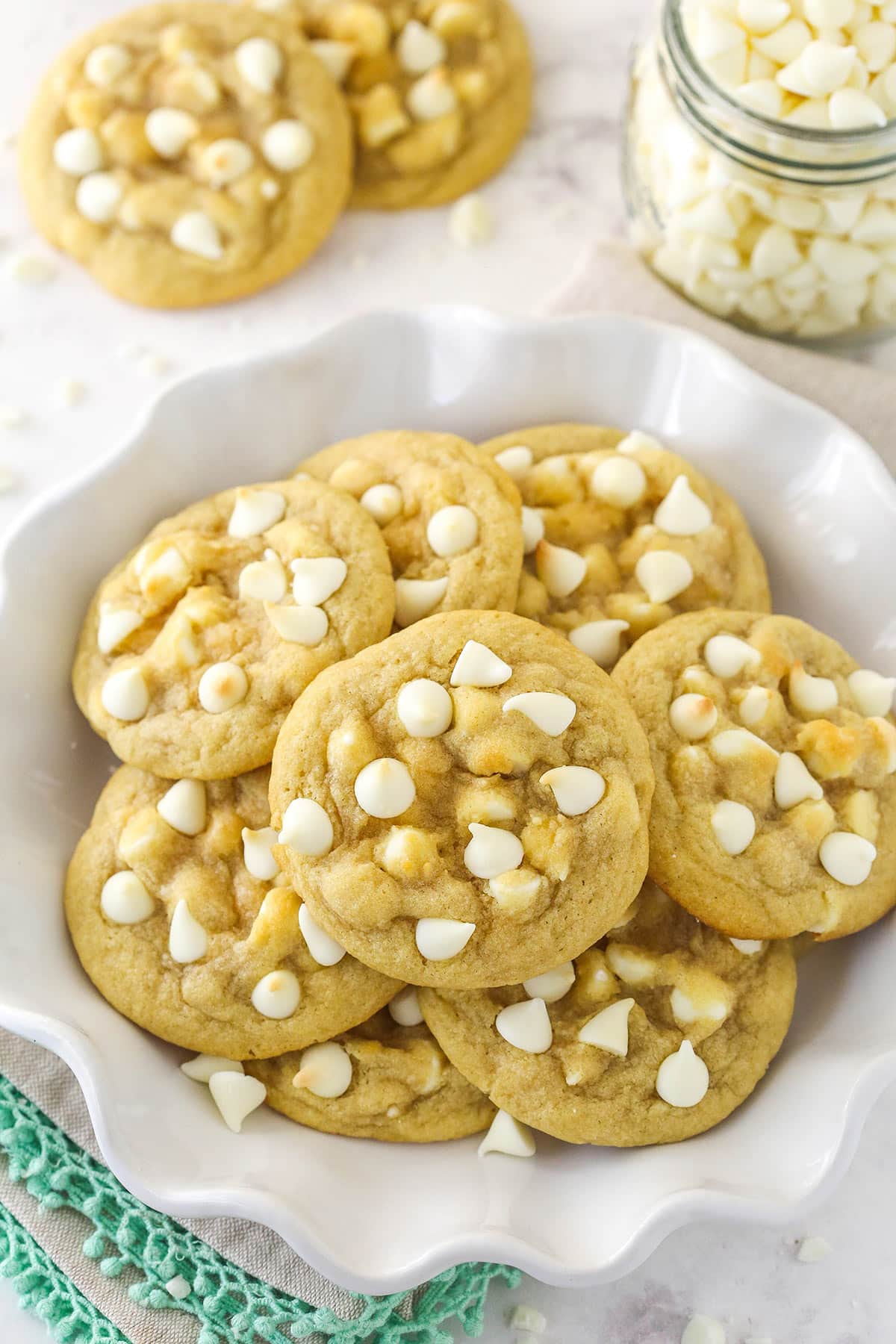 How to Store
Allow the white chocolate chip cookies to cool completely before sealing them in an airtight container. They will be good on the countertop at room temperature for up to 5 days.
Yes, you can! I suggest doing it one of two ways.
Freeze the dough balls. Place the dough in an airtight container and store in the freezer for up to 2 months. When you are ready for freshly baked cookies, transfer the dough to the refrigerator to thaw until malleable, form into balls, and bake.
Freeze the cookies. Store the cookies in an airtight container. Place parchment paper between layers if you have more than one. When you are ready to enjoy the frozen cookies, remove them from the freezer and allow them to thaw at room temperature.
Chocolate chip cookies are undoubtedly the king of cookies. Who doesn't love them? This white chocolate chip version might be my favorite, but I'll leave you to do some sampling so that you can decide on your own favorite. Here are some of my favorite recipes.
Print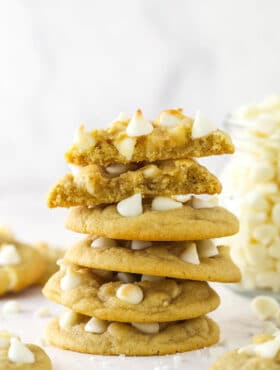 Recipe
Author:

Prep Time:

1 hour

Chill Time:

2 hours

Cook Time:

8 minutes

Total Time:

3 hours 8 minutes

Yield:

28 cookies

Category:

Cookies

Method:

Baking

Cuisine:

American
---
Description
Decedent white chocolate chips are buried in perfectly chewy on the inside, crispy on the edges brown sugar cookies. Yum!
---
Ingredients
2 1/2 cups

 (

325g

) all-purpose flour

1 tsp

 baking soda

1/2 tsp

 salt

3/4 cup

 (

168g

) unsalted butter, room temperature

1/2 cup

 (

112g

) packed light brown sugar

1/2 cup

 (

104g

) granulated sugar

1

 large egg

1

large egg yolk

2 tsp

 vanilla extract

1

–

2

 tsp of milk

1 1/2 cups

 (

254g

) white chocolate chips, divided
---
Instructions
Combine the flour, baking soda, and salt in a medium-sized bowl and set aside.

Cream the butter and sugars together in a large mixer bowl on medium speed until light in color and fluffy. Scrape down the sides of the bowl while it's mixing a few times, as needed. You should be able to see the change in color and texture happen and know it's ready.

Add the egg and egg yolk one at a time and mix until well combined after each addition.

Add the vanilla extract and mix until well combined.

Add the dry ingredients and mix until the dough is just combined. Do not over-mix.

Add a teaspoon of milk and combine on low speed just until incorporated. Use a rubber spatula to finish combing the dough and help it come together. Add an additional teaspoon of milk only if really needed to help the dough come together. You don't want to add too much liquid and end up with cookies that spread too much.

Stir in 1 1/4 cups of the white chocolate chips.

Create 2 tablespoon-sized balls of cookie dough until all the cookie dough has been used.

Refrigerate the cookie dough for at least 2-3 hours or overnight. After refrigerating them, let them sit at room temperature for about an hour before baking to come closer to room temperature.

Preheat oven to 350°F (180°C). Line baking sheets with parchment paper or silicone baking mats.

Add the cookie dough balls to the baking sheet and use the remaining white chocolate chips to press some into the tops of the cookie dough balls, if desired.


Bake cookies for 8-9 minutes. Remove just as the edges begin to turn golden. Don't overbake.

Remove cookies from the oven and allow to cool on baking sheets for 4-5 minutes before transferring to a wire rack to cool completely. If the cookies have spread a little more than you like, you can use a spoon to gently push the sides in a bit.
---
Nutrition
Serving Size:

1 cookie

Calories:

166

Sugar:

12.5 g

Sodium:

99.5 mg

Fat:

8.3 g

Carbohydrates:

21.1 g

Protein:

2.1 g

Cholesterol:

28.2 mg
Keywords: white chocolate chip cookies, chewy cookies, soft cookies
Categories
This post may contain affiliate sales links. Please read my disclosure policy.