August 13, 2014
Triple Peanut Butter Cupcakes
These Triple Peanut Butter Cupcakes are absolutely full of peanut butter! A peanut butter cupcake with mini reese's pieces and peanut butter chips mixed in is topped with peanut butter icing. A peanut butter lover's dream cupcake!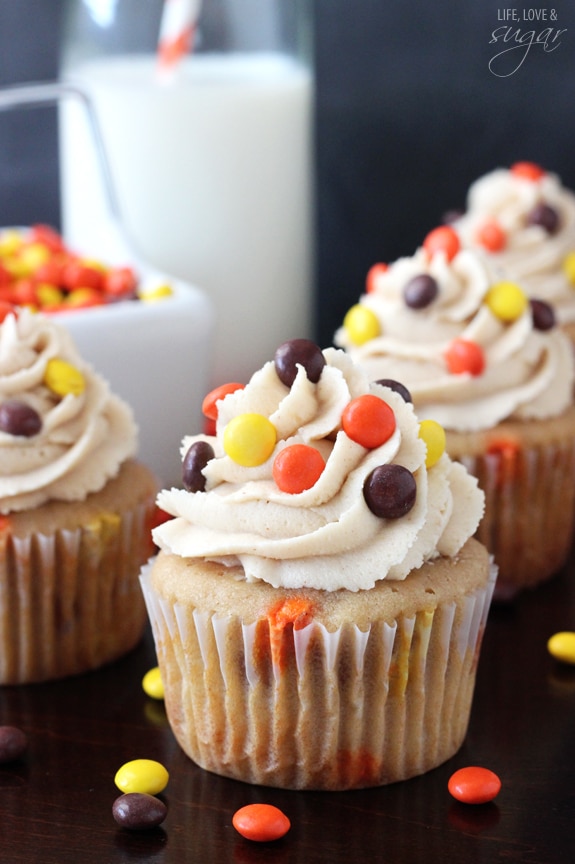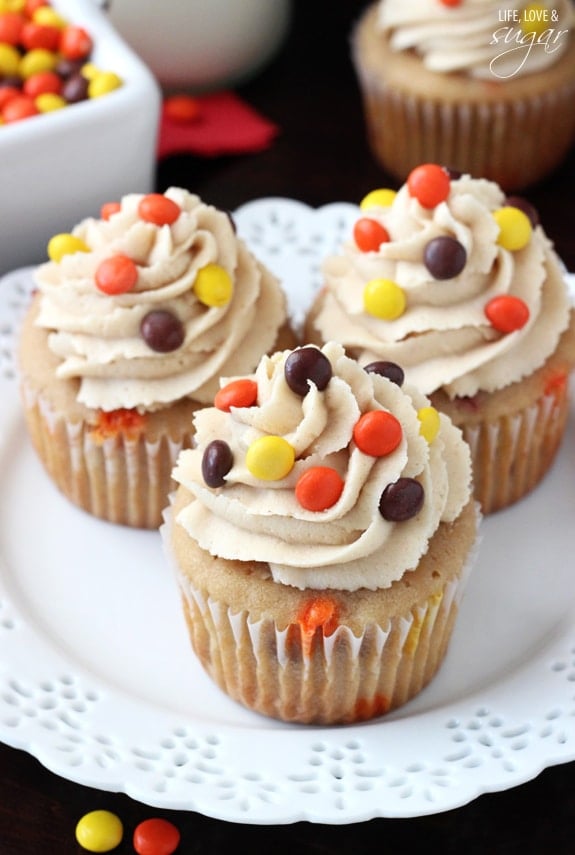 So I mentioned last Friday that I was going with the hubs and in laws to check out a South African restaurant over the weekend. We ate at Ten Degrees South on Saturday night and were completely transported to South Africa!
Ok, so that's a bit of an exaggeration, but it was very nostalgic for them and fun time for me.
Not everything on the menu struck me as being super unique and different from things you might find here, but a couple things got them more excited than others for being more unique to South Africa and things they used to eat regularly.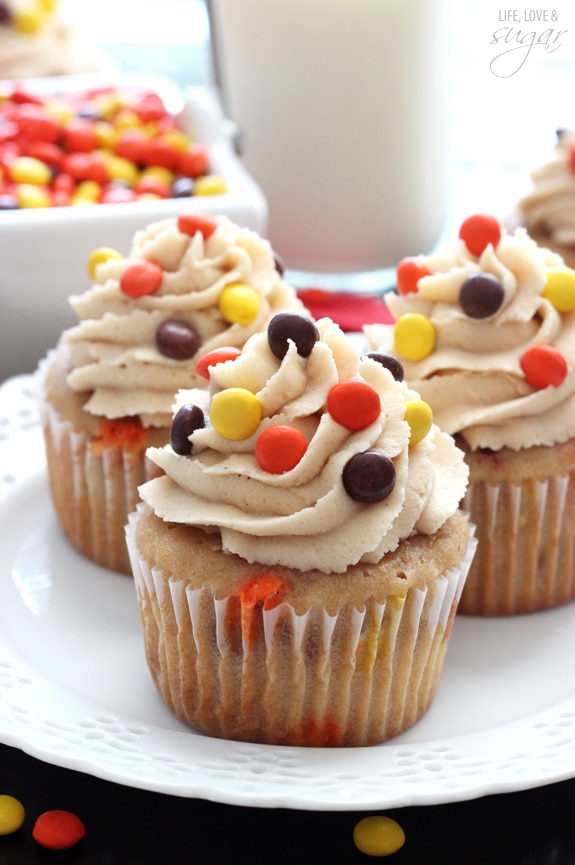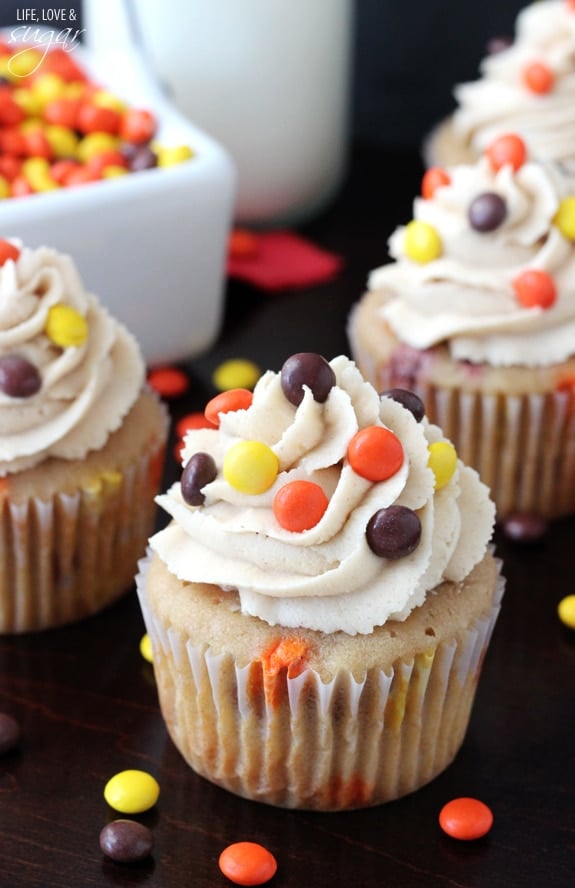 We ordered "Biltong" as an appetizer, which is described as similar to beef jerky "but better." It is a lot like beef jerky, but softer and not so chewy. Maybe a bit more flavor too. The hubs said it's something they eat regularly in South Africa, kind of like we eat chips or something while watching football.
For dinner, the hubs had me get "Boerewors". He tried to teach me how to pronounce it too. We practiced a few times, but it was another 5 minutes or so before the waiter came back, so by then I totally butchered it. They all laughed at me. He got something else, but wanted me to get that so he could have some. I was a nice wife and obliged.
It was very good. Basically beef sausage with "pap" (kind of like the grits you get with shrimp and grits) and a tomato-y gravy type sauce. Reminded me a lot of shrimp and grits, but with sausage and more tomato-y-ness.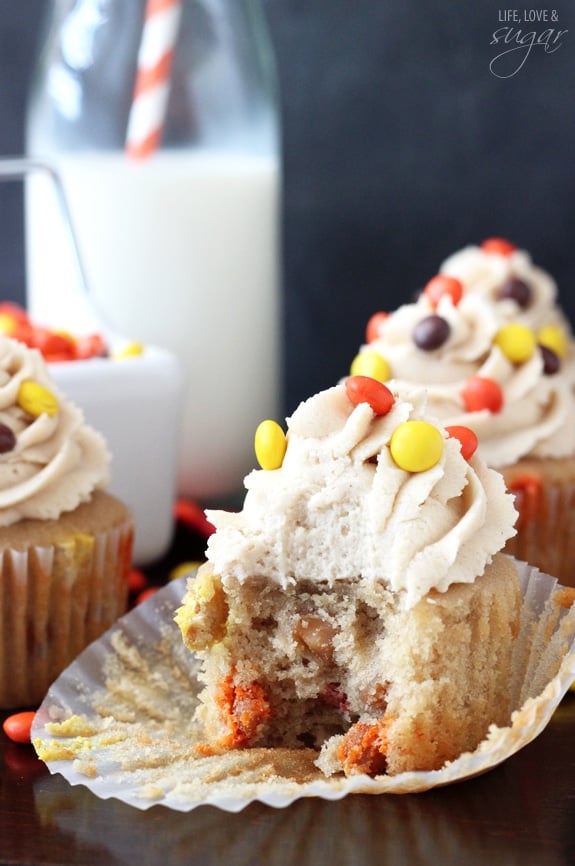 It was quite tasty, and fun. I love seeing the hubs enjoy things like that that remind him of South Africa. He always gets excited, which makes me happy. 🙂
These cupcakes also make me happy.
The peanut butter flavor is perfect – not too strong, not too light. With all the peanut butter going on, it's just right. And the crunch from the mini reese's and peanut butter chips adds fun texture – I really wouldn't want to leave them out. That might have been my favorite part.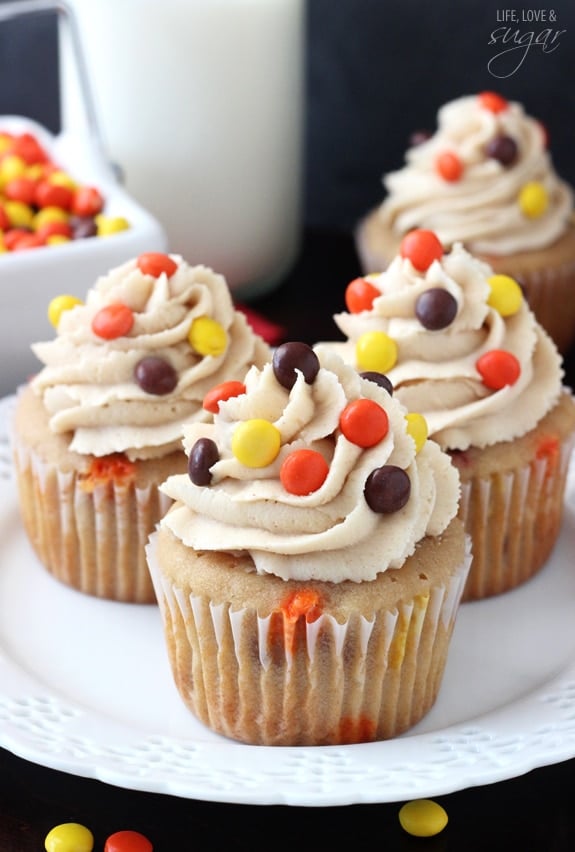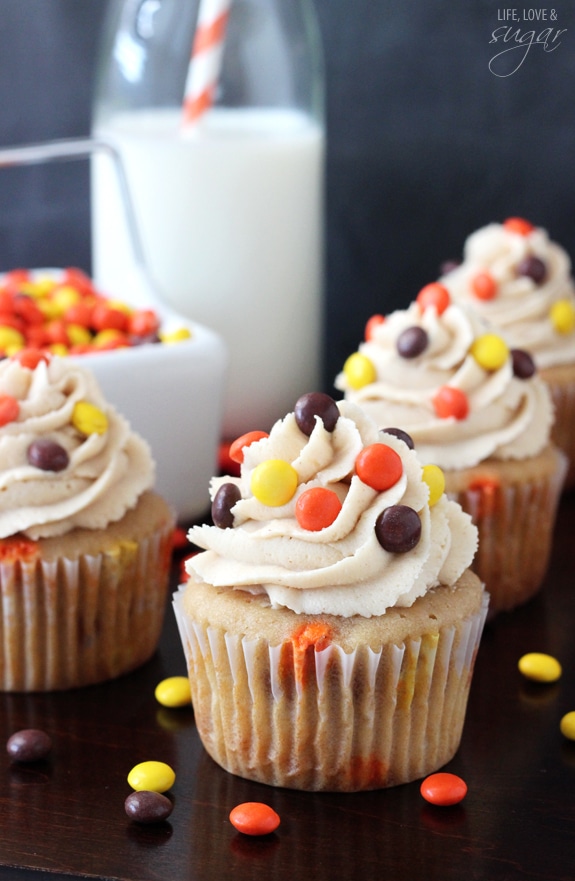 And oh my goodness, they are moist. I tested them a couple times to get them just right and I'm so glad I did. I'm not normally the biggest peanut butter fan, but I loved these cupcakes!
And to my surprise, I think of all the cupcakes I've brought to our small group, these were eaten the quickest. Further proof that these peanut butter cupcakes rock!
Triple Peanut Butter Cupcakes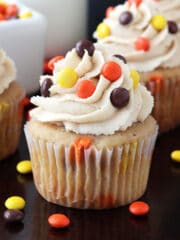 Yield:

14

-

16

Cupcakes

1

x
Category:

Dessert

Method:

Oven

Cuisine:

American
Ingredients
PEANUT BUTTER CUPCAKES 
1 2/3 cup

s all purpose flour

3/4 cup

brown sugar

1/4 cup

sugar

1/4 tsp

baking soda

1 tsp

baking powder

3/4 cup

salted butter, room temperature

1/2 cup

peanut butter

3

egg whites

1 1/2 tsp

vanilla extract

1/2 cup

sour cream

1/2 cup

milk

1/2 cup

mini reeses pieces

1/2 cup

peanut butter chips
PEANUT BUTTER ICING
1/2 cup

butter

1/2 cup

shortening

4 cup

s powdered sugar

3/4 cup

peanut butter

2

–

3

tbsp water or milk
Instructions
1. Preheat oven to 350 degrees.
2. Whisk together flour, brown sugar, sugar, baking soda and baking powder in a large mixing bowl.
3. Add butter, peanut butter, egg whites, vanilla, sour cream and milk and mix on medium speed until smooth.
4. Fold in mini reeses pieces and peanut butter chips.
5. Fill cupcake liners a little more than half way.
6. Bake 18-20 minutes.
7. Remove cupcakes from oven and allow to cool for 1-2 minutes, then remove to cooling rack to finish cooling.
8. While cupcakes cool, make icing. Mix butter and shortening together until smooth.
9. Add 2 cups of powdered sugar and mix until smooth.
10. Add peanut butter and 1 tbsp water, mix until smooth.
11. Add remaining powdered sugar and mix until smooth. Add additional water or milk until the right consistency.
12. Ice cupcakes and serve.
Notes
Shortening can be replaced with butter.
Enjoy!

You might also like:
Reeses Peanut Butter Chocolate Chip Cookie Cake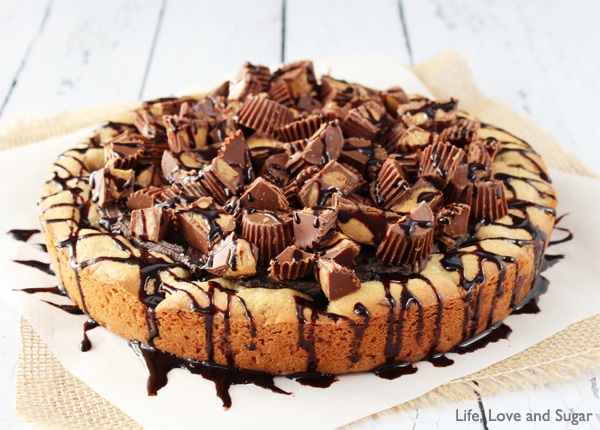 Peanut Butter Cookie Dough Brownie Layer Cake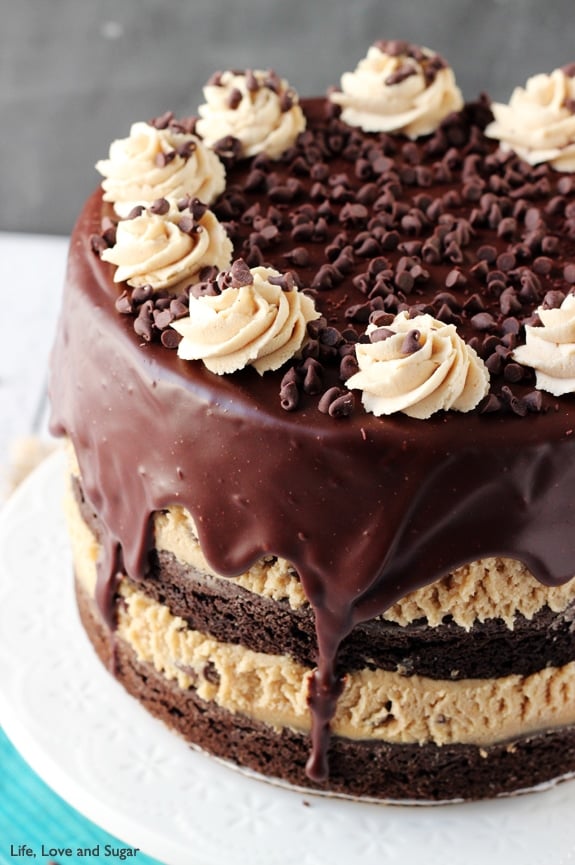 Snickers Peanut Butter Brownie Ice Cream Cake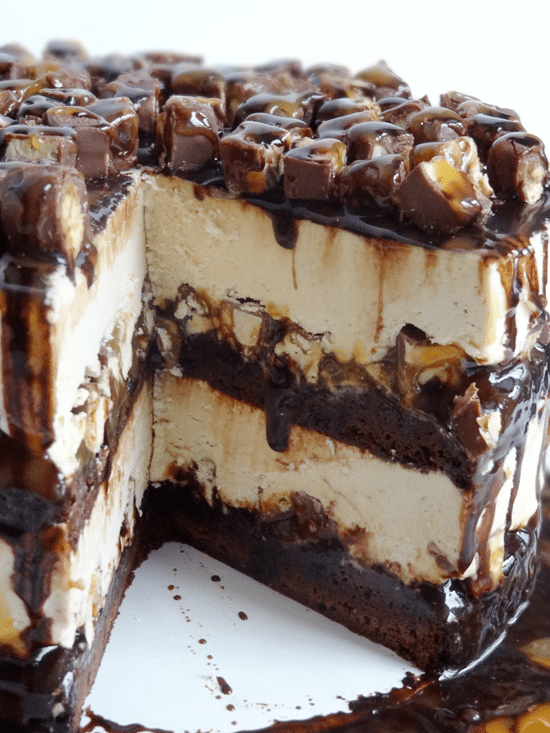 2 Ingredient Frozen Peanut Butter Banana Dog Treats

Recipes from friends:
Peanut Butter Banana Muffins with Peanut Butter Streusel from American Heritage Cooking
Crunchy Peanut Butter Breakfast Bars from Chelsea's Messy Apron
Chocolate Peanut Butter Cup Skillet Cookie from Lemons for Lulu