This post may contain affiliate sales links. Please read my disclosure policy.
These Amazing Baked Beans are thick, hearty and perfectly balanced between sweet and savory! Just like your mother made them! They're the perfect side dish for summer potlucks and outdoor BBQs.
The BEST Baked Beans Recipe Ever
So it might surprise you to know that I actually grew up cooking more than baking. If I baked, it was rare and usually from a box or at Christmas time. Instead, all the baking I do these days grew from my gigantic sweet tooth and a love creative things. But that creative part of me in the kitchen actually began as a kid cooking with my mom. She was rarely one to follow a particular recipe. She often changes things to make them her own and to this day never uses measuring cups or measuring spoons (much to my dismay).
When it came time to make these baked beans and share an actual recipe, we both laughed about how I would have to experiment with measured amounts of ingredients because she never actually measures. So after playing around with it to be sure it was right, I am now sharing her amazing baked bean recipe – WITH actual measurements!
These baked beans truly are amazing and the best you'll ever have! They were a staple for us growing up and a recipe she often brought to potlucks and BBQs – and still does. These beans are such a favorite of mine, that I rarely get baked beans when out anywhere because they never measure up to this awesome semi-homemade version.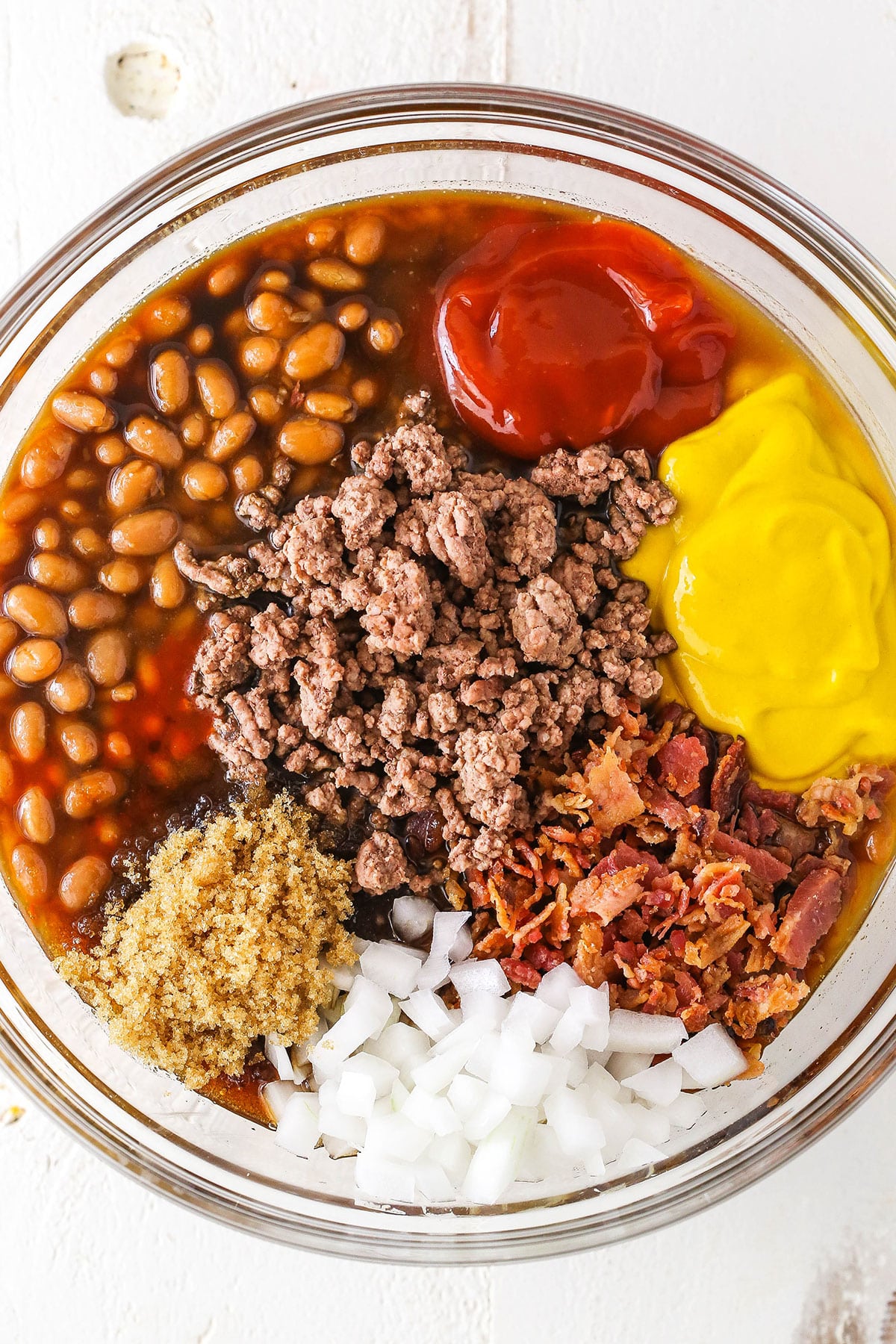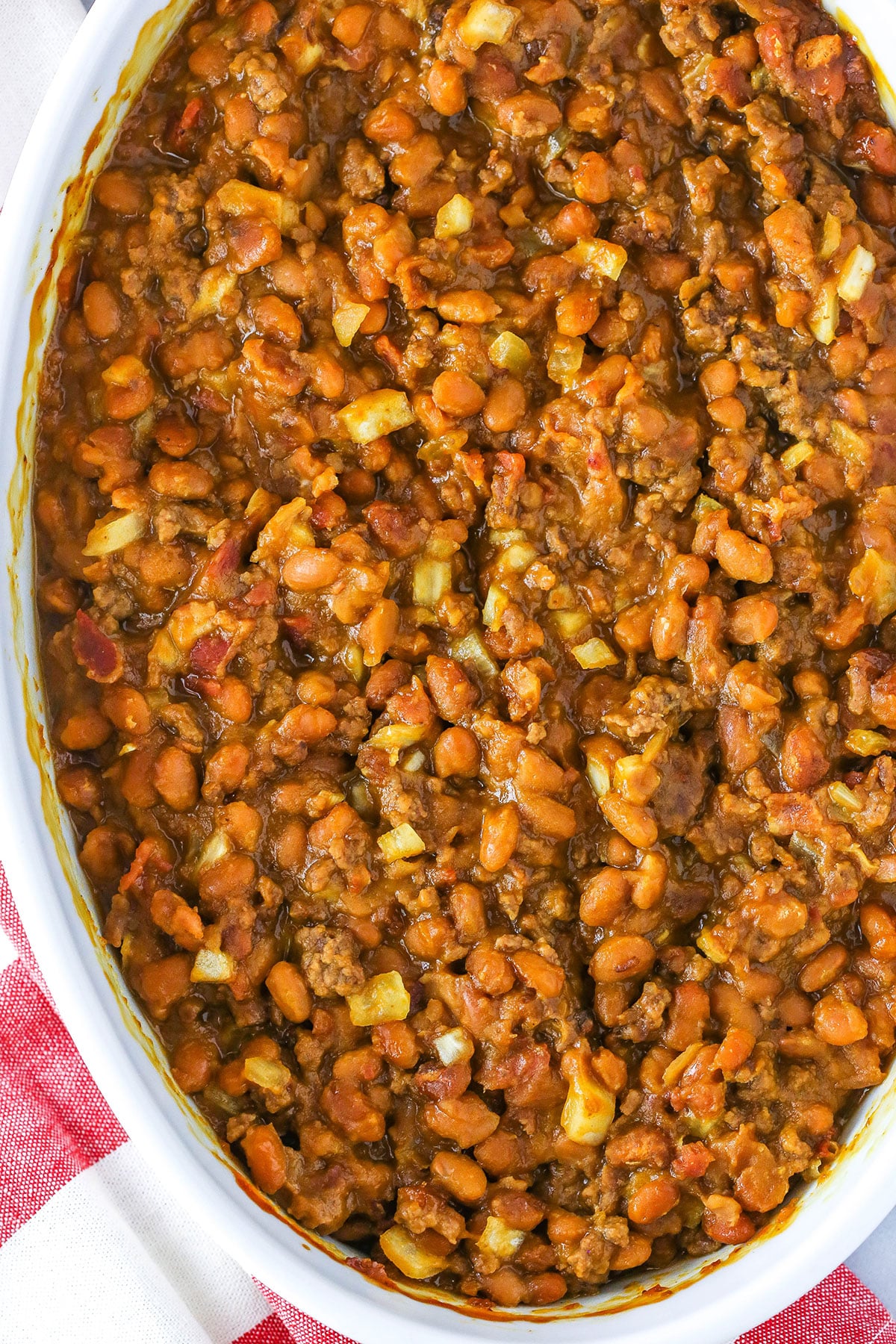 Ingredients for Mom's Amazing Baked Beans
So lets talk a little about what makes these beans special. Ketchup and mustard are two ingredients that we always start with. I remember making these in the past for people and having them look at me like I have three horns when they see me add ketchup and mustard to beans. But trust me – it's delicious!
From there, add some brown sugar and onion. Both are staples in delicious baked beans. Naturally I'm a fan of the sweetness the brown sugar adds. And there's no doubt that onion adds amazing flavor to savory dishes.
And then there's the meat that makes these baked beans so hearty. This recipe uses both bacon and ground beef, but you could certainly adjust that if you want it. Adding ground beef is a more recent addition in our family. Growing up we often had them with just bacon and they are excellent that way as well. As for the bacon itself, you can most certainly cook your own bacon, but bacon bits were quite common in our home and is most often what I reach for when baking these baked beans. No shame here!
Finally, you had a bit of Worcestershire sauce, a touch of soy sauce and a bit of hot sauce.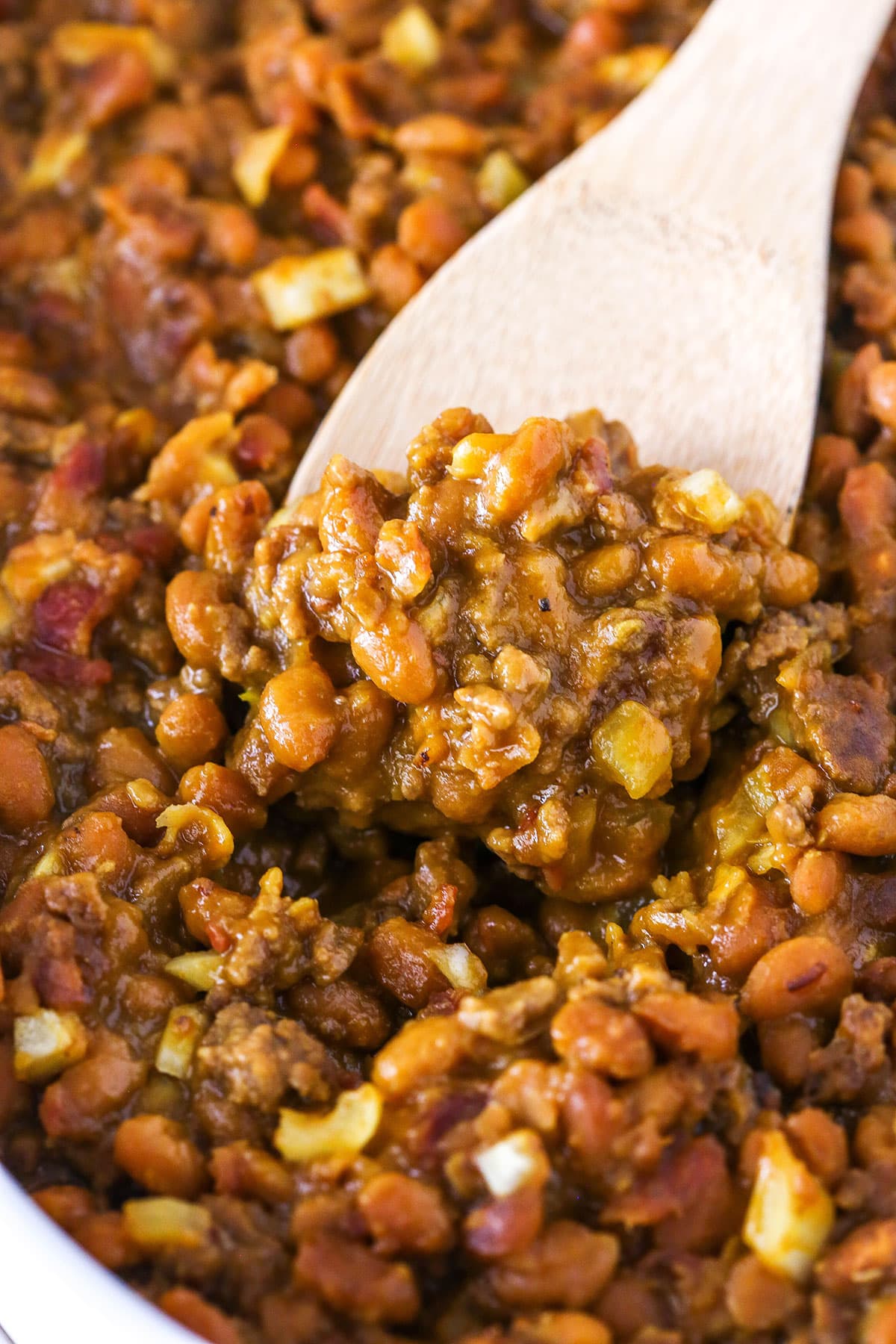 Pour the beans into a casserole dish and bake them to your liking! I prefer my beans a little thicker, but you could certainly cook them for a little less time and have them at a thinner consistency. Just keep an eye on them as they bake and remember that they will thicken as they cool, so take them out of the oven a little before you think they will be thick enough.
Beans to Use for the Best Baked Beans
These are semi-homemade baked beans, so they start with baked beans from a can. We tend to use Bushes Baked Beans and always love them, but feel free to experiment with other kinds as well.
When your beans are ready, serve 'em warm! These beans are easy to prepare and always a hit! They have always been a classic for us and I have no doubt they will be a classic for you once you give them a try.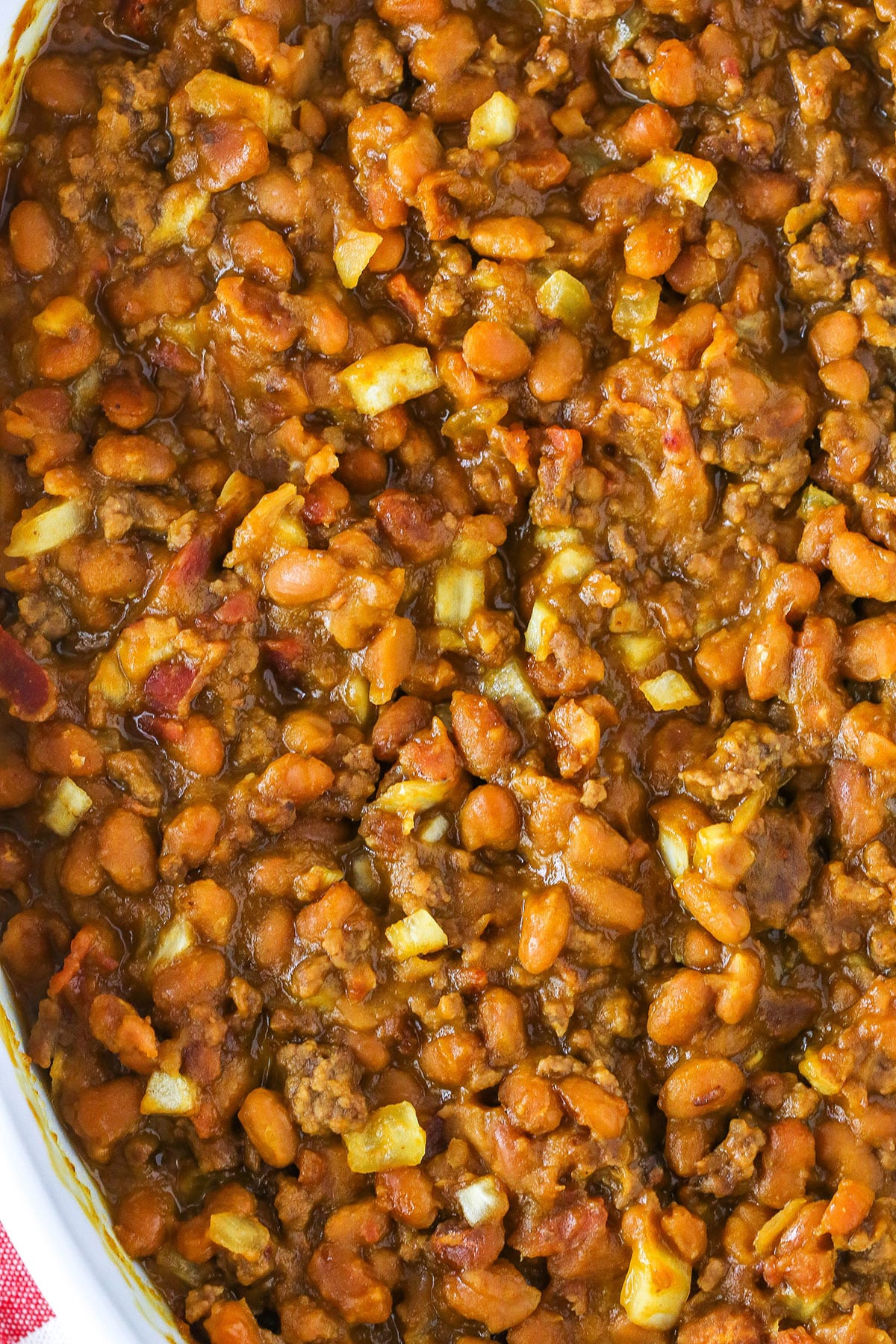 More side dishes to enjoy
Cheesy Hash Brown Casserole
Three Potato Salad
Classic Green Bean Casserole
Pineapple Pasta Salad
Sweet Potato Casserole with Marshmallows
Strawberry Feta Balsamic Pasta Salad
White Beans with Tomato and Garlic
Print
Recipe
Mom's Amazing Baked Beans
Author:

Prep Time:

15 minutes

Cook Time:

45 minutes

Total Time:

1 hour

Yield:

8 servings

Category:

Side dish

Method:

Oven

Cuisine:

American
---
Description
These Amazing Baked Beans are thick, hearty and perfectly balanced between sweet and savory! Just like your mother made them! They're the perfect side dish for summer potlucks and outdoor BBQs.
---
Ingredients
3/4 lb ground beef, optional
Two 16 oz cans baked beans
3/4 cup finely chopped yellow onion (1/2 small onion)
1/4 cup ketchup
1/4 cup yellow mustard
1/4 cup packed brown sugar
2 tbsp Worcestershire sauce
1 tbsp soy sauce
4–5 tbsp crumbled cooked bacon (6 to 8 slices bacon)
Dash of hot sauce
---
Instructions
1. Preheat oven to 350°F and have a 9×13 inch baking dish ready.
2. Add the ground beef to a large pan and cook until browned and cooked through. Drain the meat mixture.
3. Combine the beef with the baked beans, onion, ketchup, mustard, brown sugar and all other ingredients in your baking dish and spread evenly.
4. Cover the beans with aluminum foil and bake for 25-35 minutes, then remove the foil and cool for another 5-10 minutes. I prefer them thicker and chunkier, so I bake them on the longer side. If you prefer them a little less thick, cook them less. Keep in mind that they'll thicken as they cool. Serve warm.
---
Nutrition
Serving Size:
Calories:

216

Sugar:

9.7 g

Sodium:

615.1 mg

Fat:

10.9 g

Carbohydrates:

16 g

Protein:

14.1 g

Cholesterol:

39.3 mg
Keywords: baked beans recipe, best baked beans, easy baked beans recipe, homemade baked beans recipe, best baked beans recipe, baked beans recipe with bacon, easy baked beans, how to make baked beans
Categories