This Mint Oreo Icebox Cake recipe is perfectly minty and so easy to make. It's a no bake dessert that can be made in less than 30 minutes!
Looking for more no bake icebox cake recipes? Try my Strawberry Shortcake Icebox Cake and my Reese's Peanut Butter Chocolate Icebox Cake.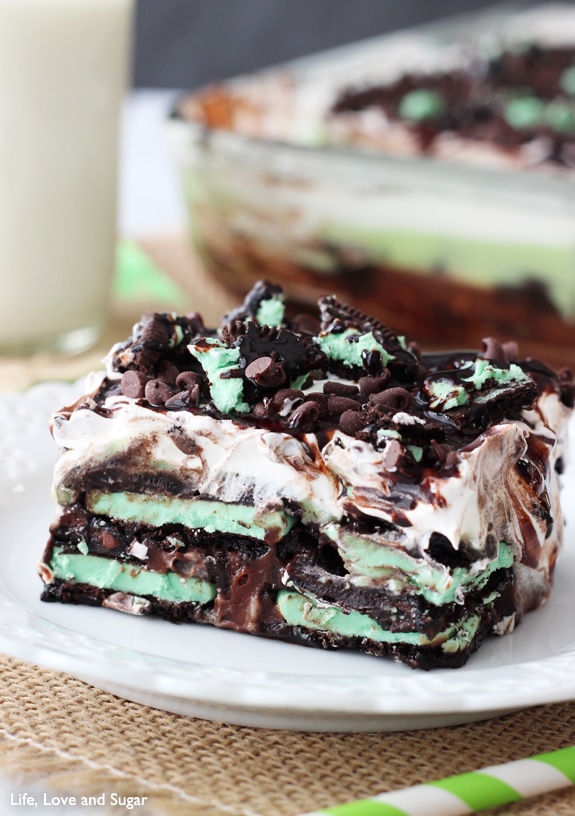 This Mint Oreo Icebox Cake Is Quick And Easy To Make
Certainly by now you know that I also love a more complicated dessert and beautiful cakes as much as the next person, but there are definitely times that easy, quick and super tasty is all you need. This is one of those recipes for one of those times. And it's perfect for sharing with friends!
And I need an easier dessert to make this weekend. I felt restricted because our garbage disposal was jammed, so no water would go down the drain and when I tried to use the dishwasher, water started filling up the sink. Eek!
So, our Saturday night was spent doing two things.
1. We saw 'The Lone Survivor'. O.M.G. Have you seen that? Amazing. Must see. It absolutely blows my mind that our service men are trained to be able to go through that. It's amazing that a body can be trained for that. It's humbling and makes me so appreciative of what those men and their families sacrifice. One of my very best friends' husbands flies in the army and I couldn't help but think of them for a lot of the movie. I cried like a baby. See it. Seriously.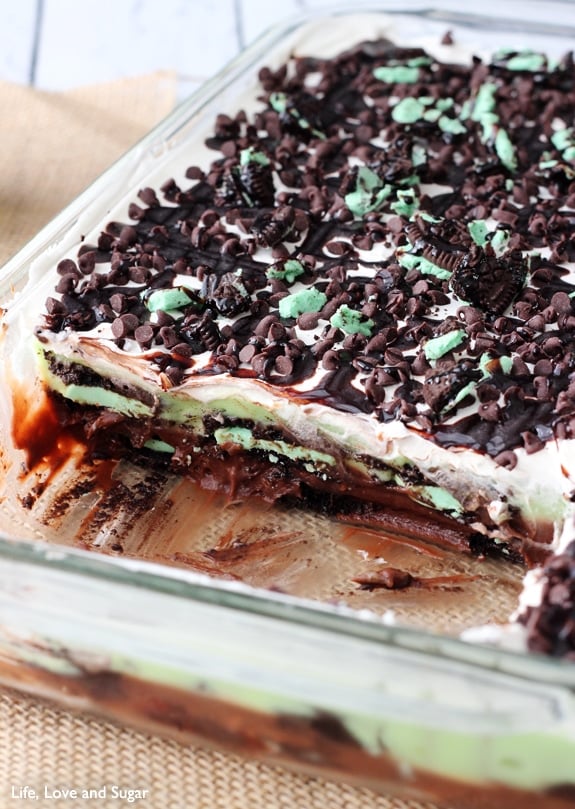 2. The hubs fixed the garbage disposal. I was super impressed. I was convinced we'd need to call a plumber. Instead, he started taking things apart, with me as his sidekick. It wasn't looking good. He had me googling diagrams of our exact model so we could figure out how to take it apart. He was removing tubes and hoses and stuff. It was scary. But he fixed it! And at least for the night, he was my hero. The sound of a garbage disposal has never been so sweet.
However, when I made this, I still had no good sink options. So easy was preferred.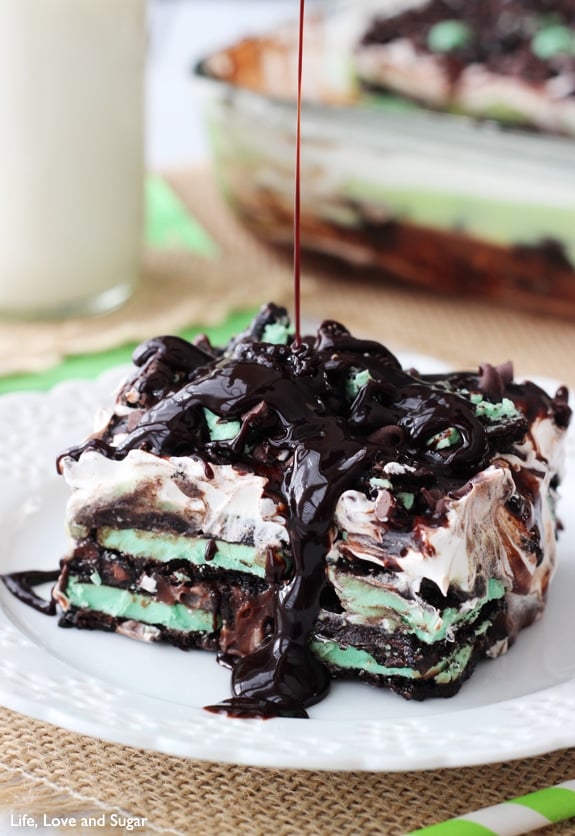 I Love Minty Oreo Desserts
Plus, it's full of one of my favorite things – Oreos. I mean really, sometimes I think I will turn into an Oreo. I have always loved them and double stuffed is the way to my heart. Bring on that Oreo filling.
This icebox cake is full of those amazing sandwich cookies of the mint variety. Two boxes of them, to be exact. One box for each layer.
How To Make Mint Oreo Icebox Cake
To make this delicious minty cake, you start by dipping a layer of mint Oreos into milk and making a single layer on the bottom of a 9×13 pan. Since milk and Oreos are made for each other, that makes perfect sense.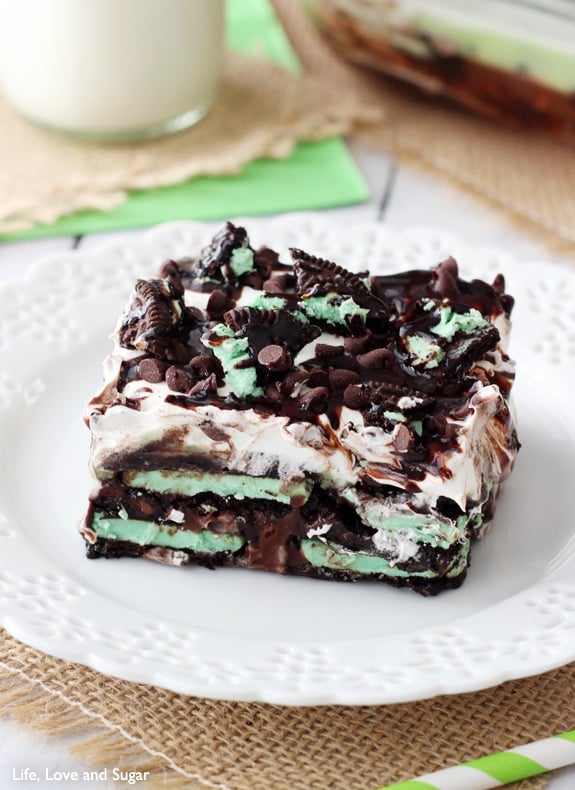 Then you'll top that layer with some chocolate pudding. It always surprises me how much I like pudding when I make it.
Next, I added some mini chocolate chips to give a little crunch. On top of the chocolate pudding, you can add a layer of them, if you like. It's hard to see them in my pictures except for on the top of the cake, but they're there.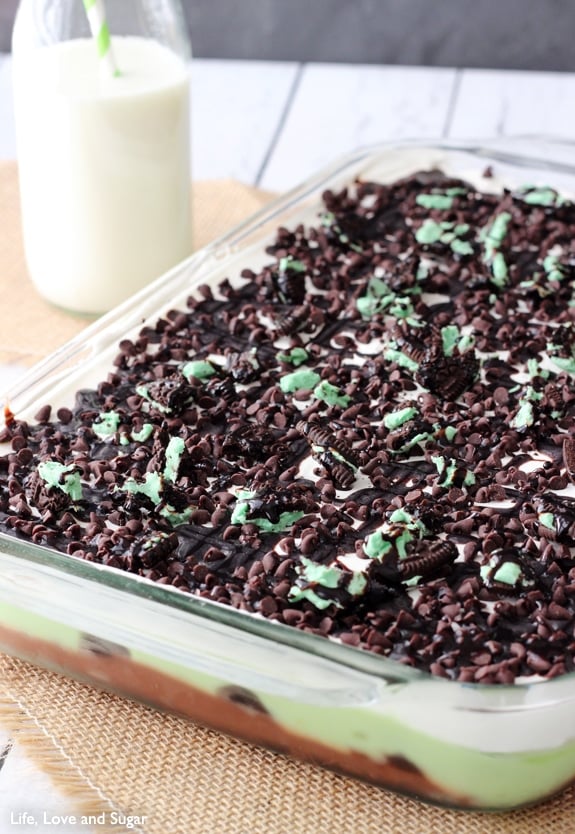 Chocolate Chips Add Crunch To This Icebox Cake
I have a fabulous girlfriend who absolutely dies over anything mint and chocolate chip. She always tells me how she loves my recipes and she so wonderfully shares many of them. So the chocolate chips in this are in her honor. I hope you like them too! It gives a bit of crunch.
Next, add another layer of milk dipped Oreos.
The next pudding layer is actually a vanilla pudding with some mint extract and green color added to it. Funny, it doesn't show as much in the pictures either, but darn is it good and minty.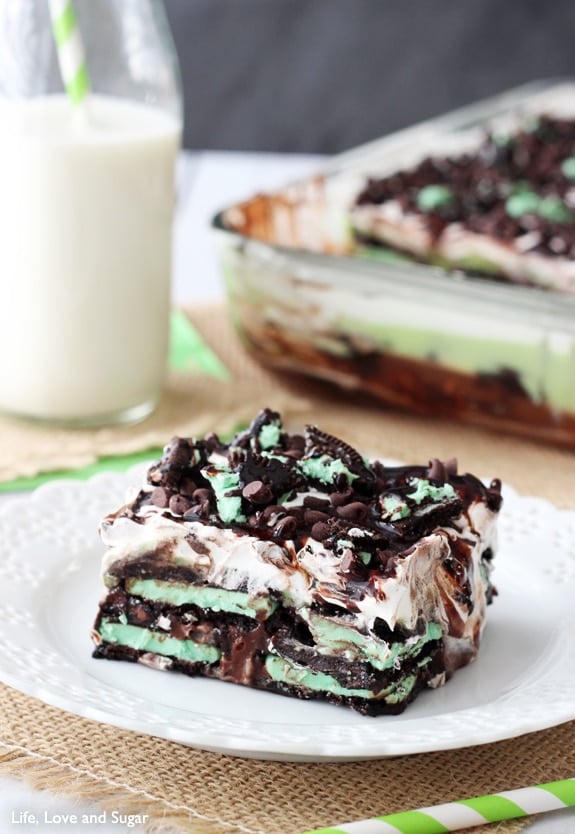 What Toppings Go On This Mint Oreo Icebox Cake?
Finish it off with a layer of Cool Whip (or homemade whipped cream) and sprinkle some more chocolate chips, Oreo crumbs (I had about 3 cookies left for this purpose) and some chocolate sauce.
Can you Freeze Mint Oreo Icebox Cake?
You can freeze this cake or store it in the fridge. My preference was the fridge. Yum! I took it to our small group and it was a hit! A few of them thought it surely had Andes Mints in it, but no. Mint Oreos and mint pudding are responsible for that tasty flavor.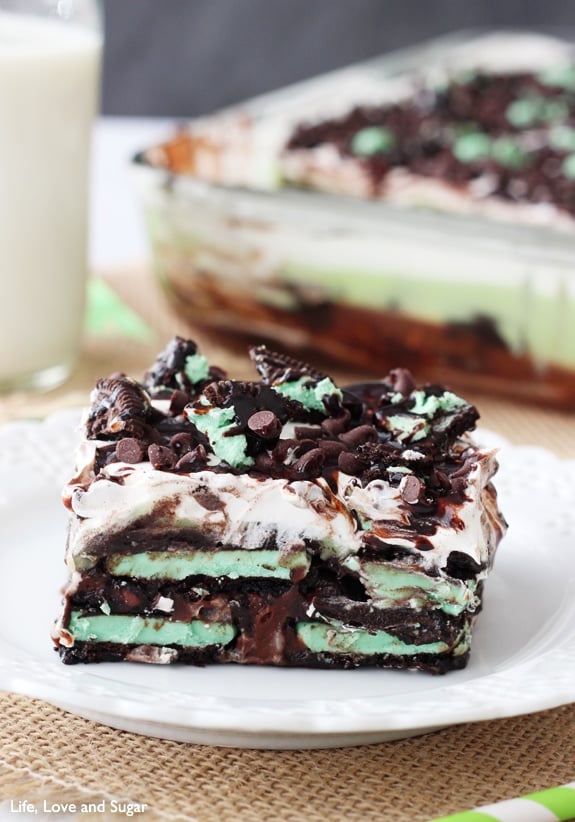 So what are you waiting for? With a dessert this easy, it's time to get started! 🙂
Print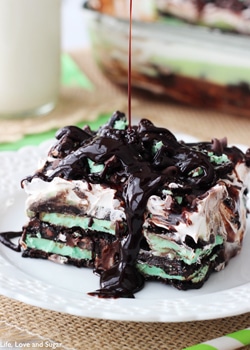 Recipe
Mint Oreo Icebox Cake
Author:

Prep Time:

25

Total Time:

25 minutes

Yield:

15-18 Slices

Category:

Dessert

Method:

No Bake

Cuisine:

American
---
Description
This Mint Oreo Icebox Cake recipe is perfectly minty and so easy to make. It's a no bake dessert that can be made in less than 30 minutes!
---
Ingredients
3.4 oz

package chocolate pudding

3.4 oz

package vanilla pudding

4 1/2 cups

milk, divided

3/4 tsp

mint extract

4

drops blue food color

2

drops yellow food color

2

15.25 oz boxes mint Oreos

1 1/2 cups

mini chocolate chips

8 oz

Cool Whip (or homemade whipped cream)
chocolate sauce for topping, if desired.
---
Instructions
1. Make chocolate pudding according to directions on package, using 2 cups of milk. Set aside.
2. Make vanilla pudding according to directions of package, using 2 cups milk.
3. Add mint extract and food color (see NOTE below) to vanilla pudding and mix well. Set aside.
4. Put remaining 1/2 cup milk into a small bowl.
5. Dip Oreos in milk quickly and then place into the bottom of a 9×13 pan, making a single layer.
6. Spread chocolate pudding over the first layer of Oreos.
7. Sprinkle 3/4 cup of mini chocolate chips over the chocolate pudding.
8. Dip remaining Oreos in milk quickly and place on top of the chocolate chips, in a single layer.
9. Spread mint pudding over the second layer of Oreos.
10. Spread Cool Whip over the top of the mint pudding.
11. Sprinkle remaining 3/4 cup mini chocolate chips on top of the Cool Whip.
12. Top with remaining Oreos, crumbled, and chocolate sauce, if desired. Store in refrigerator.
---
Notes
At the time that I made this, I didn't have green food color, so I used blue and yellow to make green. If you have green, you can use that. I'd start with 2 or 3 drops and then check the color.
Nutrition
Serving Size:

1 Slice

Calories:

315

Sugar:

30.8 g

Sodium:

294.8 mg

Fat:

13.2 g

Carbohydrates:

45.4 g

Protein:

6.4 g

Cholesterol:

8.5 mg
Keywords: oreo icebox cake, icebox cake recipe, no bake dessert, oreo dessert, oreo cake recipe, recipe for icebox cake, icebox cake with oreos, no bake dessert recipes
Filed Under:
Enjoy!
This post contains affiliate links.
More Dessert Recipes You Might Like: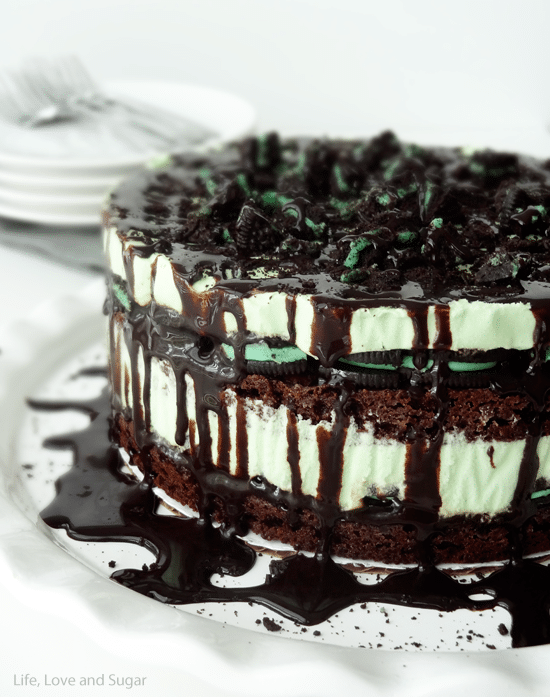 No Bake Strawberry Lemon Cookie Pie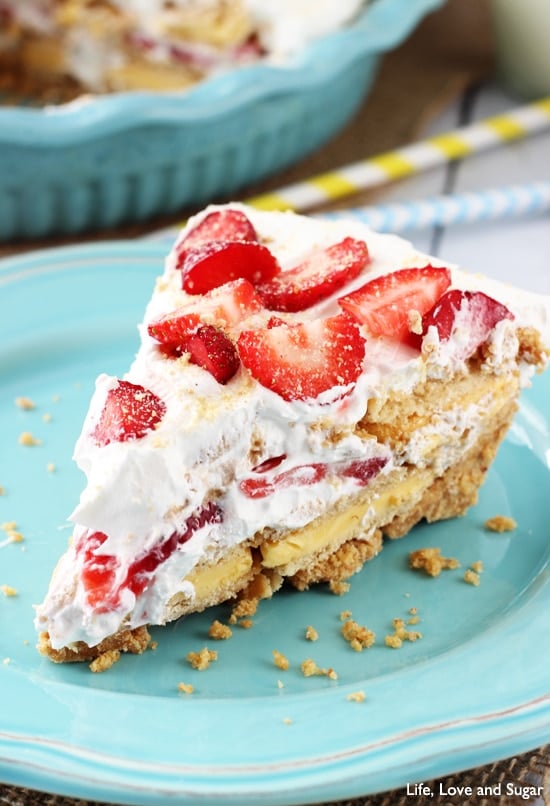 Oreo Cookies and Cream Ice Cream Cake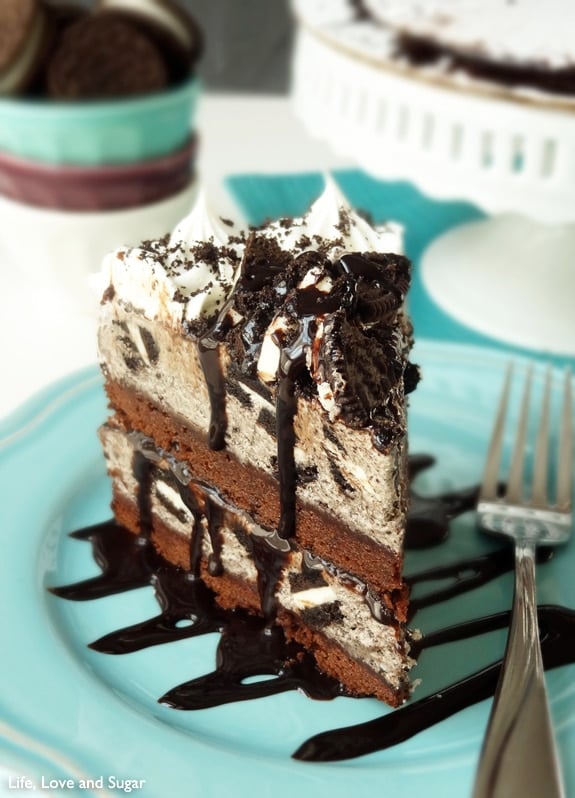 Golden Birthday Cake Oreo Puppy Chow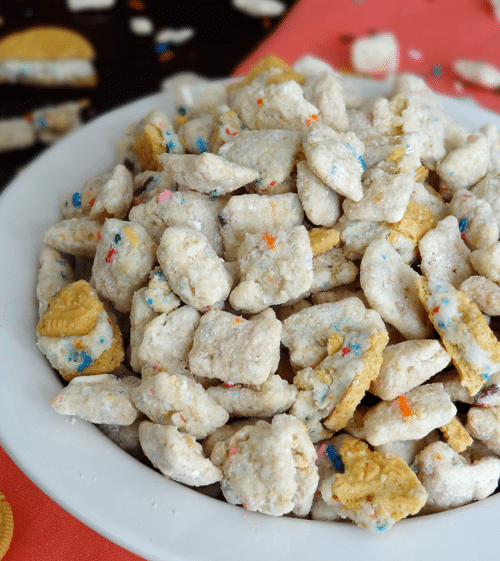 This post may contain affiliate sales links. Please read my disclosure policy.