This post may contain affiliate sales links. Please read my disclosure policy.
These Mint Chip Hi Hat Cookies are so easy to make using chocolate boxed cake mix. They are minty, chocolaty and the perfect dessert recipe for special occasions!
If you enjoy minty cookies as much as I do, be sure to also try my Peppermint Chocolate Thumbprint Cookies and these Chocolate Peppermint Shortbread Cookies.
Today I'm shaking things up! My friend Julianne is here to help me out and share these super fun cookies with you. I'm dying over how awesome they look! It's also her birthday (yay!!) so give her a big welcome and be sure to pop over to her blog, Beyond Frosting, say hey and wish her a Happy Birthday!
Hey everyone! I am really excited to be guest posting today over here at Life, Love and Sugar. Maybe you have heard Lindsay talk about her friend Julianne before, or maybe not. Well that's me! I blog over at Beyond Frosting.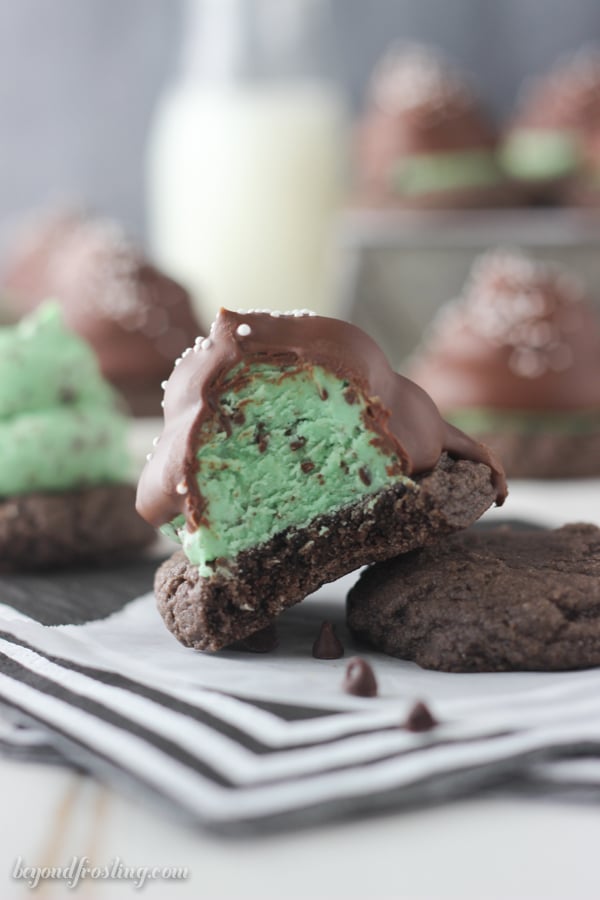 Over the past year, I have gotten to know Lindsay on a deeper level than her blog. She is a true and dear friend to me, and I am not quite sure that blogging for me, would be the same without her. To think I never would have met her if I hadn't found her on the internet is pretty awesome and not at all creepy, right? HA! Just kidding, kinda.
While Lindsay is off gallivanting in South Africa (she is so fancy), I am over here in California celebrating my birthday today! Isn't Lindsay such a great friend for making me work on my birthday? I mean really.
Well for my birthday, I prefer mint chip, but my boyfriend could not be more opposite. He doesn't like mint AT ALL. How we have made in three and half year is beyond me. I kid, I kid. But I know that when I make something that is mint chip, he won't eat it. Great, more for me!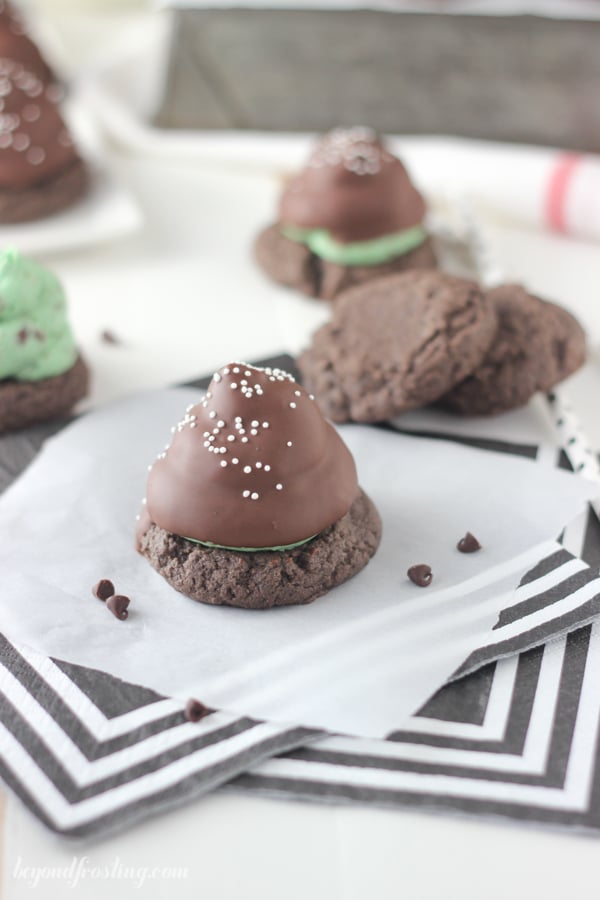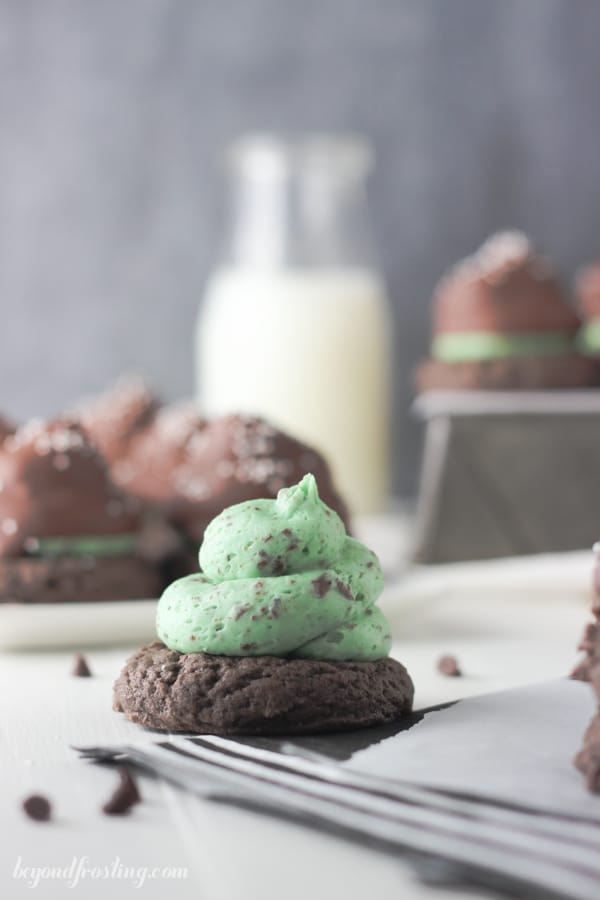 Instead of cake today, I am sharing these Mint Chip Hi Hat Cookies. It is a chocolate cake mix cookie with a mint chip frosting that is dipped in chocolate! I recently discovered cake mix cookies and I love the different flavors you can create with them! The cake mix cookie is soft and a bit thicker than a traditional cookie.
Some people who have tried these cookies thought the frosting was too sweet. For me personally, it is just about right. It is not overwhelmingly sweet, but there is quite a bit of powdered sugar. So I've added a pinch of salt in the frosting to cut the sweetness. I also used heavy cream instead of milk to help smooth out the flavor, but milk works just fine too. I would suggest adding the mint extract ½ teaspoon at a time to suite your own tastes. I only added ½ teaspoon to this recipe, but if you like a stronger mint flavor, add another ½ teaspoon.
Once the cookie cools, you pipe the frosting on top and give the cookie a little tap on the counter top to help the frosting settle. Then I refrigerated the frosted cookie until the frosting is a bit more firm (about 30-45 minutes). That way, when the frosting is dipped in the chocolate, it does not fall off.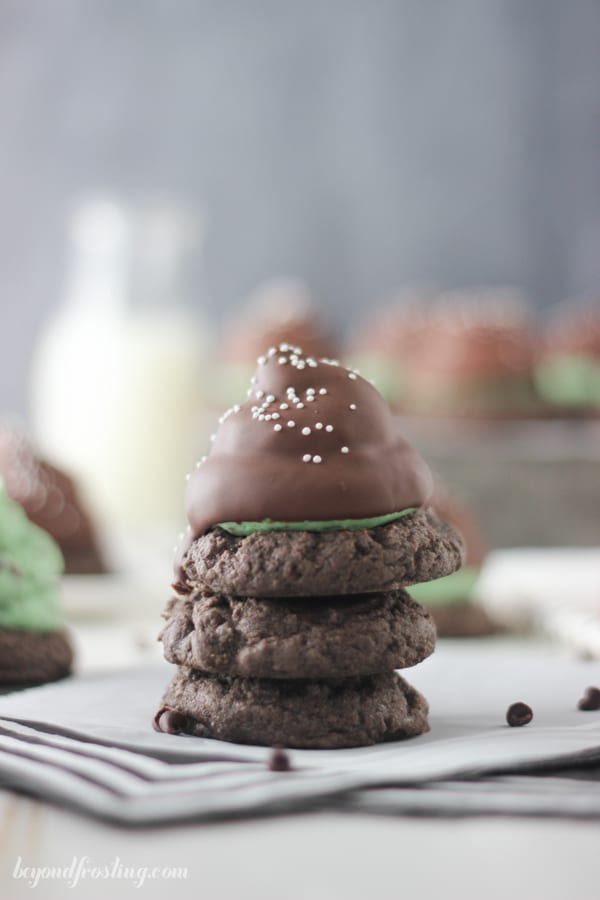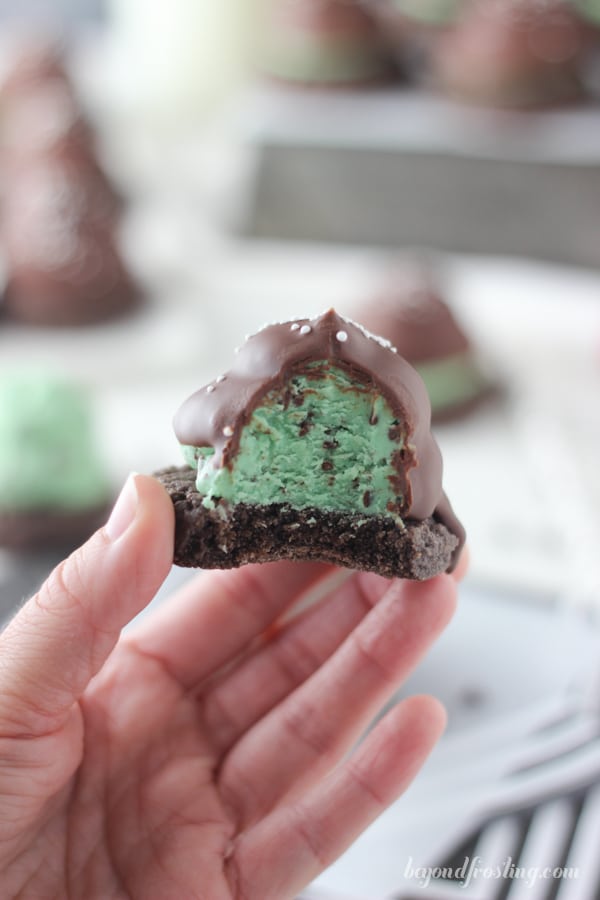 The melted chocolate coating is like a magic shell. It is simple to make with chocolate chips and vegetable oil. Once melted and smooth, turn the cookie upside down and just dip the cookie as deep as you can into the chocolate. Shake off any extra chocolate and flip it back over until the chocolate sets.
I chose to keep these in the refrigerator, and then let them thaw for about a half hour before serving. If you eat them right out of the refrigerator, the frosting will firm, and it will be a little bit like eating mint chip ice cream; which isn't such a bad thing either!
Thanks for putting up with me today! I hope you like mint chocolate as much as I do!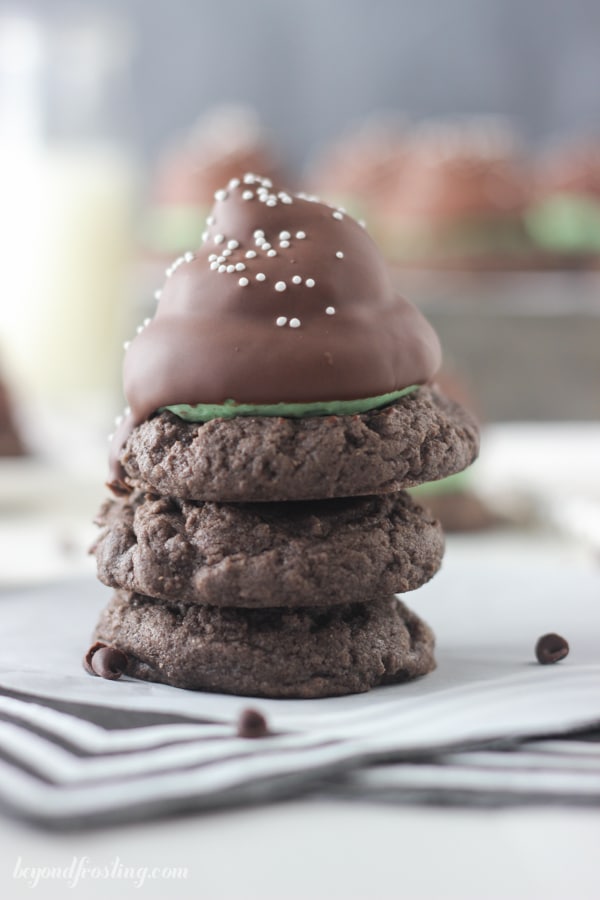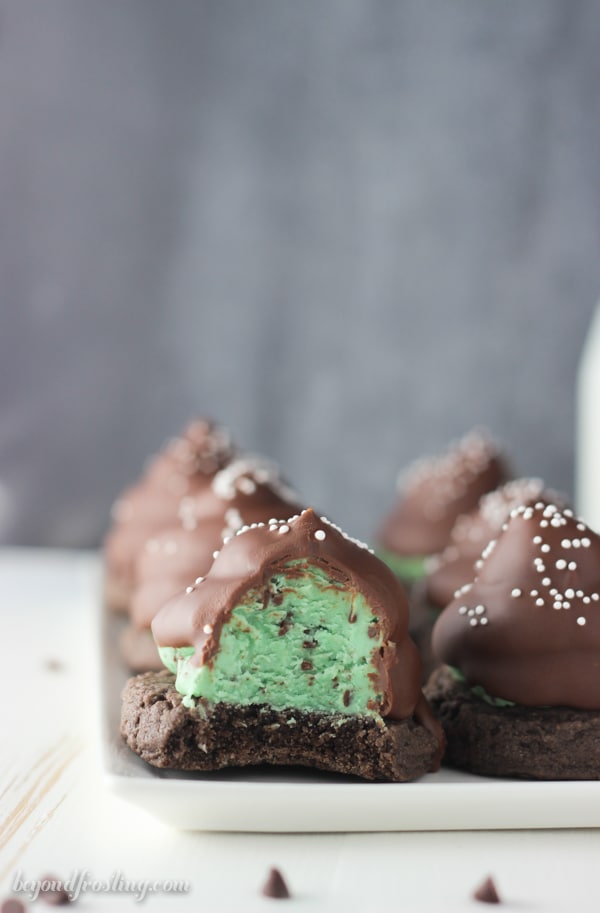 Print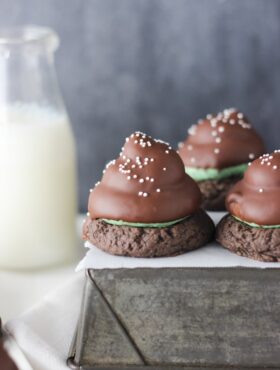 Recipe
Author:

Prep Time:

45

Cook Time:

10

Total Time:

55 minutes

Yield:

20-24 Cookies

Category:

Dessert

Method:

Oven

Cuisine:

American
---
Description
These Mint Chip Hi Hat Cookies are so easy to make using chocolate boxed cake mix. They are minty, chocolaty and the perfect dessert recipe for special occasions!
---
Ingredients
FOR THE COOKIES
1 cup

all purpose flour

1 cup

chocolate cake mix (powder)

2 tbsp

dark chocolate cocoa powder

1 tsp

baking powder

½ tsp

salt

¾ cup

unsalted butter, softened

1 cup

sugar

1

large egg
FOR THE FROSTING
1 cup

(

2

sticks) unsalted butter

4 cups

powdered sugar
Pinch of salt

½ tsp

mint extract

1 cup

chopped chocolate

2 tbsp

heavy cream or milk
Green food coloring (optional)
FOR THE MAGIC SHELL
1

bag dark chocolate chips (

11 oz

)

3 tbsp

vegetable oil
Sprinkles for garnish
---
Instructions
FOR THE COOKIES
1. Pre-heat oven to 350° F.
2. In a separate bowl, combine flour, cake mix, baking powder, salt and cocoa powder. Stir and set aside.
3. Soften butter in the microwave for 15 seconds. Combined softened butter and sugar in a mixing bowl. Beat on medium speed until light and fluffy, 2-3 minutes.
4. Add egg and vanilla extract and beat until well combined.
5. Reduce mixer to low speed and slowly add dry ingredients. Once combined, increase speed to medium high and beat for 1-2 minutes until soft dough forms.
6. Spoon 2 tbsp of cookie dough onto a lined baking sheet. Gently press the top with the back of a spoon to create a flat top.
7. Bake at 350° F for 10-12 minutes. Allow cookies to cool on the pan for several minutes before transferring to a wire rack.
FOR THE FROSTING
1. Beat butter in mixer on medium speed until smooth and creamy: 2-3 minutes.
2. Slowly add powdered sugar 1 cup at a time while continuing to beat on medium speed.
3. Add a pinch of salt, mint and heavy whipping cream last and increase mixer speed to high to whip frosting until smooth and creamy. Dye frosting with green food coloring is desired. Mix well.
4. Frost cooled cookies with an open circle tip. Refrigerate for 30-45 minutes until the frosting is firm.
FOR THE MAGIC SHELL
1. Combine chocolate chips and vegetable oil in a tall, microwave safe dish or cup. Melt for 45 seconds, stir until smooth. If not completely melted, microwave for another 15 seconds. Magic shell should be completely smooth.
2. Dip cookies in magic shell and tap off excess chocolate. Flip cookies over and allow chocolate to harden. Garnish with sprinkles if desired.
---
Nutrition
Serving Size:

1 Cookie

Calories:

348

Sugar:

31.2 g

Sodium:

164.7 mg

Fat:

21.7 g

Carbohydrates:

38.4 g

Protein:

2.1 g

Cholesterol:

45.6 mg
Keywords: cake mix cookie recipe, mint chocolate chip cookies, mint chip cookies, mint chocolate chip cookies recipe, mint cookies with chocolate chips, chocolate mint cookies recipe, mint cookies recipe
Filed Under:
Enjoy!
More Dessert Recipes You Might Like:
Chocolate Cream Pie Cookie Cups