This post may contain affiliate sales links. Please read my disclosure policy.
These Toffee Almond Cookies are gluten free, but you would never know it! Soft and delicious almond cookies are covered in sweet toffee bits. I made several batches and not a single cookie was left!
Love this gluten free cookies recipe? These tasty Oatmeal Chocolate Chip Cookies are gluten free too!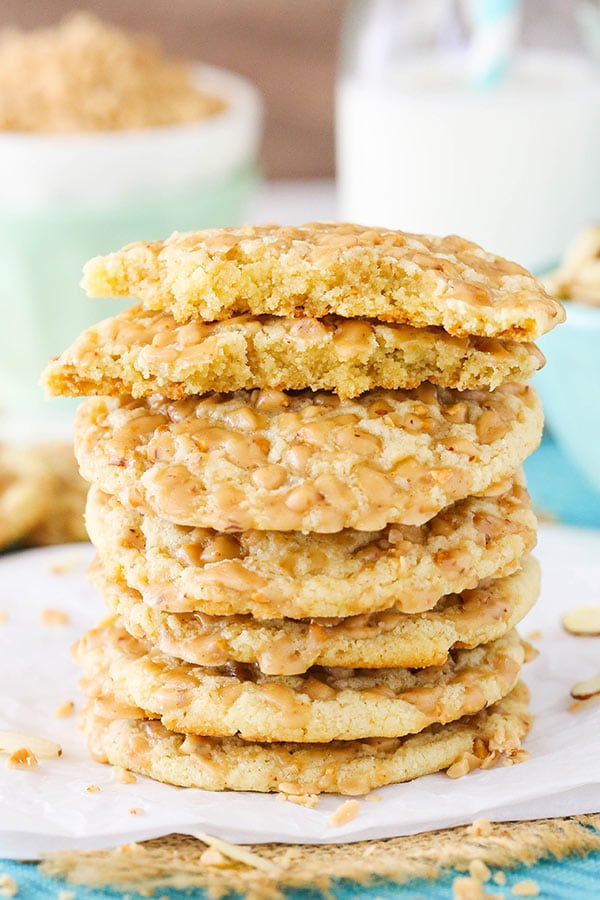 So one of the things I'd like to play around with more this year is a few gluten free – and maybe even dairy free – recipes. I posted some gluten and dairy free oatmeal chocolate chips cookies not too long ago, so these cookies are my second foray into that arena. If I'm lucky, I'll have a delicious cake to share at some point. 🙂
It's a fun challenge to try something new and there are some people in our new-ish small group that are actually gluten and dairy free. I bring treats to group pretty much every week, so it'd be nice if the occasional treat was something they could enjoy. Plus if you've been keeping up with our (in)fertility journey, a new update would be that I'm changing up my eating habits a bit and "healthier" is part of it. Gotta get these ovaries in top shape! (TMI? 😉 )
The best thing about these cookies though is that you would never even know they are gluten free – they are that good! I took a batch to small group and the hubs took a batch to work and there wasn't a single cookie left. I don't think I've ever seen dessert fly off a tray as quickly as these cookies did. Whether you eat gluten free or not, you'll want to try these babies. The bonus is simply that they are better for you. Score!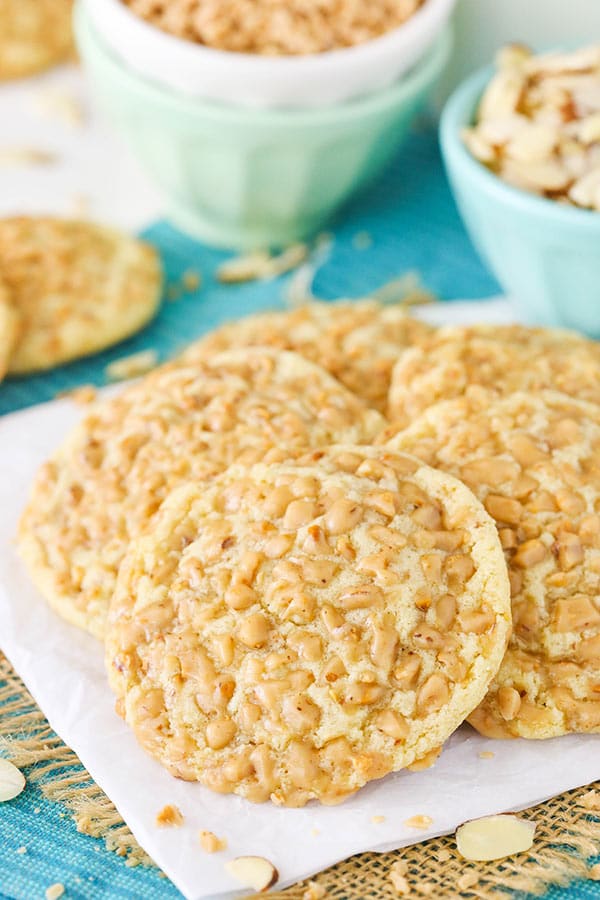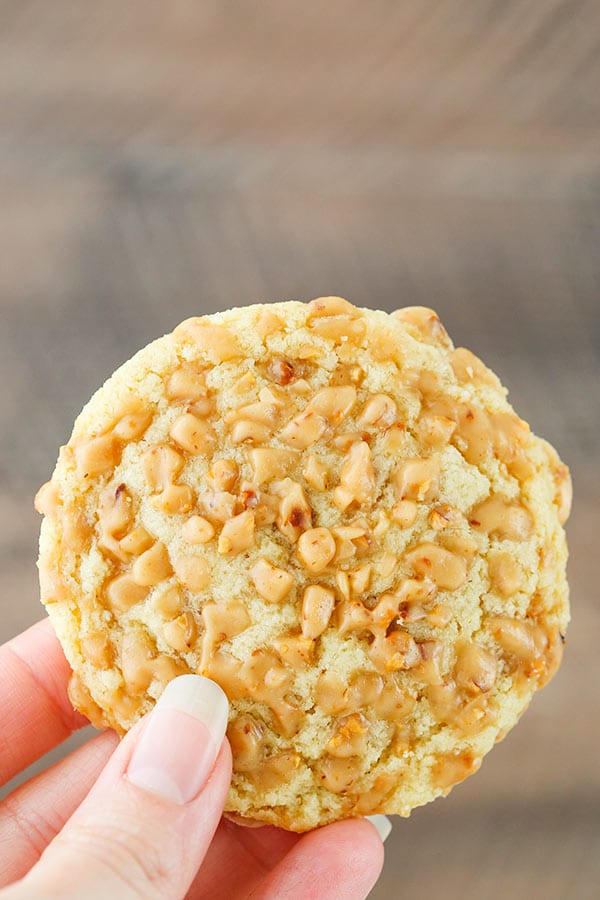 So experimenting with gluten free baking means I get to learn! I dig that because I can get bored easily. 🙂 Let's talk about what makes these cookies work.
The first thing I knew I wanted to swap out was the flour. An obvious swap in an almond flavored cookie was to use almond flour. Bob's Red Mill is a great brand and is usually easy to find at your grocery store. They have a lot of great gluten free baking items I've been trying out. And because almond flour doesn't contain gluten, which forms the strands that hold things together in baking, I also tried out xanthan gum.
Xanthan gum was one of those things that when I first tried to picture what it'd be, something very gummy-like came to mind. It's actually a powder. You could almost compare it to cornstarch. It looks similar and in some ways acts similar, but they are different. The difference is that cornstarch is more of a thickener, while xanthan gum helps with binding things together and helps improve texture. In a gluten free cookie, xanthan gum is a valuable ingredient.
I also used cornstarch. In cookies, cornstarch does still work much like a thickener. Cookies spread less when it's used and since these cookies lack gluten to keep things as thick as usual, the cornstarch helps these cookies not spread too thin.
Turbinado sugar was another ingredient I played around with. It lends a more caramel-y flavor than regular white sugar and with the toffee, I thought it'd be a really nice addition. I did also try the cookies with brown sugar though and both work fine. The turbinado sugar has a little less moisture in it, so the brown sugar lends a softer cookie dough and slightly softer cookie. It's only really noticeable if you taste them side-by-side. The results are super similar.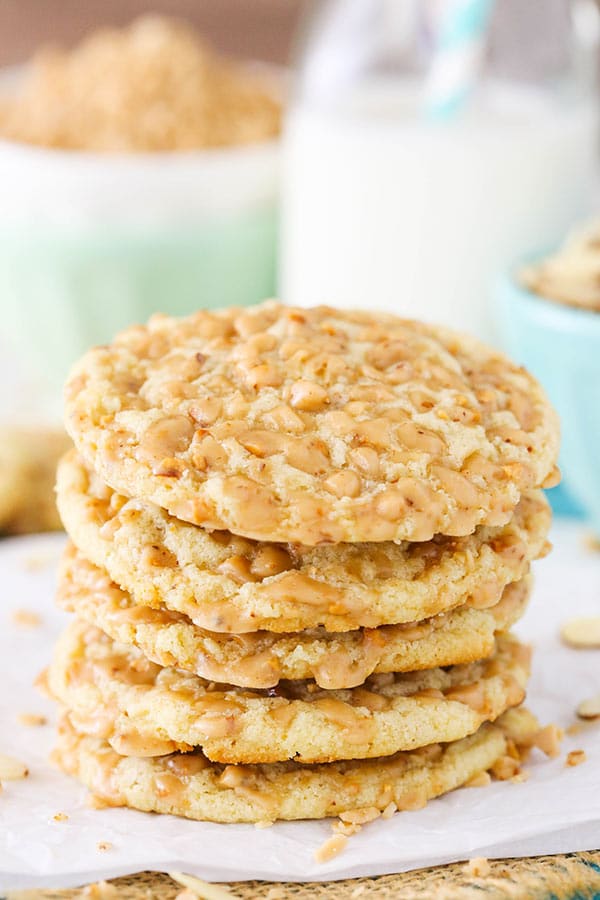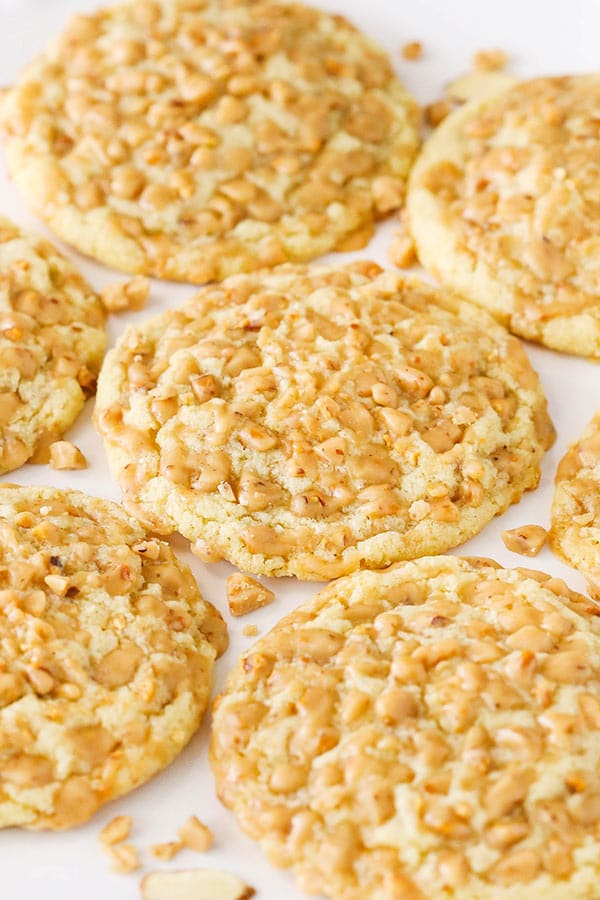 So once you have the cookie dough put together, you'll want to refrigerate it. With the gluten free ingredients, it really gives everything a chance to absorb and come together before baking. I like to roll the cookie dough balls first, refrigerate and then bake. The dough can be a little sticky, so if you find it tough to roll balls just pop it in the fridge for an hour then roll the balls and pop it back in the fridge. I'd recommend refrigerating the dough for at least 3-4 hours, but you could also make it a day or two ahead.
When you're ready to bake the cookies, roll them in the toffee bits so they are covered, pat them down just a touch so they are sort of flattened balls and then bake! They do spread a good bit and end up about 3 inches wide after baking, so be sure to space the cookie dough balls out a couple inches on the cookie sheet.
Since I like my cookies nice and soft, I bake them for about 10-12 minutes. When they come out of the oven, I find it's best if they cool for 5-10 minutes before transferring them to a cooling rack. You could even let them sit longer.
These cookies have slightly crisp edges and a soft center. They are buttery, almond-y, and full of toffee flavor! They seriously melt in your mouth and are just about irresistible. These are a cookie I know we'll make over and over. SO GOOD!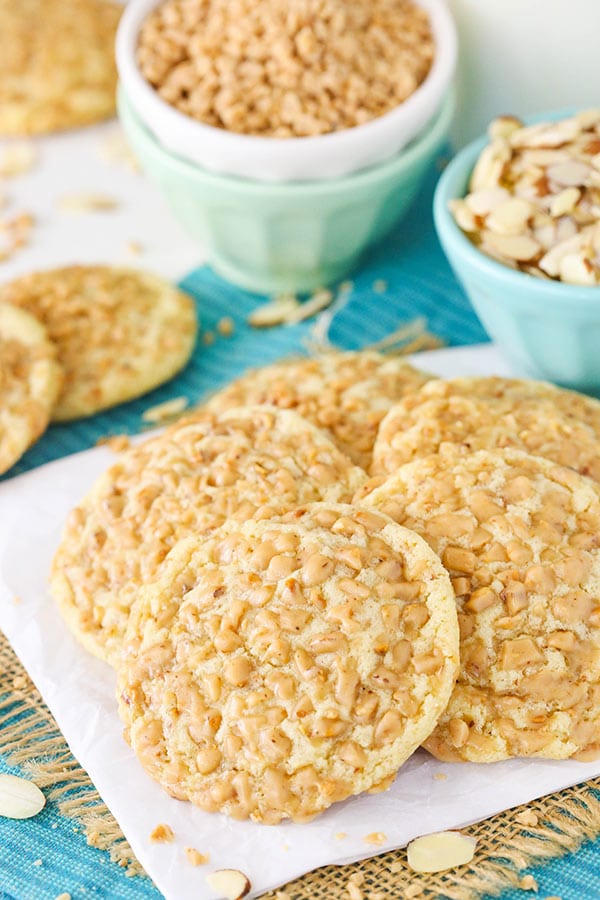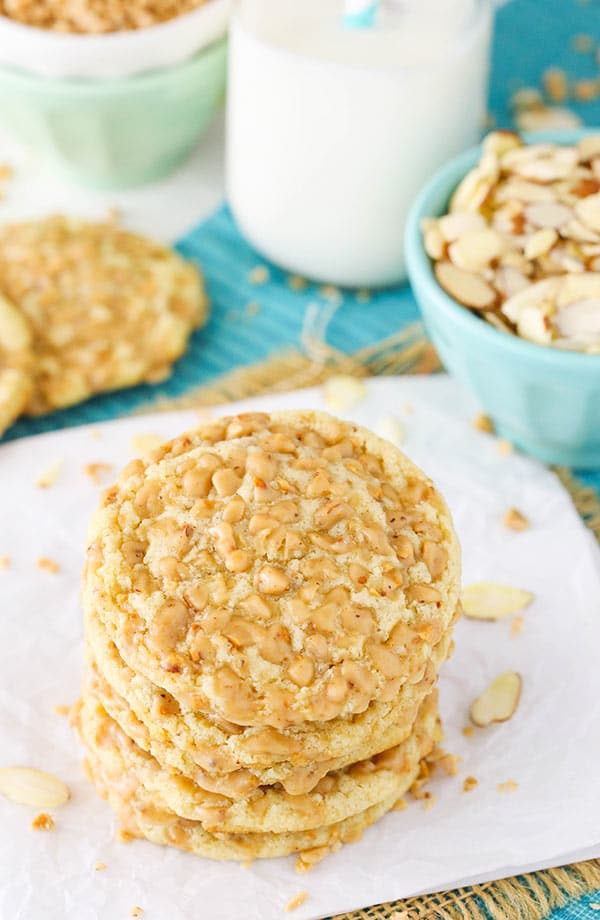 Print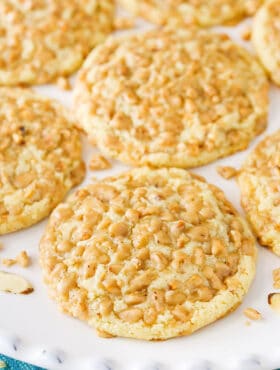 Recipe
Author:

Prep Time:

20 minutes

Cook Time:

10 minutes

Total Time:

30 minutes

Yield:

26-29 cookies

Category:

Dessert

Method:

Oven

Cuisine:

American
---
Description
These Toffee Almond Cookies are gluten free, but you would never know it! Soft and delicious almond cookies are covered in sweet toffee bits. I made several batches and not a single cookie was left!
---
---
Instructions
1. Cream butter and sugar together until light and fluffy, about 3-4 minutes.
4. Add the egg, egg yolk and almond extract and mix until well combined.
5. In a separate bowl, combine the almond flour, baking soda, baking powder, xanthan gum, cornstarch and salt. Add the dry ingredients to the butter mixture and mix until well combined.
6. Stir in 1 cup of the toffee bits.
7. Make balls of cookie dough about 2 tablespoons in size. Refrigerate the dough for about 3-4 hours, or for up to 2-3 days. If you find the cookie dough to be sticky, refrigerate for 30 minutes to an hour first, then roll the balls.
8. Preheat oven to 350°F (176°C) and line a cookie sheet with a silicone baking mat or parchment paper.
9. Put the remaining toffee bits in a small bowl.
Roll the balls of cookie dough in the toffee bits and place them on the cookie sheet. Pat them down slightly.
Bake the cookies for 10-12 minutes. The cookies will spread to be about 3 inches wide.
10. Remove the cookies from the oven and allow to cool on the cookie sheet for at least 5-10 minutes, then remove to a cooling rack to finish cooling.
*You can swap out the turbinado sugar for brown sugar if you prefer.
---
Nutrition
Serving Size:

1 Cookie

Calories:

201

Sugar:

13.6 g

Sodium:

122.3 mg

Fat:

10.4 g

Carbohydrates:

16 g

Protein:

2.4 g

Cholesterol:

30.9 mg
Keywords: gluten free cookies recipe, gluten free dessert, gluten free dessert recipe, almond cookies recipe, toffee cookies, easy cookies recipe, soft cookies recipe, best cookies recipe
Filed Under:
Enjoy!
Product was provided by Bob's Red Mill, but all opinions are my own.