This post may contain affiliate sales links. Please read my disclosure policy.
These German Chocolate Cookie Stacks are homemade German chocolate cookies and coconut pecan frosting layered into fun cookie stacks. They are delicious chocolate coconut cookies that everyone will love.
If you like these chocolate cookies you should also try my Grandfather's Favorite Iced Chocolate Cookies and these Snickers Chocolate Cookies.
So the other weekend, an unusual thing happened. The hubs and I were hanging out and he wondered aloud what desserts we had because he wanted something. While that's somewhat unusual, the really unusual thing was that I actually didn't have anything for him.
What?! How does that happen in our house?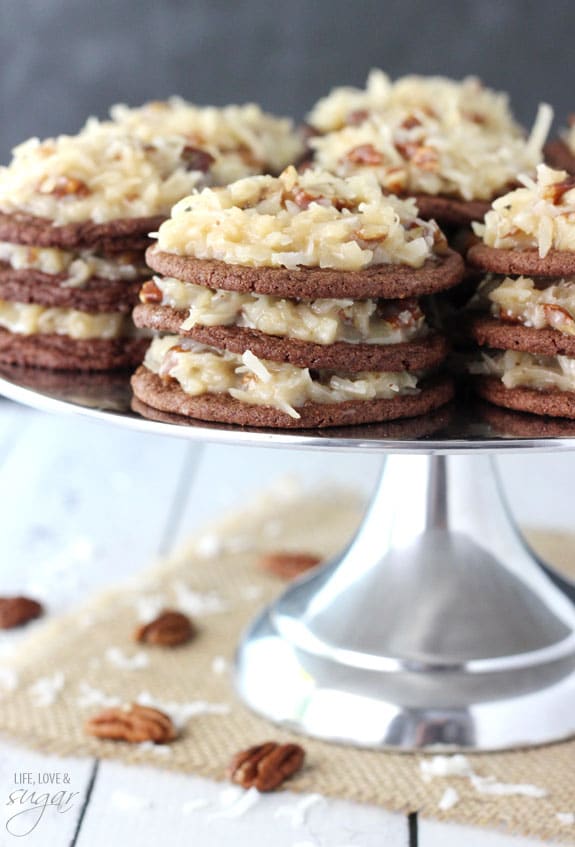 Since I didn't have anything, we decided to go get something. There's a McDonald's right by our neighborhood so we went there first. The ice cream machine wasn't working. 🙁
So we went to Wendy's. And then I was reminded of a beef I have with Wendy's. Do you know what it is? I have one word for you – Frosty.
Years ago I went to Wendy's and ordered a Frosty and for the first time ever they responded with, "Chocolate or vanilla?"
Um, excuse me? Frosty's ARE chocolate. End of story. I want a Frosty. That is all.
And they asked me that again the other night and I still felt the same way. I can't deal. Vanilla is NOT a Frosty. It's just some vanilla thing. If I wanted the vanilla thing, I'd order the vanilla thing. I want a Frosty.
But of course, I have to say chocolate. Ugh.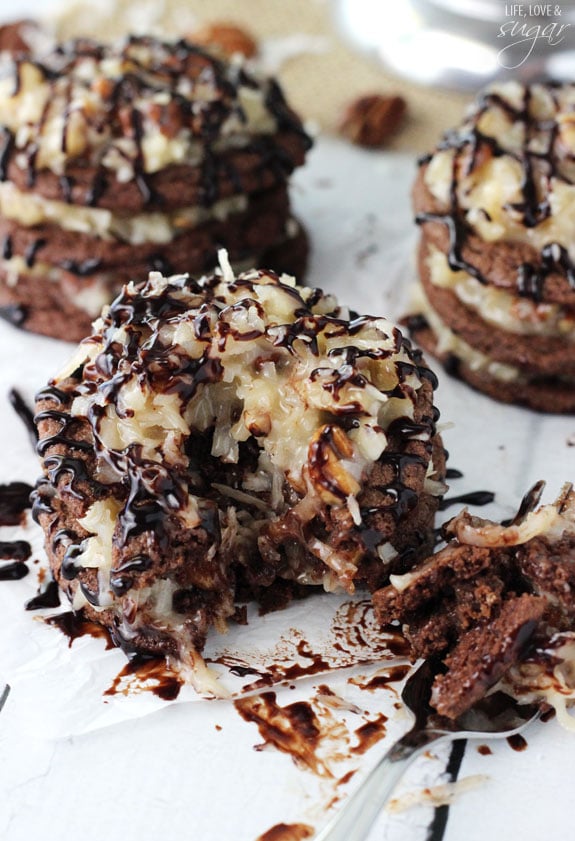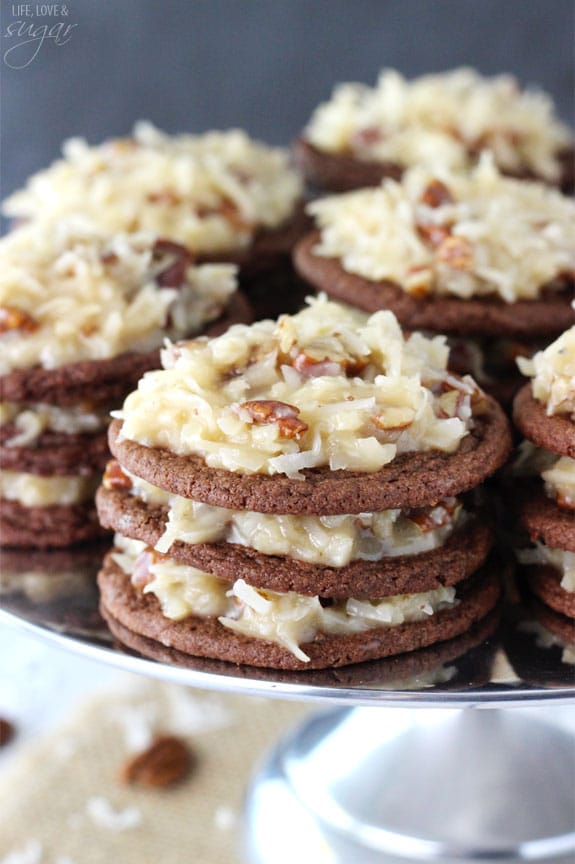 I supposed these German Chocolate Cookie Stacks have a somewhat similar, yet different problem. Though they are called "German", they aren't technically German. They actually get the German part of their name based on the last name of the person who made the chocolate that's used in it. Interesting, right?
I actually made the cookies first with a cake mix, but then decided to make them from scratch. The truth? They tasted the same. The cake mix didn't make them taste any cake-ier. So I went with the from-scratch version so that everyone can make them and you don't have to worry about getting a cake mix.
The cookies are nice and thin, so you don't end up with a crazy tall cookie stack. They are layered with your classic coconut pecan frosting.
Believe it or not, I'd never made German Chocolate Cake before and it's not a cake I've had very often. I can really only remember having it once before and I didn't really pay that much attention to it. Turns out that's very sad because this stuff is thebomb.com.
Yes, I said thebomb.com.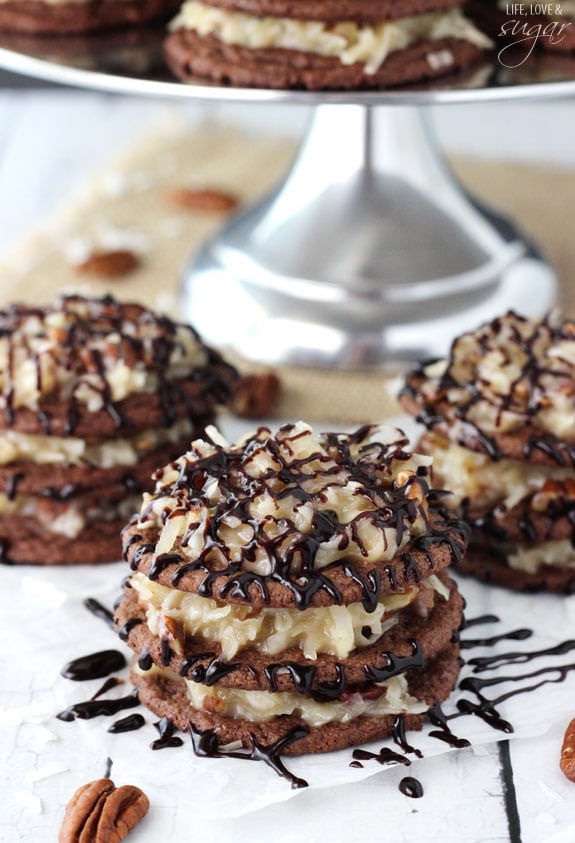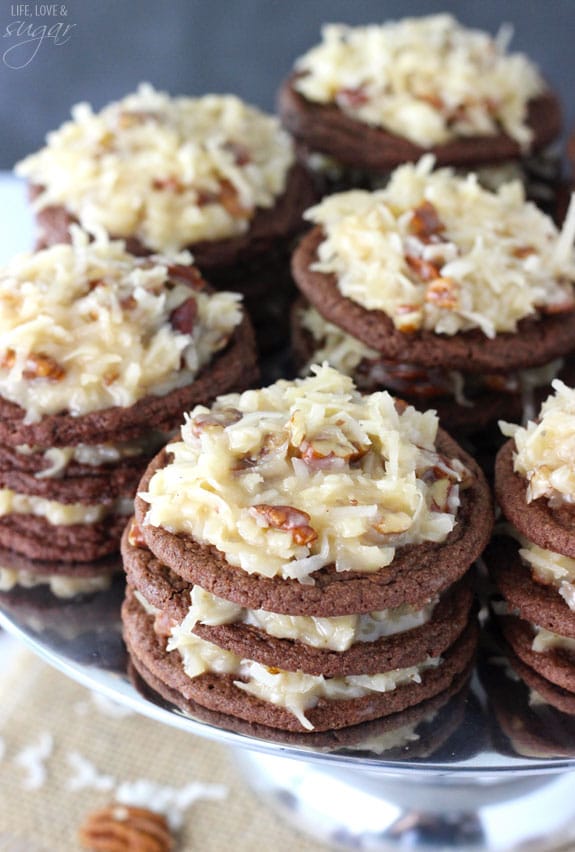 So.Darn.Good. I had no idea what I've been missing. And I love these cookie stacks because they are easy to make and so cute! Plus, they are served individually, which is pretty nice. AND the ratio of cookie to frosting is perfection.
The frosting is pretty easy to make too. You basically add some stuff together and heat them on the stove until they thicken. Like how I simplified that for you? 🙂
I have to say, the frosting reminds me a lot of a samoa. Why have I never made the connection before? I LOVE samoas so it makes perfect sense that I'd love these.
Seriously. My new obsession. You have to try them.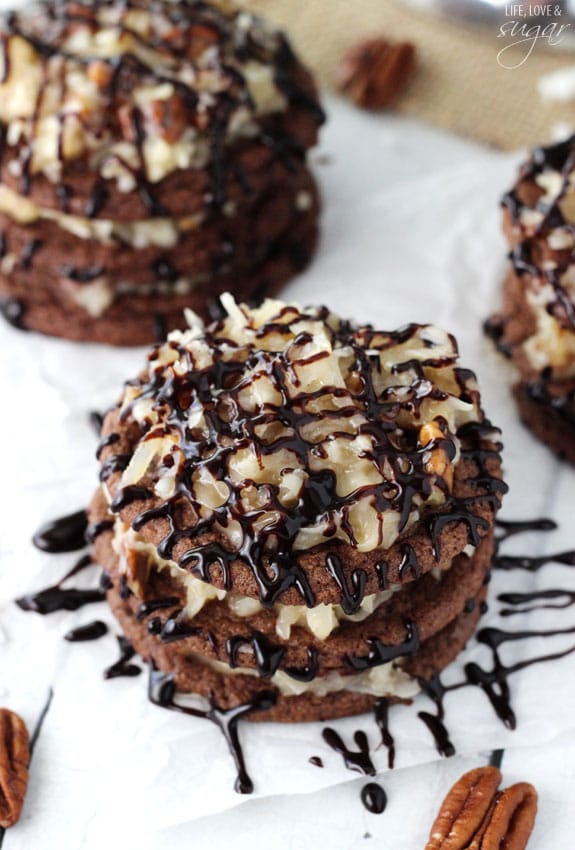 More Dessert Recipes You Might Like:
German Chocolate Cake
German Chocolate Cheesecake
Outrageous Chocolate Coconut Cheesecake
Samoa Cookie Cake
Snickers Chocolate Cookie Cups
German Chocolate Cherry Bars


Print
Recipe
Author:

Prep Time:

35

Cook Time:

20

Total Time:

55 minutes

Yield:

14 Cookie Stacks

Category:

Dessert

Method:

Oven

Cuisine:

American
---
Description
These German Chocolate Cookie Stacks are homemade German chocolate cookies and coconut pecan frosting layered into fun cookie stacks. They are delicious chocolate coconut cookies that everyone will love.
---
Ingredients
COOKIES
3/4 cup

butter, room temperature

1/2 cup

sugar

1/2 cup

brown sugar

8 oz

german chocolate, melted

1

egg

1/2 tsp

vanilla extract

1 1/4 cups

all purpose flour

1 tsp

baking soda

1 tsp

cornstarch
FROSTING
4

egg yolks

12oz

can evaporated milk

1 1/2 tsp

vanilla

1 1/2 cups

sugar

3/4 cup

butter, cubed

2 2/3 cups

coconut

1 1/4 cups

chopped pecans
---
Instructions
1. Preheat oven to 350 degrees.
2. Cream butter, sugars and chocolate together for 3-4 minutes, until light and fluffy.
3. Add the egg and vanilla and beat until well combined.
4. Add the flour, baking soda and cornstarch and mix until smooth.
5. Scoop balls of about 1 tbsp of dough out onto a cookie sheet lined with a silicone baking mat, or parchment paper.
6. Bake for 8-9 minutes.
7. Remove from oven and allow to cool for about 3 minutes, then remove to cooling rack to finish cooling.
8. Once cooled, make the frosting. In a large saucepan, combine the egg yolks, milk and vanilla and whisk until well combined.
9. Add sugar and butter and cook on medium heat for 12-15 minutes, or until thickened (almost pudding-like) and golden brown, stirring constantly.
10. Remove from heat and add coconut and pecans. Mix well.
11. Allow to cool completely.
12. Using three cookies per stack, layer the cookies into stacks with the coconut pecan frosting. Each stack should have three layers of frosting. If the frosting is too thin, add more coconut until thickened. Refrigerate cookies until ready to serve.
---
Nutrition
Serving Size:

1 stack

Calories:

810

Sugar:

64.9 g

Sodium:

665.2 mg

Fat:

32.1 g

Carbohydrates:

109.3 g

Protein:

25.6 g

Cholesterol:

92.1 mg
Keywords: german chocolate cookies, german chocolate cookie, chocolate coconut cookie, a chocolate cookie recipe, chocolate cookies, chocolate cookie recipe, homemade cookie recipe
Filed Under:
Enjoy!