If you're looking to impress and serve up some festive sweets for football watching, this Football Dessert Board is the way to go! With a mix of store bought and homemade treats, there's something for everybody!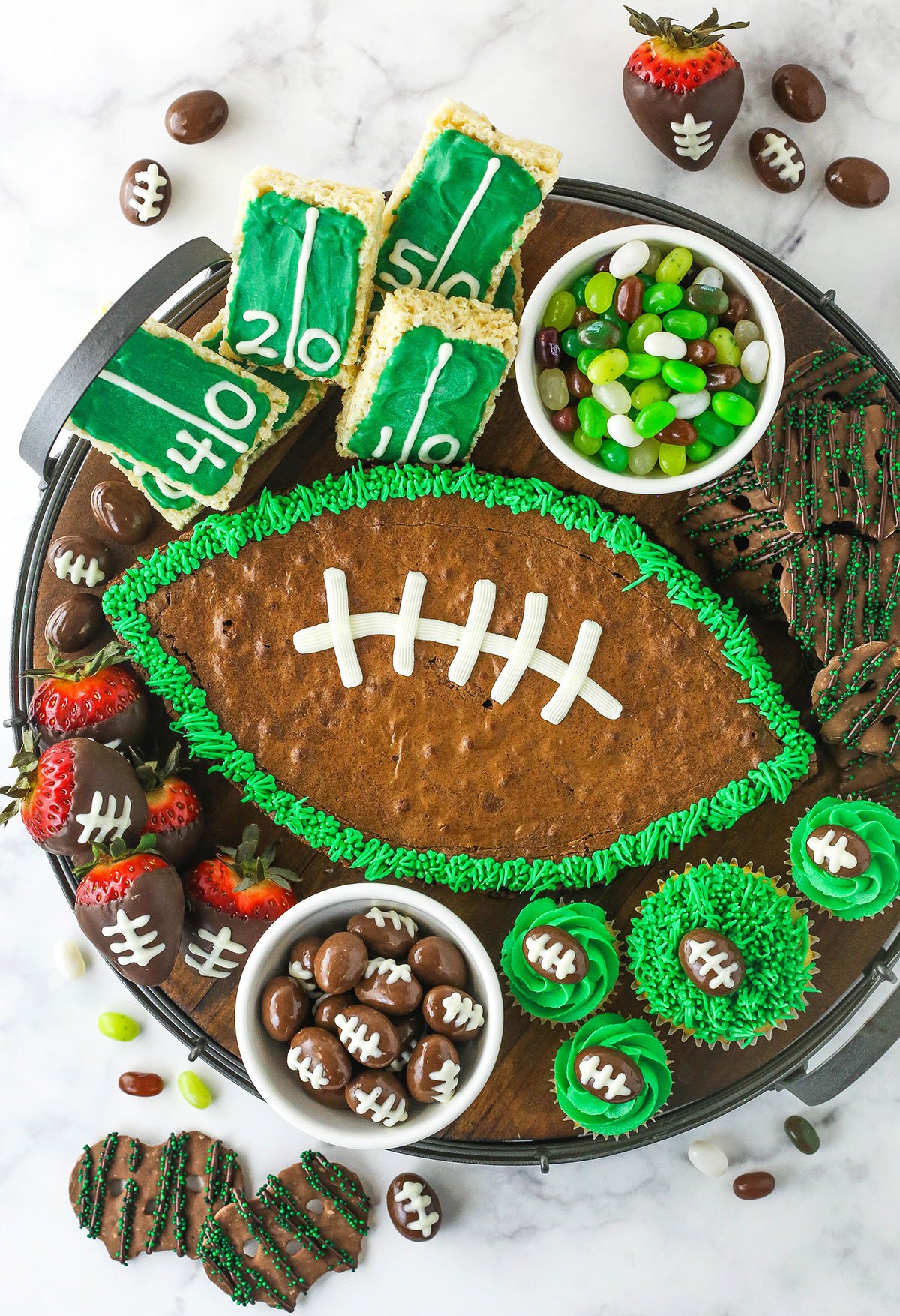 Football Dessert Board
This football themed dessert board is based on one in my friend Kelly's new cookbook, Dessert Boards. As you can see, it's a fun mix of brown, green and white that's showcased in all kinds of football-loving ways. There's a football brownie, cupcakes, chocolate covered strawberries, rice krispie treats and more! What's not to love?
When I finished photographing it, the hubs and the boys' eyes all got wide and excited when they saw it. They immediately asked if it was something they could eat it. When I said yes, it was like the best day ever – especially for the boys. For someone who loves football and sweets, this dessert board is the ultimate!
And Kelly's cookbook has 50 dessert boards that are similar to this one. Everything from a coffee bar board with pastries and breakfast sweets, to a sprinkle-filled birthday board, to all kinds of holiday boards – they are fun and festive. They're also a mix of homemade and store bought treats, so you aren't working quite as hard as it looks to put everything together. There's a collection of recipes within the book that are used throughout, along with suggestions of things that can be purchased. And one of the things that's great about it is that it's such great inspiration for any kind of dessert board you can think of.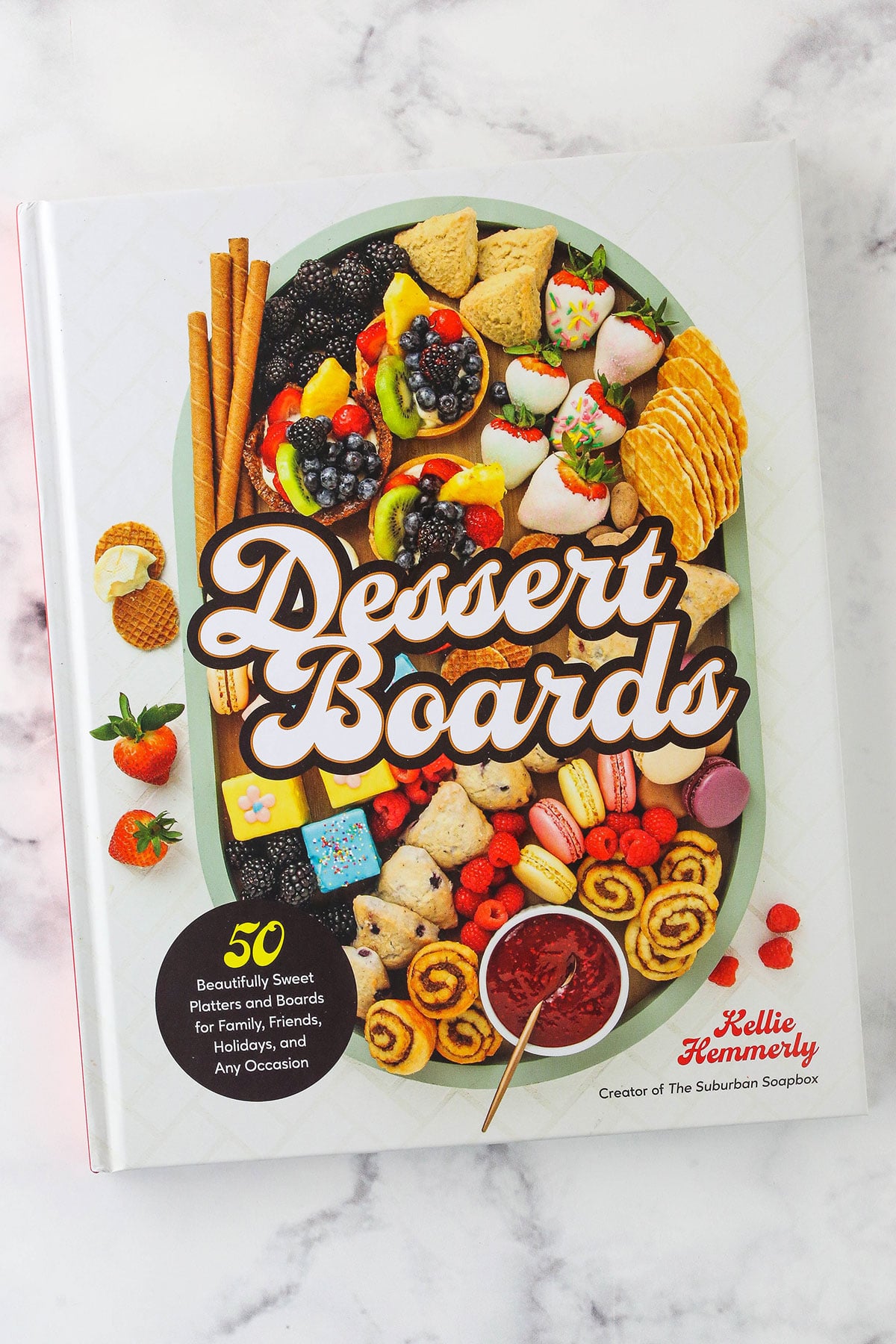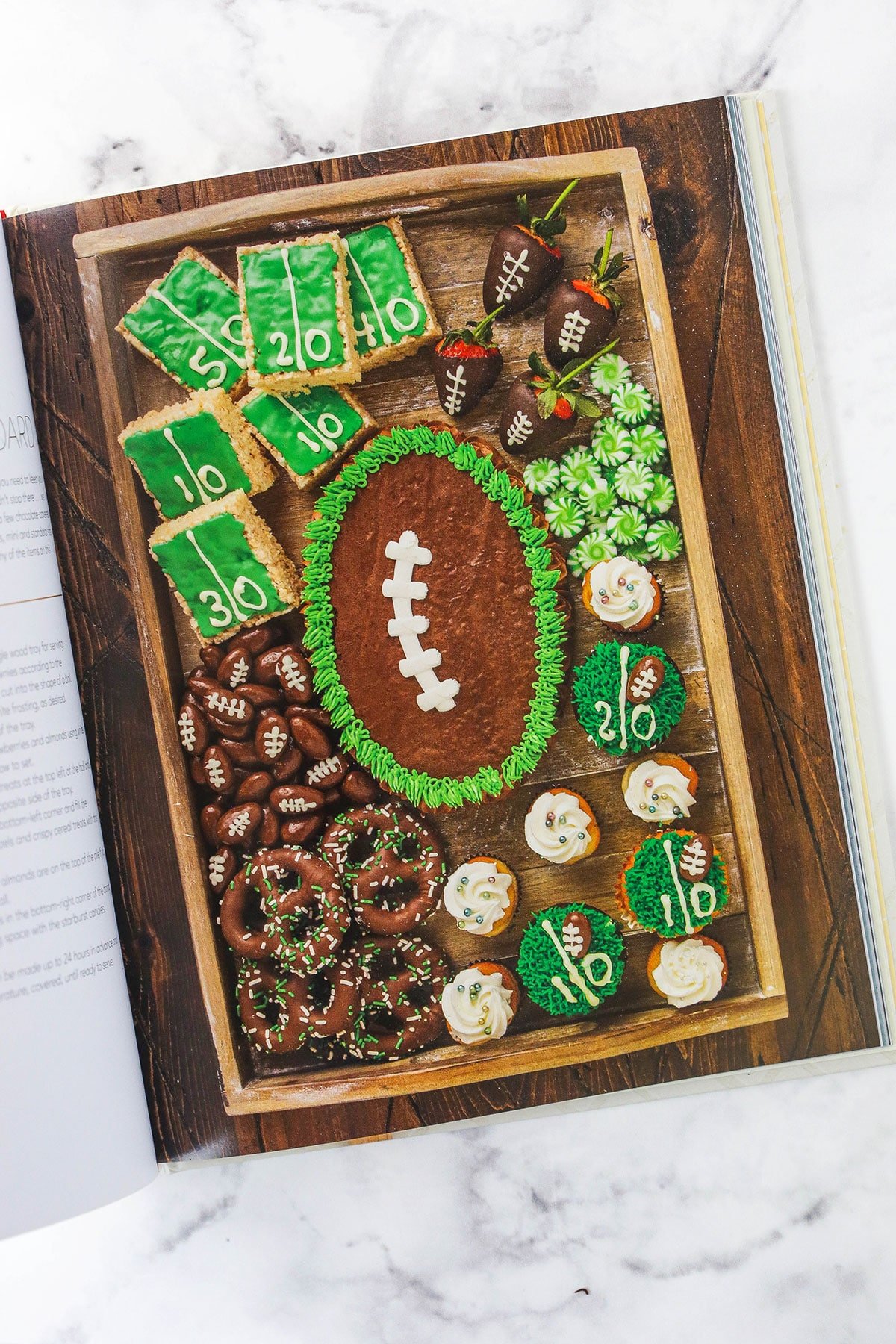 What do you need for a dessert board?
The board: The first thing you'll need is some kind of board or tray you can use to arrange everything. You'll want it to be food safe and preferably have some size to it so that you can arrange everything nicely. Kelly talks a little more in depth about it in her book, but I has this wooden try on hand and used that. If you're in the market for something, this one is from Home Goods, which I often find great things at. Target often has nice boards too.
Small bowls: Not all dessert boards need small bowls, but they can help with arranging some smaller food and dips.
The food: Store Bought versus Homemade
As mentioned before, the boards in Kelly's book use a mix of store bought and homemade treats. You can definitely switch up with things you make and which things you buy. For example, in her version of this dessert board, the cupcakes are store bought. But I have a a great vanilla cupcake recipe, so I decided to make those myself.
However for the rice krispie treats, she has a recipe in her book to make those homemade. My husband personally loves the store bought ones, so I just bought those. So you can definitely switch things up and use her book as a guide to making dessert boards just like hers or put your own twist on them.
For this board we have:
Chocolate Covered Strawberries: I made these at home. I dipped them in chocolate and then piped the laces on.
Rice Krispie Treats: I bought these and then decorated them, but they'd be easy to make homemade and Kelly has that recipe in her book.
Chocolate Covered Almonds: I bought these and then piped the laces on with melted candy coating.
Vanilla Cupcakes and Mini Cupcakes: Kelly recommends store bought, but I made these homemade.
Chocolate Covered Pretzels: Kelly has instructions for doing this at home, but I bought pretzel crisps and drizzled chocolate on them so that I could add the green sprinkles.
Football Brownie: Kelly has a recipe for this as well, but I actually used my favorite brownie.
Candy: Kelly uses some mint or spearmint candy, but I didn't think we'd really eat those, so I went with jelly beans. Obviously store bought. The hardest part was sorting through the mix of jelly beans to pull out the right colors. Another good option would be brown and green M&Ms.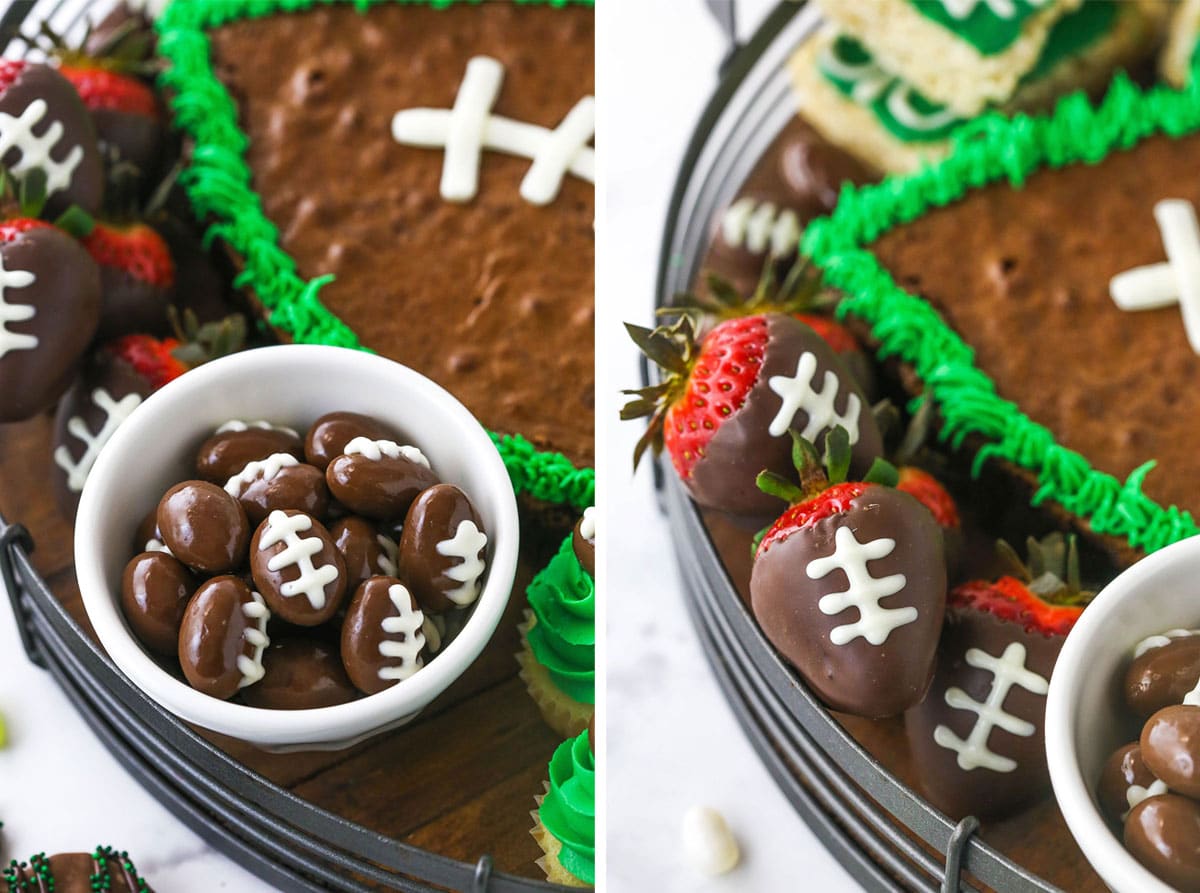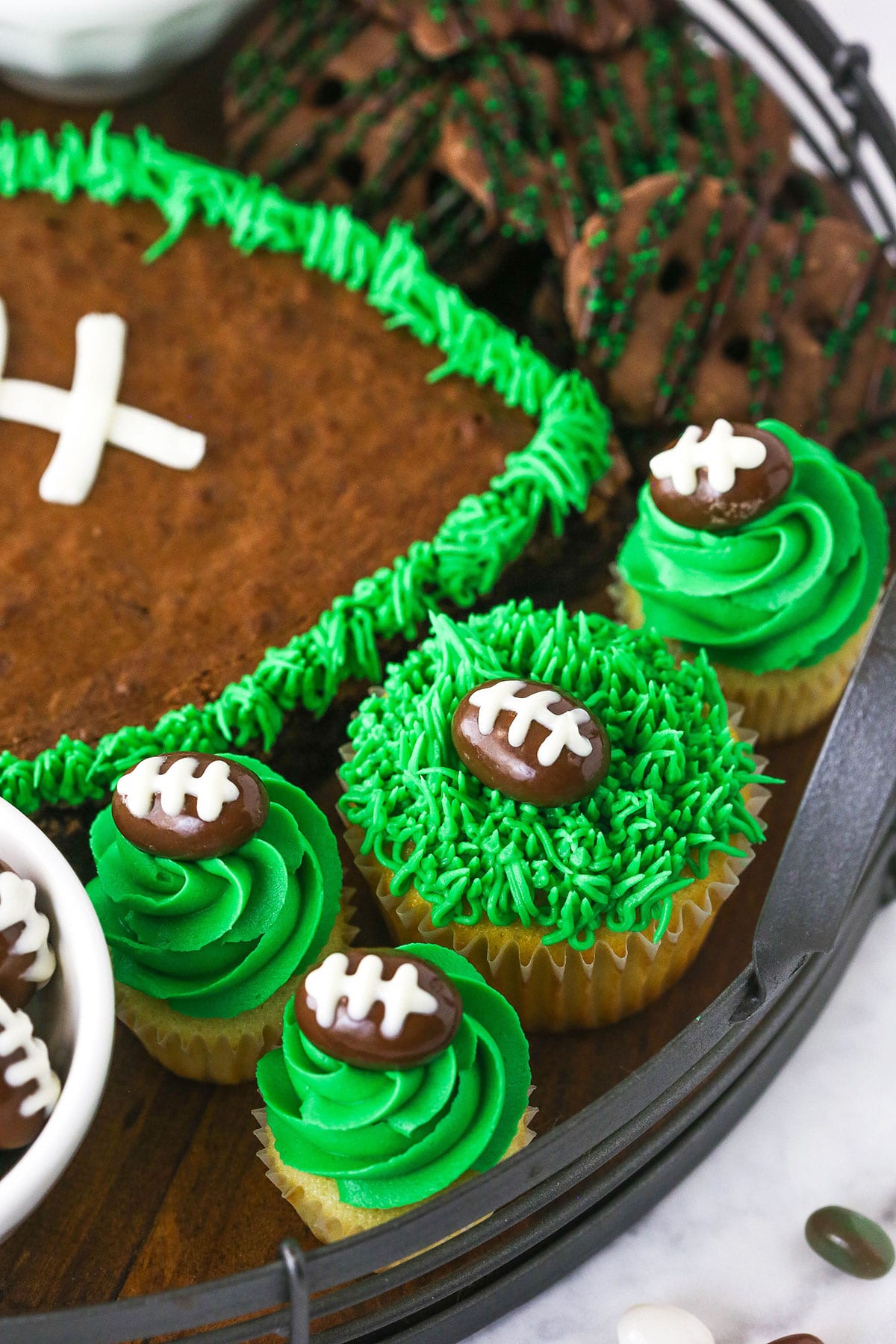 Prepping Ahead
With so many goodies on one tray, it can seem a little hard to prep everything in one day, especially if you're making several things homemade. And don't underestimate the time it takes to pipe laces onto almonds!
You can easily bake the cupcakes and brownie the day before. You can also prep the pretzels, almonds and rice krispie treats, since they hold up well. I generally would suggest making the strawberries the day of and frosting the cupcakes and brownie the day of and then just arrange everything to be beautiful!
More Great Options
This dessert board can really be customized to whatever you like. Here are a few more ideas:
Cookie Cake: Swap out the football brownie for a cookie cake. You could make my 9×13 cookie cake and cut it into a football as well.
Cookie Dough Footballs: You could also add my Cookie Dough Footballs, if you know there will be some cookie dough lovers in the crowd.
Cookie Cups: If you want to add some cookies to the tray, try these Football Cookie Cups.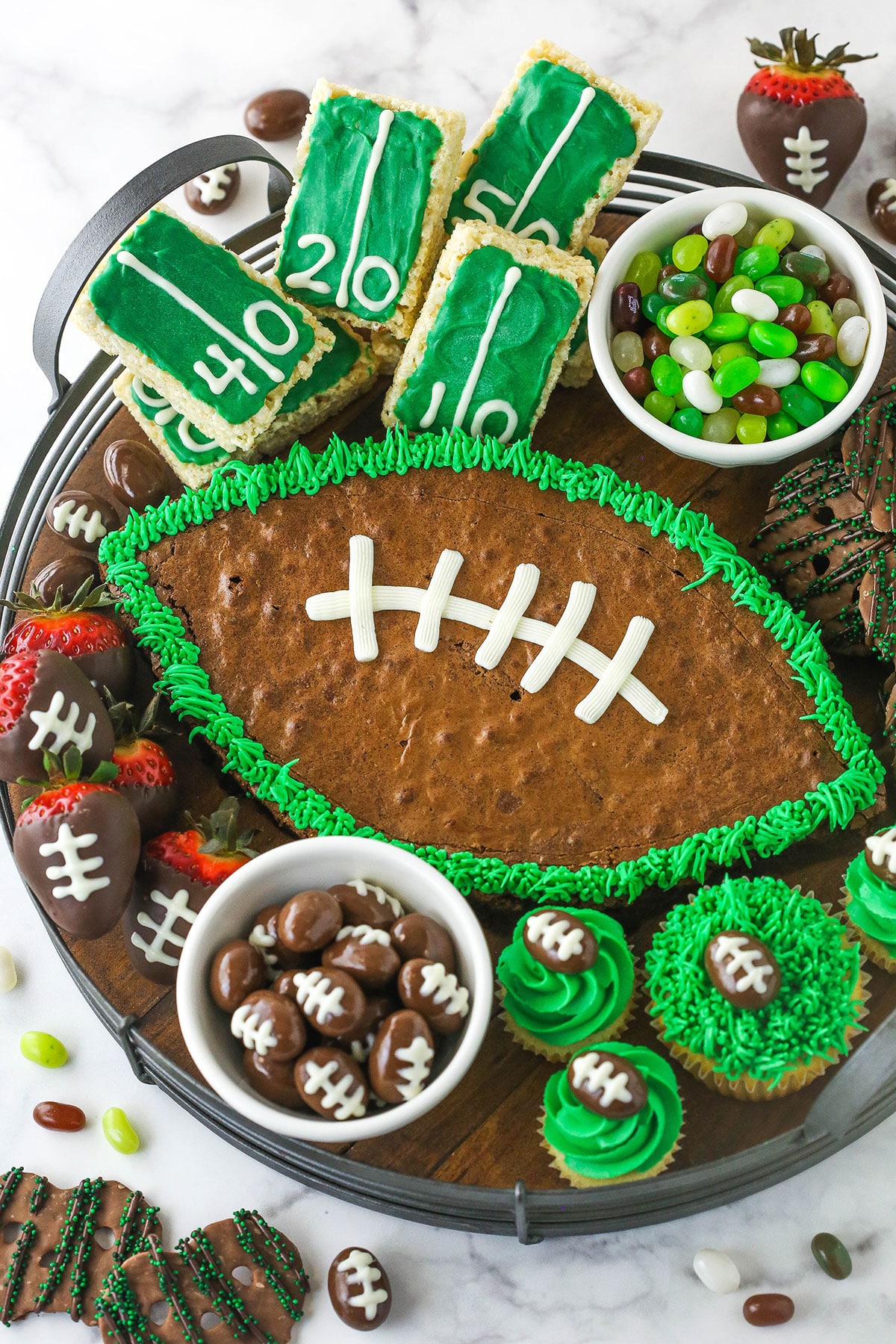 And be sure to pick up a copy of Kelly's book, Dessert Boards! It'd make a great gift or hostess gift for the holidays!
Print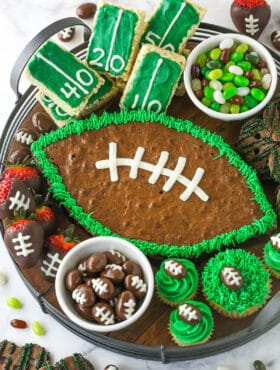 Recipe
Football Game Day Dessert Board
Author:

Yield:

Serves 12

Category:

Dessert

Method:

Oven

Cuisine:

American
---
Description
If you're looking to impress and serve up some festive sweets for football watching, this Football Dessert Board is the way to go! With a mix of store bought and homemade treats, there's something for everybody!
---
Ingredients
1

brownie

12

rice krispie treats

1 cup

chocolate covered almonds

12

chocolate covered pretzels
Green/Brown/White Candy

10 oz

Chocolate Melting Chocolate (I used Ghirardelli)

10 oz

White Chocolate Melting Chocolate (I used Ghirardelli)
Green Gel Icing Color
Green Sprinkles

1

recipe vanilla buttercream
 
---
Instructions
Once the homemade things are baked, it's time to prep some of the other items. Melt about 7 oz of the white chocolate and color it with green gel icing color. Spread the green colored white chocolate onto the tops of the rice krispie treats, then allow to dry.
Melt about half of the remaining white chocolate and use it to pipe the yard lines onto the rice krispie treats and the laces onto the almonds. Allow to dry.
Melt about 2 oz of the chocolate and use it drizzle chocolate onto the pretzels, then add green sprinkles. Allow to dry.
When you're ready to finish everything and build the tray, make the chocolate covered strawberries per the recipe, then melt the remaining white chocolate and pipe the laces onto the dried chocolate. Refrigerate until ready to add to the board.
Make the vanilla buttercream and set aside.
To finish off the brownie, use a toothpick to trace out the shape of a football on the brownie, then I cut it out. Pipe some of the vanilla buttercream into the shape of football laces in the center.
Color the remaining buttercream with green gel icing color. Use the green frosting to add "grass" around the edge of the brownie and to decorate the cupcakes. You can pipe "grass" onto the cupcakes as well or pipe a swirl. Add a football almond to the tops of the cupcakes.
Arrange the board as shown. It can help to have the almond and candies in small bowls to keep them all contained.
Serve!
---
Notes
For the vanilla cupcakes, the recipe will make 12 standard cupcakes. You can use it to make the 6 standard cupcakes and 6 minis. The minis will bake about 7-10 minutes. You will have some extra.
For the chocolate covered strawberries, the linked recipe makes more than needed. You could cut it in half.
Keywords: football dessert board
Categories
This post may contain affiliate sales links. Please read my disclosure policy.