This post may contain affiliate sales links. Please read my disclosure policy.
Ready in 5 minutes, this Easy Classic Coleslaw is the ideal potluck side dish. With a handful of ingredients, it's perfectly creamy with just enough tang, and sure to be a picnic hit.
An Easy 5-Minute Side Dish
This easy coleslaw recipe is a potluck classic. When I think of coleslaw, I think of summer and grilling outside with friends. I'm not sure there's ever been a summer gathering where a classic coleslaw hasn't made an appearance. While it's traditionally a side dish, I'm a big fan of using it as a topping for burgers or hot dogs too!
Coleslaw isn't everyone's favorite, but I'm a big fan. My dad has always loved it and I share his taste buds in many ways. So, naturally, I've been trying out different variations to find the perfect coleslaw recipe.
I love a coleslaw that is creamy and has a good flavor, without being too vinegary. This one definitely has some vinegar, but it isn't the predominant flavor. It also uses a combination of sour cream and mayo, as opposed to just one or the other, which I've found gives it just the right flavor. Combined with the vinegar, the sour cream gives this classic coleslaw just the right amount of tang! Plus, it makes the salad perfectly moist, so that it's not dry but isn't drowning in sauce either.
The best part of this classic coleslaw, though? It's ready in literally 5 minutes! Just whisk together the sauce, add the coleslaw mix, and viola!Your perfect potluck side is ready to go!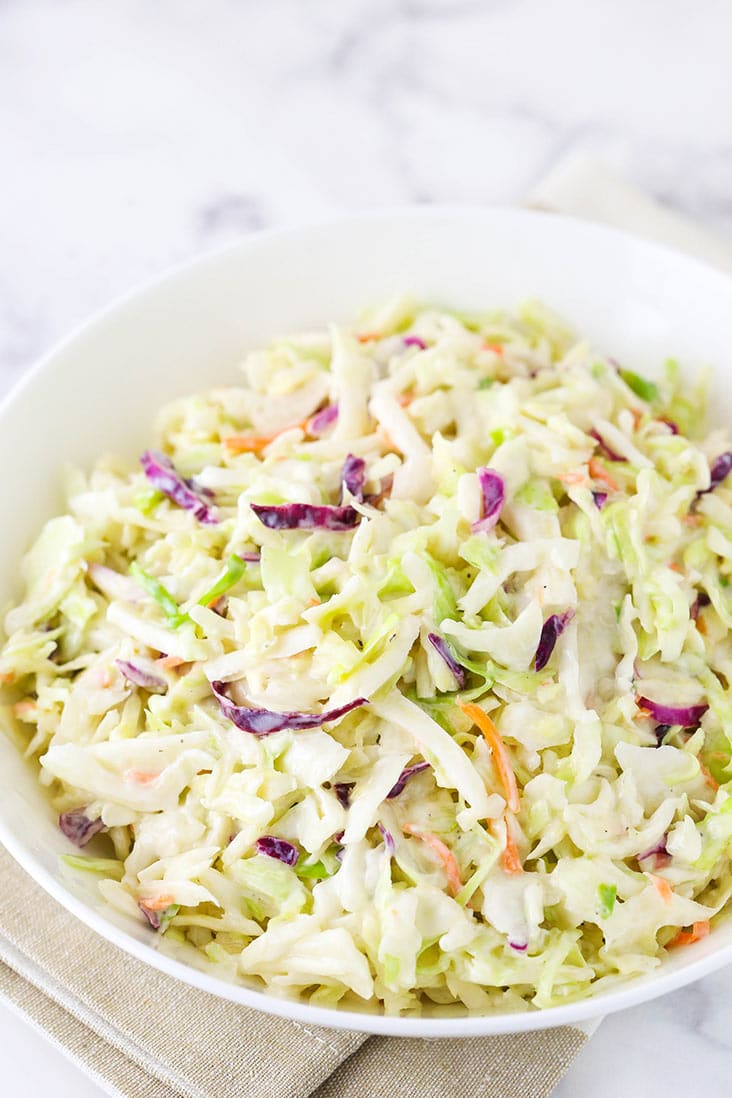 What You'll Need
There's just 7 ingredients in this simple coleslaw. Most of them are likely already in your fridge!
Sour cream – Balances out the mayo for the perfect flavor.
Mayonnaise – Creates the creamy, smooth dressing.
Sugar – Just a hint of sweetness to the dressing.
Apple cider vinegar – Provides the right amount of tang to balance the sour cream and mayo.
Ground mustard – Adds depth to the flavor.
Salt & pepper – Just a pinch of each but don't forget them!
Package coleslaw mix – You can make your own but this is so much easier and just as good.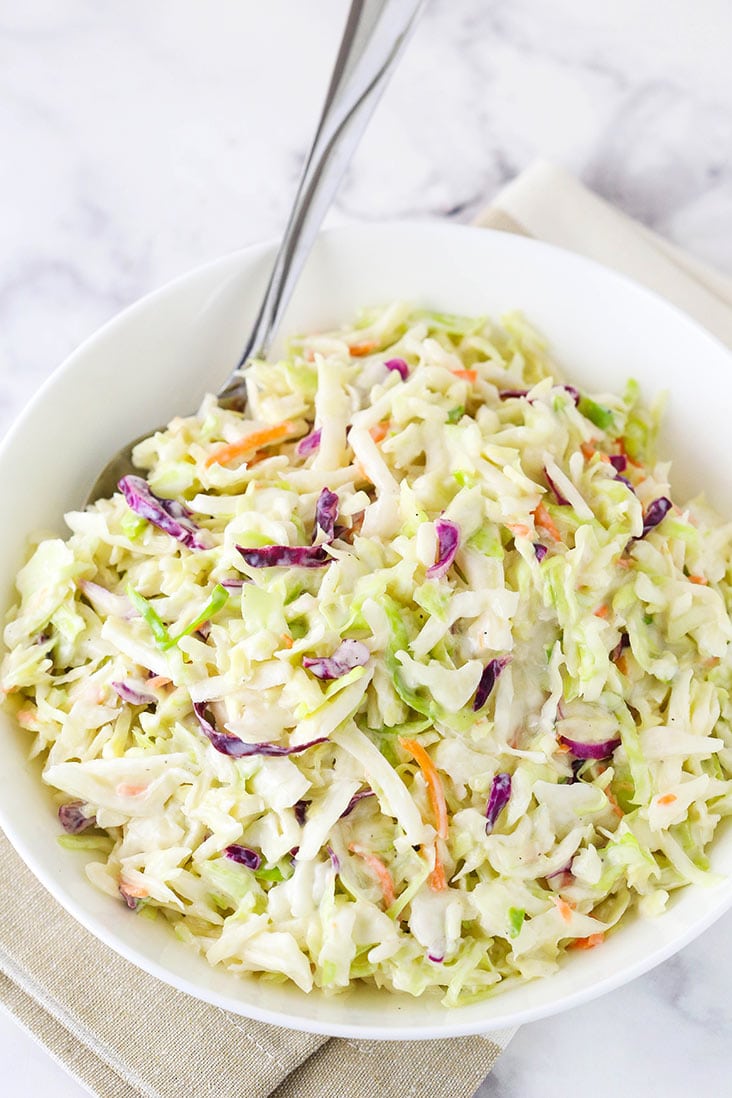 How to Make Classic Coleslaw
This easy side dish comes together in just 5 minutes and two steps. It can't get easier than this!
Prepare the dressing. Whisk together all of the ingredients for the dressing in a large bowl.
Add mix. Add the coleslaw mix and toss until evenly coated.
Chill and serve. While you can serve immediately, I recommend allowing it to chill in the fridge for 1-2 hours before serving, or even overnight, so the flavors come together a bit.
Tips for Success
There's not much to making this classic slaw! When there's only two steps, it's hard to go wrong. Here are a few things I do recommend keeping in mind.
Chill before serving. While you can serve this coleslaw as soon as you make it, I definitely recommend letting it chill first. It will give time for the flavors to truly infuse the coleslaw and it's one of those things that just taste better chilled. You can even make it up the night before!
Don't forget the salt. In my opinion, salt is under-appreciated in the kitchen but you definitely do not want to forget it in this recipe. Don't go overboard but a pinch of salt and pepper will add so much to the simple flavor of this dish.
Use a fresh packaged mix. The most important part of this coleslaw is using a mix that's still fresh and crunchy, not one that's been sitting at the store for a while. There should be no moisture inside the bag as that will make it mushy instead of crisp like you want.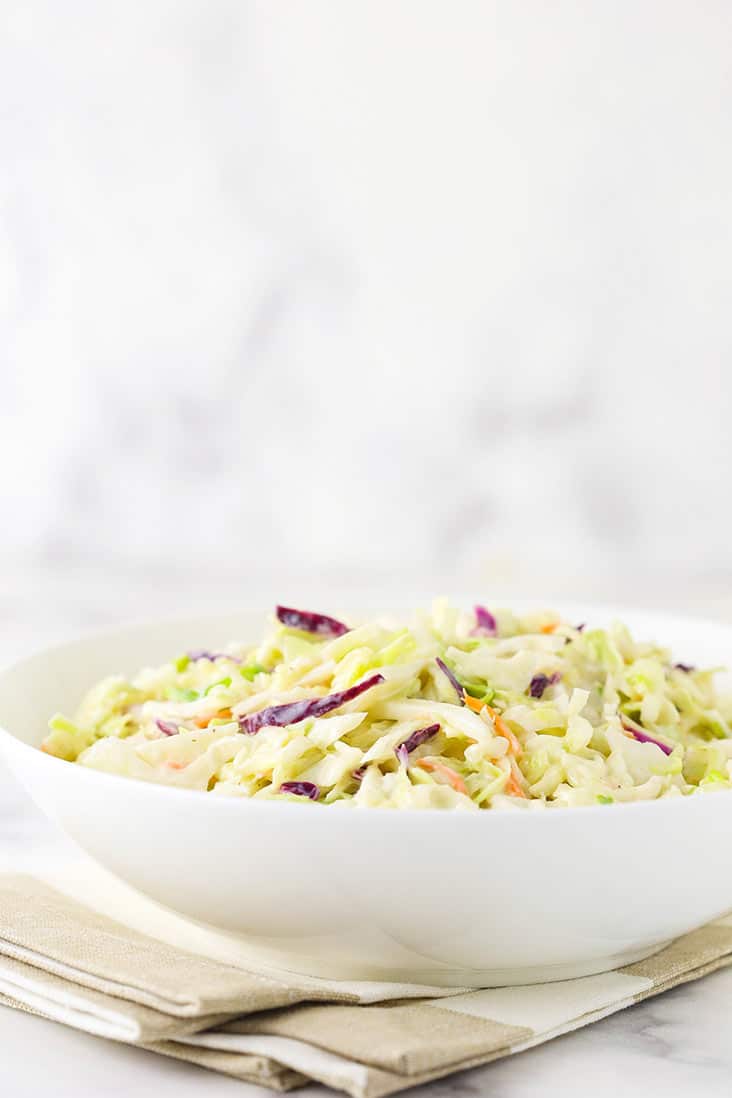 Serving Suggestions
Coleslaw is traditionally served as a side dish at picnics and potlucks. It pairs perfectly with anything fresh off the grill, from steak and pork to burgers and hot dogs. You can even add it to tacos!
My secret with this coleslaw is to use it as a topping. I know slaw is most often on the side of a burger or hot dog, but have you ever just piled it on before? SO good! Add some of my baked beans on there too and you have a real flavor fest.
How to Store Leftovers
You can store coleslaw leftovers in the fridge for up to 2 days. After that, the coleslaw will become soggy as the cabbage soaks up the dressing.
I don't recommend freezing coleslaw, as mayonnaise doesn't freeze well and the condensation when it thaws will make it mushy.
Print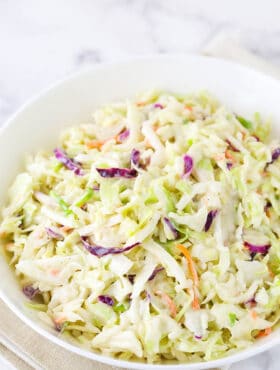 Recipe
Easy Classic Coleslaw
Author:

Prep Time:

5 minutes

Total Time:

5 minutes

Yield:

6-8 servings

Category:

Side Dish

Method:

Assemble

Cuisine:

American
---
Description
Ready in 5 minutes, this Easy Classic Coleslaw is the ideal potluck side dish. With a handful of ingredients, it's perfectly creamy with just enough tang, and sure to be a picnic hit.
---
Ingredients
5 tbsp

sour cream

5 tbsp

mayonnaise

2 1/2 tbsp

sugar

3 tbsp

apple cider vinegar

1/4 tsp

ground mustard

1/4 tsp

salt
Pepper, to taste

16 oz

package coleslaw mix
---
Instructions
In a large bowl, whisk together the sour cream, mayonnaise, sugar, vinegar, mustard, salt and pepper.
Add the coleslaw mix and toss until evenly coated.
Serve immediately or refrigerate for 1-2 hours before serving. You could even make it ahead and refrigerate it overnight. I prefer letting it sit for a bit for the flavors to some together a bit.
---
Keywords: classic coleslaw recipes, traditional coleslaw recipe, potluck sides
Categories
More Easy Side Dishes: