May 31, 2018
Banana Cream Cheesecake
This Banana Cream Cheesecake is made with a fresh banana cheesecake topped with banana bavarian cream! It's smooth, creamy and full of the most amazing banana flavor! It's my new favorite and might just stay that way forever!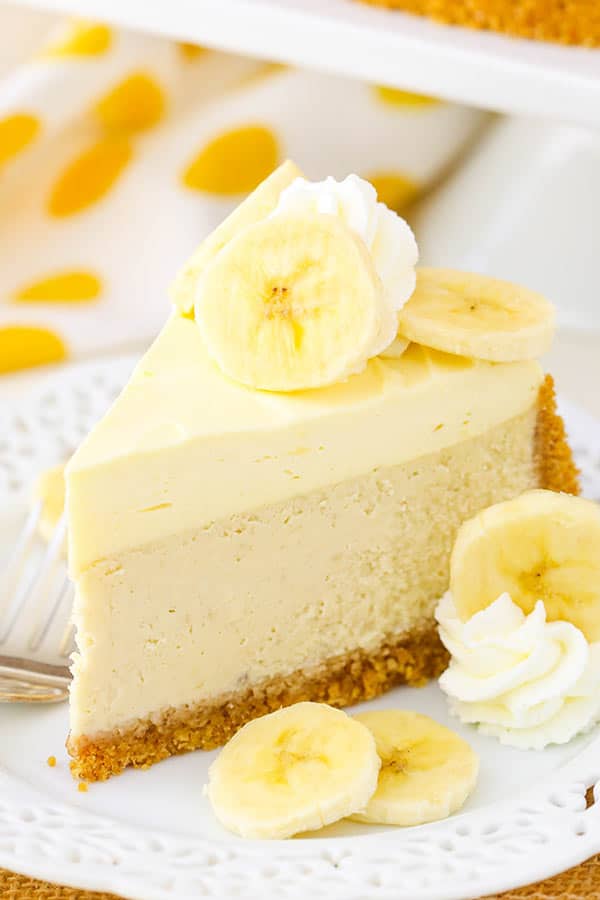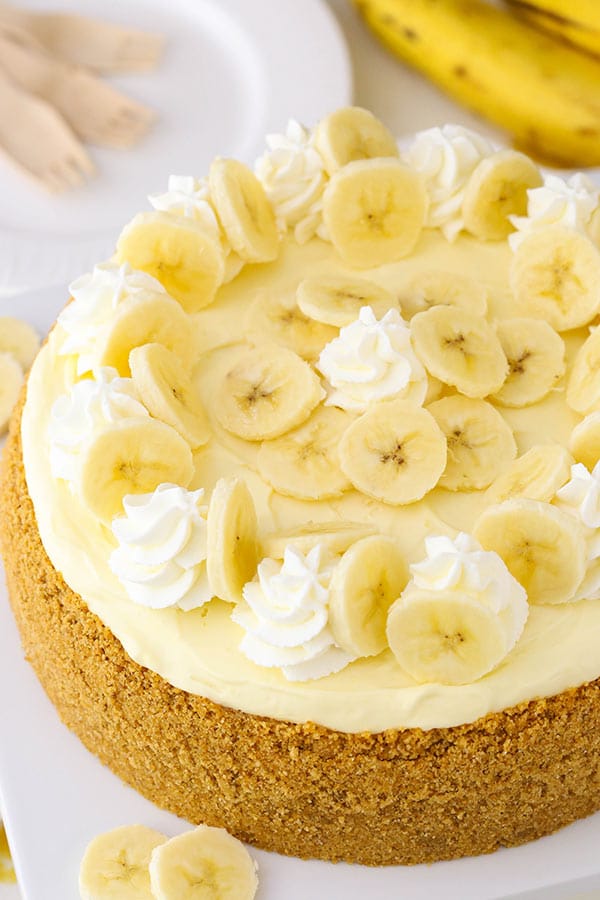 This cheesecake combines two of my favorite things – banana flavor and cheesecake. It's no secret that the hubs and I have a love of banana flavored dessert. And ever since I was a kid, I have loved cheesecake. So when I first discovered the banana cream cheesecake at The Cheesecake Factory, I knew I was in heaven. The only regret I have in regards to this cheesecake is that it has taken me so long to create it at home!
So let's not waste any more time. You need to make this ASAP so to get started, we've got the crust. I like to use vanilla wafers in a lot of my crusts, rather than graham cracker crumbs, but it'd be an easy swap to use graham crackers too. I personally like that vanilla wafers are a little sweeter and have more flavor. It really compliments this particular cheesecake too.
For the cheesecake filling, we've got banana flavor from both fresh bananas and banana extract. I played around with just fresh bananas and just banana extract, but you really need both to get that smooth banana flavor that I love in the banana cream cheesecake. The fresh bananas give it that real banana flavor and the banana extract enhances the flavor and makes it even better!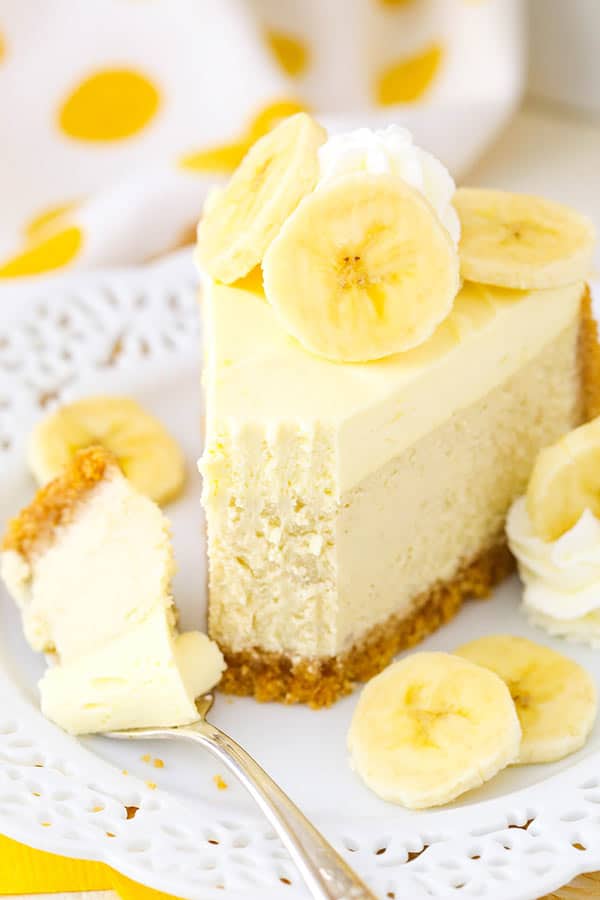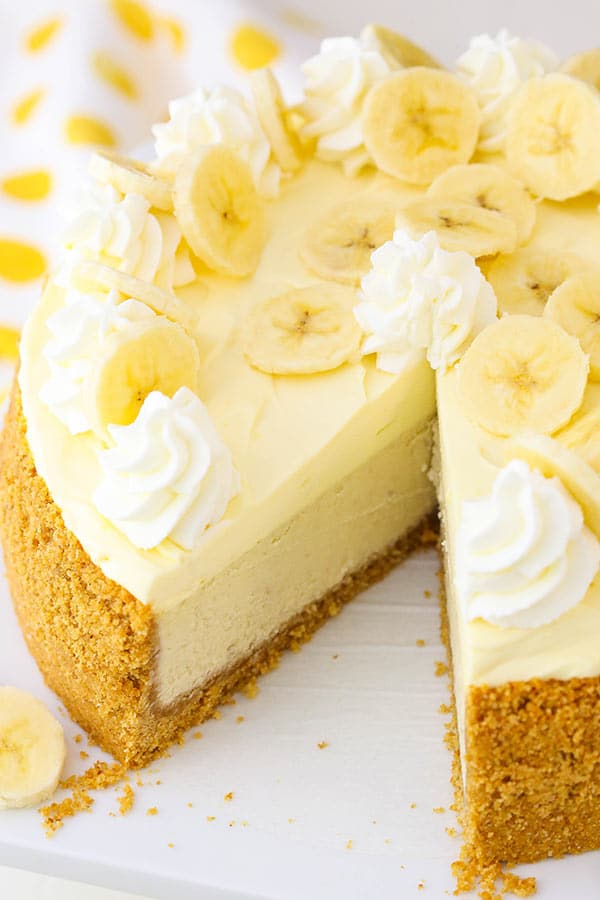 To bake the cheesecake, you'll want to use a water bath. I know it's a few extra step and seems to be a pain, but it's really not hard and it definitely makes a better cheesecake. Without it, this cheesecake will fall in the center while cooling, brown around the edges and potentially crack. So definitely take the time to do the water bath and if you'd like to see how I set mine up, you can check that out here. I like to use a slow cooker liner to make sure water doesn't get in. It's quite handy.
While the cheesecake cools, the bavarian cream topping is made. This is one of my favorite parts of the cheesecake and totally sets it apart from others! The smooth, creamy texture and amazing taste are worth every second of making it. In fact, I wanted to just eat it all with a spoon!
The bavarian cream is similar to a pastry cream, with the main difference being that pastry cream is thickened with cornstarch and bavarian cream uses gelatin. Also, just before the cream sets, whipped cream is added to bavarian cream to lighten it. Once it's made, spread it evenly on top of the cheesecake and then let the whole thing cool completely and set.
MY OTHER RECIPES
Top the finished cheesecake with a little whipped cream and then add some fresh sliced bananas when serving! The cheesecake is sure to be a hit! I shared it with family and everyone fell in love. In fact, my brother liked it so much that after he finished his piece, he started stealing bites from his daughter (my niece). Now you know when you start to steal food from your kids, it's good!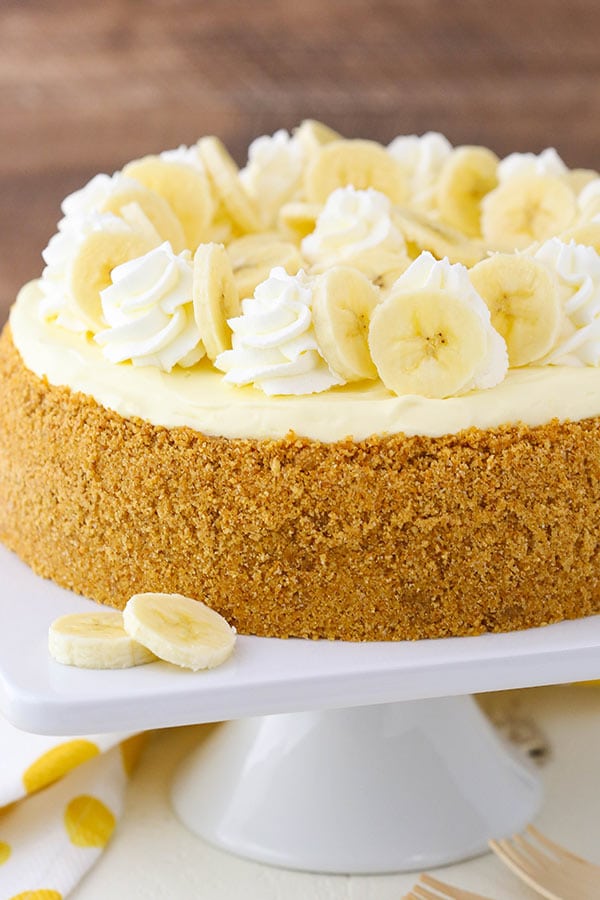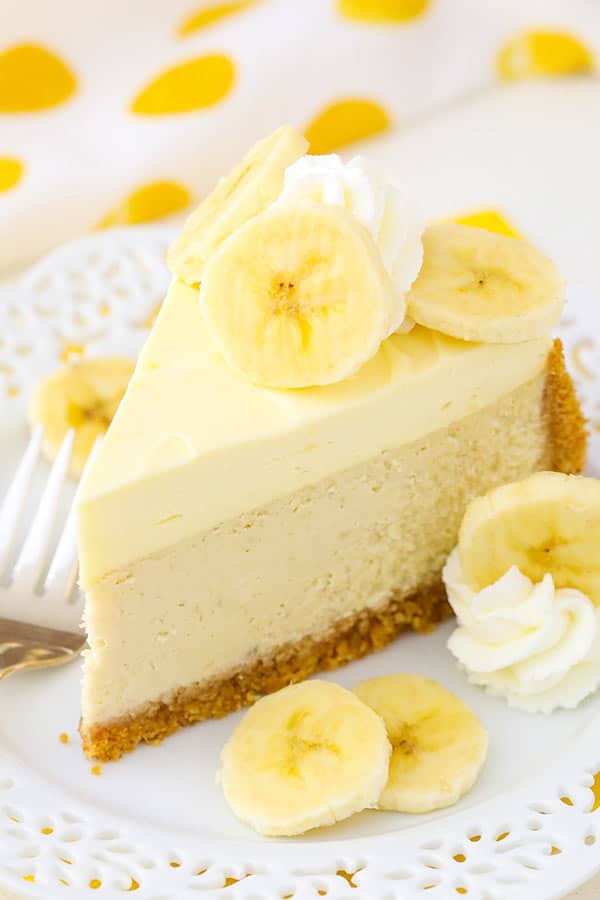 Banana Cream Cheesecake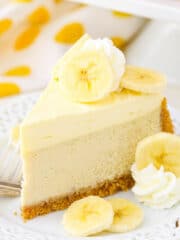 Ingredients:
CRUST
2 1/4 cups (302g) vanilla wafer crumbs
10 tbsp (140g) salted butter, melted
3 tbsp (39g) sugar
Cheesecake Filling
24 ounces (678g) cream cheese, room temperature
1 cup (207g) sugar
3 tbsp (24g) all purpose flour
1/4 cup (58g) sour cream, room temperature
4 tsp banana extract
1 cup (240ml) pureed banana (2 medium sized bananas)*
3 large eggs, room temperature
Bavarian Cream
1 tsp powdered gelatin
2 tbsp (30ml) milk
2 egg yolks
1/2 cup (120ml) heavy whipping cream
2 tbsp (26g) sugar
3/4 tsp vanilla extract
1/4 tsp banana extract
2/3 cup (160ml) heavy whipping cream, cold
5 tbsp (36g) powdered sugar
Whipped Cream Topping
1/2 cup heavy whipping cream, cold
1/4 cup powdered sugar
1/2 tsp vanilla extract
Fresh sliced bananas
*I recommend using ripe, yellow bananas, not ones that have browned.
Directions:
CRUST
1. Preheat oven to 325°F (163°C). Line a 9-inch (23cm) springform pan with parchment paper in the bottom and grease the sides.
2. Combine the crust ingredients in a small bowl. Press the mixture into the bottom and up the sides of the springform pan.
3. Bake the crust for 10 minutes, then set aside to cool.
4. Cover the outsides of the pan with aluminum foil so that water from the water bath cannot get in (see how I prepare my pan for a water bath). Set prepared pan aside.
CHEESECAKE
5. Reduce oven temperature to 300°F (148°C).
6. In a large bowl, beat the cream cheese, sugar and flour on low speed until well completely combined and smooth. Be sure to use low speed to reduce the amount of air added to the batter, which can cause cracks. Scrape down the sides of the bowl.
7. Add the sour cream and banana extract and mix on low speed until well combined.
8. Add the pureed bananas and mix on low speed until combined.
9. Add the eggs one at a time, mixing slowly to combine after each addition. Scrape down the sides of the bowl as needed to make sure everything is well combined.
10. Pour the cheesecake batter into the crust.
11. Place the springform pan inside another larger pan. Fill the outside pan with enough warm water to go about halfway up the sides of the springform pan. The water should not go above the top edge of the aluminum foil on the springform pan.
12. Bake for 1 hour 30 minutes. The center should be set, but still jiggly.
13. Turn off the oven and leave the door closed for 30 minutes. The cheesecake will continue to cook, but slowly begin to cool as well.
14. Crack the door of the oven for 30 minutes to allow the cheesecake to continue to cool slowly. This process helps prevent cracking.
BAVARIAN CREAM
15. While the cheesecake finishes cooling, make the bavarian cream. In a small bowl, sprinkle the gelatin onto the milk and set aside.
16. In a medium bowl, whisk the egg yolks together and set aside.
17. Add the heavy cream, sugar, vanilla extract and banana extract to a large saucepan and heat over medium heat until warm.
18. Remove the cream mixture from heat and slowly pour the hot cream into the eggs to temper them.
19. Add the egg and cream mixture back into the saucepan and return to the heat. Continue cooking over medium heat until the mixture is thick enough to coat the back of a spoon, or reaches about 160°F. It should happen fairly quickly.
20. Add the gelatin mixture to the hot cream and stir until smooth.
21. Pour the custard into another bowl and set that bowl inside another bowl over ice. Allow to cool to room temperature.
22. While the custard cools, add the heavy whipping cream and powdered sugar to a large mixer bowl and whisk on high speed until stiff peaks form.
23. When the custard is ready, gently fold the whipped cream into the custard. Be sure it's at least room temperature, so the whipped cream doesn't wilt/melt.
24. Remove the water bath wrapping from the cheesecake, then spread the bavarian cream evenly over the top of the cheesecake. Refrigerate cheesecake until completely cool and firm, 5-6 hours.
TOPPING
25. When the cheesecake is cool and firm, remove it from the springform pan.
26. Add the heavy whipping cream, powdered sugar and vanilla extract for the whipped cream topping to a large mixer bowl and whisk on high speed until stiff peaks form.
27. Pipe swirls of whipped cream around the edge of the cheesecake, then serve with sliced bananas.
Cheesecake should be stored in the fridge. Best if eaten within 3-4 days.
* I recommend using fresh, yellow bananas. Not ones that are ripe and brown. I prefer the color and flavor of the fresh bananas in this particular cheesecake.
Enjoy!