This post may contain affiliate sales links. Please read my disclosure policy.
Do you have one of those walls in your house? You know, the one that you've been looking for the perfect thing to fill it with? I totally had one of those. Right in our living room. I've been looking at it for three years trying to figure out what exactly to put on it.
So when I got an email from WiseDecor about using one of their vinyl wall decals, I knew exactly where I'd put it! Only question was, what would I put up there?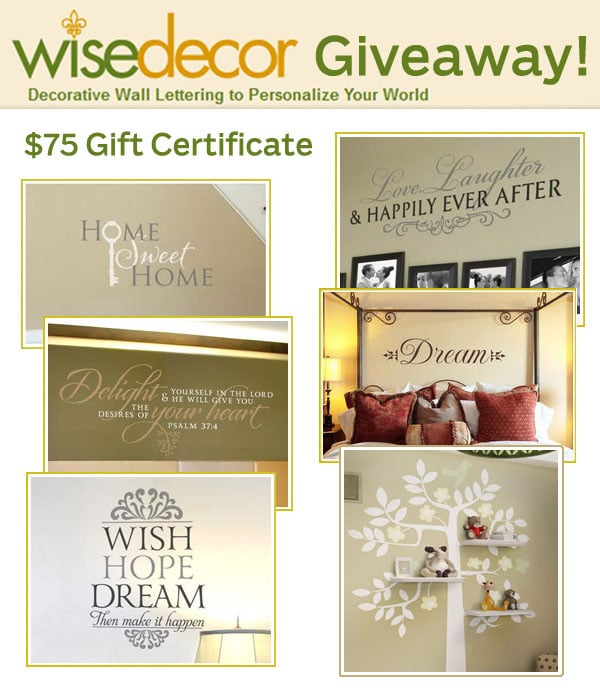 WiseDecor Decorative Lettering offers an inexpensive way to decorate every room with their long-lasting lettering and wall decals. And they have so many options! They have options for every room, but you can also make your own, so if you have a favorite saying or quote, you can get it made. Plus, they are based in Greensboro, NC, which is where the hubs went to college! And I grew up in North Carolina. 🙂
It took a bit to decide what to put up on the wall. I really wanted something on the living room wall, but I also considered putting something fun like "Eat dessert first" in the kitchen. It just seemed so fitting for me.
But in the end, the hubs and I decided we really wanted to put some scripture on the wall. It's something I've been wanting to do for a while and this was the perfect opportunity. For us, it's such a great reminder of our faith in the Lord every day and it's so motivating. Our living room and kitchen are open to each other, so I look directly at it while in the kitchen baking and it's so great to look up and see it. I really love it!
And lucky for you, they are giving away one $75 gift certificate for a luck reader to create their own wall decal! Yay!
But first, a look at how to put them up on the wall.
We were filling a big space, so it took two of us to get it on the wall. It was quite easy though, other than managing how big it was.
To start, the hubs got out all his leveling equipment. And his camo hat. 🙂
He has a neat light leveler thingy that shines across the wall so you mark points along the line. He likes being handy, so I let him mark everything out and get the markings centered on the wall.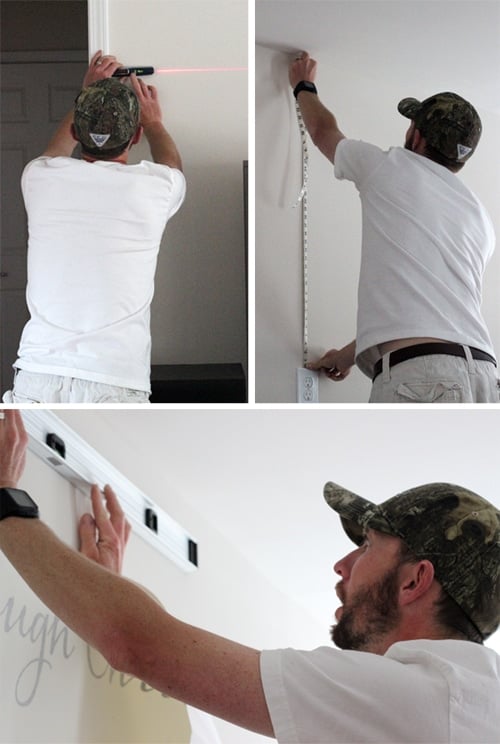 Then we got it taped up on the wall. It was big, so it definitely took both of us. We taped it in small parts along the way and then put one big long piece across the top.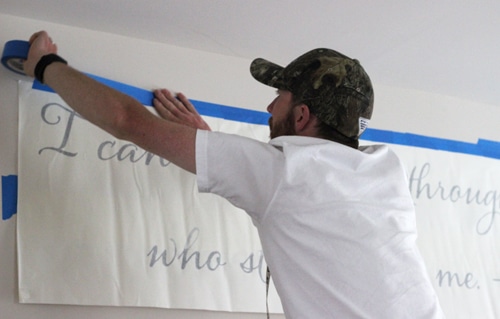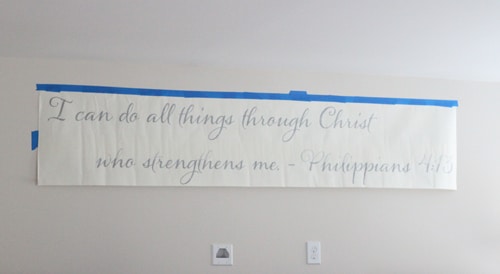 Then I hoped up there and cut it into sections, as was recommended in the directions it came with for big decals like ours. Cutting it into sections allows you to peel of the backing in pieces, which definitely was needed for it's size. Great suggestion!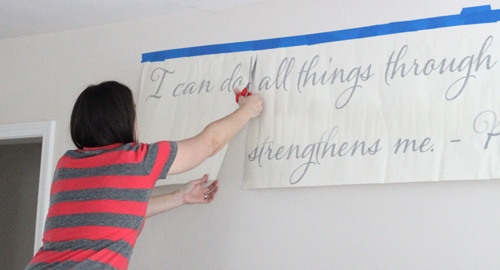 Then we peeled the backing off and stuck it on the wall! The decal comes with a great rubbing tool to make sure it's pressed onto the wall all the way.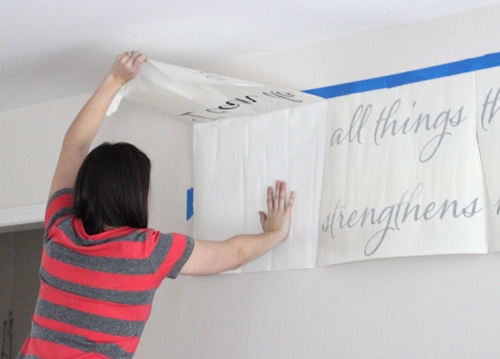 Next it was time to peel the paper off the top. I will say, don't let that top layer of paper sit too long. The hubs felt like it stuck more to the wall the longer it stayed on.
You want to peel back the paper nice and slowly. And at an upward angle. There were a couple spots where it didn't seem like the letters stuck, so we just laid it pack down, rubbed over it again and it came out great!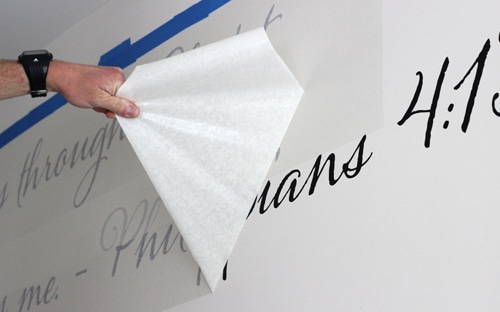 We absolutely love it! I still can't stop looking up at it. It reminds me of where my strength comes from and that I can accomplish anything with Him with me. So great!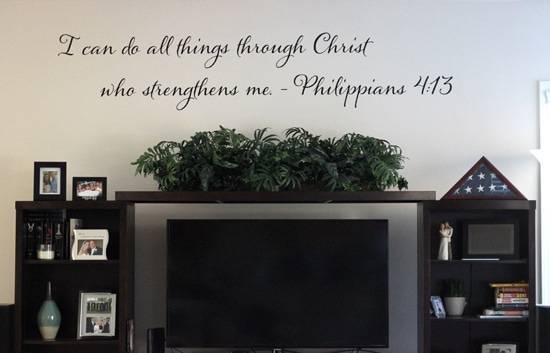 And fortunately WiseDecor is giving a lucky reader the chance to win a wall decal! Like I said above, it's a $75 gift card, which goes pretty far. So check out their website and be sure to enter! Good Luck!
Open to U.S. residents only. Must be 18 years or older to enter. See all rules and regulations in the rafflecopter form.