This post may contain affiliate sales links. Please read my disclosure policy.
This Real Deal Caramel Cake is just that – the real deal! A delicious caramel cake recipe straight out of my friend Jocelyn's cookbook, Grandbaby Cakes!
Jocelyn's Old Fashioned Caramel Cake
I could not be more excited to share this cake and cookbook with you today. First of all, the author is one of my favorites. Jocelyn's blog, Grandbaby Cakes, is wonderful and she is a gem. You won't meet anyone else who can light up a room like she does and keep you laughing. Love her. Plus, she's so real. I love that.
And her realness totally shows in her cookbook which is full of stories about her family and growing up baking. Every recipe is so personal to her and it makes it not only fun to bake from, but fun to read too. She's largely influenced by her grandmother and the photos of her, her mom and her grandmother sprinkled throughout the book are absolutely beautiful.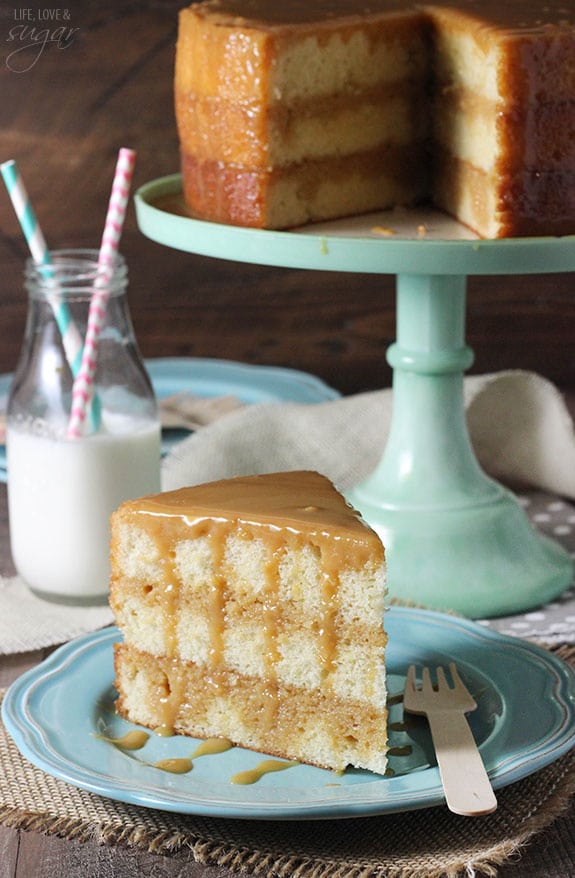 And then the cakes! My goodness the cakes! I want them all. There's pound cakes, layer cakes, sheet cakes, cupcakes and so much more. And you guys know how I feel about cake.
You'll also find this amazing cake in her cookbook. I have been eyeing this cake ever since I first saw it. I couldn't wait to make it.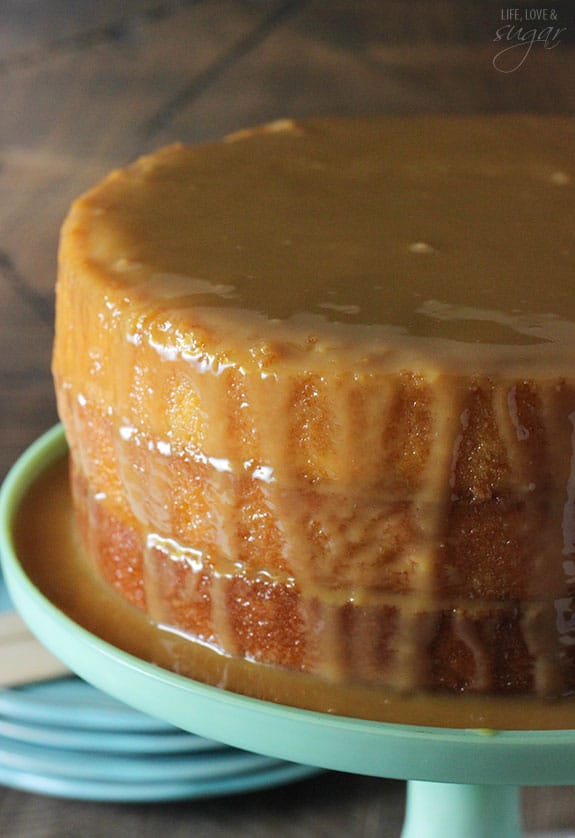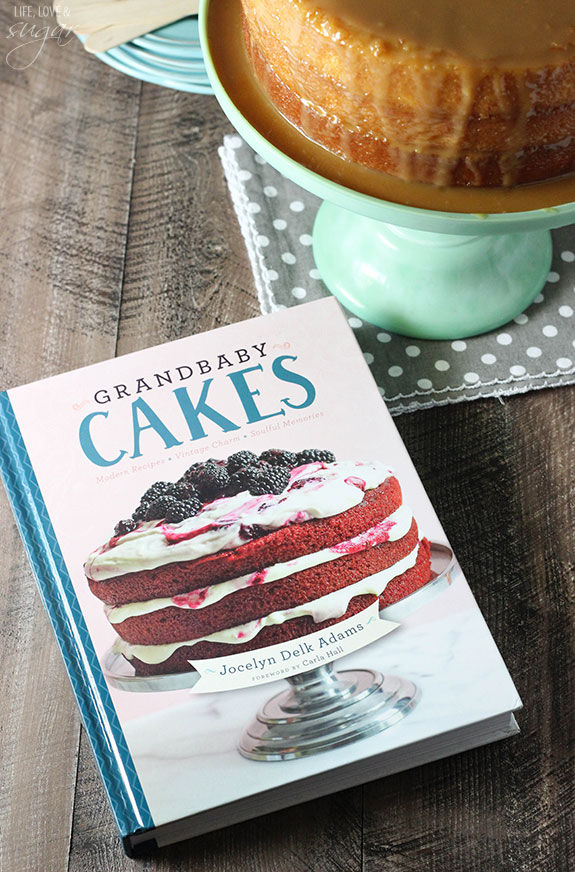 As you may know caramel is one of my favorite things ever. I even have two recipes for homemade caramel sauce: There's this easy caramel sauce, then this recipe for salted caramel sauce! Douse a cake in it and you have my full attention. My only regret when I made this cake was that my dad wasn't visiting so that he could have some too. I dare say we are caramel lovers to core.
And while this cake takes a little time to make because of the caramel, it's definitely worth it.
The cake is pretty straightforward to make and makes the most silky and beautiful batter. Is that weird to say about batter? It really is pretty. 🙂 And it bakes into a wonderfully moist, light cake.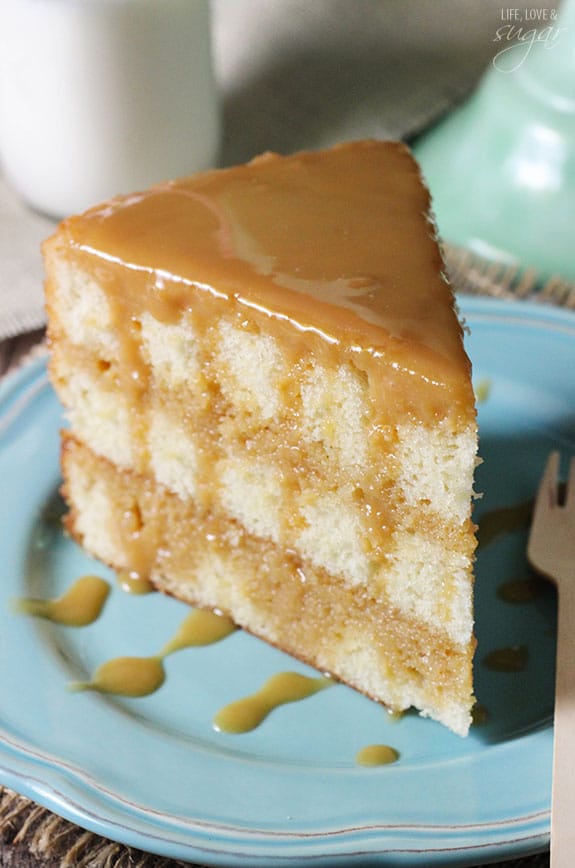 Making this Caramel Cake
The caramel is where it's at though. I actually started making the caramel first and while it cooked I made the cake. The caramel takes just shy of 2 hours to make, so there's plenty of time for making the cake.
However don't be deterred by the time! You aren't nursing the caramel that whole time. In fact, you hardly nurse it at all. Despite taking some time, it's the easiest caramel to make. The base of it is evaporated milk, which I'd never used for caramel before. The flavor is different than the traditional caramel that I'm used to, but it is delicious! And really, once you mix the ingredients together, it pretty much cooks on it's own with only an occasional stir. Like I said, I baked the cake while it cooked – and even did some laundry. 🙂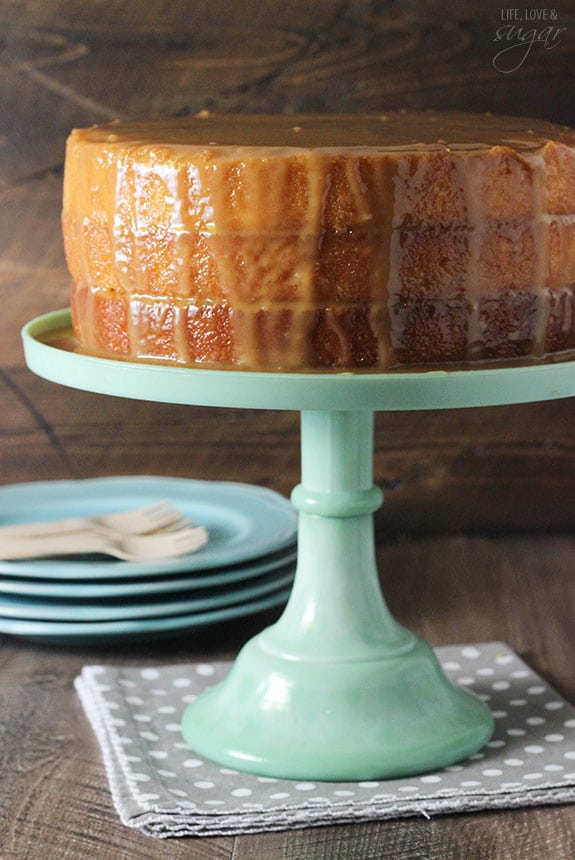 Then once the caramel was done, the cake was all ready to go. The timing actually works out quite nicely to make everything at once, then layer it and serve. And OMG! It's delicious – especially with the caramel still being a little warm. Yum, yum, yum! The caramel definitely pools a little around the bottom, so make sure the stand or plate you use has an edge that will catch it. It's perfect for dipping fingers in. 🙂
And to sweeten this deal even more, there's a great giveaway below for a brand new KitchenAid Mixer. Score! Be sure to enter below!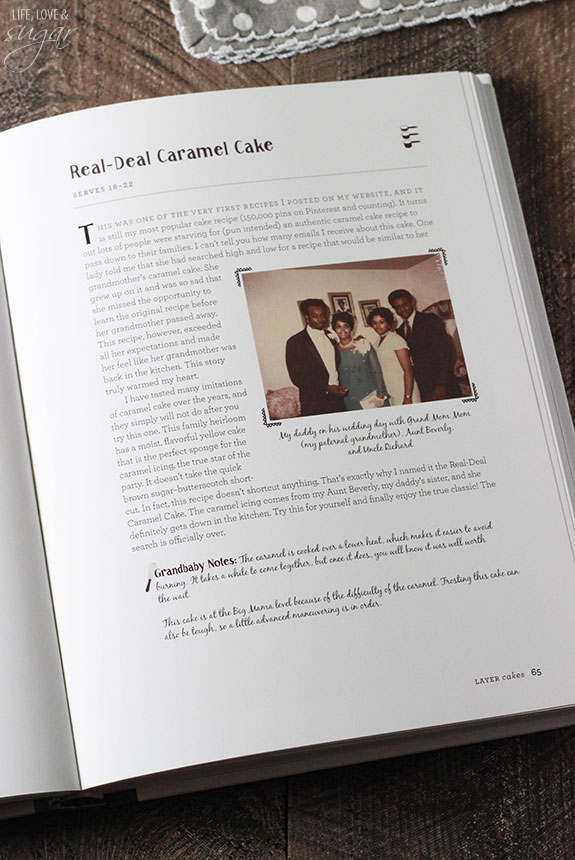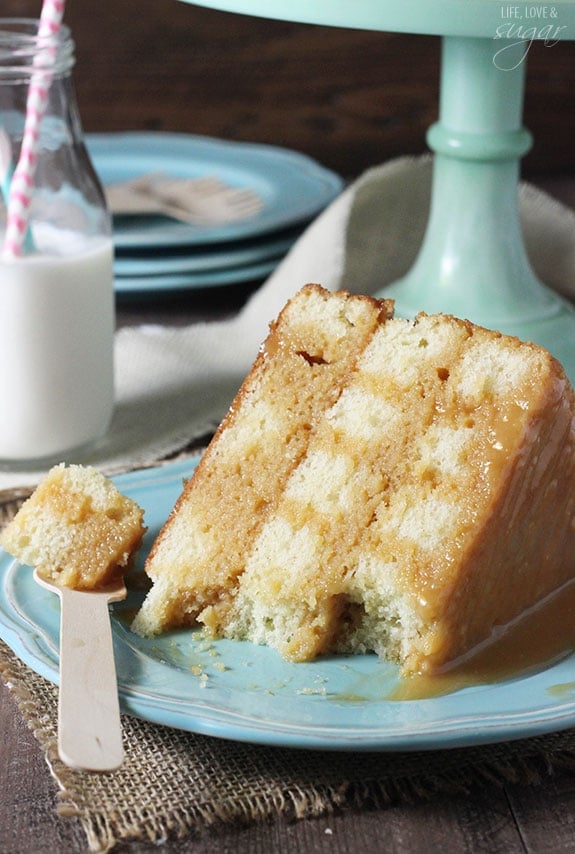 Print
Recipe
Real Deal Caramel Cake
Author:

Prep Time:

1 hour

Cook Time:

2 hours 30 minutes

Total Time:

3 hours 30 minutes

Yield:

18-22 Slices

Category:

Cakes

Method:

Oven

Cuisine:

American
---
Description
This Real Deal Caramel Cake is just that – the real deal! A delicious caramel cake recipe straight out of my friend Jocelyn's cookbook, Grandbaby Cakes!
---
Ingredients
CAKE
1 cup

unsalted butter, room temperature

2 1/2 cups

sugar

7

eggs, room temperature

3 cups

sifted cake flour

1 tsp

salt

1/2 tsp

baking powder

1/2 tsp

baking soda

1 cup

sour cream, room temperature

1/2 cup

vegetable oil

1 tbsp

vanilla extract
AUNT BEVERLY'S CARAMEL ICING
3/4 cup

unsalted butter

2

(12-ounce) cans evaporated milk

2 cups

sugar
pinch salt

1 tbsp

vanilla extract
---
Instructions
CAKE
1. Preheat oven to 325 degrees. Prepare three 9 inch cake pans with parchment rounds in the bottom of the pans and grease the sides.
2. With the whisk attachment of your mixer, beat the butter for 2 minutes on high speed.
3. Add the sugar then beat for another 5 minutes with the beater attachment until pale yellow and fluffy.
4. Add the eggs one at a time, combining well after each addition and scraping down the sides of the bowl as needed.
5. With your mixer on low speed, add the flour in two batched.
6. Add the salt, baking powder and baking soda and mix until well combined, careful not to overbeat.
7. Add the sour cream, oil and vanilla extract. Scrape down the sides and bottom of the bowl and mix until just combined. The batter should be nice and silky.
8. Divide the batter between the three pans and bake for 27-32 minutes or until a toothpick inserted into the center comes out with a few crumbs.
9. Let the layers cool for about 10 minutes, then finish cooling on wire racks.
CARAMEL ICING
Phase 1, takes about 20-30 minutes
In a medium saucepan over medium-low heat, melt the evaporated milk, sugar, butter and salt. Continue cooking. The butter will begin to separate and create and yellow, oily film.
Phase 2, takes about 60 minutes
The bulk of the process is this phase. The ingredients will come to a slow boil and form bubbles on the surface. As you continue cooking, the bubbles will get bigger and become more numerous. Stir occasionally as it all comes together.
Phase 3, takes about 15 minutes
Some white clumps will develop on the surface. This is normal. Just continue to cook and stir occasionally to blend everything back together. You should start to see the mixture turn a light golden caramel color. The color will slowly deepen and the car male will bubble higher.
Phase 4, takes about 10-15 minutes
Reduce the heat to low to ensure you don't burn the caramel. The bubbling will subside into a simmer as everything thickens. The caramel should be an amber brown when done and coat the back of a spoon. Once that happens, remove from heat and add in vanilla extract. Allow the caramel to cool for about 30 minutes and thicken before layering the cake.
TO FINISH THE CAKE
1. Place first layer on serving plate. Spread about 1/3 of the caramel on top of the cake. The icing may drip down the sides a bit, but that's ok.
2. Add the second layer of cake and another 1/3 of the icing.
3. Add the final layer, bottom up, and ice the top and sides of the cake with a thin layer of caramel.
4. Pour remaining caramel over the cake and allow to drizzle down the sides.
5. Serve at room temperature.
---
Notes
I started the caramel first, allowing it to cook for about 20-30 minutes. Then I baked the cake. The timing worked out well – by the time the caramel was done, the cake was baked and cooled and ready for layering.
Nutrition
Serving Size:

1 Slice

Calories:

474

Sugar:

43.4 g

Sodium:

306.5 mg

Fat:

23.4 g

Carbohydrates:

60.3 g

Protein:

6.9 g

Cholesterol:

101.7 mg
Keywords: caramel desserts, caramel cake, caramel recipe, grandbaby cakes recipe, southern caramel cake
Filed Under:
Recipe shared from Grandbaby Cakes with permission.
Enjoy!