May 14, 2014
No Bake Strawberry Milkshake Cheesecake
This No Bake Strawberry Milkshake cheesecake might be my favorite cheesecake yet! While it's not my first time baking with strawberry Nesquick, I've officially decided that it is magical when added to desserts and this cheesecake is no exception! It's worth breaking a diet for. I know. I did it. 🙂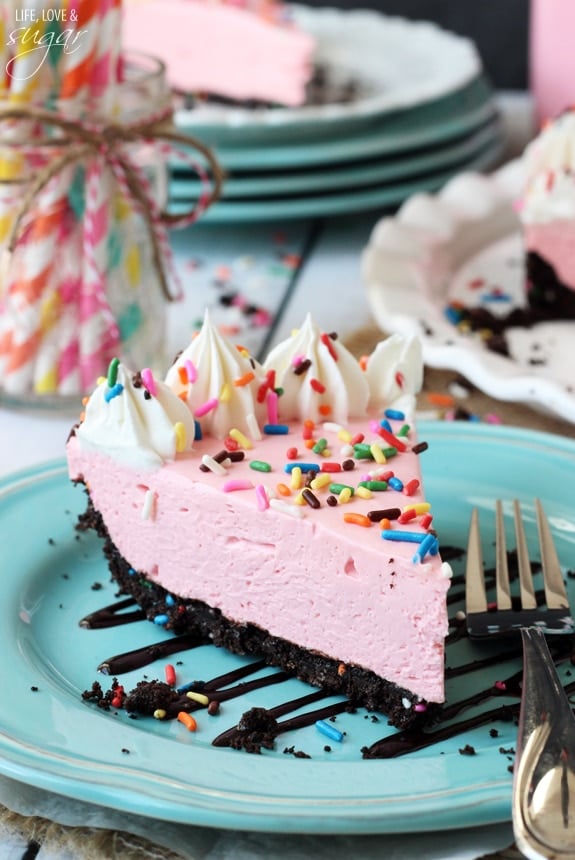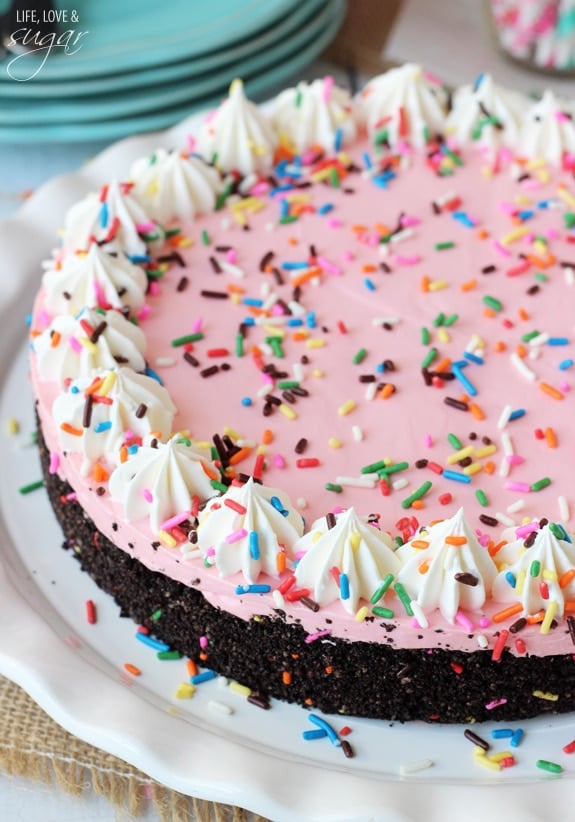 As you read this (assuming you're reading it the day it posted), I am on my way to the BlogHer Food Conference in Miami!! I cannot wait! It'll be so fun to see friends, meet new ones and spend time with my roomie Julianne. We met back in February and she is the best!
Plus, I'm stoked to be back in South Florida for a few days. I've decided it's my heaven. I love it. The only bummer is that the hubs couldn't come with me – he has to work.
I can't wait to tell you all about the trip when I'm back. If you're interested, follow me on instagram – I'll be sharing photos all weekend!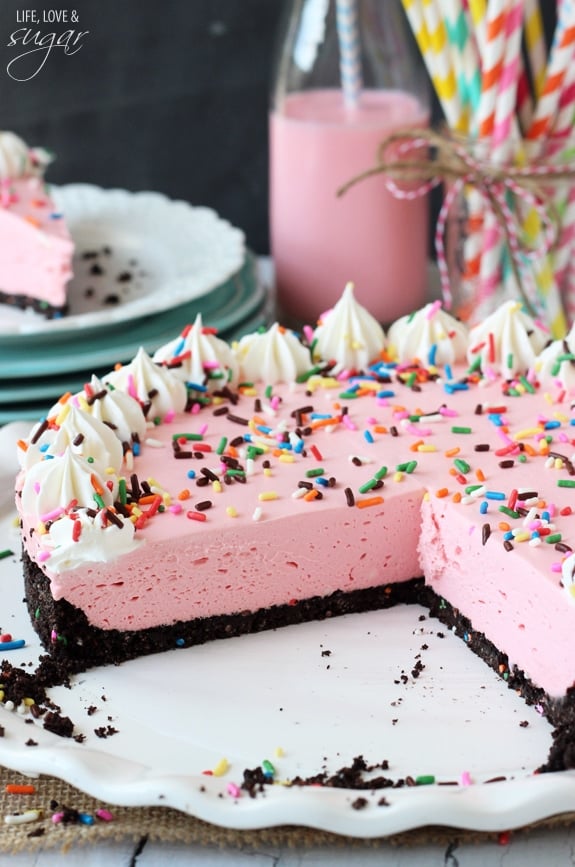 But in the meantime, you must make this cheesecake. Every time I take another bite, I can't stop eating it all over again.
It's not as thick as some of the other no bake cheesecakes I've shared – I think because of the Nesquick mix – so you'll want to make sure to keep it in the fridge right until you serve it. And as much as I dig a thick cheesecake, it doesn't bother me one bit that this one isn't as thick.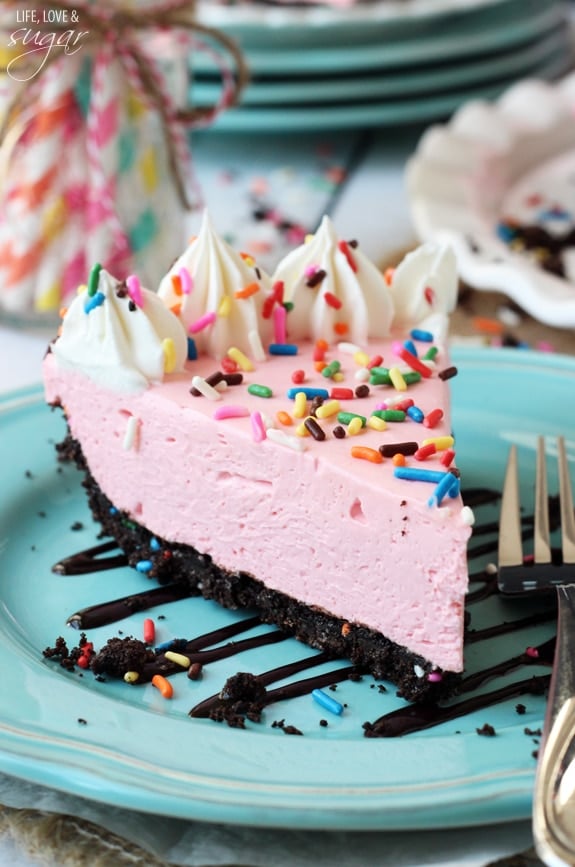 And the chocolate Oreo crust is the perfect compliment for it. I considered nilla wafers, graham crackers and even golden Oreos, but the chocolate contrasts and compliments the strawberry just like it should.
The hubs has gone totally crazy over this cheesecake. I was told I couldn't give any away. That's always a good sign.
And honestly, I kind of didn't want to. Except that I'm trying to eat better and eating an entire cheesecake doesn't really go with that goal real well. Bummer. But as much as I hate cutting back on my sweets, fitting into old clothes has been really nice.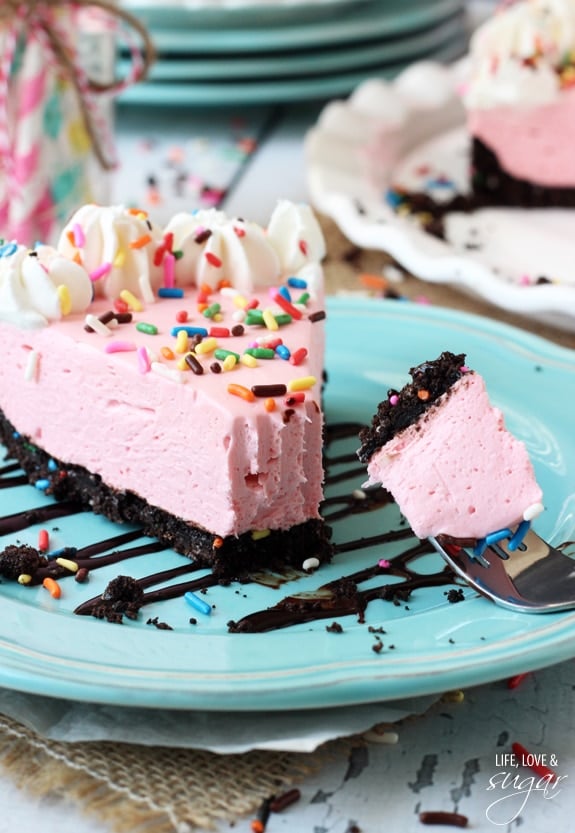 Even so, I had more of this cheesecake than I thought I would. I just couldn't resist.
And because it's no bake, it is so easy to make. The crust is just Oreo crumbs, melted butter and sprinkles mixed together, then pressed into the bottom of a springform pan.
The filling is mostly cream cheese. Added to it is some sugar, vanilla, strawberry Nesquick powder mix and a little milk to break up the powder and smooth it out.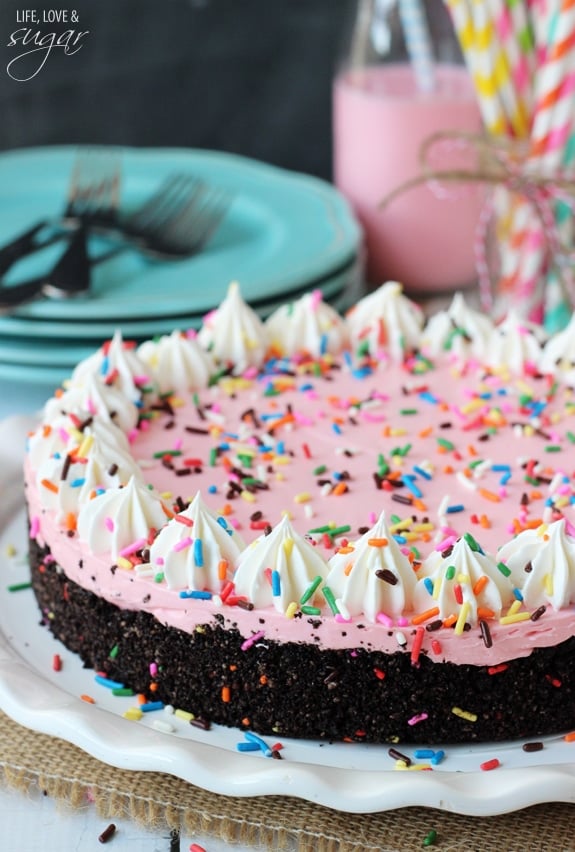 The Cool Whip that gets added loosens up the cream cheese. You can replace it with homemade whipped cream if you'd like. The recipe I have on the blog would work great, but you might want to add a little more powdered sugar to it, so it's thicker. Probably about 1/2 a cup for 1 cup of heavy cream.
And that's it! Just let it set in the fridge – I usually leave it overnight. When it's done, you can add more whipped cream and sprinkles. Don't the sprinkles just make it so pretty?
Time to get baking! Minus the actual baking part. 😉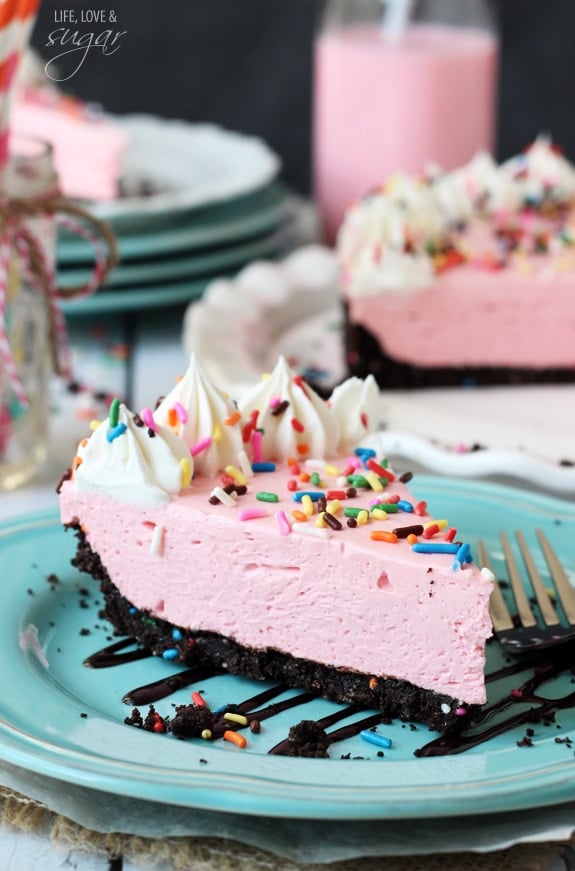 No Bake Strawberry Milkshake Cheesecake
Yield:

12

-

14

Slices

1

x
Category:

Dessert

Method:

Oven

Cuisine:

American
Ingredients
CRUST
2 cup

s Oreo crumbs

1/4 cup

butter

2 tbsp

sprinkles
CHEESECAKE
24 oz

(

three

8-oz packages) cream cheese, room temperature

1/2 cup

sugar

1 tsp

vanilla

1/2 cup

strawberry Nesquik powder mix (or similar strawberry milk powder)

1 tbsp

milk

8 oz

cool whip (or homemade whipped cream)
additional Cool Whip for topping
sprinkles for topping
Instructions
1. Combine Oreo crumbs, melted butter and sprinkles.
2. Press into the bottom and halfway up the sides of a 9 inch springform pan. Set in refrigerator to firm.
3. Mix cream cheese, sugar, vanilla, strawberry Nesquik mix and milk together in a large bowl until smooth and well combined.
4. Gently stir in Cool Whip (or homemade whipped cream).
5. Pour filling into crust and smooth the top.
6. Refrigerate for about 5 hours or until firm.
7. Once firm, remove cheesecake from springform pan and decorate with additional Cool Whip and sprinkles.
8. Store in refrigerator until ready to serve.
Enjoy!

These are the parties I link up to.
You might also like:
Fruit Cheesecake Sugar Cookie Cups