These No Bake Coconut Caramel Nest Cookies are an adorable Easter dessert that's super easy to make! They're made with a mix of cornflakes, caramel and coconut!
For another festive Easter treat, try my Chocolate Easter Egg Cupcakes!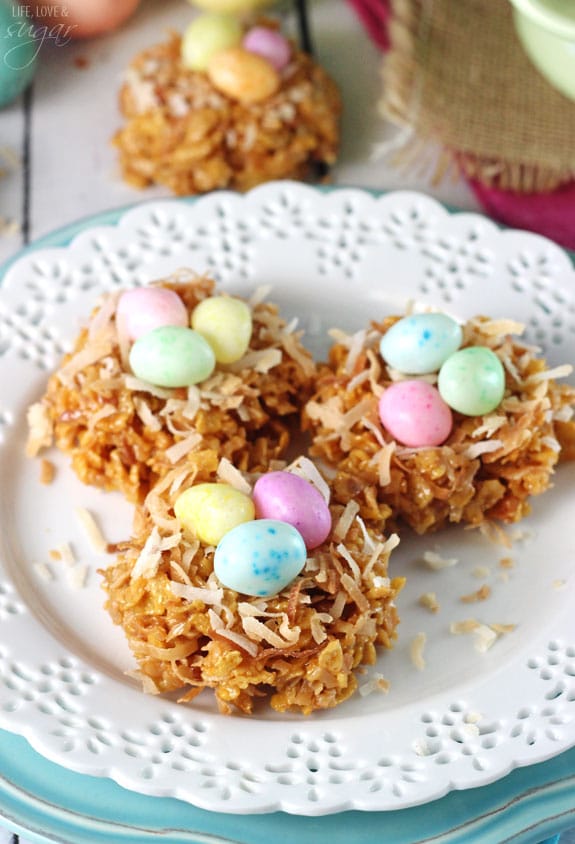 So in case you missed it last week, the hubs officially became a U.S. citizen last Wednesday. We went to the ceremony, which only lasted about an hour, but started two hours late. They did a nice job. There were 159 people from 61 countries that received their citizenship during that ceremony. They listed all the countries and it was pretty crazy to think about all the people with such different backgrounds together in one room with one thing in common – becoming U.S. citizens. It's pretty amazing to think about what people go through to achieve that and so many of them just had their excitement all over their faces.
Since it's an occasion we've been waiting for for a while, I wanted to mark the moment. We are having a celebration tomorrow and it will be all things American and red, white and blue. Think 4th of July in March. Sadly, there won't be fireworks, since they don't seem to sell them in stores this time of year. As it is, I had to order all the flag themed party gear online. Nothing in stores right now. It's all bunnies and eggs (hence this recipe 🙂 ).
I went to the store last night to start getting food together and some other supplies. It's looking like it's going to be a pretty tasty Saturday.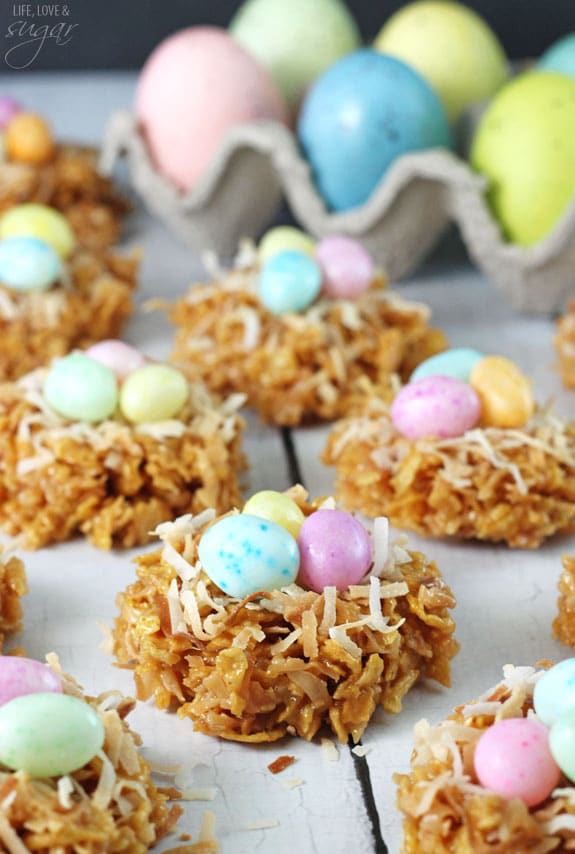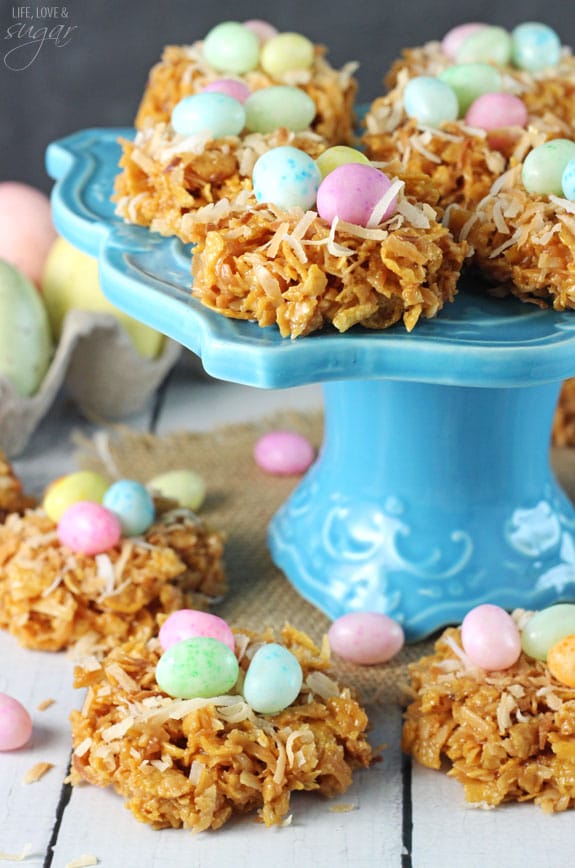 I've got a lot left to do, despite starting the cake yesterday morning and working on some other treats last night. I won't tell you yet what the cake is. I'm hoping to share a picture when it's all done (be sure to check instagram). I will tell you though that I almost had the worst thing happen last night.
I was putting away the third cake layer. I had to juggle around all the cake and treats to fit them all in containers. I only have so many massive containers. I regularly consider getting more of my gigantic cake storage containers (I store more than just cake in them) but I have no idea where I'd put them. I digress…
So I put a cake layer onto it's cardboard cake circle so that I could put it in it's storage container and as I went to pick it up off of the counter, I must've grabbed it wrong because it started wobbling as I was picking it up. I felt it as it was about to fall and screamed out! The hubs came running not knowing what was going on!
The cake literally did a full flip around in the air and then landed, perfectly intact, on it's cardboard circle. No harm, nothing wrong with it. I almost died. Then almost cried. I could not have been more relieved! I did NOT want to have to re-bake that. Phew!
And don't worry, the hubs was fine. He's gotten used to me screaming at cake catastrophes and near catastrophes. One of the perks of being married to a food blogger. 😉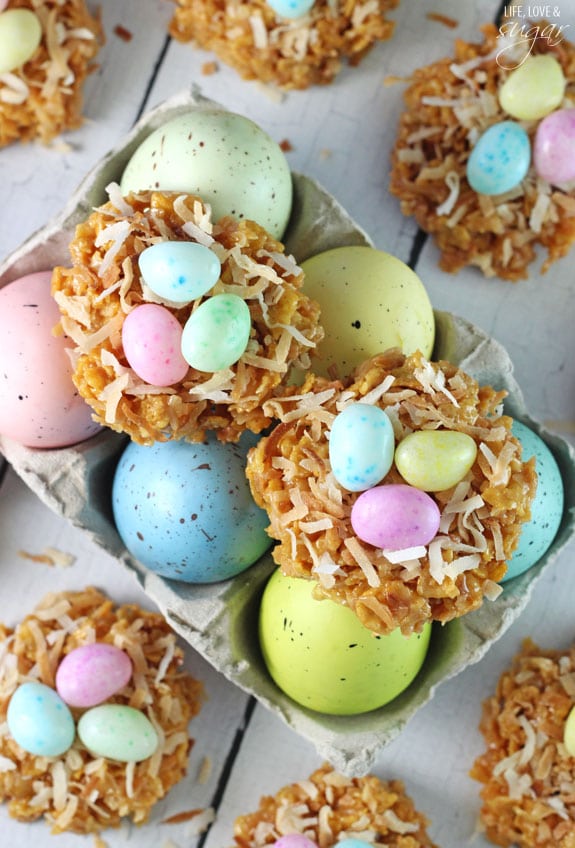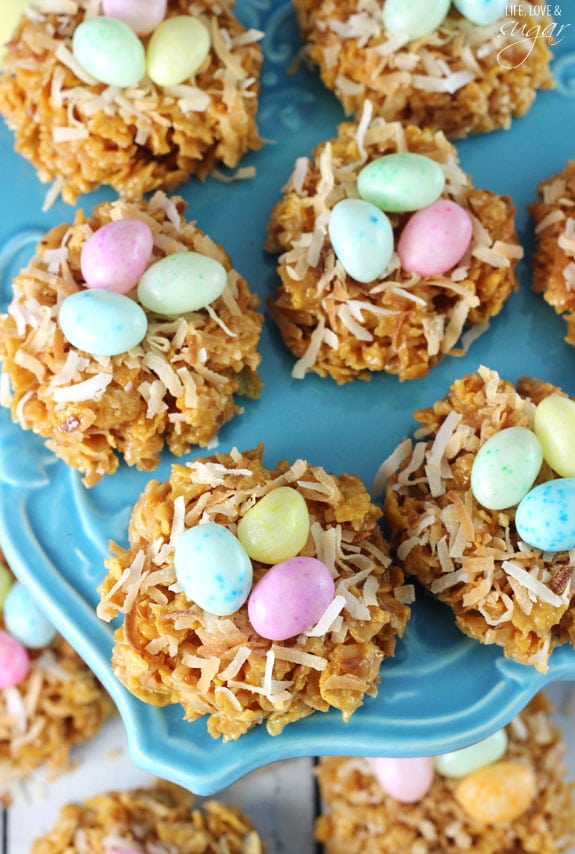 Anywho. Crisis averted. Now back to the cookies.
You have probably noticed by now that this week has basically been Easter week on the blog. I didn't make any grand proclamation about it, but there's been eggs, peeps, pastel sprinkles. And now there's a nest. A mighty tasty nest, I might add.
These cookies are a modification of the very first cookie (Soft and Chewy Caramel Clusters) I posted on this little old blog. Those are an all caramel version of this cookie. The cornflakes are also whole in that one, where in this one I broke them up a bit so they'd make a better nest. They are cookies I've been making for holidays since I was a kid. They are classic in my book and I love them.
This time around though, I added toasted coconut. It just makes them more "nest-y". The cornflakes, like I mentioned, are broken up just a bit. You don't want a bunch of crumbs, but you want them a little smaller so they can be shaped easier.
The milk, butter and caramels are all melted on the stove, then the cornflakes and coconut get mixed in – much like making rice krispie treats, but with caramel and cornflakes instead of marshmallows and rice krispies. Spoon them out onto parchment paper, shaping them so they're rounded and pushing a little dent in the center for a little more coconut and some eggs. I used jelly beans for the eggs, but feel free to use your favorite egg shaped candy.
These babies are soft and chewy, but crunchy. Predominately caramely, but with some coconut flair. They make a super cute and fun treat for Easter, and would be great for making with kids.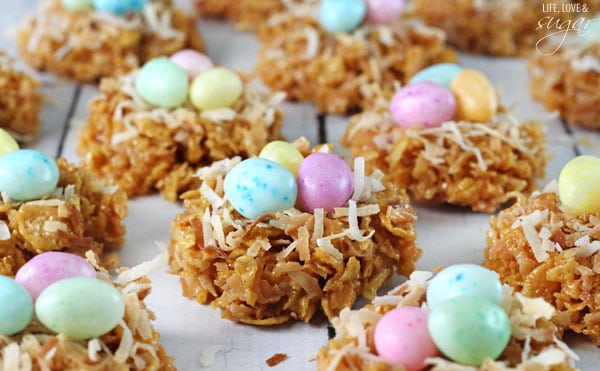 Other Tasty Treats for Easter
Easter Egg Chocolate Cupcakes
Malted Easter Egg Chocolate Cheesecake
Coconut Blondie Cheesecake
Bunny Peeps in a Blanket Brownies
Pineapple Coconut Bars
Bunny Bundt Cakes for Easter
Print
Recipe
Author:

Prep Time:

10 minutes

Cook Time:

0 minutes

Total Time:

10 minutes

Yield:

22-24 cookies

Category:

Dessert

Method:

No Bake

Cuisine:

American
---
Description
These No Bake Coconut Caramel Nest Cookies are an adorable Easter dessert that's super easy to make! They're made with a mix of cornflakes, caramel and coconut!
---
Ingredients
3 tbsp

milk

6 tbsp

butter

1

11 oz bag Kraft caramels, wrappers removed

5 cups

cornflakes, lightly broken up

2 1/4 cups

toasted coconut

9 oz

bag jelly beans
---
Instructions
1. Add milk, butter and caramels to a large pot on medium heat. Allow everything to melt, stirring often so that the mixture doesn't boil.
2. When the caramel is melted and smooth, stir in the cornflakes and 1 1/2 cups of toasted coconut. Mix well so that the cornflakes are all well coated.
3. Scoop out spoonfuls of cornflakes onto parchment paper, shaping them into circles and pressed a dent in the center.
4. Sprinkle the tops with additional toasted coconut and add jelly beans.
5. Allow to cool.
---
Notes
With the additional coconut on top of the cookie, the jelly beans don't really stick to the cookies. It doesn't bother me, but is worth noting. If you want them to stick, you could melt a little additional caramel and add it underneath the jelly beans.
Nutrition
Serving Size:

1 Piece

Calories:

183

Sugar:

12.5 g

Sodium:

155.4 mg

Fat:

1.7 g

Carbohydrates:

28.7 g

Protein:

1.7 g

Cholesterol:

0.3 mg
Keywords: no bake coconut cookies, coconut cookies recipe, easter cookies recipe, easter dessert recipe, easter dessert, easy easter dessert, best easter dessert, no bake cookies recipe
Filed Under:
Enjoy!
This post may contain affiliate sales links. Please read my disclosure policy.