This post may contain affiliate sales links. Please read my disclosure policy.
This Chocolate Chip Cookie Dough Ice Cream Cake is insanely delicious. It's made with layers of rich chocolate cake, cookie dough ice cream, and topped with even more edible cookie dough! Good luck eating just one slice.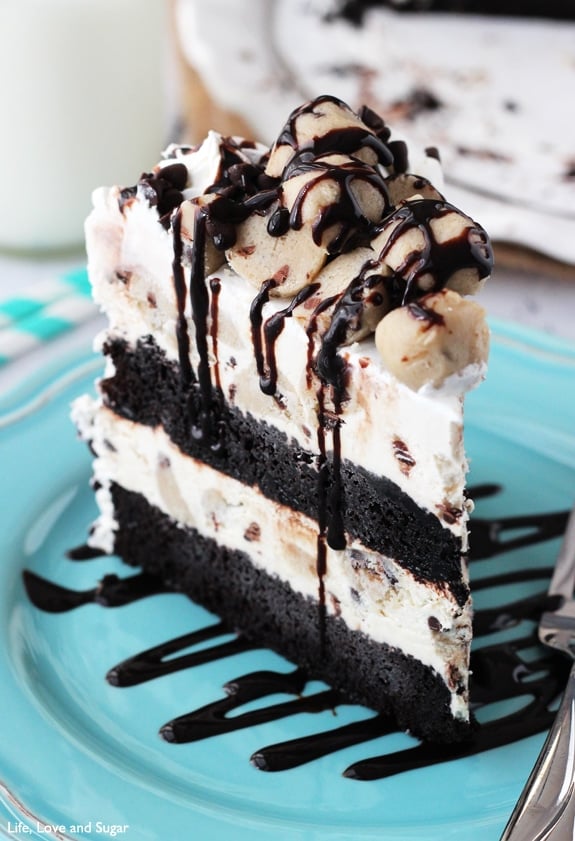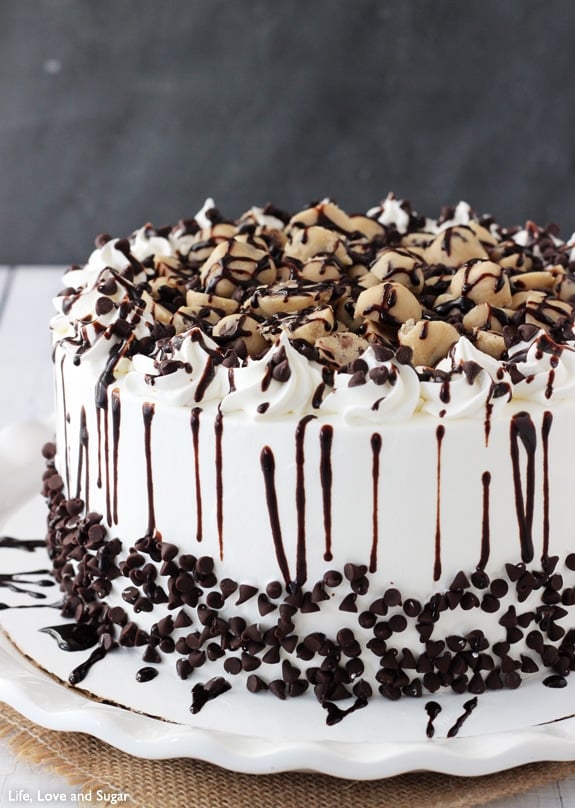 Chocolate Chip Cookie Dough Ice Cream Cake
This Chocolate Chip Cookie Dough Ice Cream Cake has been a long time coming. It's been on my list of things to make for forever and now that I've made it, I'm wondering what the heck took me so long! It is amazing! I know I say this a lot, but seriously. I didn't want to stop eating this and hoarded it all for myself and the hubs. 🙂
So I have got to tell you something.
Have you read or seen 'Divergent' yet? I am completely addicted!
I saw the movie the weekend it came out and again the following weekend. Then I decided to read the books.
Normally when I read books first, I'm disappointed with the movie. I'm kind of glad I saw the movie first because that disappointment wasn't there. Plus, Theo James now is who I picture when I read about Four/Tobias and that ain't so bad. 🙂
What has been bad is that I cannot. stop. reading. I have barely done any baking this week (or anything else for that matter) because all I want to do is come home and read. I've been dying to know how it ends so I keep going. I have so much I need to get done.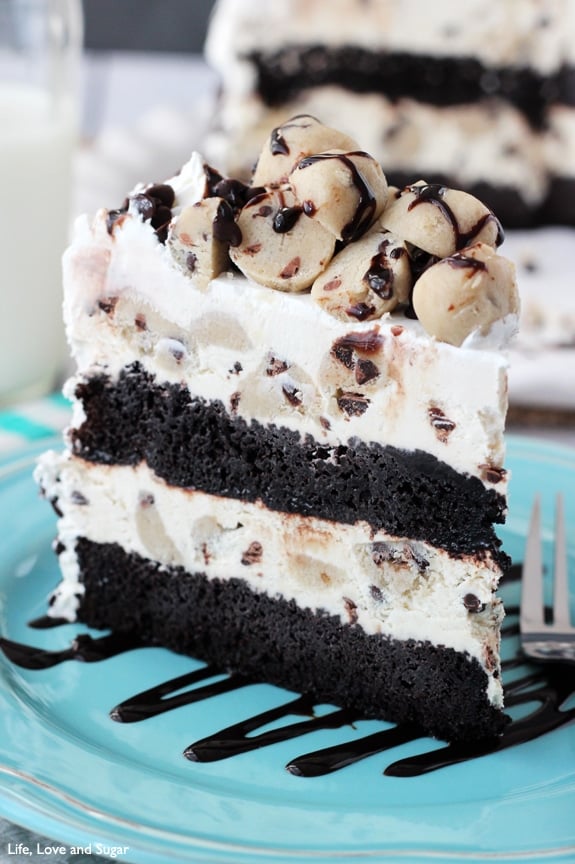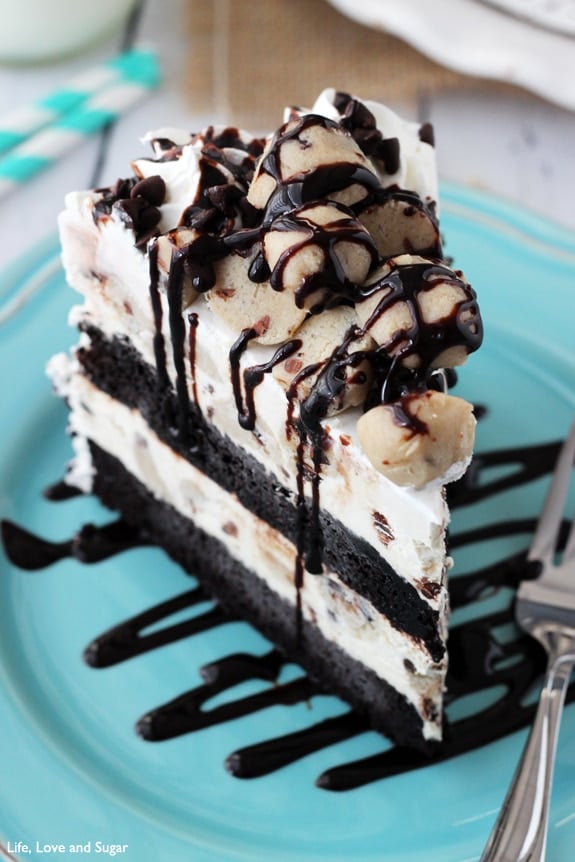 I finally peeked ahead to the end last night. I couldn't take it anymore! Honestly, I didn't want to. But if I didn't I was going to get absolutely nothing done.
I haven't read closely what happens, but I saw enough to make me stop reading. If what I think I read is correct, I am going to be quite sad and look totally crazy reading tonight.
Why crazy? Well, I read when I workout. I already probably look crazy enough when doing that.
I read on the elliptical. I read on weight machines. And with a book like these, I read while walking around and in the stretching area. Can't. Put. It. Down.
And tonight, not only will I be reading and working out, but I have a feeling there will be tears. And lots of them. And I'm scared.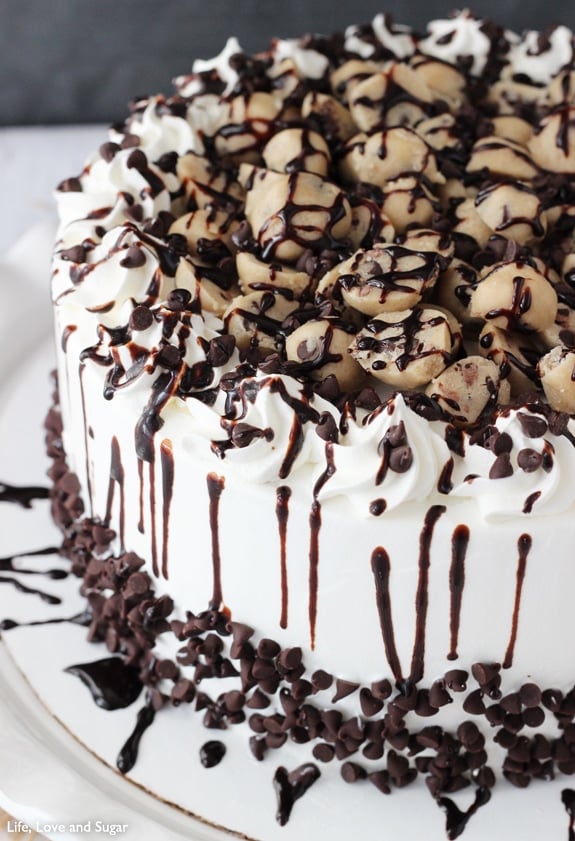 Part of me doesn't want to keep going. Can't I just stop reading right now, when they are still happy and kissing and laughing and seemingly carefree for this ONE TIME!? Why do I have to keep reading? Seriously, can't they just be carefree and in love…poor kids.
So yeah, I'm addicted, crazy and I will be crying tonight.
Good thing I have this ice cream cake. If there's one thing that might console me, it's this Chocolate Chip Cookie Dough Ice Cream Cake.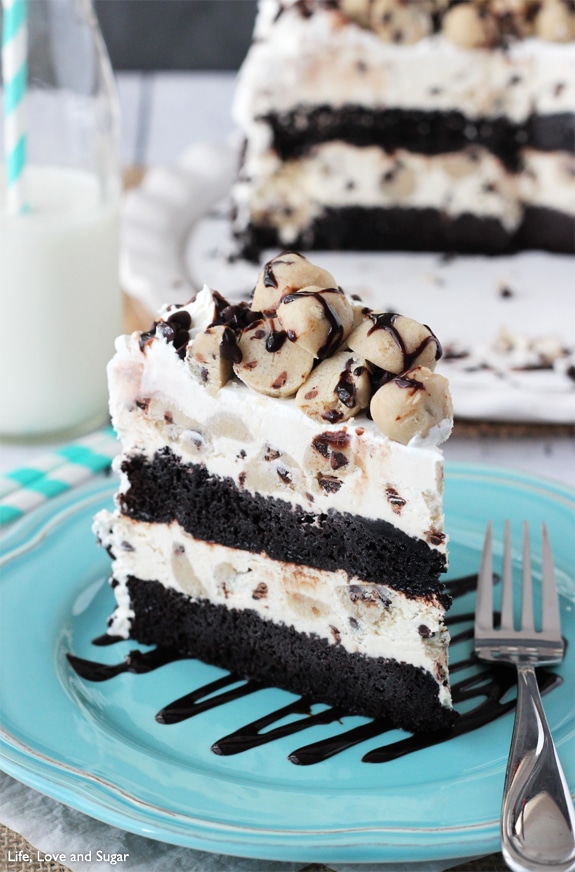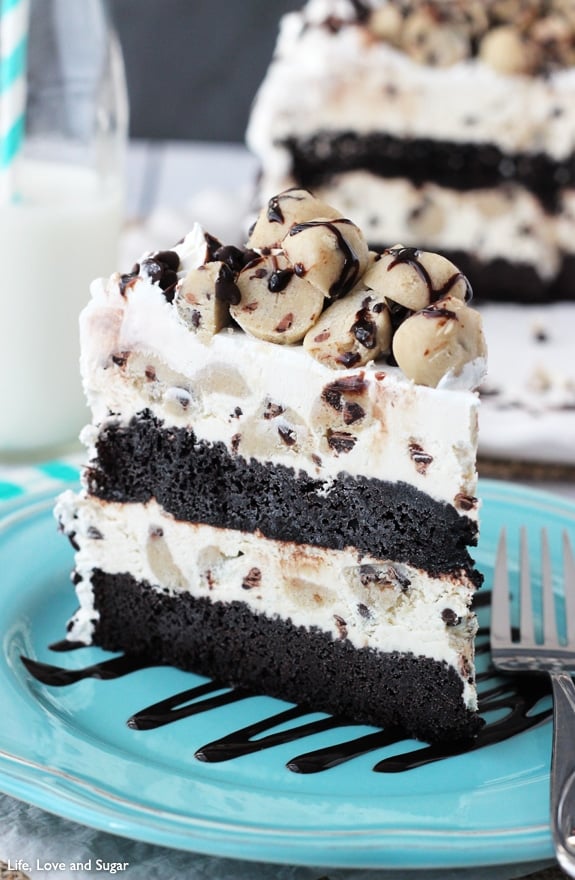 I considered making this cake for Cookie Dough Week (60+ Cookie Dough Recipes). There were so many things I wanted to make, it could've been cookie dough month. I ended up choosing to go with the Cookie Dough Pizza and Peanut Butter Cookie Dough Brownie layer cake, but I've had this one on my mind ever since.
Now that it's finally getting warm, I figured it was time.
I used my favorite, no-ice-cream-machine-needed ice cream recipe.
It's the best kind of ice cream to use for layering into an ice cream cake. You just make it and then you are ready to layer with your cake. It's thick enough before freezing to work with, which saves freezing time. Score!
I loaded the ice cream with brown sugar, which lends a nice cookie dough flavor to the ice cream itself. Then I piled it full of cookie dough.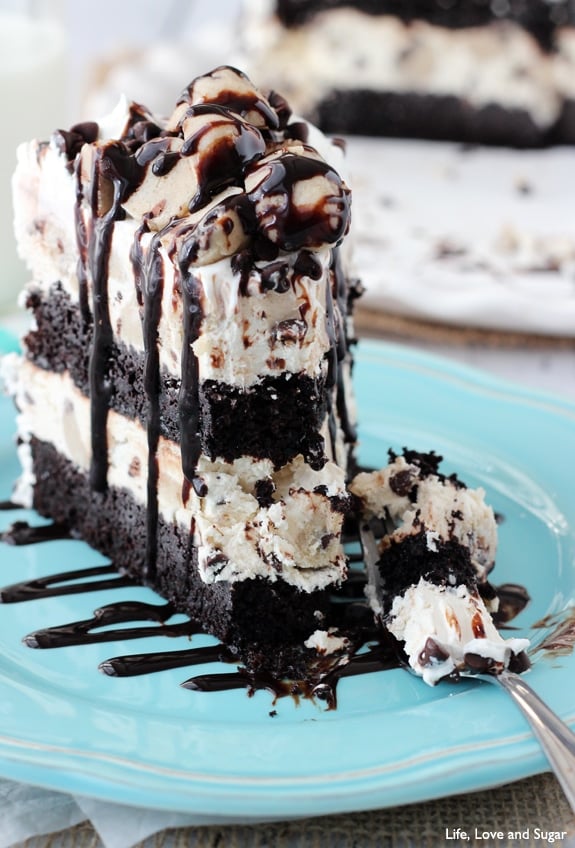 The brown sugar is the best call ever! Don't change it! The flavor is spot on. Between the ice cream flavor and the cookie dough bites in it, I want to sing a little song with every bite. SO good!
And so many of my ice cream cakes use brownie layers instead of cake because the brownies are so easy to work with and I love their denseness. But the hubs has been asking me to make an ice cream cake with cake layers. So this time I obliged.
Also a great call. I love the dense brownies, but I also love the softer cake. And certainly, it's easier to slice. 🙂
This might be my new favorite cake. I'm sharing with the hubs, but have yet to give anymore away. I'd be willing to share a piece or two, but the rest is mine! 🙂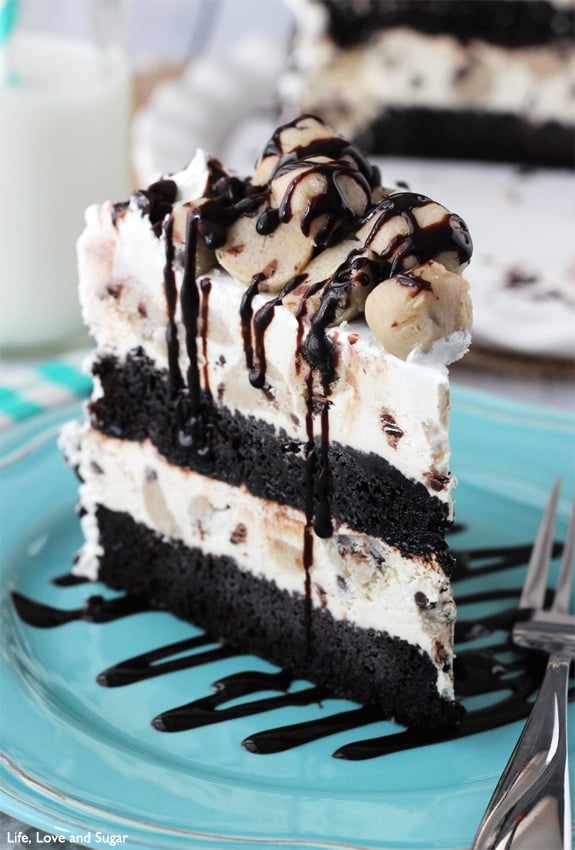 Print
Recipe
Chocolate Chip Cookie Dough Ice Cream Cake
Author:

Prep Time:

35 minutes

Cook Time:

25 minutes

Total Time:

1 hour

Yield:

10

-

12

Servings

1

x

Category:

Dessert

Method:

Oven

Cuisine:

American
---
Description
This Chocolate Chip Cookie Dough Ice Cream Cake is insanely delicious. It's made with layers of rich chocolate cake, cookie dough ice cream, and topped with even more edible cookie dough! Good luck eating just one slice.
---
Scale
Ingredients
CHOCOLATE CAKE
1 cup

flour

1 cup

sugar

1/4

+

1/8 cup

Hershey's Special Dark Cocoa powder

1 tsp

baking soda

1

large egg

1/2 cup

buttermilk

1/2 cup

vegetable oil

3/4 tsp

vanilla extract

1/2 cup

boiling water
EGGLESS COOKIE DOUGH
6 tbsp

butter

1/2 cup

brown sugar

1 tsp

vanilla extract

1 cup

flour

1

–

2

tsp milk

1/2 cup

mini chocolate chips
ICE CREAM
8 oz

cream cheese, softened

1/2 cup

brown sugar

1/8 cup

milk

2 tsp

vanilla extract

8 oz

Cool Whip (OR

1

recipe of homemade whipped cream)

1/2 cup

mini chocolate chips
ADDITIONAL
---
Instructions
CHOCOLATE CAKE:
1. Preheat oven to 300 degrees
2. Put all dry ingredients in a large bowl and whisk together.
3. Add eggs, buttermilk and vegetable oil to the dry ingredients and mix until smooth.
4. Add vanilla to boiling water and add to mixture.
5. Mix at medium speed until smooth.
6. Pour into 2 8-inch pans and bake 25-30 minutes.
7. Remove from oven and let cool for 5-10 minutes in pans, then remove to cooling rack to finish cooling.
8. Once cooled, cut off cake domes with a long serrated knife. You don't have to do this step, but it will give you more even layers.
EGGLESS COOKIE DOUGH:
1. While the cake cools, cream the butter and brown sugar
2. Mix in the vanilla extract.
3. Add the flour and milk and mix thoroughly. The dough will be thick.
4. Mix in the chocolate chips.
5. Roll the dough into little balls that are between 1/2 and 3/4 inch in diameter.
6. Place the balls of dough in the fridge to firm up. If they end up a little big, cut them in half before adding them to the ice cream.
ICE CREAM:
1. Once the cake has cooled and the cookie dough balls are firm, make the ice cream. Combine cream cheese and sugar together in the bowl of a stand mixer, or with a hand mixer. Mix until completely combined.
2. Add the milk and vanilla extract and mix until well combined.
3. Fold in the cool whip and mini chocolate chips.
4. Add about 3/4 of the cookie dough balls and stir together.
ASSEMBLING IT ALL:
1. Line the sides of an 8-inch springform pan with parchment paper. The parchment paper should stick up above the top edge of the pan, since the cake will probably be a little taller than your pan. If you want, put a cardboard cake circle in the bottom of the pan.
NOTE: You should be using the same 8-inch pan you used for the cake. Not all 8-inch pans are exactly the same size. Your cake needs to fit in this pan.
2. Put the first cake layer in the bottom of your pan.
3. Top with half of the ice cream.
4. Add second cake to the pan.
5. Top with remaining ice cream.
6. Allow ice cream cake to freeze completely, 6-8 hours.
7. When frozen, remove from springform pan and remove parchment paper from sides.
8. Ice cake with additional cool whip, then top with additional mini chocolate chips, remaining cookie dough and chocolate sauce, if desired.
---
Notes
8-inch springform pans are best for this recipe so that you can easily remove the cake once it's been assembled. If you do not have a springform pan, line your pan with clear wrap before adding your parchment paper and cake board. You can use the clear warp to lift your cake out of the pan once it's assembled and frozen. You want to make your cake layers in the same pan you'll use for layering the ice cream and cake together so that they cake layers fit in the final pan you use for layering.
Keywords: cookie dough cake, chocolate chip cookie cake, chocolate chip cookie cake recipe, edible cookie dough recipe, edible cookie dough sugar, eggless cookie dough, eggless cookie dough recipe, best ice cream cake
Enjoy!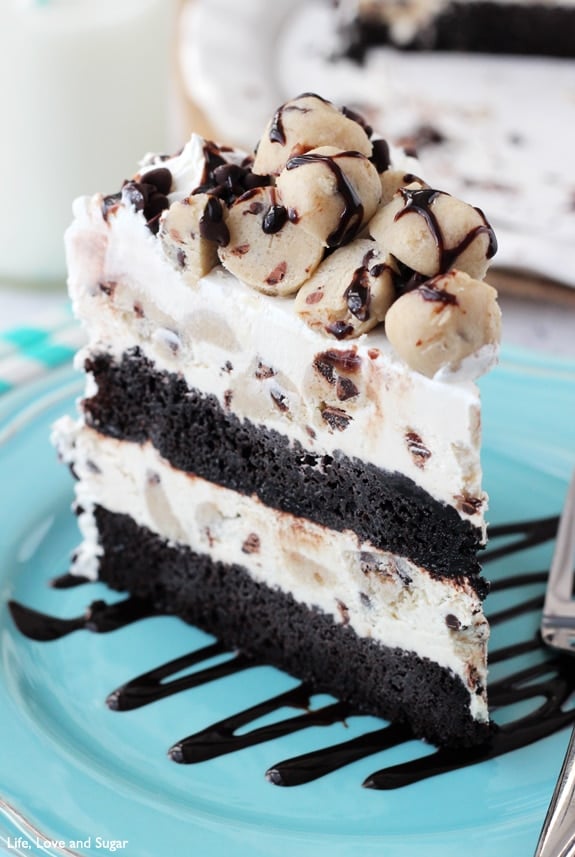 This post contains affiliate links.
Recipes from friends:
Espresso Chip Cookie Dough Ice Cream from Beyond Frosting
Cookie Dough Stuffed Peanut Butter Fudge from Lemon Tree Dwelling
Reeses Peanut Butter Cookie Dough Cups from Mom on Timeout
You might also like
Chocolate Chip Cookie Dough Pizza (on a pie crust!)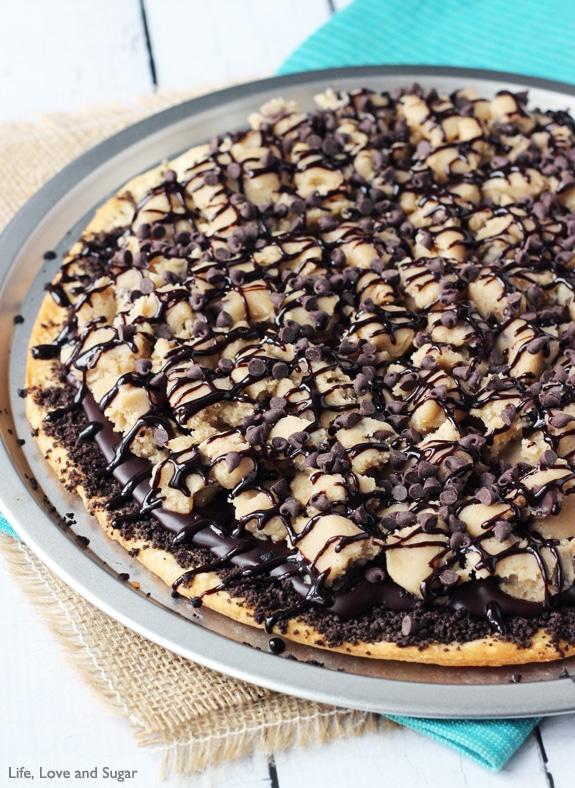 Chocolate Chip Cookie Dough Ice Cream Pie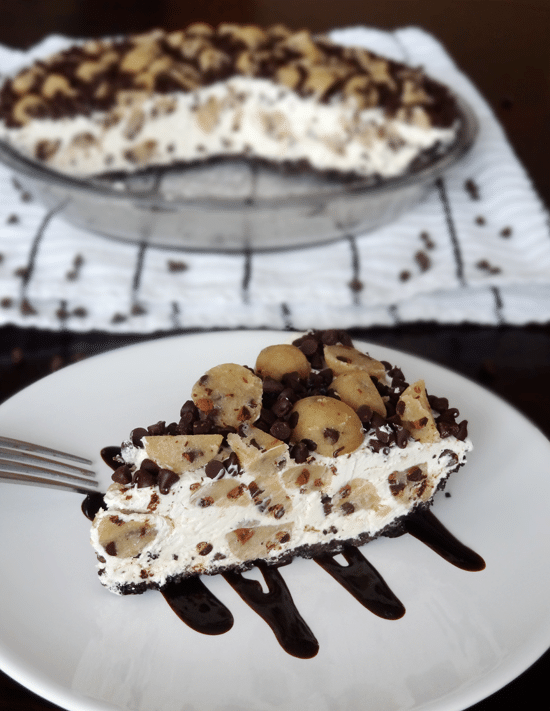 Peanut Butter Cookie Dough Brownie Layer Cake

Oreo Cookies and Cream Ice Cream Cake