This Baklava Cheesecake is such a fun twist on the traditional Greek dessert. With all the flavors of cinnamon, honey and walnuts, it's a fun way to mix together two delicious desserts into one!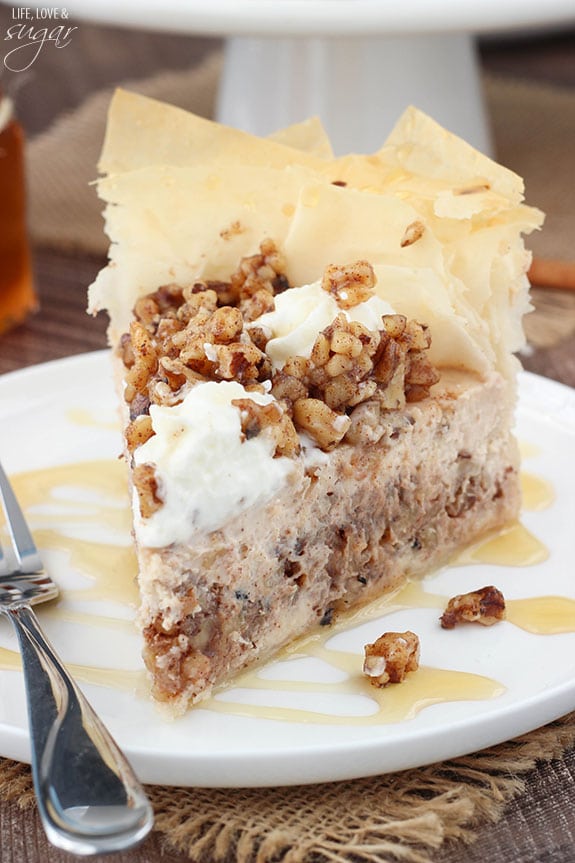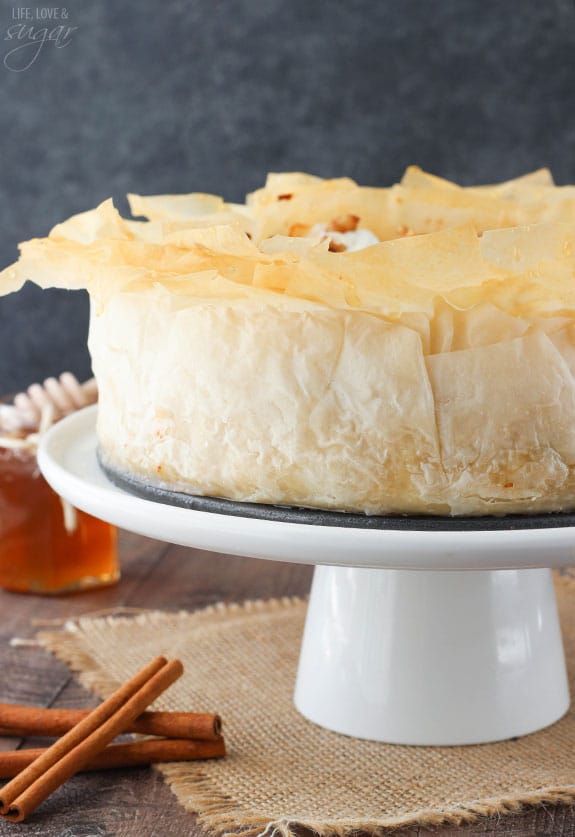 So if you follow on instagram or twitter, you may have noticed that I was at a food blogging conference over the weekend. It was a ton of fun! It was great to see old friends and meet new ones, and of course I always learn so much and leave feeling renewed.
Well normally hotel sleeping is all good for me but this weekend I struggled a bit. See I wake up regularly at night to go to the bathroom. At least once, often twice. It's annoying, but true. Well this weekend that didn't go so well for me. There was a little piece of wall that you had to walk around to get from the beds to the bathroom and one night when I was walking back to my bed, I left the bathroom, tried to avoid the wall…and walked straight into it. Like face planted in the wall. #fail
So the next night when I woke up and was going back to bed from the bathroom, I tried to avoid the wall by leaving plenty of space. Too bad there was luggage on the floor. Guess who walked right into it and fell over completely, landing on all fours and sounded a bit like a dying animal? That's right. This girl. A shining moment, my friends. Hotel nighttime bathroom trips and I did not get along this weekend. Fortunately I survived.
Please tell me I'm not the only one who's had this problem. 🙂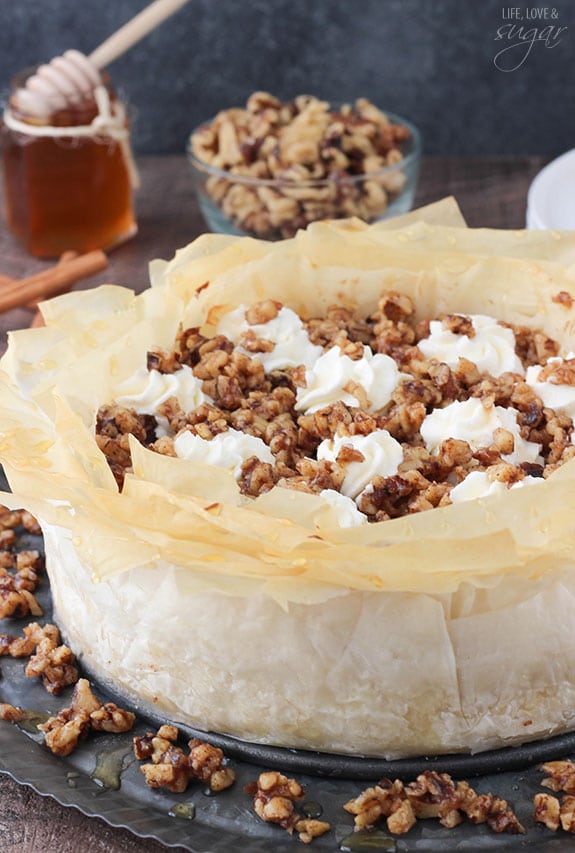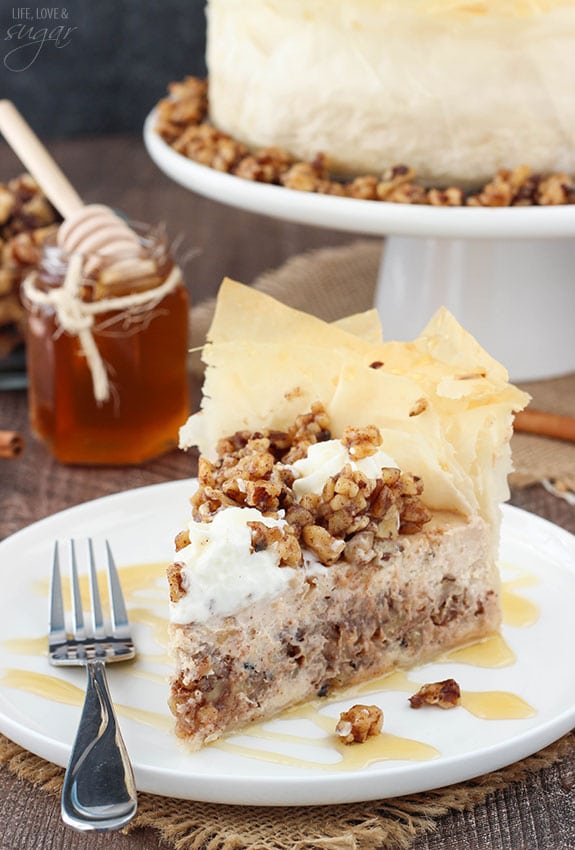 Baklava is one of those desserts that I didn't grow up on but as an adult I'm definitely a fan. I tried it for the first time a few years ago and totally fell in love. The honey and cinnamon is totally up my alley.
Shortly after trying it for the fist time, I turned it into a Baklava Poke Cake. And since I love taking some of my favorite desserts and creating fun twists of them, I've now got a cheesecake version for you.
To start, I used phyllo dough for the crust. It's the same stuff that's used in actual baklava, so I thought it'd be fun to incorporate it. Plus, having it stick up over the edges of the cheesecake is kinda nifty and pretty. I totally dig it, but if you'd rather not go through the trouble I totally understand. You could replace it with your favorite kind of cheesecake crust – perhaps graham crackers or vanilla wafers. Another option would be to use the phyllo dough sheets, but not have them stick up over the edge of the pan.
Making the crust is not actually hard, but it is a bit time consuming. Much like when making baklava, the sheets of phyllo dough are layered with melted butter. The trick with phyllo dough is to keep it from drying out while you are working with it. You want to keep a damp cloth over the rolled out dough. Grab one piece of the dough at a time and add it to the cheesecake pan, being sure to spread a little melted butter between each piece. The dough sheets aren't individually big enough to fully cover the pan, but you can use a few to get full coverage, add some melted butter and then add another layer with a few more sheets. To keep the phyllo from over-baking, it isn't pre-baked.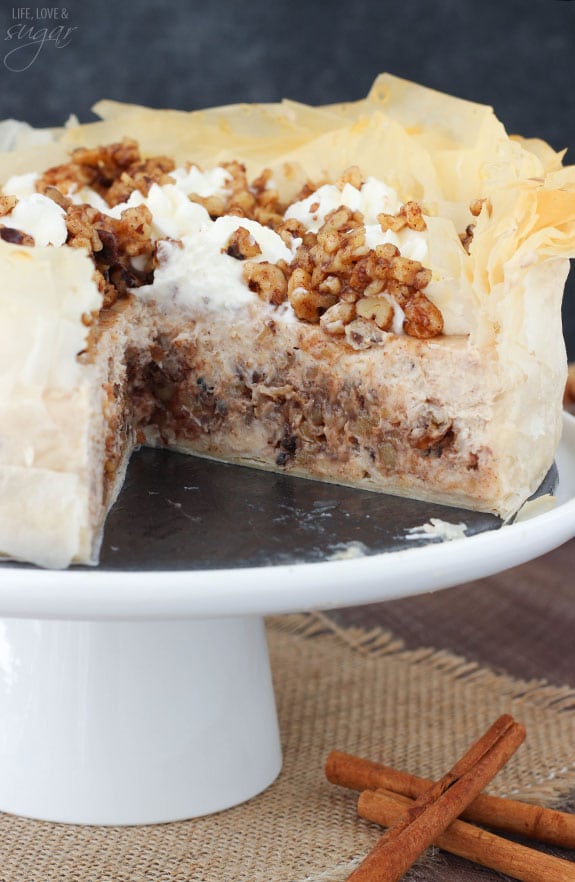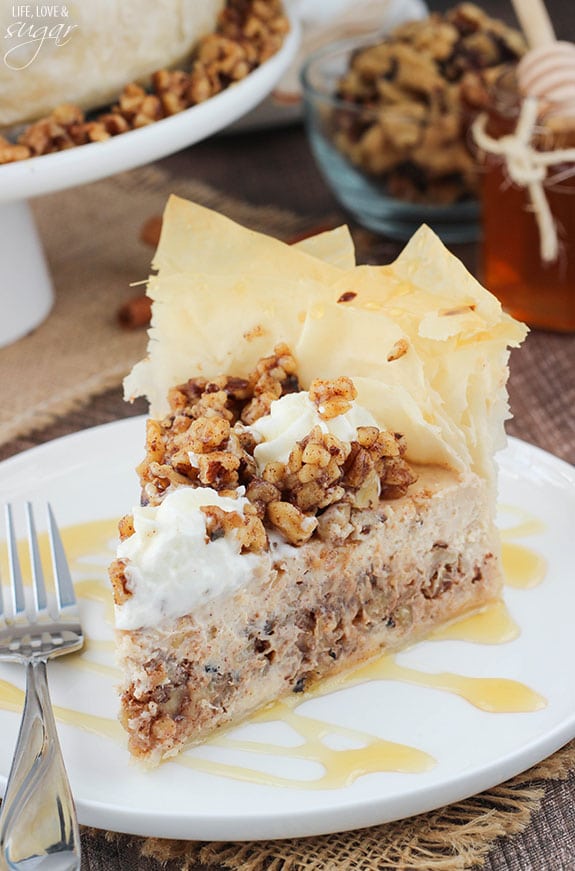 The filling of the cheesecake is your standard cheesecake with a bunch of baklava walnut filling in the middle. It's a simple mixture – walnuts, cinnamon, melted butter and honey. Those are all tossed together and added to the middle of the cheesecake.
Once the cheesecake is baked and cooled, it's topped with a little whipped cream and a little more walnut filling. That really is the best part of baklava in my opinion, so it isn't lacking at all from this cheesecake. You'll want to handle the cheesecake with a bit of care once it's baked, since the phyllo dough is pretty thin and can break easily.
If you love baklava, this cheesecake should be a hit! It's got all the essential flavors and really isn't hard to make. Yay for twists on classics!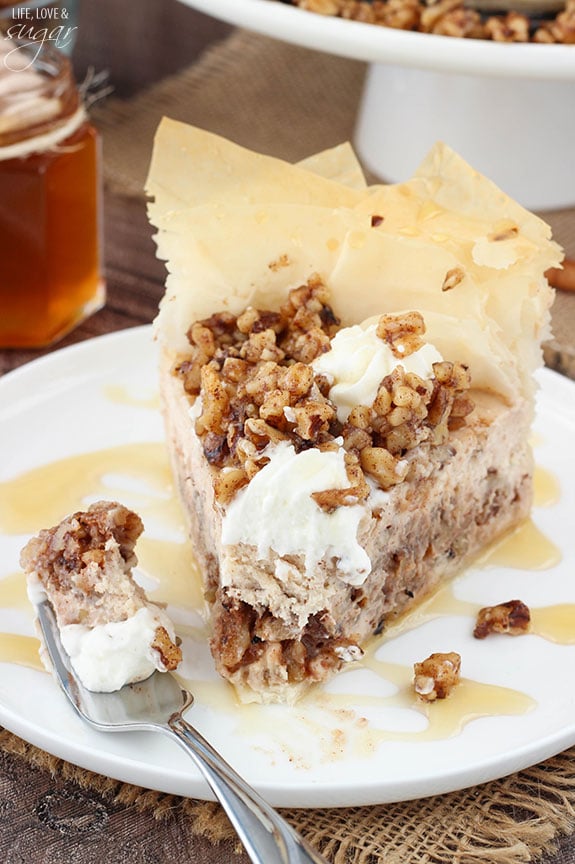 You might also like:
Baklava Poke Cake
Cinnamon Roll Cheesecake
Cinnamon Sugar Swirl Cupcakes
Mini Cinnamon Roll Cheesecakes
Overnight Cinnamon Apple Baked French Toast Casserole
Print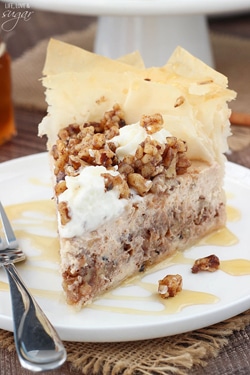 Recipe
Baklava Cheesecake
Yield:

14-16 Slices

Category:

Dessert

Method:

Oven

Cuisine:

American
---
Description
A fun twist on the traditional Greek dessert. With all the flavors of cinnamon, honey and walnuts.
---
Ingredients
CRUST
4 tbsp

butter, melted
Phyllo dough (about 20 sheets)
CHEESECAKE FILLING
2

8-ounce packages cream cheese, softened

2/3 cup

sugar

2 tbsp

all purpose flour

3

eggs

2/3 cup

sour cream

6 tbsp

honey

1 1/2 tsp

ground cinnamon
WALNUT FILLING AND TOPPING
3 3/4 cups

finely chopped walnuts

3 tsp

cinnamon

6 tbsp

butter, melted

10 tbsp

honey
---
Instructions
1. Preheat oven to 300 degrees.
2. In a large bowl, mix the cream cheese, sugar and flour until combined (Use low speed to keep less air from getting into the batter, which can cause cracks). Scrape down the sides of the bowl.
3. Add eggs one at a time, beating slowly and scraping the sides of the bowl after each addition.
4. Add the sour cream, honey and cinnamon. Beat on low speed until well combined. Set aside.
5. In a medium sized bowl, toss together 2 1/2 cups of chopped walnuts, 2 tsp ground cinnamon, 4 tbsp melted butter and 6 tbsp of honey. Set aside.
6. Grease a 9 inch springform pan and cover the outside with aluminum foil so that it's ready for a water bath.
7. To prepare the crust, unroll the phyllo dough according to package instructions. You'll need to keep it from drying out by placing a damp towel over the pieces that haven't been used yet. Using one piece at a time, place phyllo sheets into the bottom and up the sides of the springform pan. The sheets won't be as big as the pan, but using a few for each layer you should be able to get one full layer. Layer the melted butter between the phyllo sheets so that they stick together.
8. Once the crust is ready, add a small amount of cheesecake filling to the pan. It should be just enough to thinly coat the bottom of the crust.
9. Add the walnut filling in an even layer on top of the cheesecake filling.
10. Add the remaining cheesecake filling and spread into an even layer.
11. Place springform pan (covered with aluminum foil) inside another pan. Fill outside pan with enough warm water to go about halfway up the sides of the springform pan. The water should not go above the top edge of the aluminum foil on the springform pan.
12. Bake for 50-60 minutes. The edges should be firm but the center will still be a little jiggly.
13. Turn off heat and leave cheesecake in oven with door closed for 30 minutes.
14. Crack oven door and leave the cheesecake in the oven for about 20 minutes.
15. Remove cheesecake from oven and chill until completely cool and firm.
16. To finish off cheesecake, toss together remaining 1 1/4 cups walnuts, 1 tsp cinnamon, 2 tbsp melted butter and 4 tbsp honey. Top cheesecake with whipped cream and walnut mixture.
---
Nutrition
Serving Size:

1 Slice

Calories:

456

Sugar:

26.5 g

Sodium:

140.3 mg

Fat:

29.6 g

Carbohydrates:

44.7 g

Protein:

8.2 g

Cholesterol:

58.2 mg
Filed Under:
Enjoy!
This post may contain affiliate sales links. Please read my disclosure policy.