May 17, 2018
Red Velvet Cheesecake Swirl Brownies
These Red Velvet Cheesecake Swirl Brownies are like the classic cake in bar form! Delicious, sweet and a little tangy!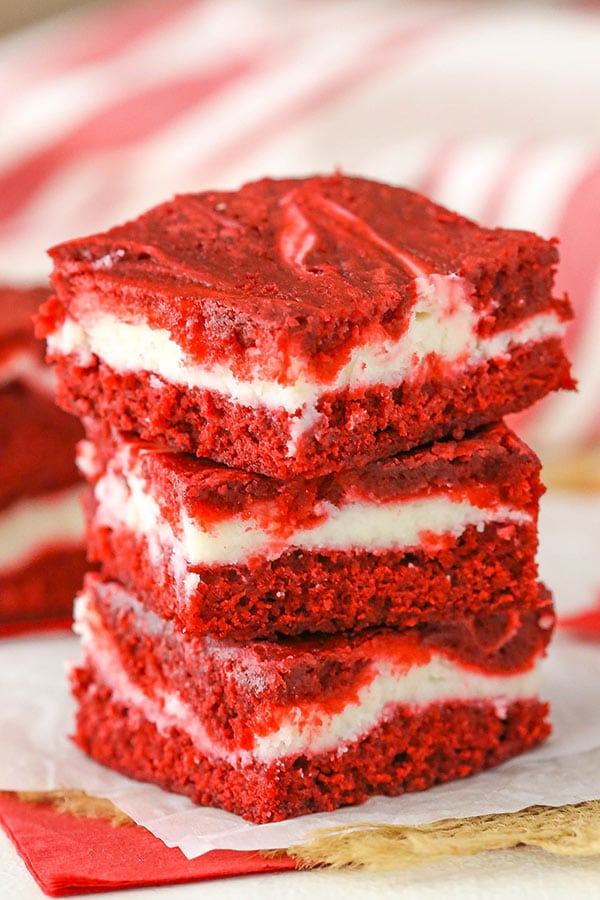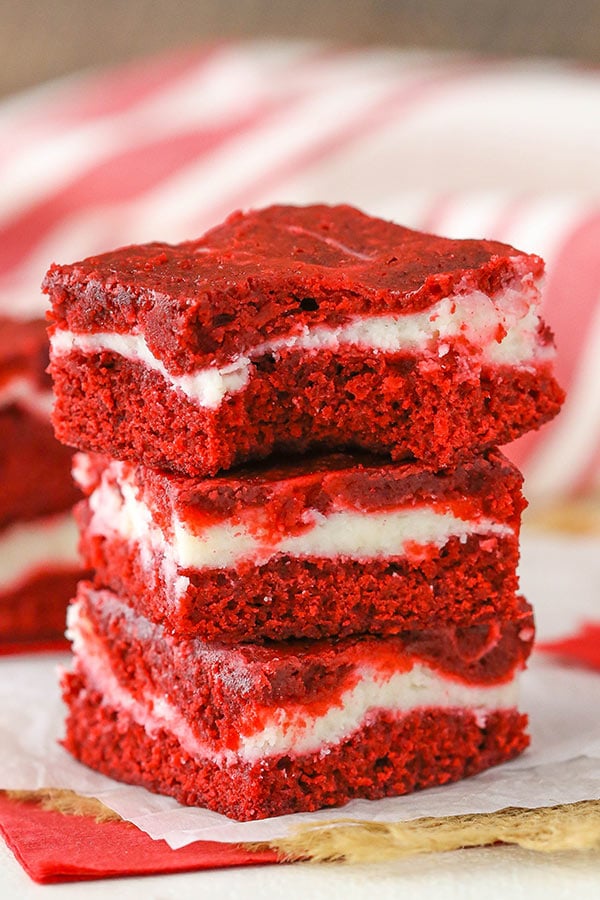 So lately with the twins it's been hard to get anything done that doesn't have to be done. By the time the babies are taken care of, the bottles are washed, dinner has been had and work is done, there really isn't time for much else.
Case in point – anytime I buy anything recently that requires my attention nothing ever gets done. For example, I bought a new chest for our bedroom. I have less closet space in our new house and need more space for clothing. Well, the chest has been sitting there for almost a month and there still aren't any clothes in it. As much as I'd like to unpack the boxes of clothes that should reside in there, I just haven't had time.
I also bought myself a new purse recently. The old one was looking a little rough. I'd had it for about a week before I finally transferred things from the old purse to the new one. And I finally did it when I was in the car on the way to one of Brooks' doctors appointments and the hubs was driving. That's pretty much the only downtime I have these days. Ha!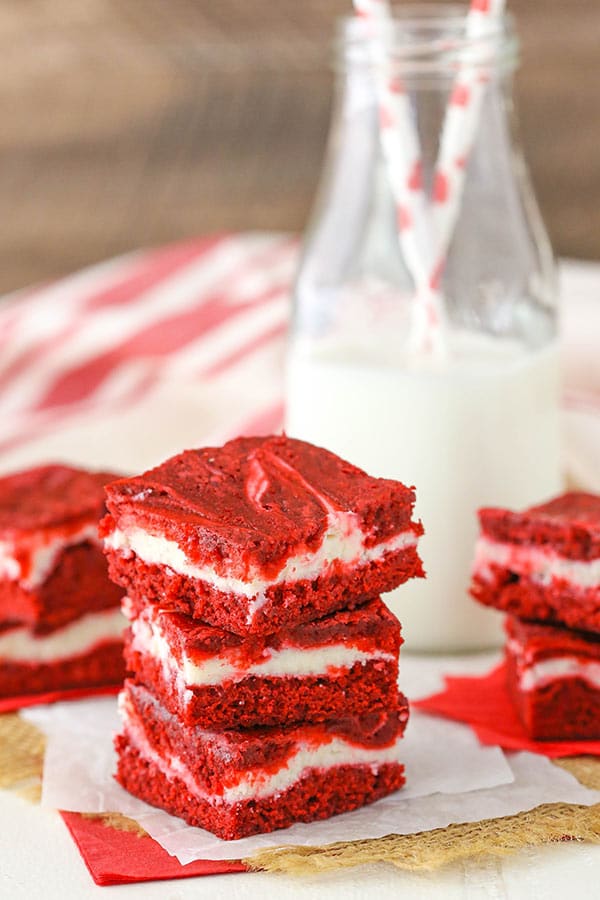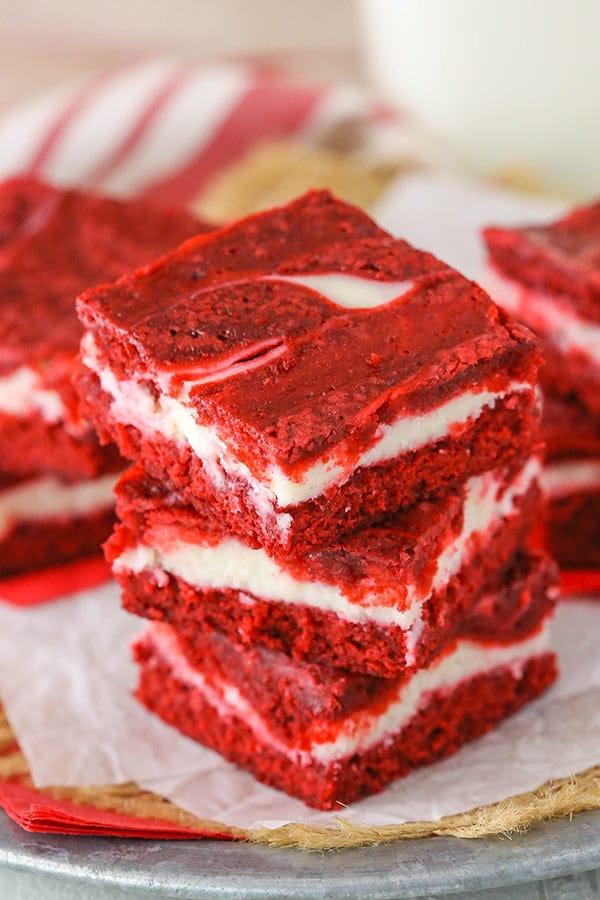 With all the craziness these days, I'm loving treats that I can grab and enjoy while I'm running around. These brownies are definitely one of those and they are totally addicting!

MY OTHER RECIPES
If you love red velvet cake, you'll love these Red Velvet Cheesecake Swirl Brownies. The red velvet bar really is like eating a much denser version of the cake and the cheesecake swirl adds the flavor you'd normally get from a good cream cheese frosting.
The bars start off with the brownie batter using melted butter, which helps make them dense and chewy. You'll also find one of the classic red velvet cake ingredients – vinegar. I love the tang it adds to the bars! The whole batter can be mixed in a bowl with nothing but a whisk!
The cheesecake batter is quite simple, with just cream cheese, sugar, an egg white and vanilla extract. Once both batters are made, layer them together, swirl it all around with a toothpick and bake! The final bars are seriously so good and such a great treat!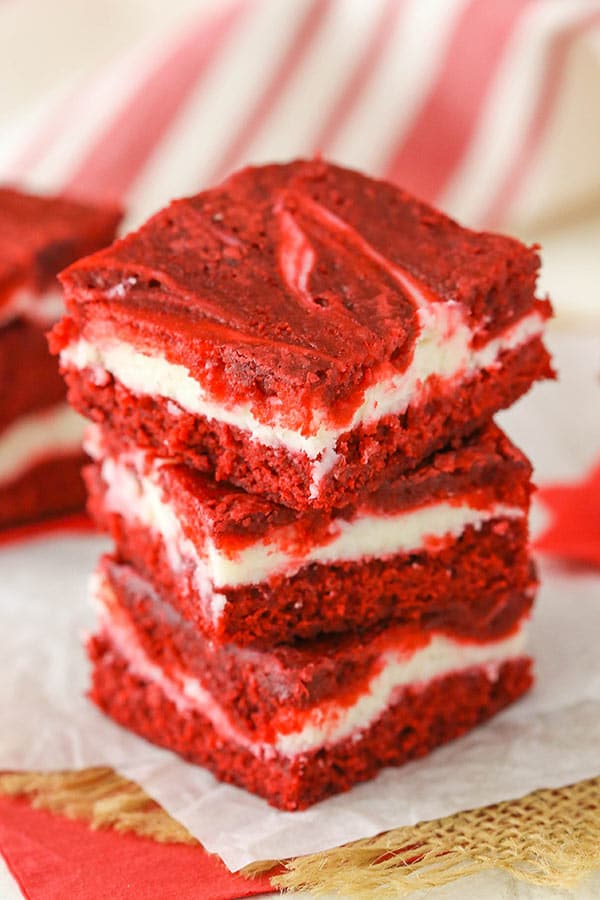 Red Velvet Cheesecake Swirl Brownies
Ingredients:
Red Velvet Brownie
1/2 cup (112g) unsalted butter
1 cup (207g) sugar
1 tsp vanilla extract
1 tsp white vinegar
2 eggs
1 1/2 tbsp red food color
2 tbsp (14g) cocoa powder
3/4 cup (98g) all purpose flour
1/8 tsp salt
Cheesecake Swirl
8 oz cream cheese, room temperature
1/2 cup (104g) sugar
1 egg white
1/2 tsp vanilla extract
Directions:
1. Preheat oven to 350°F (176°C). Line the bottom of a 9×9 inch square pan with parchment paper and grease the sides.
2. Melt the butter in a microwave safe bowl, then transfer to a mixing bowl.
3. Add the sugar and whisk to combine.
4. Add the vanilla extract, vinegar, eggs and red food color and whisk until incorporated.
5. In another bowl, combine the dry ingredients.
6. Slowly add dry ingredients to wet ingredients and mix until combined. Set aside.
7. In another mixing bowl, add the cream cheese and sugar and mix until well combined and smooth.
8. Add the egg white and vanilla extract and mix until well combined.
9. Add about three quarters of the brownie batter to the bottom of the pan and spread into an even layer.
10. Drop spoonfuls of the cheesecake batter on top of the brownie, then use a toothpick to swirl it into the brownie layer below.
11. Drop spoonfuls of the remaining brownie batter on top of the cheesecake and use a toothpick to swirl it into the cheesecake.
12. Bake the bars for 25-30 minutes, then remove from the oven and allow to cool in the fridge.
13. Cut into bars and serve. Store bars in the fridge in an airtight container.
Enjoy!