November 20, 2017
Spice Cake with Cream Cheese Frosting
This Spice Cake is made with moist layers of – you guessed it – spice cake and a delicious cream cheese frosting! It's a classic cake that you can come back to over and over!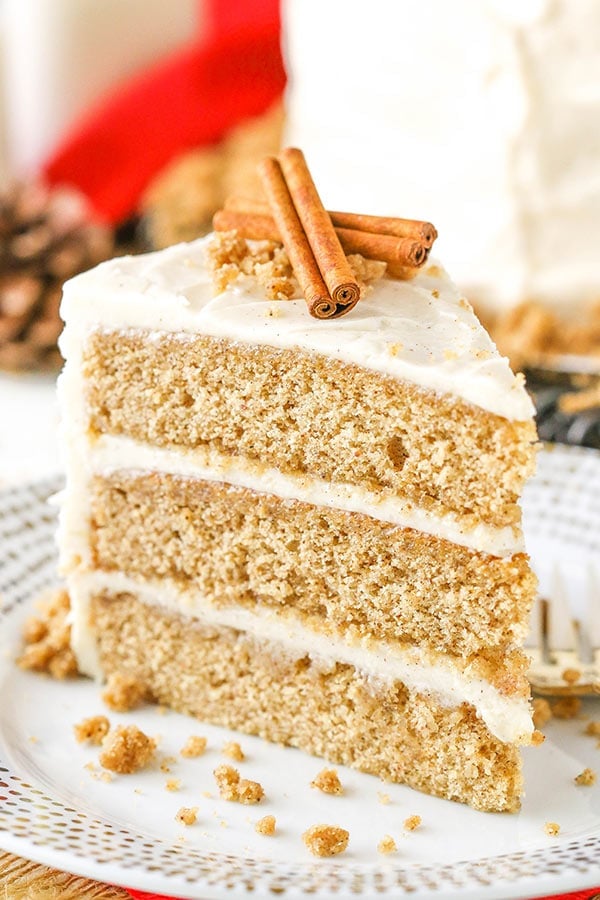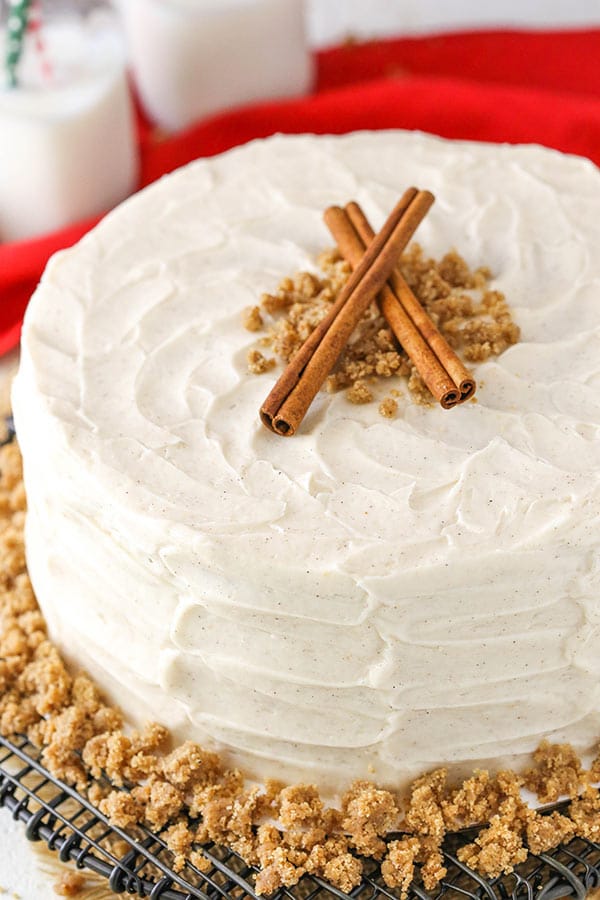 I can't even handle that Thanksgiving is just a few days away. It feels like time is on overdrive. I can't even remember what day of the week it is most of the time right now. Time just flies by and I'm trying to hold on for the ride!
We are supposed to close on our new house next week, which is crazy and exciting. I'm totally ready. I can't wait to unpack and put together a nursery for these babies. We've been getting things for them, but have been unable to unbox them and set them up before moving. It's total torture!
But now that Thanksgiving is this week, it's going to come even quicker. I'm excited for the move and I'm ready for a good meal with all my favorite things. As always, this hash brown casserole and sweet potato casserole are on the menu. Two of my faves for basically any holiday. The tough thing to decide is usually dessert. So many options!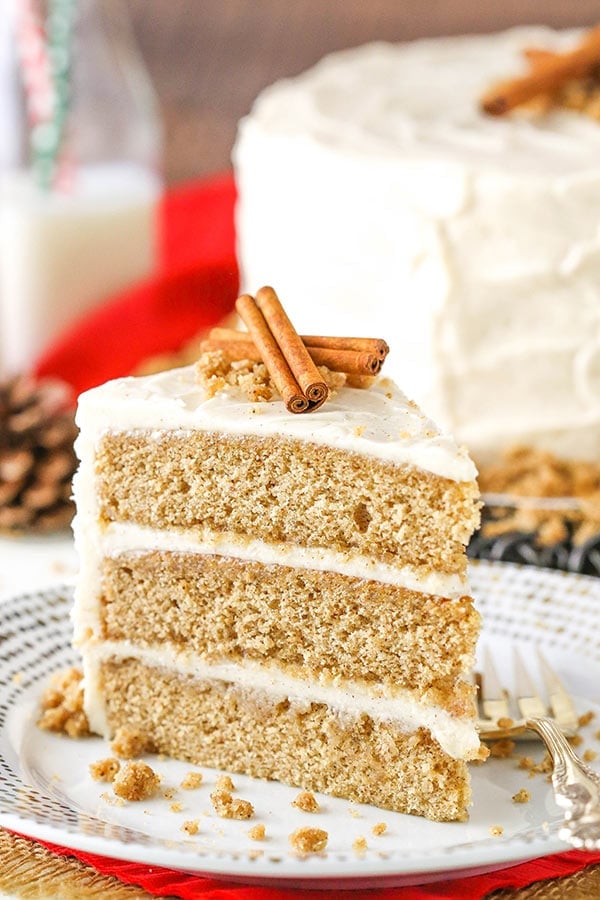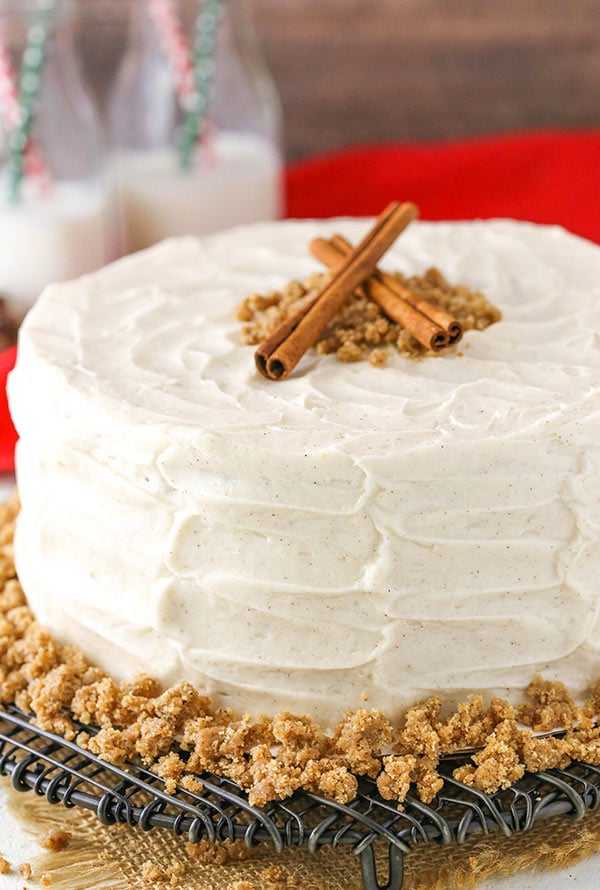 If you haven't decided on dessert yet, this cake is totally a delicious option. It would also be great for Christmas and allll the time leading up to it! There's nothing quite like a dessert full of spice this time of year and this cake is just that!
To start, you'll cream the butter and sugars together fully. Don't skimp on the creaming time – it adds air to the batter that gives the cake it's fluffy texture. In this particular cake, I used light brown sugar and regular white sugar. The brown sugar adds great additional flavor that compliments all the spices. Love it!
Next up are the sour cream and vanilla. Sour cream is one of my favorites to add to a cake for a pop of flavor and extra moisture. I'm a big fan.

MY OTHER RECIPES
Egg whites are next and help add structure to the cake. No need to whip them before adding to the batter, they just mix right in. You can toss them a bit before adding with a fork or something to break them up, if you like though.
Then we've got the adding of the dry ingredients and milk and water, adding them alternatively. That way you don't over saturate or dry out the batter all at once. The batter doesn't curdle or separate and it all comes together nicely.
The cakes bake up nice and fluffy and wonderfully moist! The cream cheese frosting is the perfect compliment making a classic combination! A wonderful cake for the holidays – or anytime you get the craving!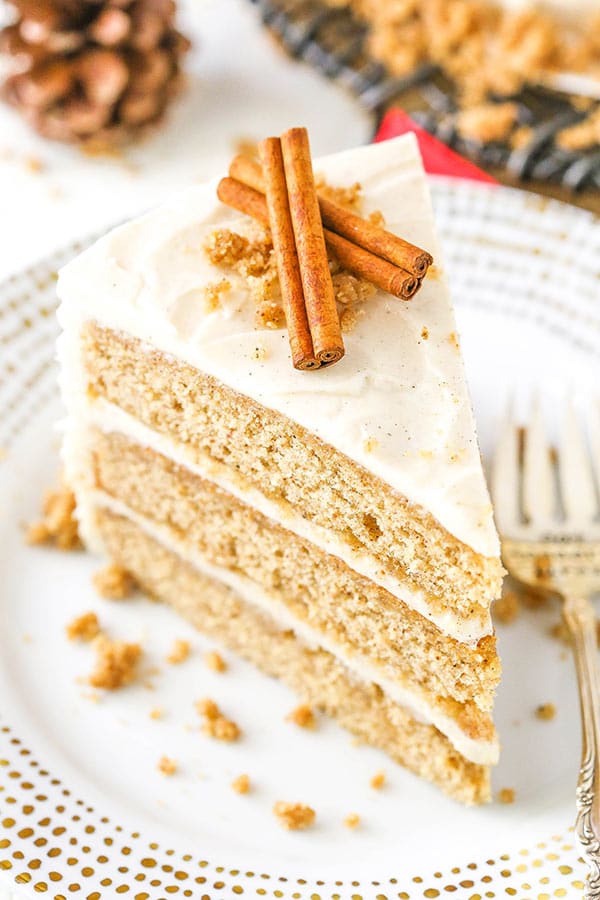 Spice Cake with Cream Cheese Frosting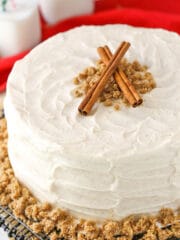 Ingredients:
SPICE CAKE
3/4 cup (168g) unsalted butter, room temperature
1 1/2 cups (225g) packed light brown sugar
1/2 cup (104g) sugar
3/4 cup (173g) sour cream, room temperature
2 tsp vanilla extract
6 large egg whites, room temperature
2 1/2 cups (325g) all purpose flour
4 tsp baking powder
3 tsp ground cinnamon
1 1/2 tsp ground ginger
1 1/2 tsp ground nutmeg
3/4 tsp ground cloves
3/4 tsp ground allspice
½ tsp salt
3/4 cup (180ml) milk, room temperature
1/4 cup (60ml) water, room temperature
CREAM CHEESE FROSTING
16 oz (452g) cream cheese, room temperature
3/4 cup (172g) butter, room temperature
10 cups (1150g) powdered sugar
1 1/4 tsp ground cinnamon
2 tsp vanilla extract
Directions:
TO MAKE THE CAKE LAYERS:
1. Prepare three 8-inch cake pans with parchment paper circles in the bottom and grease the sides. Preheat oven to 350°F (176°C).
2. In a large mixing bowl, cream the butter and sugars together until light in color and fluffy, about 3-4 minutes. Do not skimp on the creaming time.
3. Add sour cream and vanilla extract and mix until well combined.
4. Add egg whites in two batches, mixing until well combined after each. Scrape down the sides of the bowl as needed to be sure all ingredients are well incorporated.
5. Combine dry ingredients in a separate bowl, then combine the milk and water in a small measuring cup.
6. Add half of the dry ingredients to the batter and mix until well combined. Add the milk mixture and mix until well combined. Add remaining dry ingredients and mix until well combined. Scrape down the sides of the bowl as needed to be sure all ingredients are well incorporated.
7. Divide the batter evenly between the cake pans and bake for about 21-23 minutes, or until a toothpick comes out with a few crumbs.
8. Remove the cakes from the oven and allow to cool for about 2-3 minutes, then remove to cooling racks to cool completely.
TO MAKE THE FROSTING:
9. Add the cream cheese and butter to a large mixer bowl and beat until well combined.
10. Slowly add about half of the powdered sugar and beat until smooth.
11. Add the cinnamon and vanilla extract and beat until smooth.
12. Add the remaining powdered sugar and beat until smooth.
TO ASSEMBLE THE CAKE:
13. Use a large serrated knife to remove the domes from the top of the cakes.
14. Place the first layer of cake on your serving plate or a cardboard cake circle. Spread about 1 cup of frosting evenly onto the cake layer.
15. Add the second layer of cake and another cup of frosting.
16. Add the final layer of cake on top.
17. Frost the outside of the cake with the remaining frosting, then use the tip of a 9 inch offset spatula to create patterns on the sides and top of the cake.
18. Refrigerate cake until ready to serve. Best served at room temperature. Cake is best when well covered for 2-3 days.
Enjoy!