July 14, 2014
Strawberry Dulce De Leche Cake
This Strawberry Dulce De Leche Cake is just heavenly! It may seem like an odd combo – until you taste it. It's made with layers of moist vanilla cake filled with dulce de leche, strawberries and vanilla buttercream. Yum!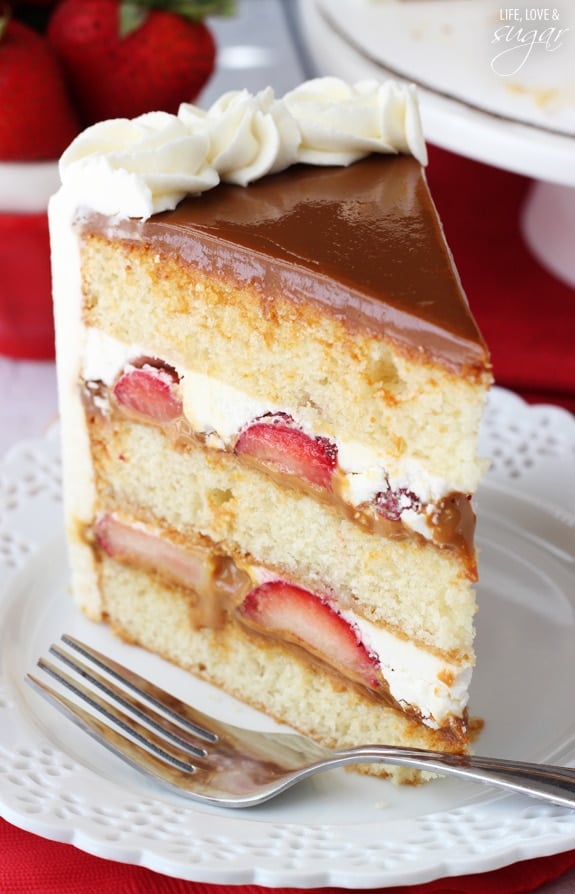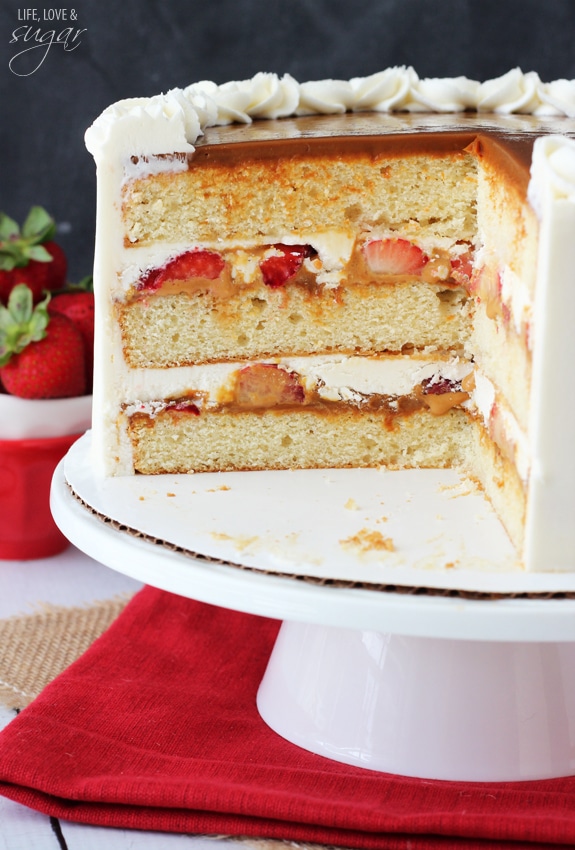 So the hubs was totally cracking me up yesterday morning:
Since I started volunteering with the 2 year olds on Sunday mornings, the hubs and I's actual church service attendance has been a bit spotty. For a while we tried to go to the early service and then I stayed for the later one that I volunteered for. But eventually, the hubs took some Sunday morning lessons since that day and time was specifically requested.
However a couple months ago, we finally attended service together again and it reminded us how much we enjoy that on our Sunday mornings. The hubs requested that we both finish out our obligations and then he'd rearrange his Sunday lessons to free up Sunday morning again.
Yesterday morning we were finally able to get back to our old routine.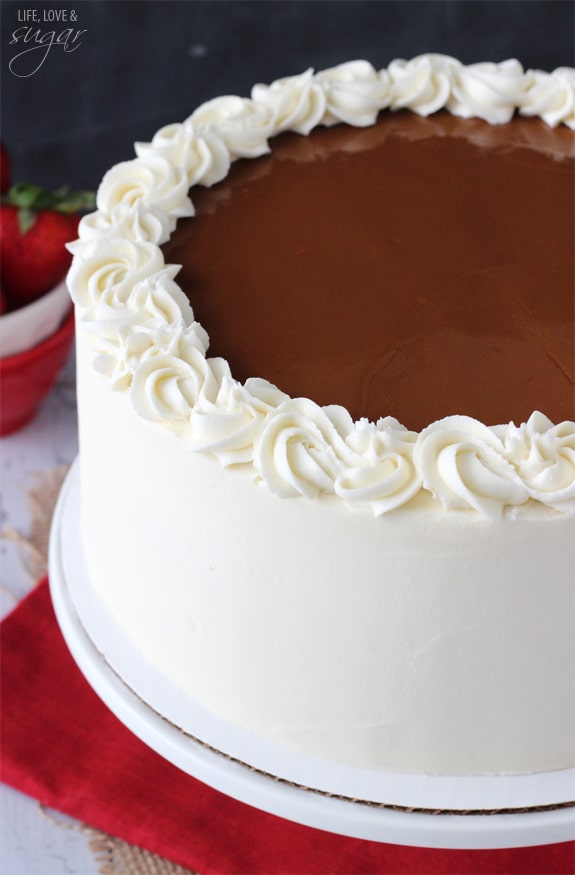 I woke up first and when the hubs woke up, he came into the bathroom, planted himself and declared "I'm excited!" 🙂
And he was. He started singing some of his favorite worship songs while we got ready and then played them all the way to church. He was belting them out too, which is very unlike him. I joined in of course. It was really cute and made me really glad we'd finally gotten it together and gotten back to service together.
Then I had to go play tennis in 90 degree weather and almost died. But whatevs. 🙂
Our church actually has a lot of previous messages online, if you're interested in checking them out. They also have a live service every Sunday at 11 a.m. EST. It's good stuff.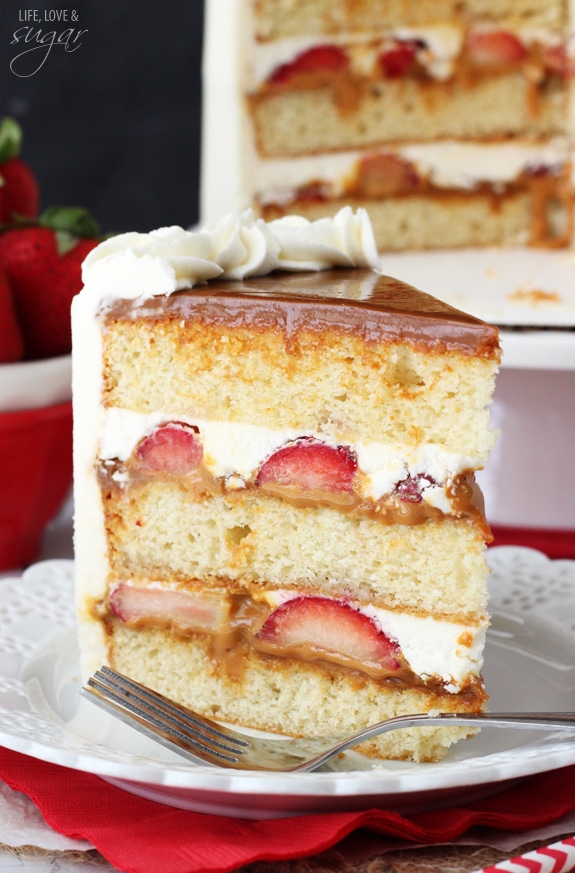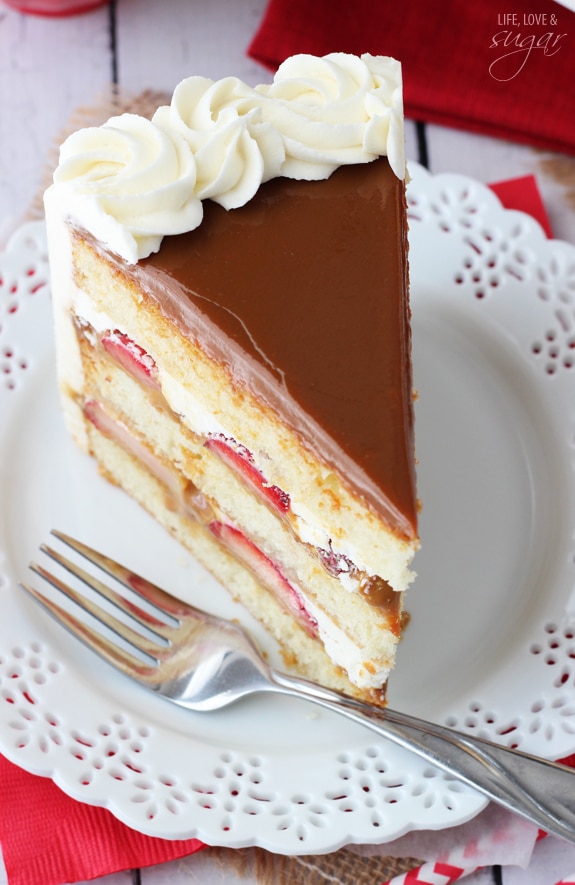 The idea for this cake actually come from a version I tasted when I was in Miami for the BlogHer Food Conference in May. A group of us went to lunch at Ceviche 105, which is amazing by the way, and this is what I ordered for dessert. Well, my version at least.
Unfortunately, it looks like this may be a seasonal menu item. It's not listed on their online menu. But have no fear! You can make this one!
The strawberries and dulce de leche are the real stars here. I was kind of lazy and used a canned dulce de leche, but if you have a homemade version you like, go for it. My friend Dorothy, who happened to be at lunch with me that day, has a crockpot version here if you want one to try.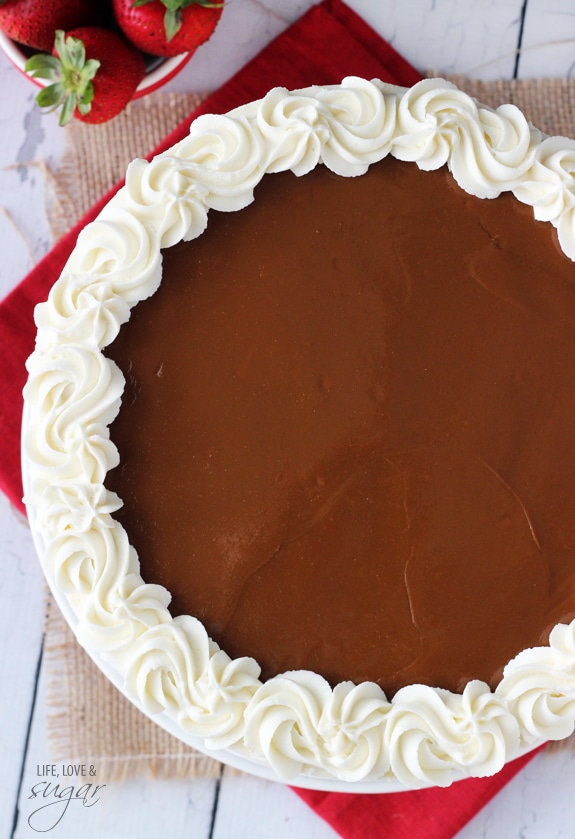 But this time around the canned worked just fine. And paired with strawberries? Well, really I could have just eaten those two things together and been happy.
The buttercream helps hold the layers of cake together and breaks up the richness of the dulce de leche a bit. The combination of all the flavors is totally moan-worthy.
A few notes about the recipe and putting it all together:
When preparing the strawberries, make sure that they are completely dry. They add a good of moisture to the cake and can slide around if they aren't dry and loosen up the dulce de leche.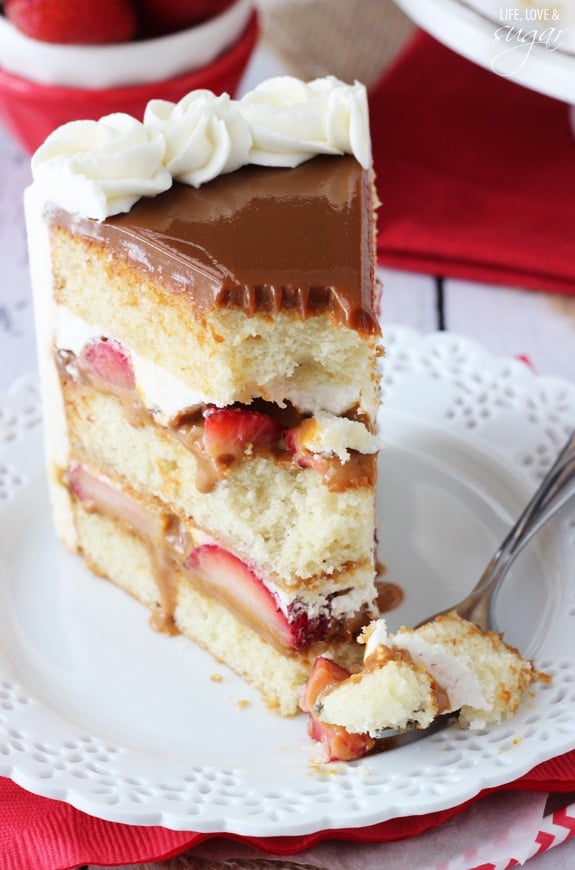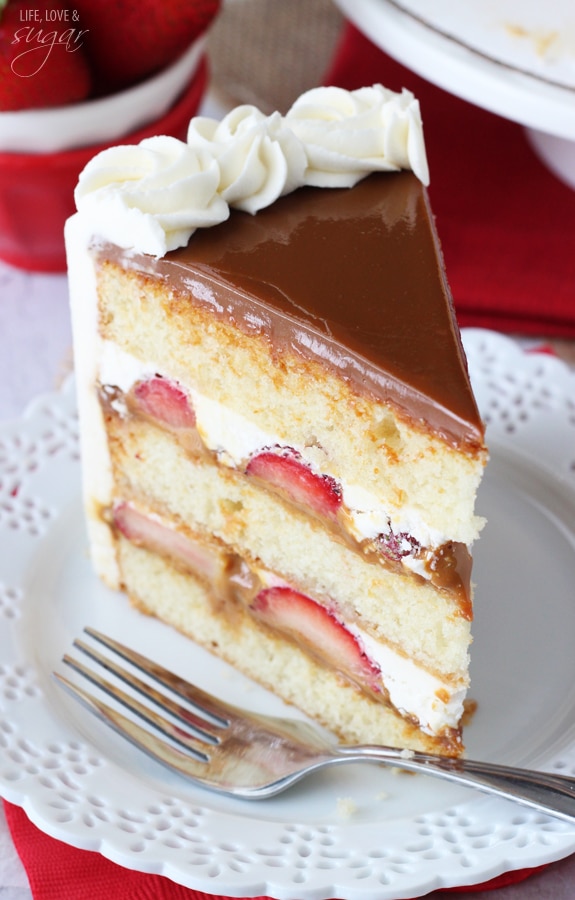 Also, with this cake you'll want to make sure to not skip the step where you put a dam around the edge of the cake layers before adding the dulce de leche and strawberries. The moisture from those two layers will cause the cake to leak moisture and move around without that dam to hold the moisture in place.
Other than that, it should be pretty straightforward! It's a seriously tasty cake!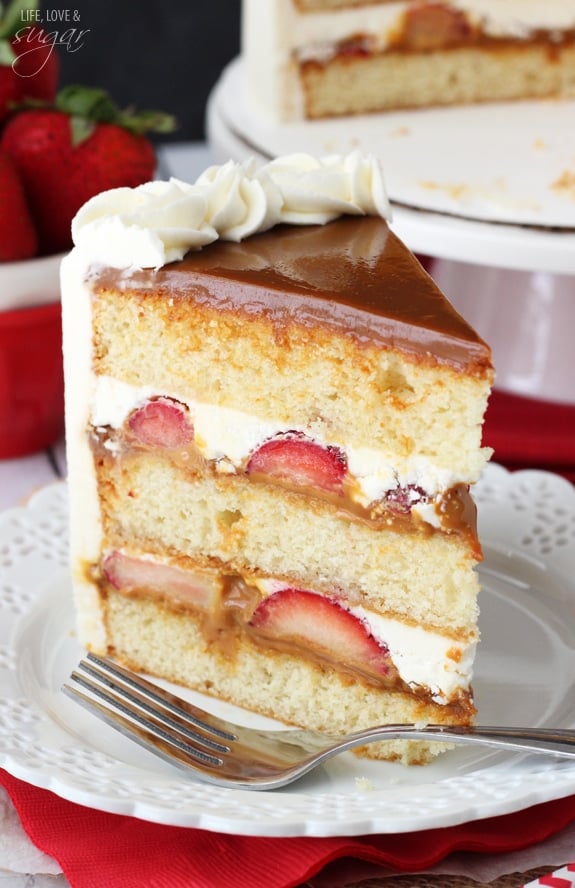 Strawberry Dulce De Leche Cake
Yield:

12

-

14

Slices

1

x
Category:

Dessert

Method:

Oven

Cuisine:

American
Ingredients
CAKE LAYERS
3/4 cup

s butter, at room temperature

1 1/2 cup

s sugar

4

egg whites

2 1/4 cup

s all-purpose flour

1 tablespoon

baking powder

1 cup

buttermilk, at room temperature

1 1/2 teaspoon

vanilla extract
BUTTERCREAM
2 cup

s butter

7

–

8

cups powdered sugar

2 tsp

vanilla extract

4

–

5

tbsp milk
FOR FILLING
two

13.4 oz

cans of dulce de leche

1

lb strawberries, washed, dried and sliced
Instructions
CAKE LAYERS:
1. Preheat oven to 350 degrees and prepare three 9 inch cake pans.
2. Beat butter and sugar until light in color and fluffy, 2-3 minutes.
3. Add egg whites and beat until smooth.
4. Whisk together dry ingredients in another bowl. Add the vanilla extract to the buttermilk.
5. Add about 1/3 of the dry ingredients to the wet ingredients and mix until smooth.
6. Add half of the buttermilk and mix until well incorporated.
7. Repeat steps 5 and 6.
8. Add remaining dry ingredients and mix until smooth.
9. Pour batter into cake pans.
10. Bake for 18-20 minutes, or until a toothpick comes out with a few crumbs.
11. Remove cake from oven and allow to cool for 3-5 minutes, then remove from pans to finish cooling on a cooling rack.
BUTTERCREAM:
1. Beat the butter until smooth.
2. Slowly add 3 cups of powdered sugar. Mix until combined.
3. Add the vanilla extract and mix until smooth.
4. Add remaining powdered sugar and mix until smooth.
5. Add milk to get a good, spreadable consistency.
TO ASSEMBLE THE CAKE:
1. Place the first layer of cake on a cake board or the cake plate it will stay on. Cut off the cake dome with a large serrated knife.
2. Pipe a thin layer of icing around the edge of the cake. It will act as a dam to keep the filling (dulce de leche and strawberries) from leaking out of the sides of the cake.
3. Add 3/4 a cup of dulce de leche and spread evenly.
4. Add a layer of strawberries. Make sure they are dry.
5. Add a thin, even layer of vanilla buttercream. It should fill in the gaps around the strawberries and give the next layer of cake something to stick to.
6. Cut the cake dome off of the second layer of cake and stack it on top of the vanilla buttercream layer.
7. Repeat layers 3, 4 and 5.
8. Cut the cake dome off of the last layer and stack it on top of the cake.
9. Ice the sides of the cake with a crumb coat (a thin layer of icing where you can still see the cake through the icing).
10. Place cake into refrigerator for and hour or so, if necessary, to firm up the icing and dulce de leche and keep it stable for icing.
11. Spread the remaining dulce de leche into an even layer on top of the cake.
12. Ice the sides of the cake with vanilla buttercream, then pipe around the edges to cover where the dulce de leche and buttercream meet at the edge. Store cake in refrigerator, if desired and if cake seems particularly juicy.
Enjoy!

You might also like:
Caramel Macchiato Chocolate Nutella Cupcakes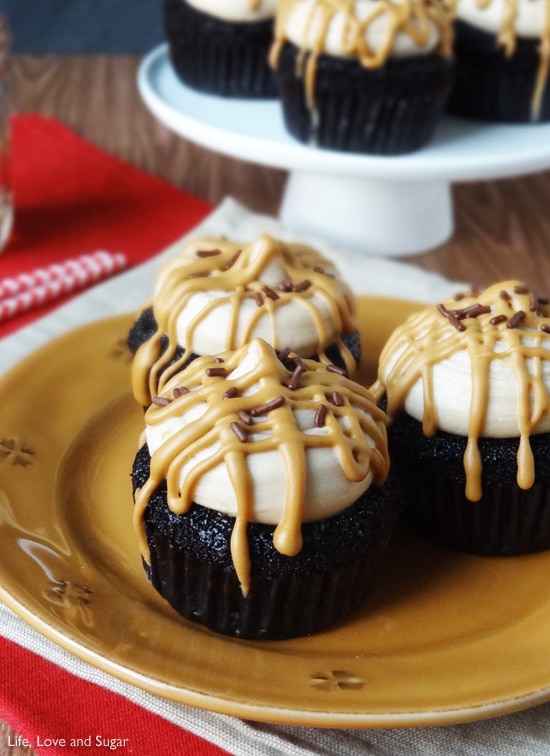 Caramel Gingerbread Gooey Bars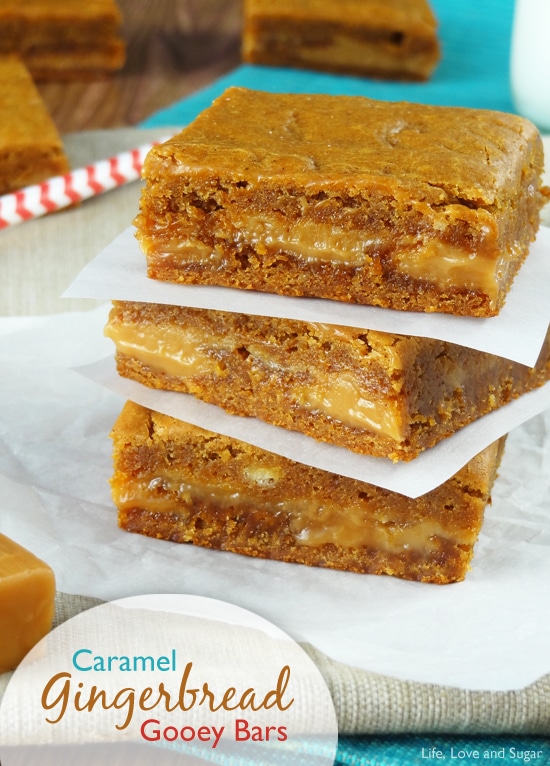 Strawberry Shortcake Cheesecake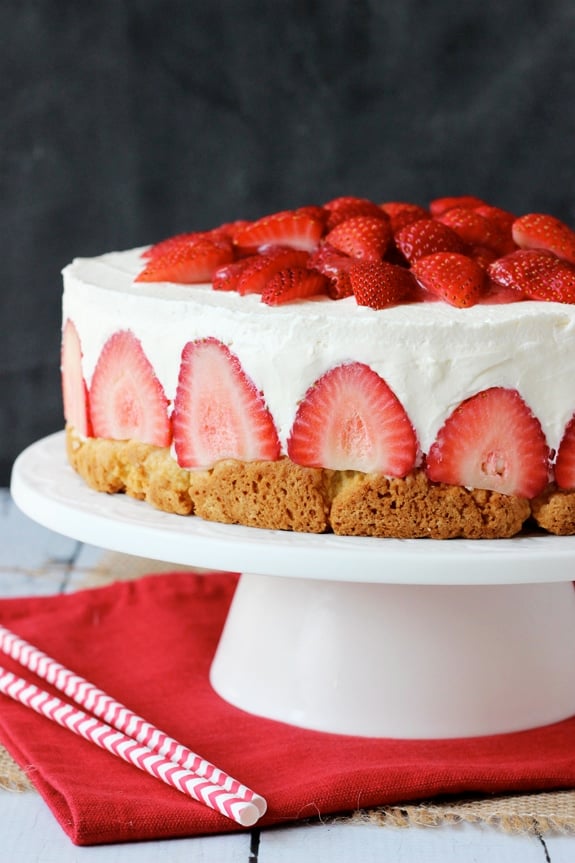 Recipes from friends:
Fried Dulce De Leche Cookie Dough from Simply Gloria
Dulce De Leche Brownies from Mom on Timeout
Dulce De Leche Brown Butter Chocolate Chip Cookie Bars from Crunchy Creamy Sweet