This post may contain affiliate sales links. Please read my disclosure policy.
This dreamy S'mores Ice Cream Cake has layers of moist chocolate cake, chocolate marshmallow fudge and marshmallow ice cream filled with chunks of graham crackers. All the flavors of s'mores incorporated into one amazing cake!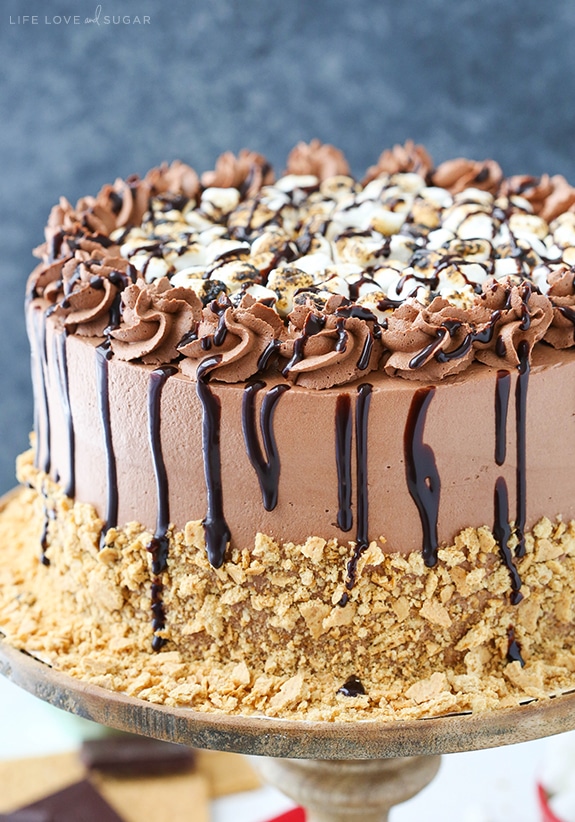 S'mores Ice Cream Cake
Ice cream cakes really are one of my favorite kinds of cakes. They've been my cake of choice for my birthday for several years now. We pretty much always buy my birthday cake and I tend to find purchased ice cream cakes to have more options than regular cakes, unless we take the time to go to a nice bakery. And I like fun options. The bakery thing just usually doesn't happen with all the hustle and bustle of Christmas around my birthday.
Not to mention that I bake for myself (via this blog) so often that I'm not even all that familiar with the bakeries in the area. I have no need to buy desserts, typically. A shame, right?
So any who, ice cream cakes have been a "thing" of mine for some time. One of the first posts on this blog that people fell in love with was my Snickers Peanut Butter Brownie Ice Cream Cake way back in the beginning. Do you remember that one? Have you been reading since then? 🙂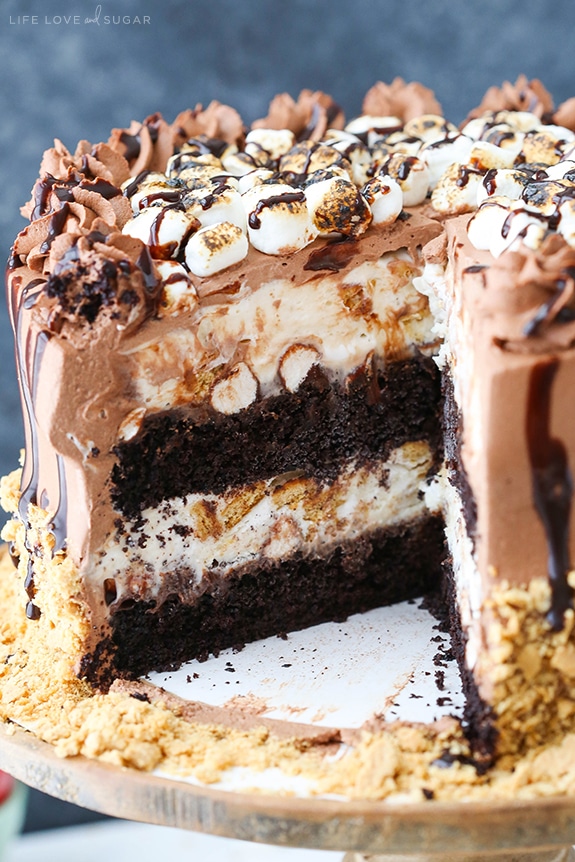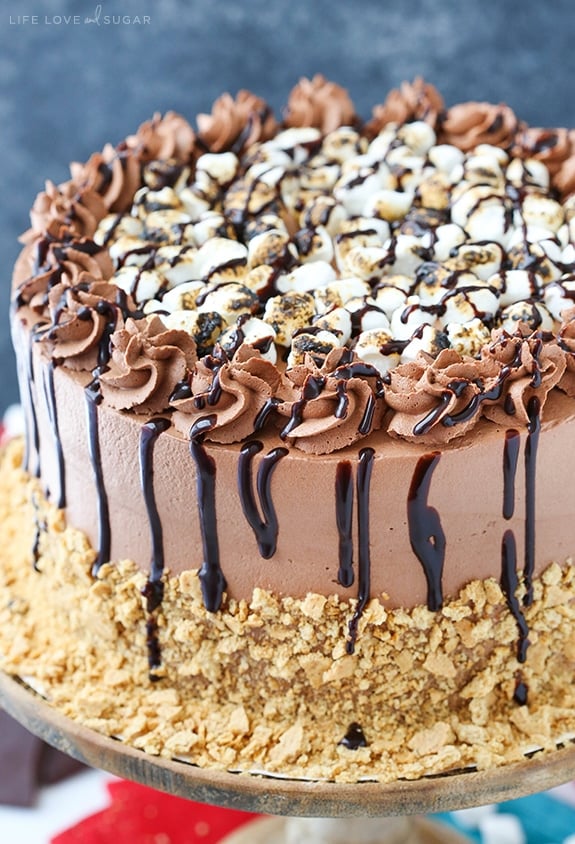 I've thought many times about a S'mores Ice Cream Cake, but had put it off. I often do that until I know just how I want to approach something and this cake finally came together in my mind – and my kitchen. I'm glad I waited as long as I did because it's seriously amazing. I had been trying to work off what I'm lovingly referring to as my "cookbook weight" when I made this baby and it definitely broke that diet – several times.
Why this is The Best Ice Cream Cake
The chocolate cake is crazy moist, which I love in my ice cream cakes. The fudge layer – oh em gee! You know the fudge layer in Dairy Queen ice cream cakes? I've been trying to figure that thing out for some time and I think I finally got it. I played with that layer 3 or 4 times first, then finished the rest of the cake. I had to get that layer right. It's chocolatey, fudgy and most importantly – it stays just soft enough when frozen so that it's still nice and fudgy. 🙂 🙂 🙂 Big smiles!
Tucked into the fudge layer are some marshmallows. Oh the chewy-ness of the marshmallows! Seriously – marshmallows in ice cream is like the best thing ever. I need to do it all.the.time.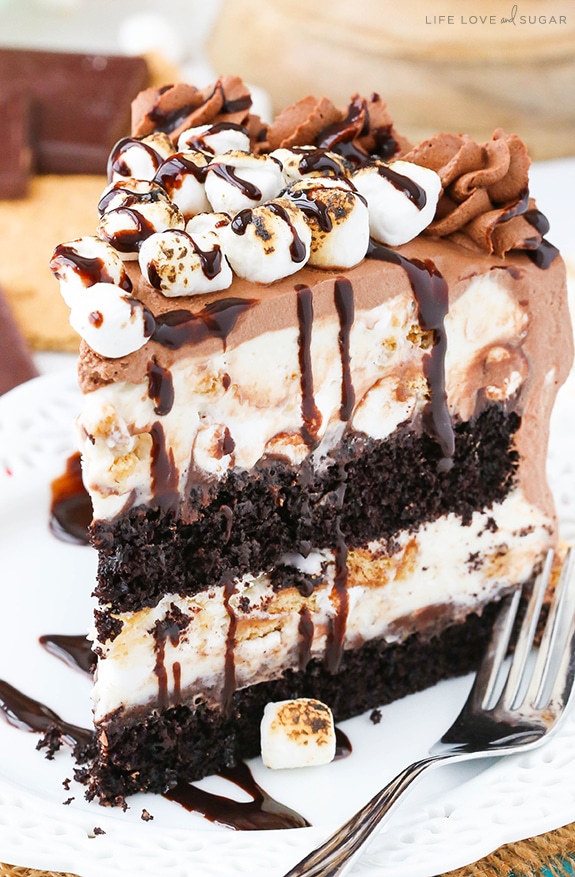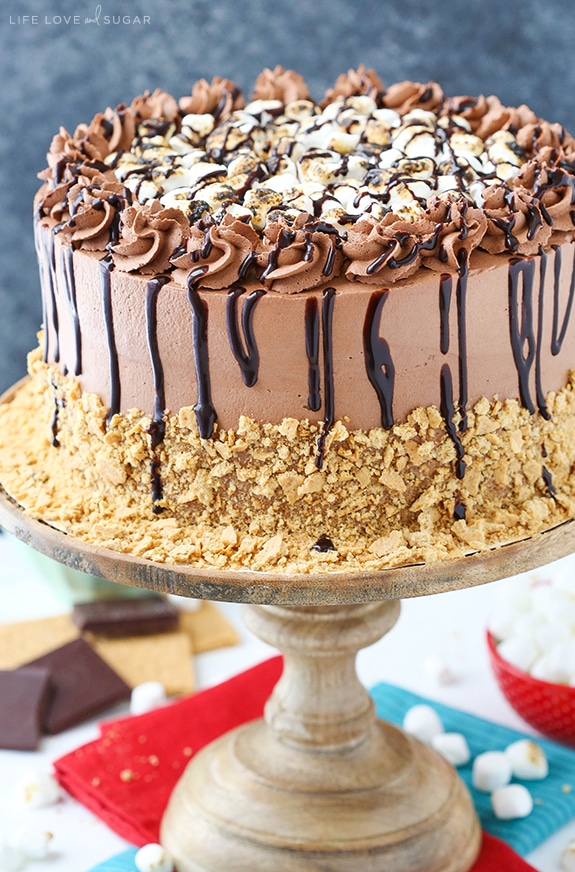 On top of that is the ice cream. Oh dear, the ice cream. It's a no churn ice cream, because no churn rocks. It's nice and thick before freezing, making layering an ice cream cake a cinch. The vanilla ice cream has a lovely swirl of marshmallow fluff in it. When you add the fluff to the ice cream, you want to be sure not to fully incorporate it into the ice cream so you keep that ribbon. That ribbon is to die for in every bite of this cake! And – an interesting thing about marshmallow fluff – it's firmer at room temperature but once you put it in the fridge or freezer, it kind of melts. It's a bit strange, but it's true. And it makes this cake even better. Because of the softness of the fluff, the ice cream doesn't get quite as firm as my other ice cream cakes. When you cut into it, the fudge layer has stayed soft and fudgy and the ice cream layer has a soft, melty marshmallow ribbon. It's the most amazing thing.
Plus, the ice cream has chunks of graham crackers. They soften up just enough but retain some crunch. The result is a super moist chocolate cake, perfectly fudgy marshmallow fudge layer and a melty marshmallow ice cream with graham crackers. I mean, seriously. Stop it already. It's too much. 😉 AND it's covered in chocolate whipped cream frosting, toasted marshmallows, graham cracker crumbs and chocolate sauce. You're welcome, my friends.
My cake eaters and myself died over it. So darn good. I'm not even kidding when I tell you it's one of my favorite ice cream cakes. The textures are a massive party in my mouth and came out beautifully! I couldn't imagine a s'mores ice cream cake being better than this. You definitely need to try it!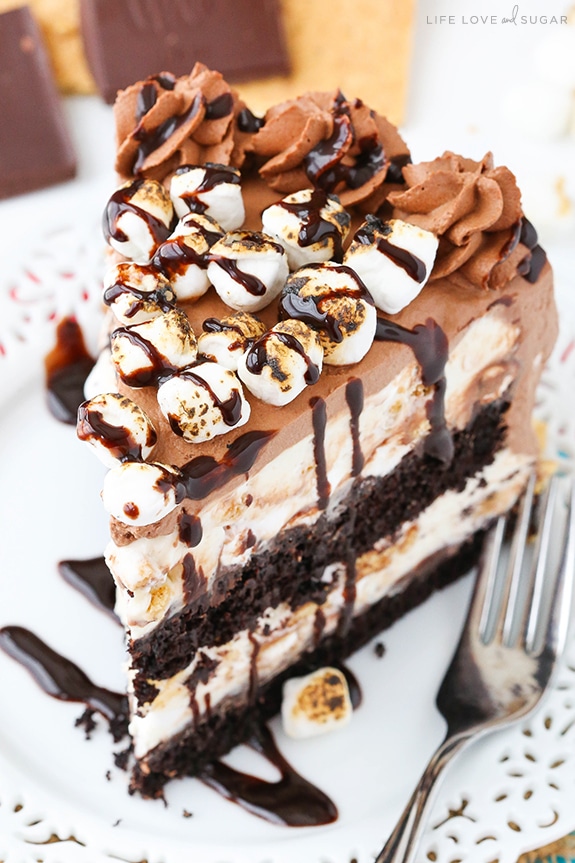 You might also like
Mini S'mores Cheesecakes
S'mores Skillet Brownies
S'mores Icebox Cake
S'mores Pizza
S'mores Cupcakes
S'mores Cheesecake
S'mores Ice Cream Bars
S'mores Bark
Print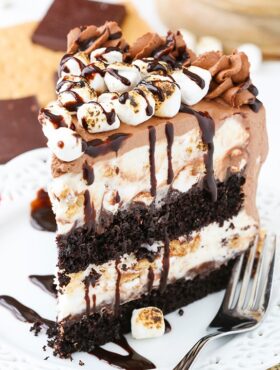 Recipe
S'mores Ice Cream Cake
Prep Time:

30 minutes

Cook Time:

25 minutes

Total Time:

55 minutes

Yield:

14-16 Slices

Category:

Dessert

Method:

Oven

Cuisine:

American
---
Description
This dreamy S'mores Ice Cream Cake has layers of moist chocolate cake, chocolate marshmallow fudge and marshmallow ice cream filled with chunks of graham crackers. All the flavors of s'mores incorporated into one amazing cake!
---
Ingredients
CHOCOLATE CAKE
1 cup

(

130g

) flour

1 cup

(

207g

) sugar

6 tbsp

(

43g

) Hershey's Special Dark Cocoa powder

1 tsp

baking soda

1/2 tsp

salt

1

large egg

1/2 cup

(120ml) buttermilk

1/2 cup

(

120

ml) vegetable oil

1/2 tsp

vanilla extract

1/2 cup

(120ml) boiling water
CHOCOLATE FUDGE
6 oz

semi sweet chocolate chips

1/4 cup

light corn syrup

1/2 tsp

vanilla extract

1/2 cup

(120ml) heavy whipping cream

1 1/4 cups

mini marshmallows
ICE CREAM
6 oz

(

170g

) cream cheese, room temperature

3/4 cup

(

155g

) sugar

2 tbsp

(30ml) milk

2 tsp

vanilla extract

1 1/2 cups

(360ml) heavy whipping cream, cold

3/4 cup

(

86g

) powdered sugar

3

–

4

graham cracker sheets, crumbled

7 oz

marshmallow cream
WHIPPING CREAM FROSTING
2 1/2 cups

(600ml) heavy whipping cream, cold

3/4 cup

(

68g

) powdered sugar

1/2 cup

(

57g

) natural unsweetened cocoa

1 tsp

vanilla extract

5

–

6

sheets graham crackers, crumbled
Marshmallows
---
Instructions
NOTE: 8-inch springform pans are best for building this cake so that you can easily remove the cake once it's been assembled. If you do not have a springform pan, line your pan with clear wrap before adding your parchment paper and cake board. You can use the clear warp to lift your cake out of the pan once it's assembled and frozen. You want to make your cake layers in the same pan you'll use for layering the ice cream and cake together so that they cake layers fit in the final pan you use for layering. In lou of using a cake pan to build the cake, you could also use cake collars.
TO MAKE THE CAKE:
1. Preheat the oven to 350°F (176°C). Line the bottom of two 8-inch cake pans with parchment paper and grease the sides.
2. In a large mixer bowl, combine the first 5 ingredients for the cake.
3. Add the egg, buttermilk, oil and vanilla and mix until smooth.
4. Add the boiling water and mix until smooth. Batter will be thin.
5. Divide the batter between the prepared cake pans and bake for 25-30 minutes, or until a toothpick inserted into the middle of the cake comes out with a few crumbs.
6. Remove cake from oven and allow to cool for 3-4 minutes, then remove cake from pan to a cooling rack to cool completely.
TO MAKE THE ICE CREAM:
7. Once the cake has cooled, make the ice cream. In a large mixer bowl, combine the cream cheese and sugar until smooth.
8. Add the milk and vanilla extract and mix until well combined.
9. In another mixer bowl, add whip the heavy whipping cream and powdered sugar until stiff peaks form.
10. Gently fold about 1/3 of the whipped cream into the cream cheese mixture until combined, then fold in the remaining whipped cream.
11. Gently fold in the graham crackers until combined throughout
12. Gently fold in the marshmallow fluff, so that there are ribbons of marshmallow fluff through the ice cream. Do not mix until completely combined.
ASSEMBLY:
13. Line the sides of an 8-inch springform pan with parchment paper. The parchment paper should stick up above the top edge of the pan, since the cake will probably be a little taller than your pan (see example). If you want, put a cardboard cake circle in the bottom of the pan. If not using a springform pan, you pan put some plastic wrap in the bottom of the pan and up the sides and use it to lift the cake out of the pan when it's done.
NOTE: You should be using the same 8-inch pan you used for the cake. Not all 8-inch pans are exactly the same size. Your cake needs to fit in this pan.
14. Cut the dome off of the tops of the cake layers, then place the first cake layer into the bottom of the pan.
15. For the chocolate fudge layer, place the chocolate chips, corn syrup and vanilla extract in a medium sized bowl.
16. Microwave the heavy whipping cream until it begins to boil, then pour over the chocolate chips. Allow to sit for 3-5 minutes, then whisk until smooth.
17. Spread half of the marshmallows into an even layer on top of the chocolate cake.
18. Pour half of the chocolate fudge over the marshmallows and spread evenly.
19. Spread about half of the ice cream mixture into an even layer over the chocolate fudge.
20. Place the second layer of cake on top of the ice cream, then repeat steps 16-18.
21. Allow the ice cream cake to freeze completely, 6-8 hours. Once frozen, remove from springform pan and remove parchment paper from sides.
22. To make the whipped cream frosting, whip the heavy whipping cream, powdered sugar, cocoa and vanilla extract until stiff peaks form.
23. Frost the outside of the cake with the whipped cream, then pipe a border around the top edge.
24. To finish off the cake, press crumbled graham cracker crumbs onto the sides of the cake and top it will marshmallows and a chocolate drizzle. You can toast the marshmallows on top with a kitchen torch, if you have one.
25. Freeze the cake until ready to serve. This cake doesn't freeze as firm as some others, so you don't need to let it sit out to thaw before serving.
---
Nutrition
Serving Size:

1 Slice

Calories:

727

Sugar:

63.9 g

Sodium:

389.6 mg

Fat:

39.6 g

Carbohydrates:

91.3 g

Protein:

8.1 g

Cholesterol:

94.3 mg
Keywords: smores cake, s'mores cake, ice cream cake recipe, best ice cream cake, smores cupcake, best chocolate cake recipe, best cake recipe, homemade cake recipe, homemade cake
Enjoy!