Want to make a cheesecake, but need to adjust the ingredients to fit the size pan you want to use? Use this guide to help adjust my cheesecake recipes to the size you need.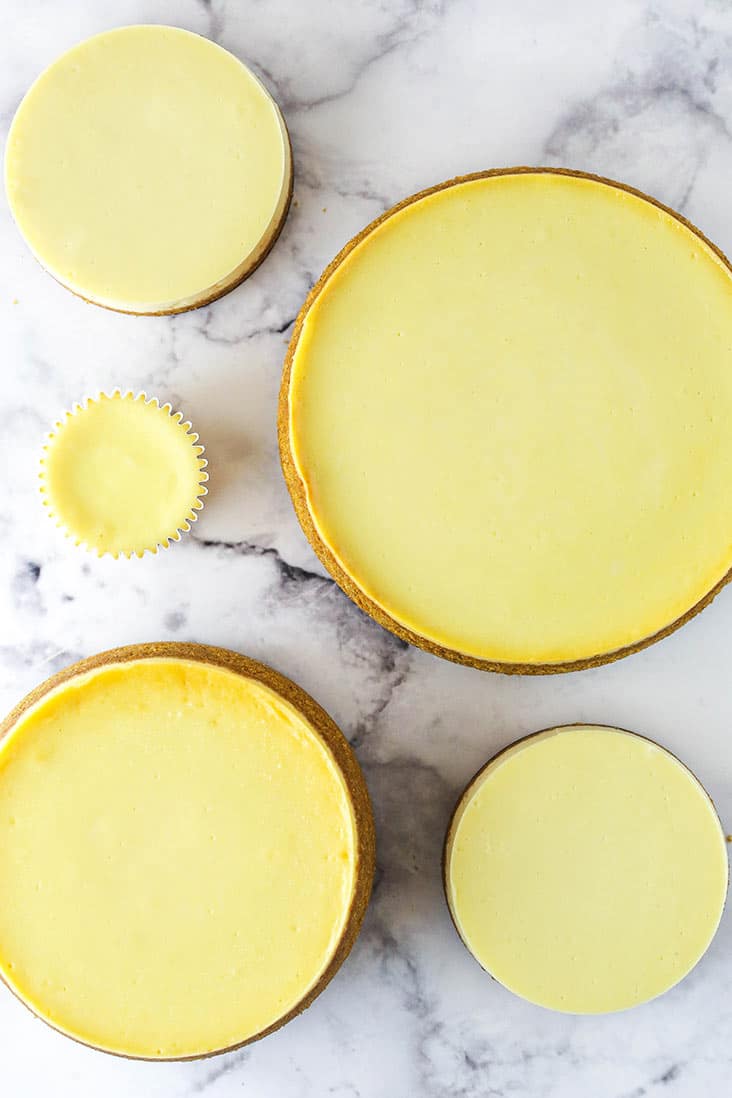 I get lots of questions about recipes, but easily one of the most asked is about adjusting a recipe to a particular pan size. Cakes and cheesecakes are most asked about and today I'm talking a little bit about cheesecakes in hopes that it helps with adjusting my cheesecake recipes to various pan sizes. While I didn't test every possible size out there, I did some testing with 7 inch, 6 inch and 4 inch pans, since those are the most asked about. I used my Classic Cheesecake Recipe and adjusted that for the different sizes.
There will of course be variations throughout my cheesecake recipes, since ingredients and bake times vary. But this should be a bit of a guide that helps give you an idea of how much of the ingredients to use and if the baking time should be roughly more, less or the same as the recipe as written for a 9 inch pan.
Here are the ingredients for my classic 9 inch cheesecake, for reference:
Crust
2 1/4 cups graham cracker crumbs
1/2 cup butter
3 tbsp sugar
Filling
24 oz cream cheese
1 cup sugar
3 tbsp all purpose flour
1 cup sour cream
1 1/2 tbsp vanilla extract
4 large eggs
7 Inch Cheesecakes
When it comes to 7 inch cheesecakes, I found that reducing the recipe by 1/3 worked best. It gave a cheesecake that was very similar in height to the 9 inch, just smaller. I also reduced the crust. Here were the measurements I used:
Crust
1 cup (134g) graham cracker crumbs
2 tbsp (26g) sugar
4 tbsp (56g) butter
Filling
16 oz cream cheese
2/3 cup (138g) sugar
2 tbsp (16g) all purpose flour
2/3 cup (153g) sour cream
1 tbsp vanilla extract
2 large eggs
As you look at other versions of my cheesecakes, this can hopefully be a guide for reducing the recipe by a third. Whatever additional ingredients may be used for other flavors, reducing it by 1/3 should work fine.
As for baking time, I found that it was roughly the same. I baked it for about 5 minutes less, but that was it. The total bake time for the 9 inch was 1 hour and 15 minutes, then 30 minutes of cooling with the oven closed and another 30 minutes of cooling with the oven cracked. I reduce the baking time of this one to 1 hour and 10 minutes, with the same amount of cooling. Pretty similar.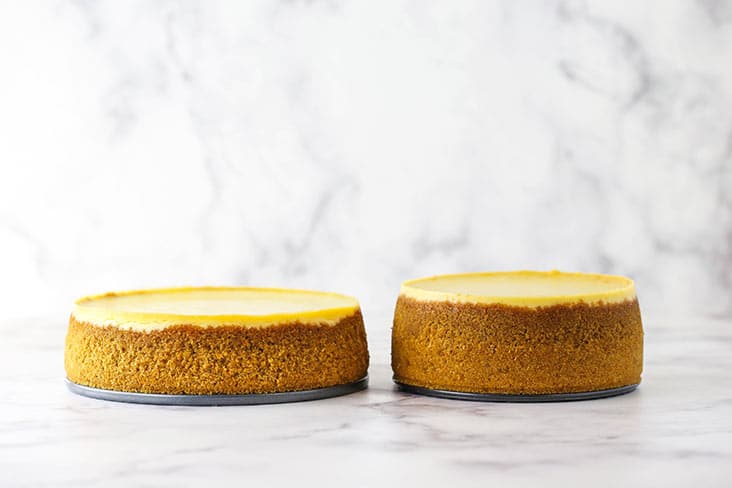 6 Inch Cheesecakes
For the 6 inch cheesecake, I actually used the same ingredient amounts as the 7 inch. It worked very well and just resulted in a little bit thicker cheesecake. So all the ingredients are still reduced by a third for this size. The baking time was just slightly more. Instead of the 1 hour and 15 minutes of baking time of the original 9 inch cheesecake, this one ended up at 1 hour and 20 minutes for me, with the same cooling times.
4 Inch Cheesecakes
The 4 inch cheesecake recipe actually makes two 4 inch cheesecakes, which seems to be how most 4 inch springform pans are sold (as a pair). If you wanted to reduce it to make one, you could simply cut these ingredients measurements in half. The only place that would be difficult would be cutting the egg in half. You could just use one egg white and it should be fine. Here were the measurements I used: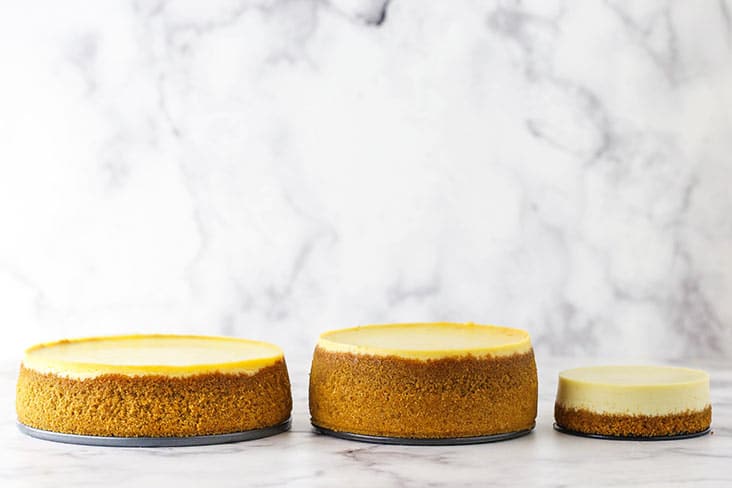 Crust
1/2 cup (67g) graham cracker crumbs
1 tbsp (13g) sugar
2 tbsp (28g) butter
Filling
8 oz cream cheese
1/3 cup (69g) sugar
1 tbsp (8g) all purpose flour
1/3 cup (77g) sour cream
1 1/2 tsp vanilla extract
1 large egg
Of course the crust is divided between the two pans as well. The baking time for these two 4 inch cheesecakes when baked in the oven at the same time and still in a water bath was 45 minutes, then 30 minutes of cooling with the oven door closed and 20 minutes with the oven door cracked.
Mini Cheesecakes
I'm occasionally asked about turning full sized 9 inch cheesecakes into minis (which I would say is a cupcake pan size). That can definitely be done, but it can be hard to say just how with certain cheesecakes that have various elements, such as my Turtle Cheesecake. While the filling itself in that one can easily be adjusted, the caramel and chocolate that are layered in the filling are a little harder to predict. That said, I'd go off of my Mini Cheesecake Recipe. It is my full sized 9 inch cheesecake cut in half, which would make 12 cupcake-sized cheesecakes. I'd cut any full-sized cheesecake in half and and use that mini cheesecake recipe as a guide. Bake times can vary, but should be relatively similar. If the filling of the cheesecake you want to use has a lot of extra "stuff" for flavoring in the filling, you may need to increase the baking time a few minutes. You can refer to that mini cheesecake recipe for the crust.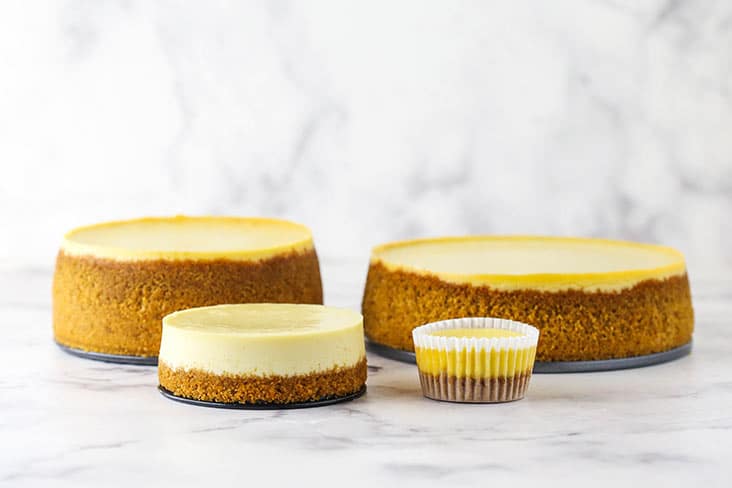 Other Cheesecake Sizes
If you're looking for another size, I didn't test it. You can certainly make larger cheesecakes, I just haven't made those sizes. But you could still use this as a bit of a guide. Consider this – going from a 9 inch cheesecake to a 7 inch cheesecake I cut the recipe down by a third. That's a two inch difference in size for a third reduction in the recipe. If you're making an 11 inch cheesecake (which is 2 inches larger), you might consider increasing the ingredients by a third.
If you're making a 10 inch, you could leave the recipe as-is and have a thinner cheesecake or try increasing it by a third for a thicker cheesecake. If you look at the difference between the 7 inch and 6 inch cheesecakes, they used the same amount of ingredients, but one was thicker and on was thinner. And yet, the baking time only varied by 10 minutes. So a 9 inch cheesecake baked in a 10 inch pan without changing the ingredients might only be reducing in baking time by about 10 minutes, give or take. You'll want to keep an eye on it so that you don't over or under bake it, but otherwise it should be fine.
How to Tell When Cheesecake is Done Baking
This is going to be important to know when adjusting a cheesecake's size so that you can know when it's done. You want the outer part of the cheesecake to be set and the inner couple of inches of the cheesecake to still be a little jiggly, but not look too liquidy. The top of the cheesecake should no longer look glossy and wet, but overall have a more matte appearance on top. By the time the first 30 minutes of cooling with the oven door closed is done, the center should have set.
I hope this guide helps! I get lots of these questions and it'd be very difficult for me to test every single cheesecake in every size pan, but I do want you to be successful with your adjustments and help as much as I am able. I can't guarantee anything and I certainly don't know what will work for other peoples' recipes, but this should be a good general guideline for my cheesecakes. Happy baking!
This post may contain affiliate sales links. Please read my disclosure policy.