This Banana Cream Layer Cake is moist, delicious and filled with homemade pastry cream. The flavors and textures are just perfect together. It's one of the best banana cakes I've ever made!
Looking for more banana cake recipes? Try this amazing Banana Split Layer Cake!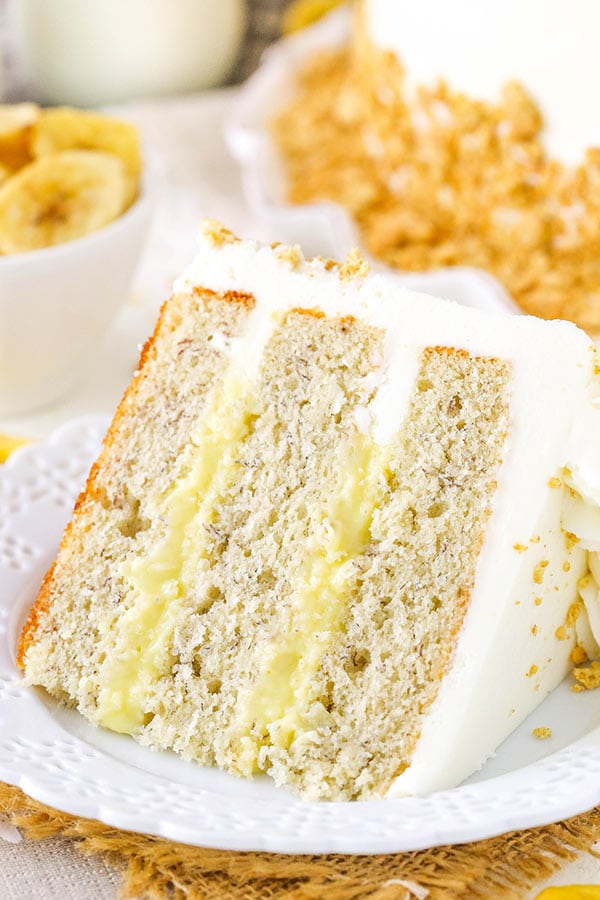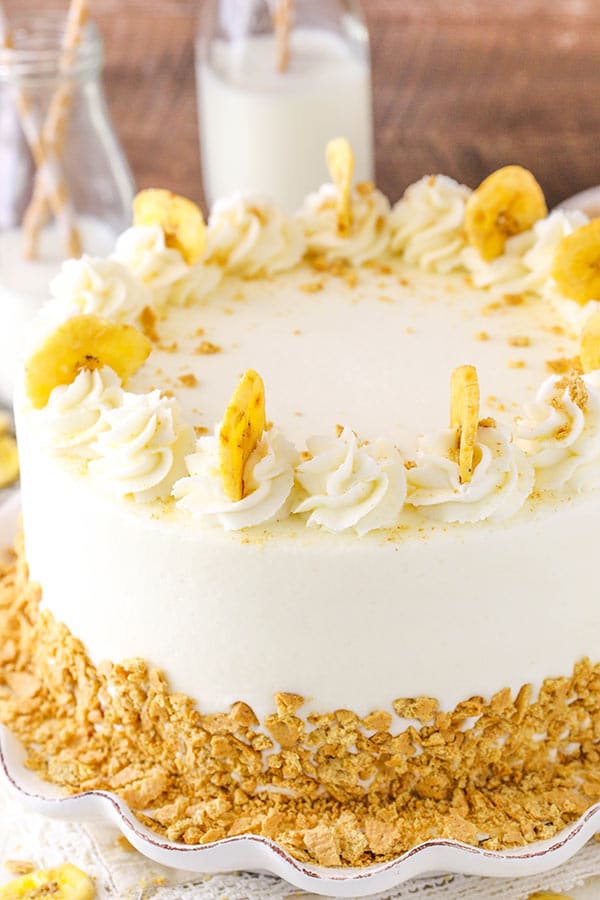 Banana Cream Layer Cake
So recently we've had my mother-in-law and sister-in-law staying with us. They've just moved to the area and are getting set up with their respective jobs and places to live. In the meantime, they've been excellent helpers with everything from dishwashing (which is a serious job in our house considering I'm baking all day) to dog walking. It's been wonderful to have all the help.
Not to mention, they make great taste testers. I feel like with every new recipe I share, I'm saying, "This is the BEST CAKE EVER!" And of course how can every cake be the best? Well my sister-in-law has been proof of that lately and it's so funny. Which each new recipe she tastes, she declares it a new favorite that MUST be made for her birthday. It's become a bit of a joke now. 🙂
It's been such great validation – clearly every new recipe is the best! 😉 And if you're a banana lover, this one really is a must-try. The banana cake is soft and moist and the pastry cream filling is smooth and creamy. Together the combination is heavenly! Love love this cake! And it's the perfect way to use up those ripe bananas.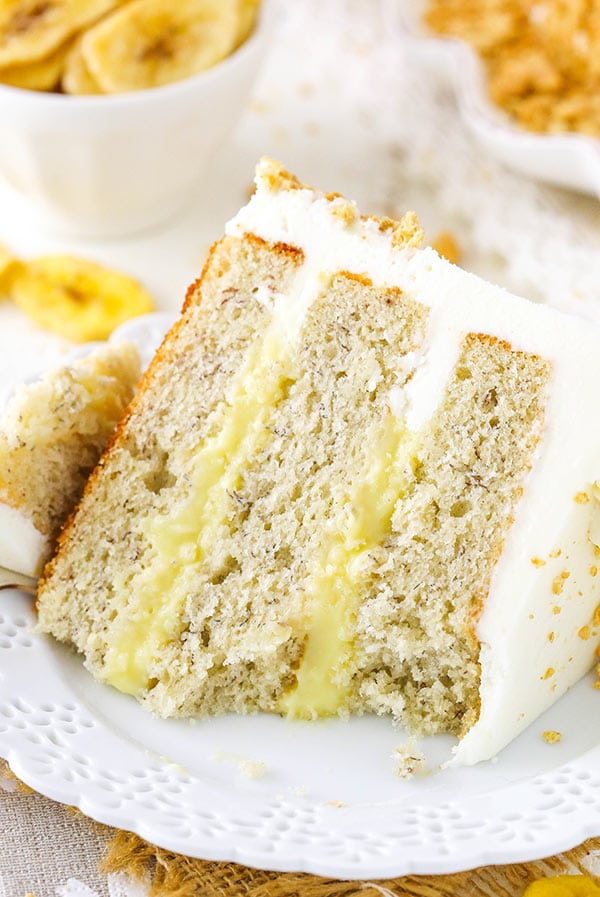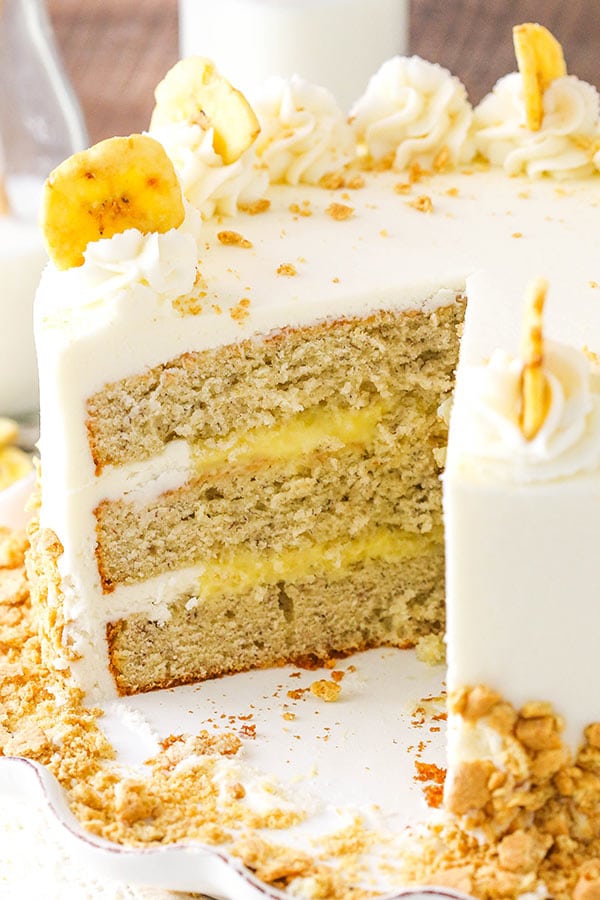 How to Make a Perfect Banana Layer Cake
Make the Cake Layers
The first step in putting it together is making the cake layers. It's made using the creaming method, so you want to be sure to fully cream the butter and sugar together before moving on to the next step. The creaming adds air to the batter that gives the cake rise and makes it nice and fluffy. Don't skimp on it.
Make the Pastry Cream Filling
While the cake bakes and cools, it's time for the pastry cream filling. You guys, I could totally just eat this cream with a spoon. SO good! Plus, it's not hard to make. First, add the egg yolks to a separate medium sized bowl and lightly beat them. An important step in making pastry cream is tempering the eggs. To do that, you'll heat up the milk mixture and slowly add it to the egg yolks. This process allows the eggs to gradually come to temperature, otherwise, they'd cook and you'd get scrambled eggs. As much as I like scrambled eggs, I don't want them in my cake.
As for the milk mixture itself, you'll have sugar, milk and cornstarch. The bulk of the pastry cream is milk, which is thickened with the cornstarch and egg yolks. The sugar is the sweetener. A little butter and vanilla are added at the end for flavor, then the cream is allowed to cool. It will thicken as it cools as well, so if it seems a bit thin after cooking, it'll thicken.
Make Your Cake Frosting
Next up is the frosting. I wanted to add to the banana flavor, so I used some imitation banana extract in mine. It's not a real natural banana flavor – it kind of reminds me of banana runt candy – but I personally really enjoyed it with this cake. If it's not your thing, you could totally just replace it with vanilla extract. As for making the frosting, it's fairly straight forward. As with most of my frostings, feel free to replace the shortening with additional butter and reduce the powdered sugar, if you prefer. I make mine this way because I like a certain consistency, which you can read about in my previous post – how to get the right frosting consistency. If you aren't as concerned about it, feel free to adjust to your liking.
Assemble Your Banana Layer Cake!
The final step is to build the cake! Remove the domes from the tops of the cake, add the cream between the layers with some frosting dams to keep it in place, frost it and DIG IN! If you taste some scraps as you go (I might just do that too 🙂 ), then you'll already know just how good it is. You might not want to share and I wouldn't blame you a bit!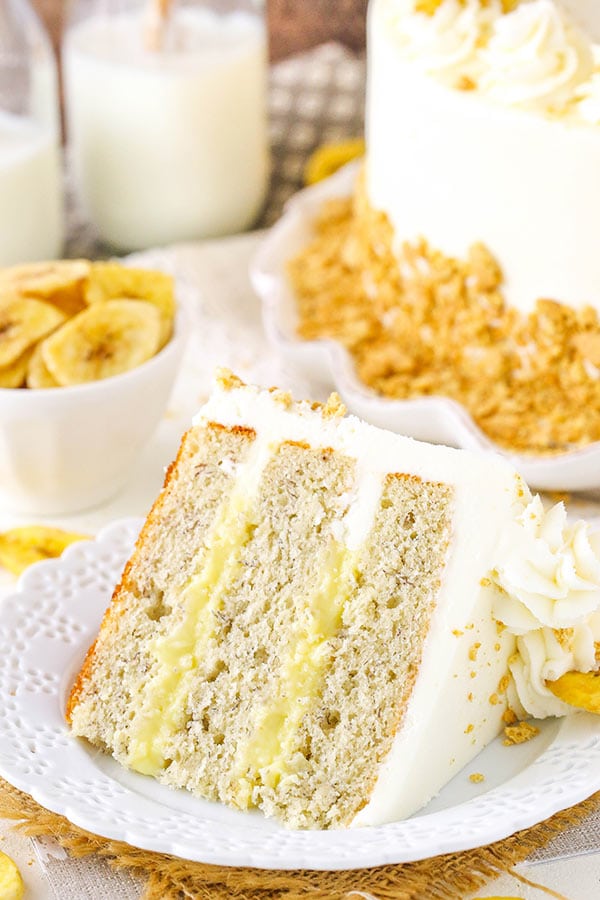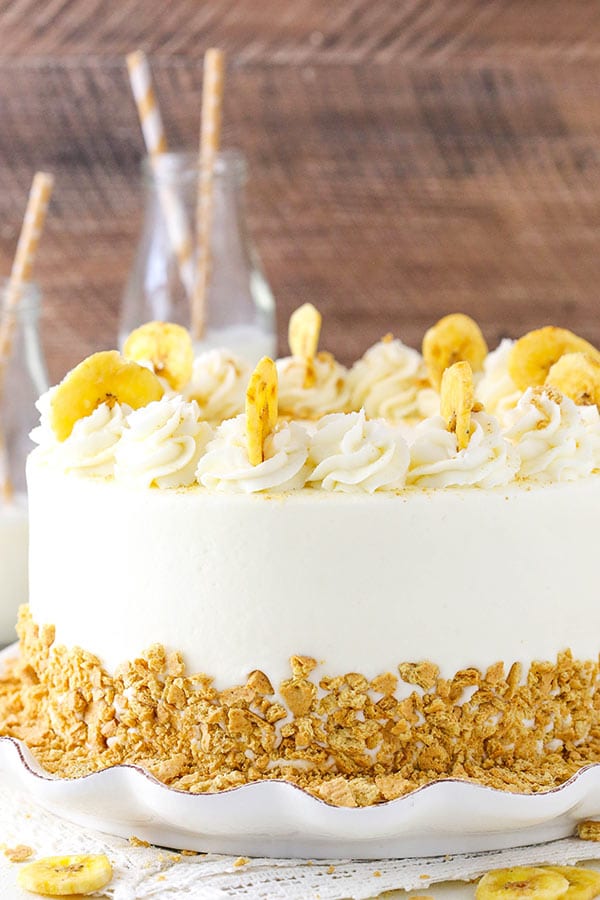 You might also like these banana dessert ideas:
Easy Banana Bread
Overnight Baked Banana French Toast
Banana Cream Cheesecake
Banana Cream Pie Cupcakes
Mini Banana Pudding Cheesecakes
Boston Cream Pie Cupcakes
Print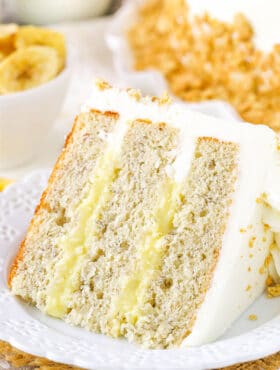 Recipe
Banana Cream Layer Cake
Author:

Prep Time:

20 minutes

Cook Time:

25 minutes

Total Time:

45 minutes

Yield:

12-14 Slices

Category:

Dessert

Method:

Oven

Cuisine:

American
---
Description
This Banana Cream Layer Cake is moist, delicious and filled with homemade pastry cream. The flavors and textures are just perfect together! If you are looking for best banana cake recipe, I dare say this is it!
---
Ingredients
BANANA CAKE LAYERS
1 1/2 cups

(

310g

) sugar

3/4 cup

(

168g

) unsalted butter, room temperature

1/2 tsp

vanilla extract

3/4 cup

(

173g

) sour cream

3 tbsp

(45ml) vegetable oil

3

large eggs

1

large egg white

2 1/2 cups

(

325g

) all purpose flour

2 tsp

baking powder

1/2 tsp

baking soda

1/2 tsp

salt

1 cup

(240ml) mashed bananas (

2

–

3

medium sized bananas)
PASTRY CREAM FILLING
3

egg yolks

1/2 cup

(

104g

) sugar

2 tbsp

, plus 1 tsp cornstarch

1 1/2 cups

(360ml) milk

2 tbsp

(

28g

) salted butter

1 1/2 tsp

vanilla extract
FROSTING
1 1/4 cup

(

280g

) salted butter, room temperature

1 1/4 cups

(

237g

) shortening

10 cups

(

1150g

) powdered sugar

2 tsp

imitation banana extract

1 tsp

vanilla extract

5

–

6

tbsp (75-90ml) water or milk

8

–

10

graham cracker sheets, crushed

8

–

10

banana chips, for decorating, optional
---
Instructions
TO MAKE THE CAKE:

1. Grease three 8 inch round cake pans and preheat oven to 350°F (176°C).
2. Beat the butter and sugar until light and fluffy, about 3-4 minutes. Do not skimp on this step. Cream the butter for the full 3-4 minutes.
3. Add the vanilla extract, sour cream and vegetable oil and mix until well combined.
4. Add eggs and egg white in two batches, mixing until well combined.
5. Combine dry ingredients in another bowl. Add half of the dry ingredients to the batter and mix until well combined.
6. Add the mashed bananas and mix until well combined.
7. Add remaining dry ingredients and mix until well combined.
8. Divide batter evenly between the cake pans and bake 24-26 minutes or until a toothpick inserted comes out with a few crumbs.
9. Remove cakes from oven and allow to cool for 3-4 minutes, then remove to cooling rack to cool completely.
TO MAKE THE PASTRY CREAM:
10. While the cakes cool, make the pastry cream. Put the egg yolks in a medium sized bowl and gently beat them together. Set aside.
11. Add the sugar, cornstarch and milk to a large saucepan and mix until combined.
12. Cook, stirring continuously, over medium-high heat until mixture begins to thicken and bubble.
13. Reduce heat to medium and simmer for 2 minutes. Remove from heat.
14. Add a little bit of milk mixture to the egg yolks and whisk together, then add egg mixture to milk mixture. This process ensures that you don't cook the egg yolks too quickly and get scrambled eggs.
15. Place the pan back on the heat and bring to a light boil. Allow to boil for 2 minutes, stirring continuously.
16. Remove from heat and add butter and vanilla extract. Stir until smooth, then set in the fridge to cool completely.
TO MAKE THE FROSTING:
17. When everything has cooled, make the frosting. Combine the butter and shortening in a large mixer bowl until smooth.
18. Add about half of the powdered sugar and mix until well combined.
19. Add the banana extract, vanilla extract and 3-4 tablespoons of water or milk mix until well combined and smooth.
20. Add the remaining powdered sugar and mix until combined.
21. Add additional water or milk as needed to get the right frosting consistency and mix until well combined and smooth.
TO BUILD THE CAKE:
20. To assemble the cake, use a large serrated knife to remove the domes from the top of the cakes.
21. Place the first layer of cake on a serving plate or a cardboard cake round. Pipe a dam of frosting around the outside of the cake. I use Ateco tip 808 for the dam so that it's tall.
22. Spread half of the pastry cream evenly on top of the cake layer, inside the dam, then smooth out the dam of frosting so that it's all even.
23. Add the second layer of cake and repeat the dam and pastry cream filling.
24. Add the final layer of cake on top, then smooth out the frosting around the sides of the cake.
25. Frost the outside of the cake. Feel free to use my tutorial for frosting a smooth cake.
26. Finish off the cake by pressing the crushed graham crackers into the sides of the cake, then top with some swirls of frosting and banana chips. I use Ateco tip 844 for the swirls.
27. Refrigerate cake until ready to serve. Cake is best for 2-3 days.
---
Nutrition
Serving Size:

1 Slice

Calories:

1081

Sugar:

106.5 g

Sodium:

443.2 mg

Fat:

55.8 g

Carbohydrates:

139.7 g

Protein:

9.7 g

Cholesterol:

161.7 mg
Keywords: easy banana cake recipe, best banana cake, banana cream cake, banana desserts, how to assemble a layer cake
Filed Under:
Enjoy!
This post contains affiliate links.
This post may contain affiliate sales links. Please read my disclosure policy.