October 16, 2017
Baileys Chocolate Mousse Brownie Cake
This Baileys Chocolate Mousse Brownie Cake is our chocolate and Baileys cake dreams come true! With a dense, delicious brownie on the bottom and smooth Baileys chocolate mousse on top, you won't be able to stop eating it!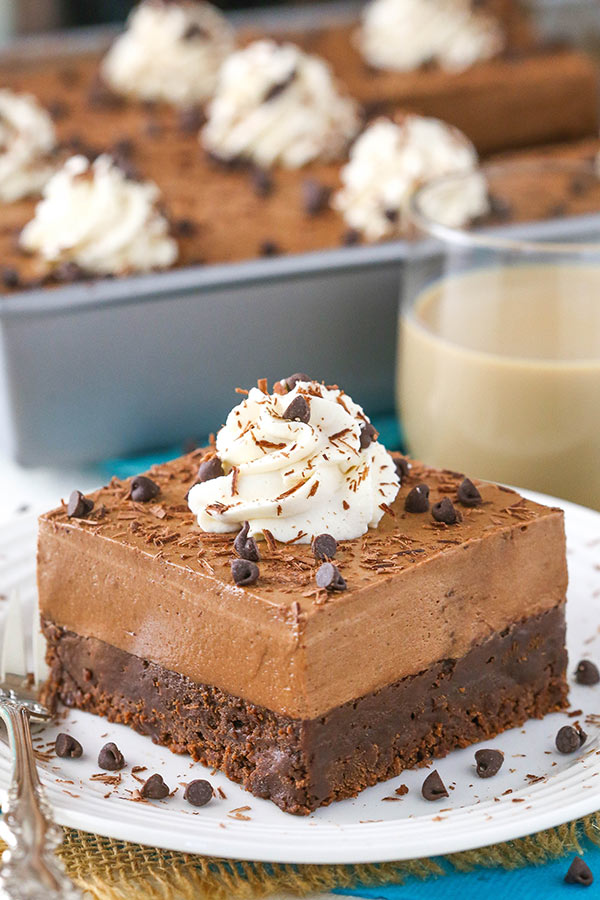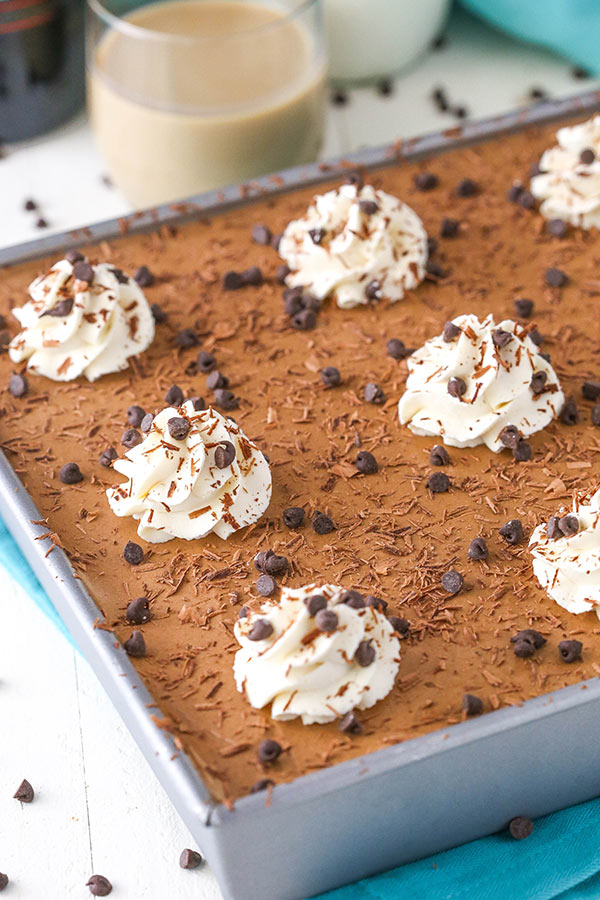 So I'm totally loving the new series at our church. This week was the second message of the series (called What Happy Couples Know) and it was perfectly on target in so many ways. We all bring certain hopes and dreams into marriage – how could we not? – that turn into expectations. Those expectations change the nature of the relationship and not necessarily for the better. How to overcome that is the trick. He talks about how happy couples do that and WHY they do what they do.
A lot of what he's talking about is stuff that the hubs and I experienced and worked through at one point years ago. It was a challenge to let go of certain expectations and put the other person before yourself. And as he mentions, it's scary! But my gosh it was one of the most rewarding things I've ever done. Change doesn't happen overnight, but the change I look back on now was massive – both for me in my faith and for my relationship with my husband. If you ever want to get married or are already married, it is SUCH a great message! I can't wait to see where he takes the rest of it.
And of course since you can watch it online, you could even enjoy a slice of this cake while watching. 😉 Score!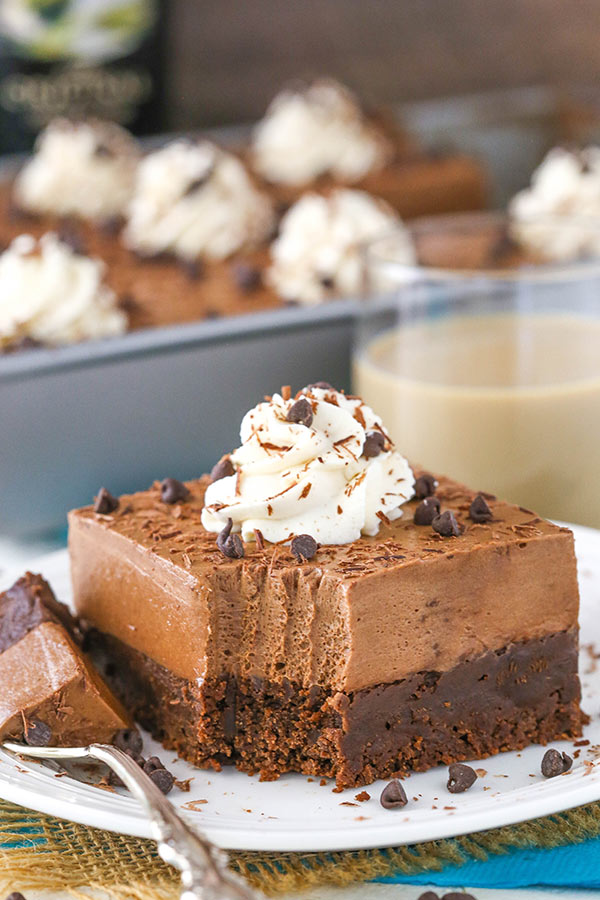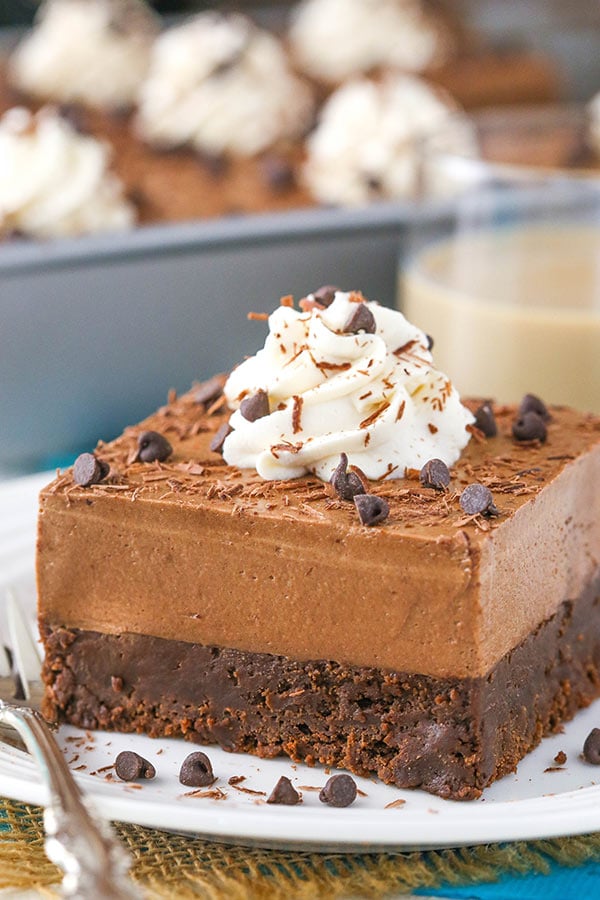 Speaking of this cake – oh my gosh! It's no secret that I'm a fan of the combo of chocolate and Baileys. Between this layer cake, these mini cheesecakes, these trifles, brownies and more, it's hard to decide a favorite. But there's no doubt that this combination of brownie and mousse in a cake is pure Baileys and chocolate heaven!
The brownie bottom is one of my favorite brownies. SUPER easy to put together – just mixing of the ingredients! I don't even bother with a mixer. Pour it right into a 9×13 inch pan, bake and let it cool.
The mousse isn't quite as simple, but it really isn't hard. It's a more traditional cooked mousse, rather than an easy no-cook one. The smooth and silky texture of a cooked mousse is the best!
To start, you'll combine the egg yolks, sugar and Baileys in the top of a double boiler (or in a metal bowl over a pot of boil water, which is what I do). The main goal here is to slowly and gently cook the eggs without scrambling them. You want them to reach 160°F so they are safe to eat. I like to use an instant read thermometer to test the temperature of the mixture, but you could also try eyeballing it and looking for things to thicken and grow in volume.
Once the egg mixture is ready, it's combined with the melted chocolate chips, cooled to room temperature, then gently combined with whipped cream. Once made, spread it evenly over the cooled brownie and refrigerate until firm. The waiting is the worst!
Fortunately, after the worst part of waiting comes the best part – eating!! So, so good! The smooth, silky mousse with the dense, chewy brownie is to die for. When you consider that it's also Baileys and chocolate, it's maybe my new favorite dessert ever!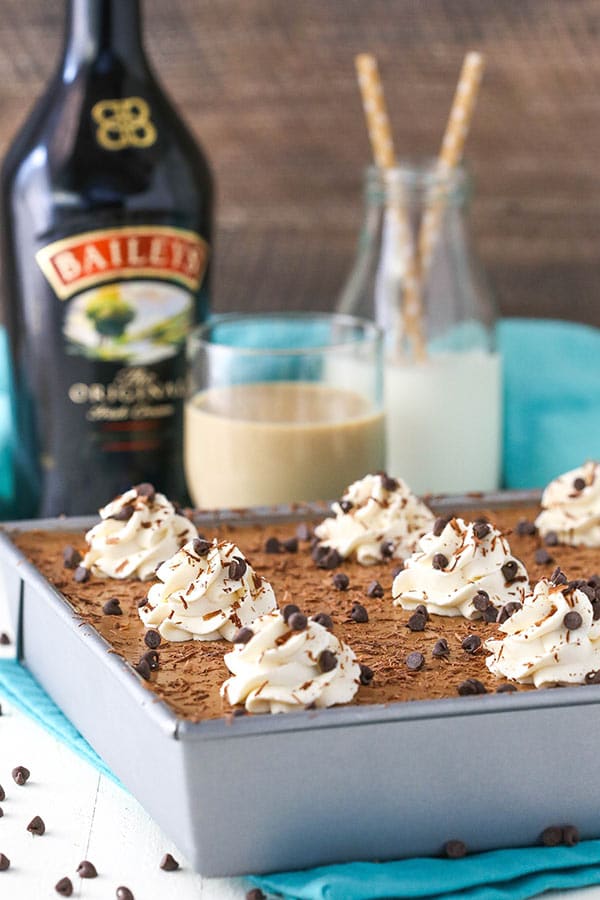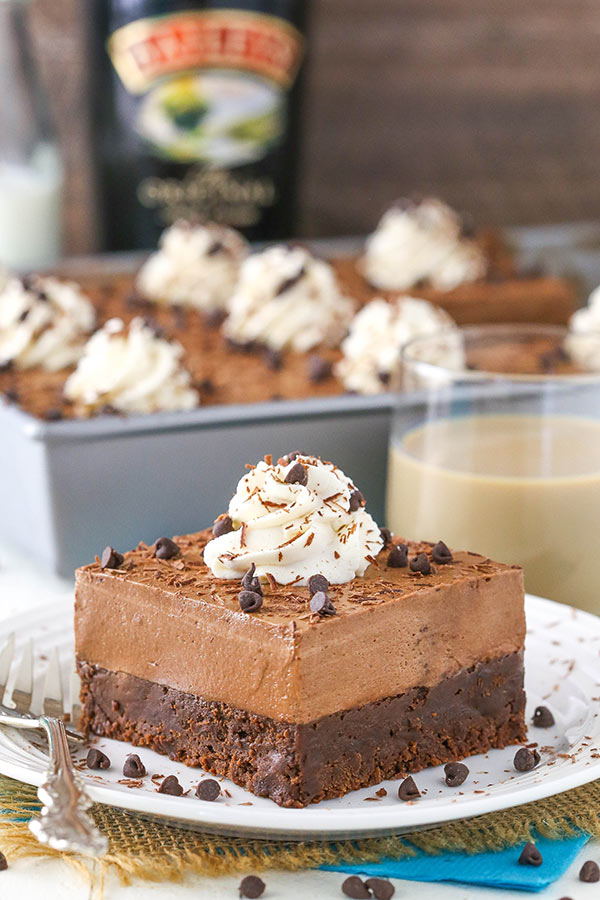 Baileys Chocolate Mousse Brownie Cake
Yield:

12

-

15

Slices

1

x
Category:

Dessert

Method:

Oven

Cuisine:

American
Ingredients
BROWNIE LAYER
1 1/2 cup

s (336g) unsalted butter, melted

2 cup

s (414g) sugar

2 tsp

vanilla extract

6 tbsp

Baileys Irish Cream

4

eggs

1 1/2 cup

(195g) all purpose flour

3/4 cup

(85g) natural unsweetened cocoa

1/2 tsp

baking powder

1/2 tsp

salt
BAILEYS CHOCOLATE MOUSSE
6

large egg yolks

6 tbsp

(78g) sugar

3/4 cup

Baileys Irish Cream

1 3/4 cup

s (296g) semi sweet chocolate chips

1 3/4 cup

s heavy whipping cream, cold

1 cup

(115g) powdered sugar
BAILEYS WHIPPED CREAM
1/2 cup

heavy whipping cream, cold

1/4 cup

(29g) powdered sugar

1 tbsp

Baileys Irish Cream
Chocolate bar, for shavings
Mini chocolate chips, optional
Instructions
1. To make the brownie, preheat oven to 350°F (176°C). Grease a 9×13 inch baking pan.
2. Combine the butter, sugar, vanilla extract and Baileys in a medium sized bowl. Add eggs and mix until well combined.
3. Combine flour, cocoa, baking powder and salt in another medium sized bowl, then slowly add dry ingredients to the egg mixture until well combined.
4. Pour the batter into the pan and spread evenly. Bake for 22-26 minutes, or until a toothpick comes out with a few moist crumbs.
5. While the brownie cools, make the chocolate mousse. Combine the egg yolks, sugar and Baileys in the top of a double boiler until combined. If you don't have a double boiler, you can use a bowl over a pot of simmering water. Cook the mixture, whisking constantly and occasionally lifting the bowl to release the steam so it doesn't get too hot. The mixture will thin out at first, then begin to thicken. The mixture will be ready when is has thickened and has more volume. It should take about 7-10 minutes and reach 160 degrees. Do not boil. When done, remove egg mixture from heat and set aside.
6. Place chocolate chips for mousse in a medium sized bowl and melt in the microwave in intervals of about 15-20 seconds, stirring between each interval, until smooth. You could also melt them in a double boiler, if you prefer.
7. Add the chocolate to the egg mixture and whisk until smooth. Set aside to cool to about room temperature.
8. In another bowl, make the whipped cream. Add the heavy whipping cream and powdered sugar to a large mixer bowl and whip until it reaches stiff peaks.
9. Fold about a ¼ cup of whipped cream into the chocolate mixture until combined. Then fold about a 1/4 of the chocolate mixture into the whipped cream. Slowly fold in the remaining chocolate mixture into the whipped cream.
10. Spread the chocolate mousse into an even layer on top of the brownie, then refrigerate until firm, 4-5 hours.
11. To finish off the cake, make the Baileys whipped cream. Add all ingredients to a large mixer bowl and whip on high speed until stiff peaks form.
12. Pipe swirls of whipped cream onto each slice, then finish with chocolate shavings and mini chocolate chips, if desired. Refrigerate until ready to serve.
Enjoy!


This post contains affiliate links.