This homemade Tomato Basil Baked Macaroni and Cheese has the most wonderful combination of white cheddar and fontina cheese! It's a healthier spin on macaroni and cheese that packs LOADS of flavor!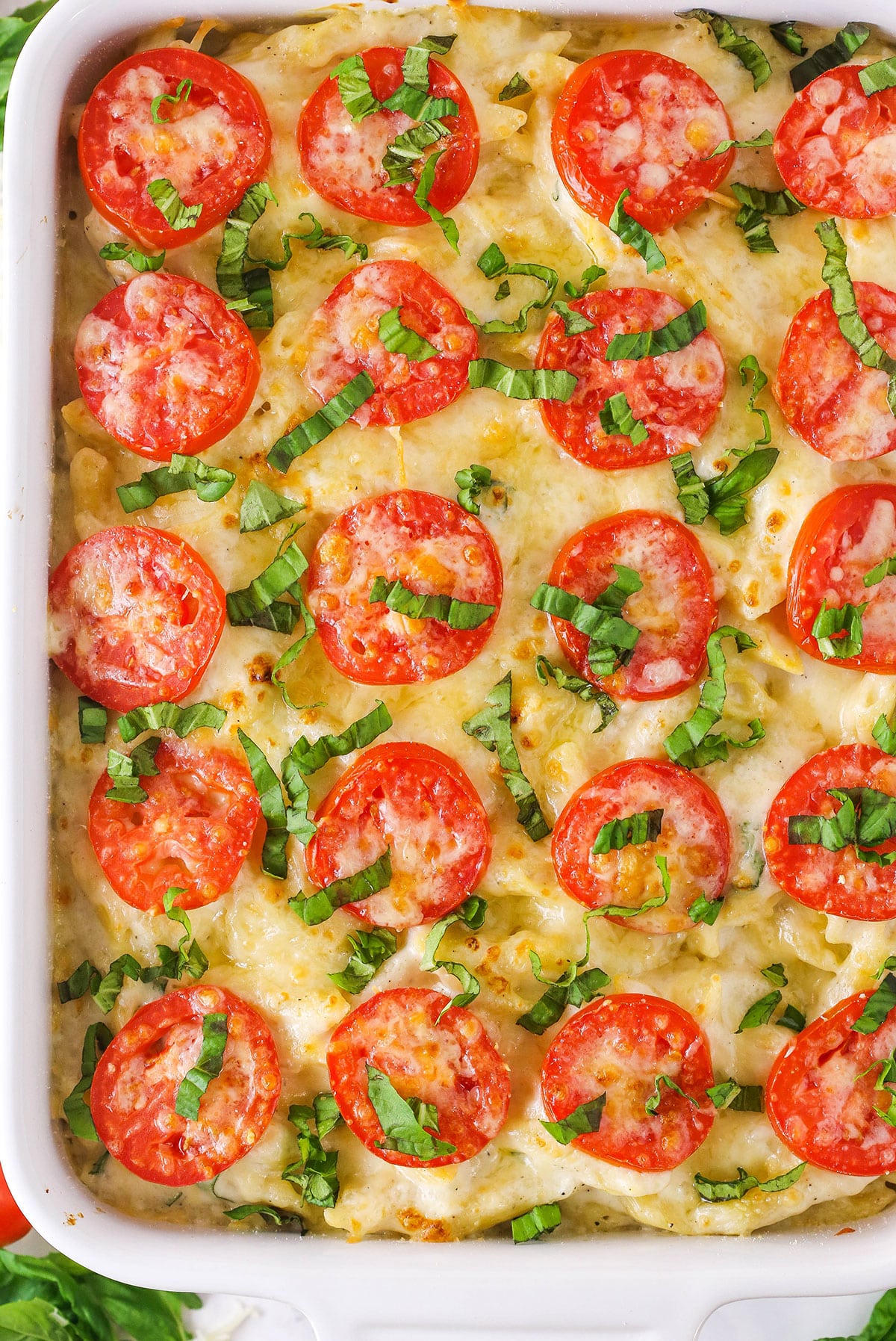 Easy Oven Baked Macaroni and Cheese
If you're a fan of tomato and basil, you are going to LOVE this macaroni and cheese! As far as macaroni and cheese goes it's on the lighter side, but it's also easy to "fatten up", if you prefer to just go for it.
Plus, it's from my friend's new cookbook, Well Plated, that I'm excited to share with you today. If you've never landed at the blog Well Plated, by Erin, you are definitely missing out. She makes healthier spins on recipes that always look amazing and taste great.
She released her first cookbook last month and I'm totally in love with it. Not only does all the food look amazing, but based on this macaroni and cheese I've got to believe that they all taste amazing too. I also tried the Sunshine Bread and I seriously love all the flavor in it. Plus you don't feel so guilty because of it's full of things like carrots, raisins and orange juice.
There's so much to love about this cookbook. The photos are seriously amazing and make you want to eat everything. Plus, some of the photos include Erin and her husband and they add such a great personal touch. There's more than 130 recipes – from breakfast food, party food and main dishes to soups and desserts – and they include normal ingredients you'd find in stores, not unique things that are hard to find and will only be used once. You really have to check it out. Not only will you love it, but it would make a great gift for the holidays.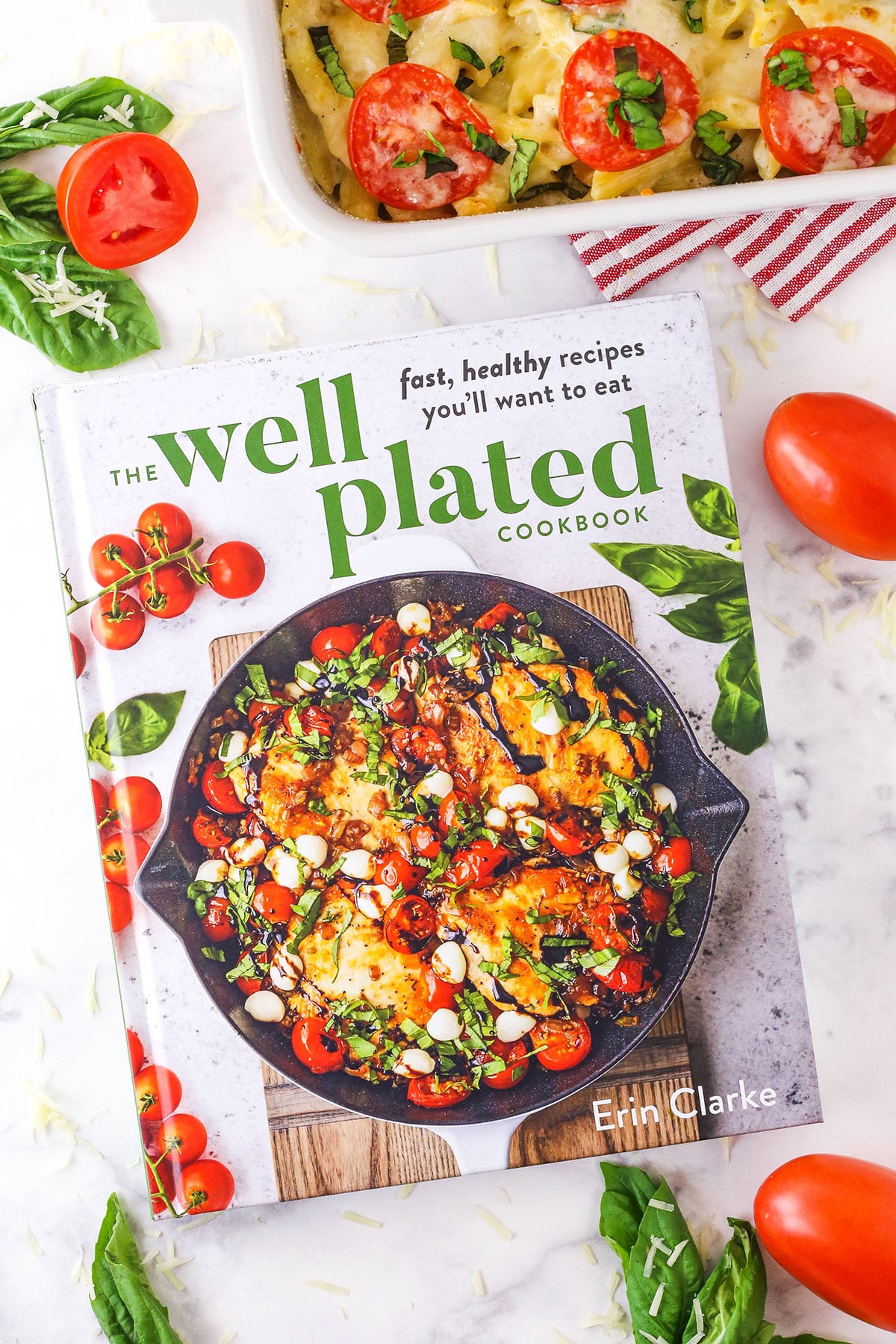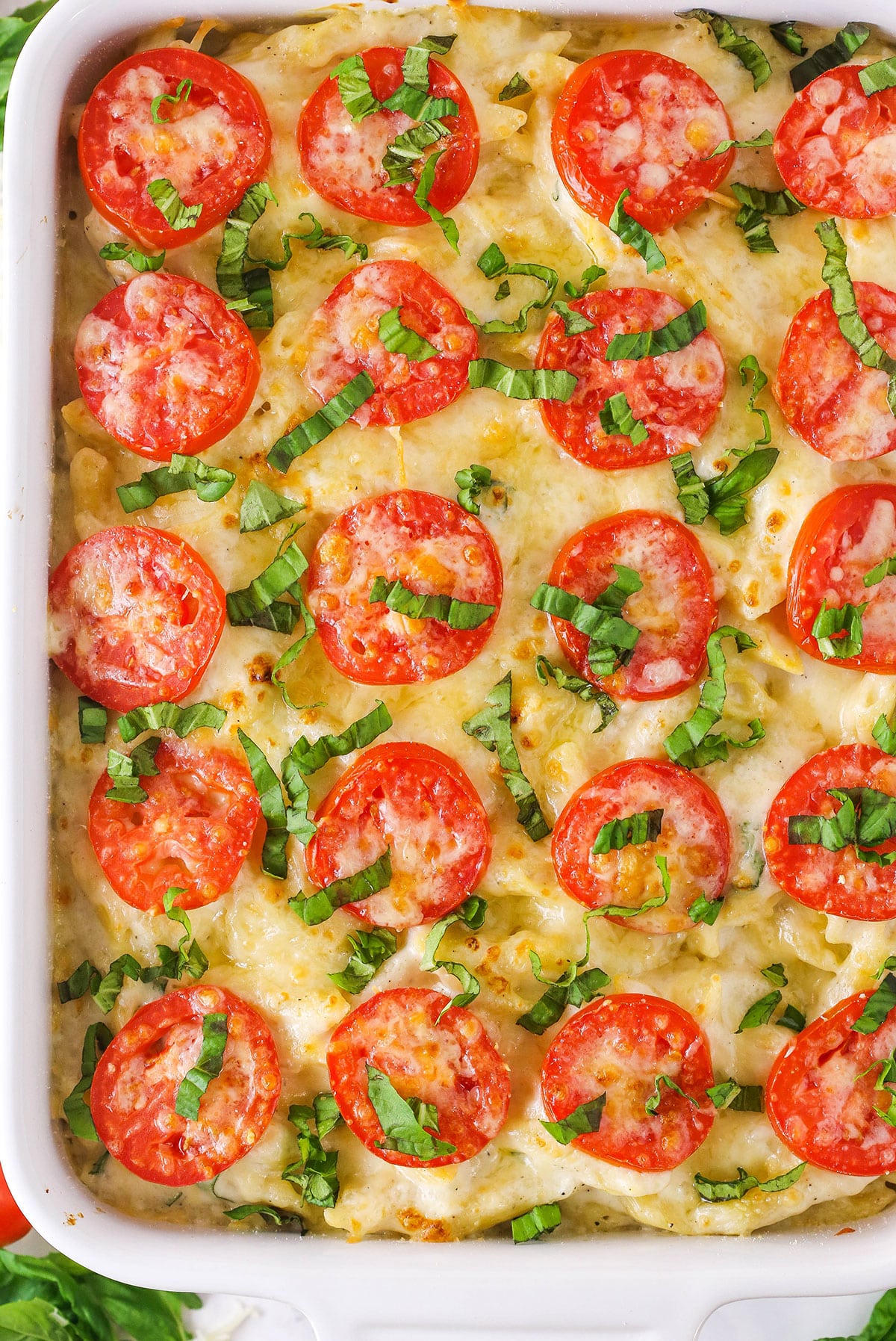 Recipe Ingredients
So now let's talk more about this macaroni and cheese. It sounds fancy, but it really quite easy to make and uses straight forward ingredients:
Whole Wheat Pasta – The whole wheat is obviously going to be healthier, but could be replaced with regular pasta if it's what you have on hand.
Butter
Onion – Always adds so much flavor
Garlic
White Whole Wheat Flour – Again, replaceable. But if you're going to check out Erin's book, you could totally invest in a bag since you'll use it again in other recipes.
Nonfat Milk
Salt, Pepper, Cayenne Pepper
Plain Greek Yogurt
CHEESE! – Her recipe actually gives you FOUR different ways to make this macaroni and cheese – Classic, Tomato Basil, Spicy Cajun and Broccoli Cheddar. I personally love tomato and basil, so I went with that. But the book does a great job of recommending different cheeses for the different versions. In this version, there's white cheddar and fontina. Plus, some parmesan for topping.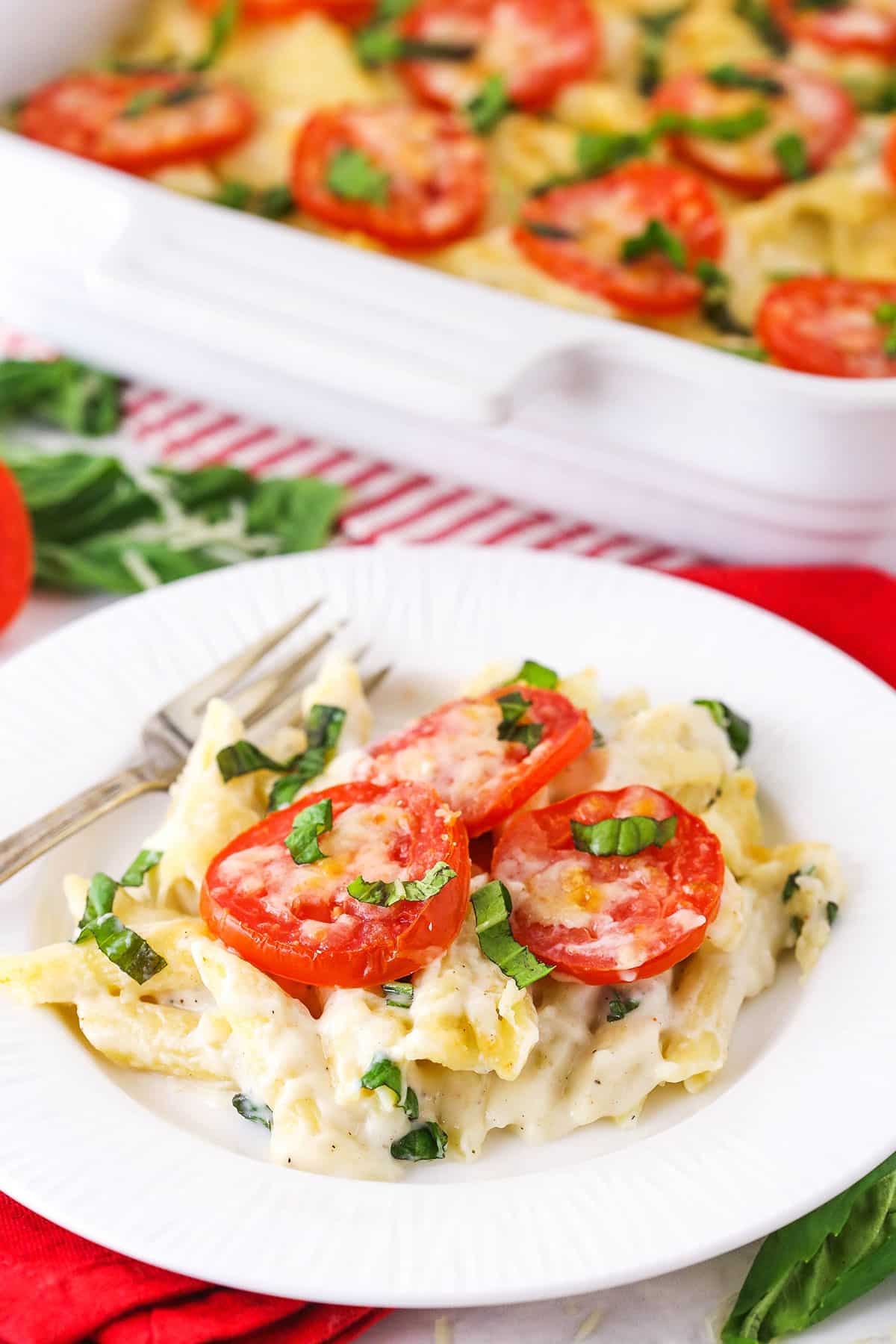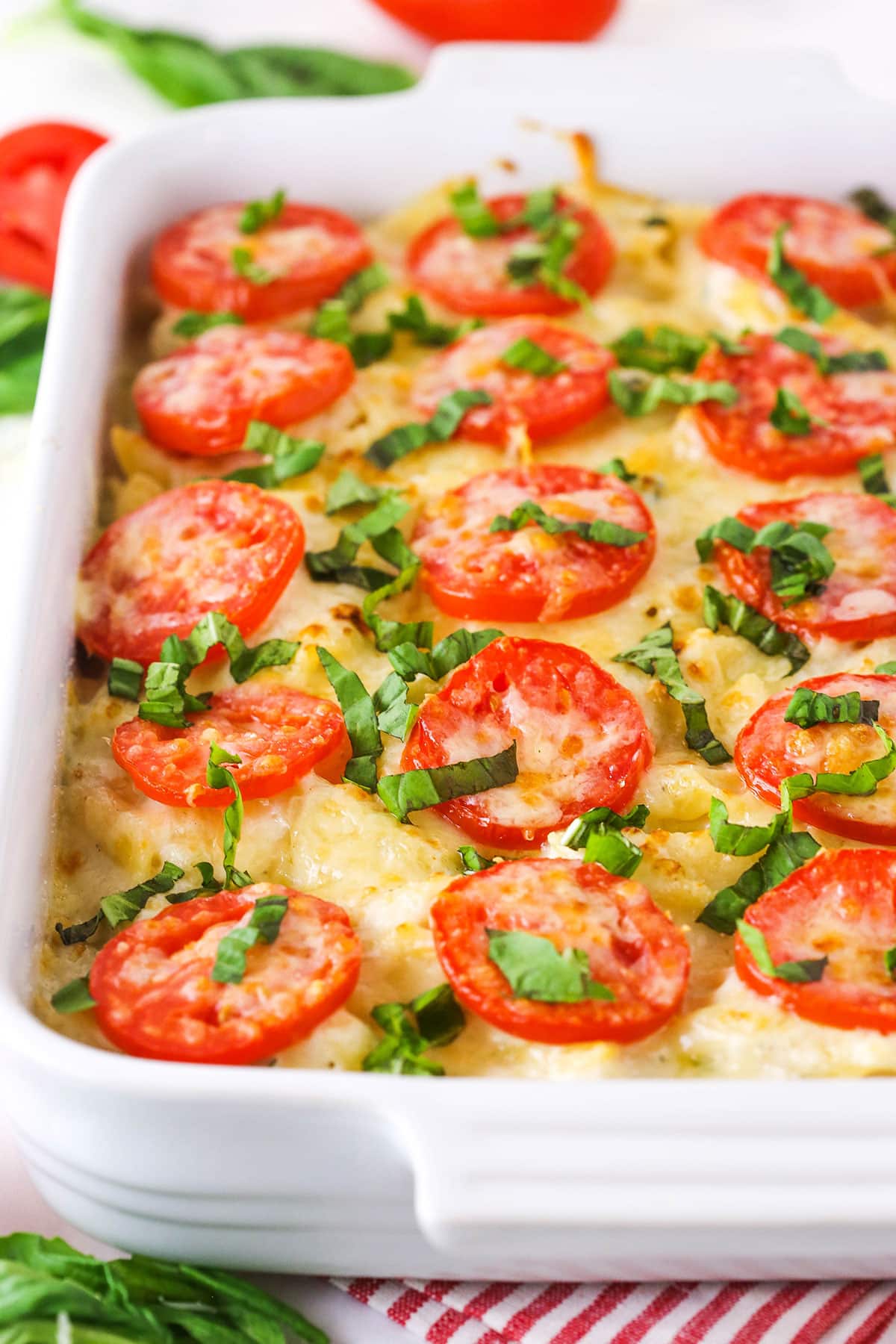 How to Make Baked Macaroni and Cheese
One of the best things about this mac and cheese recipe is how easy it is to make! Here's how to do it:
Cook the pasta: To start, you'll boil your pasta and set that aside.
Make the roux: Meanwhile, you'll melt the butter, then add the onion and let it soften. Add the garlic and flour and whisk until it turns golden. It'll be a little lumpy, but smooth out as you continue on.
Add milk: Pour in the milk a few splashes at a time. This helps to break up those lumps. You can gradually whisk them out as you slowly add them milk. Simmer and cook, stirring often, until the sauce thickens.
Add yogurt and cheeses: Remove the mixture from heat and add the salt, pepper and cayenne pepper. After it cools for a minute, stir in the yogurt and cheeses and let it all melt together.
Mix in pasta and basil: Add the pasta and half of the basil. Stir to combine the ingredients. Taste and add additional salt if needed.
Add parmesan and tomato: Transfer the pasta to a 9×13 baking dish, top with parmesan cheese and arrange the tomato slices on top.
Bake: Place your baking dish in the oven and bake for 15-20 minutes, until hot and bubbly.
Broil: If you want the top of your mac and cheese to be golden and crispy you can turn the broiler on for the last 2-3 minutes. Keep a close eye on it!
The final result is a delicious and comforting pan of baked macaroni and cheese! It's full of flavor, but not over powering. Such a hit with our family and I hope you love it. And be sure to check out Erin's new cookbook. It's beautiful and great addition to a cookbook collection!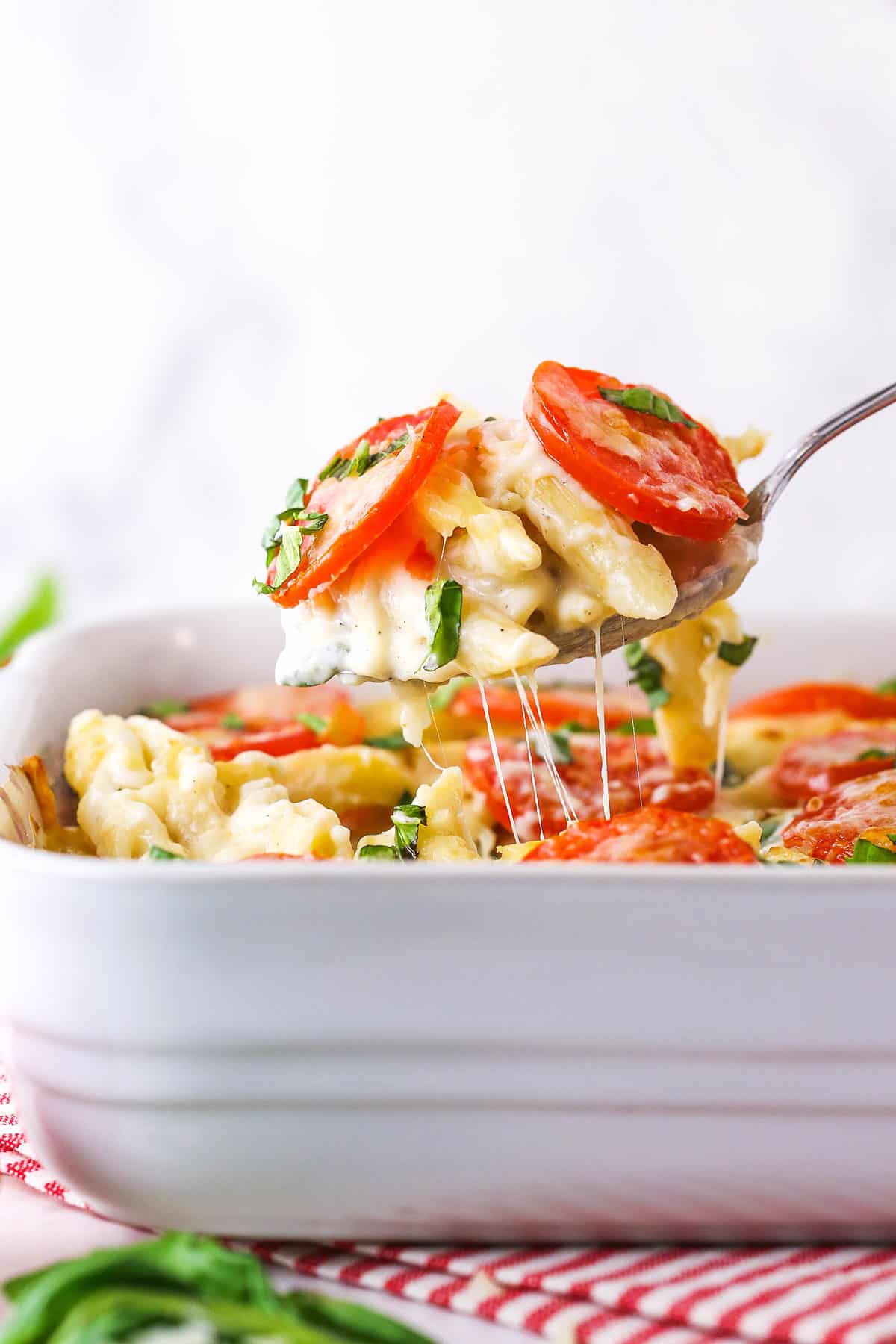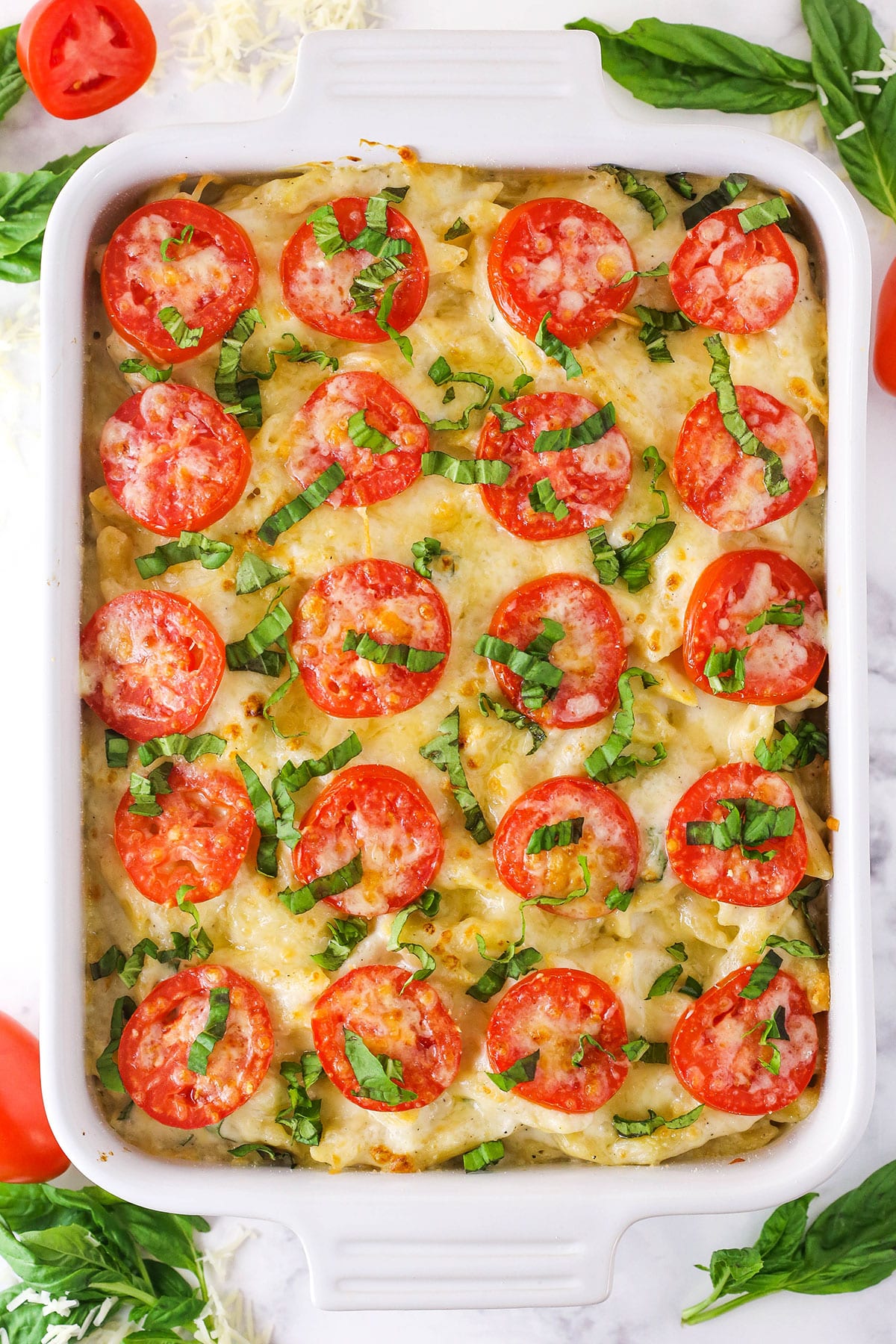 Print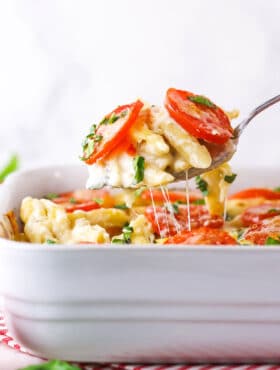 Recipe
Tomato Basil Macaroni and Cheese
Author:

Prep Time:

35 minutes

Cook Time:

25 minutes

Total Time:

1 hour

Yield:

10-12 servings

Category:

Side dish

Method:

Oven

Cuisine:

American
---
Description
This homemade Tomato Basil Macaroni and Cheese is made with a wonderful combination of white cheddar and fontina cheese! It's a healthier spin on macaroni and cheese that packs LOADS of flavor!
---
Ingredients
1

pound dry short whole wheat pasta, such as shells, penne, rigatoni or elbows

3 tbsp

unsalted butter

1/2

small yellow onion (about

1/2 cup

)

4

cloves garlic, minced (about

4 tsp

)

1/2 cup

white whole wheat flour

4 cups

nonfat milk

1 1/2 tsp

salt

1/2 tsp

ground black pepper

1/4 tsp

cayenne pepper, plus additional to taste

3/4 cup

nonfat plain Greek yogurt

1 1/2 cups

shredded melty cheese (about

6 oz

), such as white sharp cheddar, fontina or mozzarella*

1/2 cup

shredded parmesan cheese (about

2 oz

)

1/2 cup

thinly sliced fresh basil, divided

4

small plum tomatoes, cut into thin, round slices
---
Instructions
Bring a large pot of salted water to a boil. Add the pasta and cook according to the package directions until barely al dente. Drain and set aside.
Place racks in the center and upper third of your oven and preheat to 350 degrees F. Coat a 9×13 inch casserole dish or similar 3 to 3 1/2 quart dish with nonstick spray.
While the pasta cooks: In a Dutch oven or similar large, heavy-bottomed pot, heat the butter over medium heat. Once melted, add the onion and cook until the onion is fragrant and beginning to soften but is not yet brown, about 2 minutes. Add the garlic, the sprinkle the flour over the top. With a whisk, stir continually until the flour turns golden brown and the white bits disappear, about 1 minute. The flour will be lumpy at first, but will smooth out as you continue with the recipe.
Pour in the milk a few splashes at a time, whisking constantly to break up any lumps. Bring to a simmer and cook, stirring often, until the sauce thickens, 5 to 7 minutes.
Remove the pot from the heat and stir the salt, pepper and cayenne pepper. Let the mixture cool for 1 minute, then stir in the Greek yogurt and melty cheese. Add the drained pasta and half of the sliced basil. With a large spoon or spatula, stir and fold gently to combine the ingredients and coat each piece of the pasta with the sauce. Taste and add additional salt, pepper or cayenne pepper to taste.
Transfer the mixture to the prepared dish. Sprinkle the parmesan over the top. Arrange the sliced tomato on top, overlapping slightly if needed. Bake on the center rack until hot and bubbly, 15-20 minutes. If you'd like a crispy top, turn the oven to broil and transfer the dish to the upper rack. Broil for 2-3 minutes, until the top if as dark golden and crispy as you like, watching it carefully so that it doesn't burn. Let rest for 5 minutes, the sprinkle on remaining basil and serve hot.
 Refrigerate leftovers in an airtight container for up to 4 days. Reheat individual servings gently in the microwave with a splash of milk to keep them from drying out, stirring periodically.
---
Notes
If using mozzarella cheese, incorporating some cheddar is recommended since mozzarella is quite mild.
To freeze: Use a freezer-safe casserole dish. Instead of baking in step 6, let the mixture cool in the dish completely, the cover tightly and freeze for up to 3 months. Let thaw overnight in the refrigerator. Unwrap, loosely cover with foil, then reheat in a 350 degree oven until heated through, 30-45 minutes.
Nutrition
Serving Size:

1 serving

Calories:

265

Sugar:

5.1 g

Sodium:

556.8 mg

Fat:

7.7 g

Carbohydrates:

36.6 g

Protein:

14.8 g

Cholesterol:

19.4 mg
Keywords: tomato basil macaroni and cheese, oven baked mac and cheese, easy mac and cheese, homemade mac and cheese
This post may contain affiliate sales links. Please read my disclosure policy.