This post may contain affiliate sales links. Please read my disclosure policy.
Last week I promised that I'd have a video, tutorial and all the info you need to learn How to Decorate Cookies with Royal Icing and today is the day! If you've ever wanted to make beautifully decorated cookies, follow this simple guide!
To start, if you haven't already be sure to checkout my cutout sugar cookie recipe. You'll obviously want to start with making those cookies. 🙂
Once your cookies are baked and cooled, it's time for the fun part – the decorating. The first thing to talk about is the royal icing. Don't be afraid just get in there! They may not be perfect the first time, but you'll get the hang of it.
This royal icing dries nice and firm, so you can easily stock the cookies, wrap them, whatever your preference and transport them.
To make the royal icing, you'll combine meringue powder and powdered sugar, then add water and mix together for 7-10 minutes on low to medium speed. I use my whisk attachment on my mixer. Keep mixing until the icing looses it's sheen. You'll notice in the video below that my icing is fairly thick to begin with. You could have it a little thinner to start since you'll end up with a thinner icing in the end, but I do like to have more control over that so I usually start on the thick end.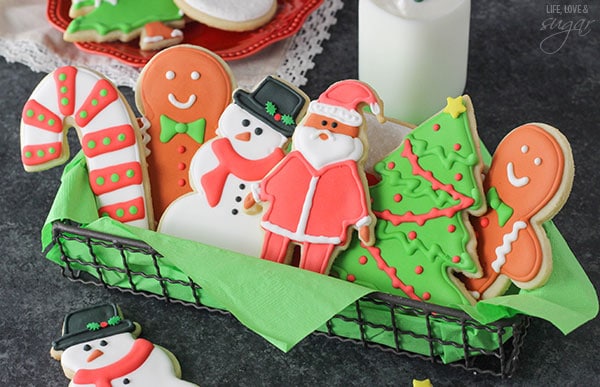 Once the icing is made, be sure to keep a damp cloth over the bowl when you aren't using it or it will dry quickly. I typically cover the bowl with a paper towel and sprinkle water over it. Just be sure to sprinkle more water on as it dries.
The recipe below should be enough to cover the cookies made with my cutout sugar cookie recipe. Depending on what cookie cutters you're using and what you're decorating, you'll want to think about how much icing you'll need for each color. I needed a fair amount of white, red, green and brown for my cookies, with just a little bit of black. So divide your icing into separate bowls based on the number of colors and amounts you think you'll need. The icing goes pretty far.
If you're using colors similar to mine, I used Wilton icing color, which can be found at most local craft stores like Michaels, Hobby Lobby, Walmart, or online. I used pretty basic colors including Leaf Green, Red, Black and Copper with a little bit of black for the gingerbread men and other areas where there was something brown or skin toned.
If you haven't used icing color before, it's pretty straight forward. It's thick and almost gel-like so that you don't thin out your icing too much. I use toothpicks to slowly add the amount of color I need, adding small amount at a time. There's nothing worse than adding too much of a color and ruining your icing. Start with small amounts – it's much easier to add more color than to remove it. One other note about the icing and coloring it – the color actually darkens as the icing sits. So black for example might look like a really dark grey at first, but as it dries on your cookie it'll darken.
As you add the color to your icing you can also be slowly adding more water, if needed, to get the right icing consistency. You'll see that I included video of my icing and how I test the consistency to help it be a little more clear.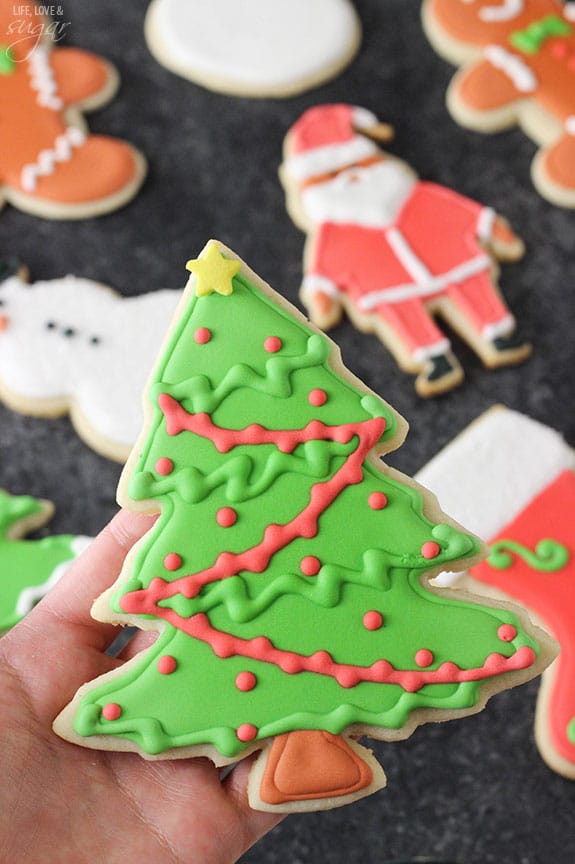 There are many ways to test icing consistency and I've used methods where there's a thicker icing for the lines and thinner "flood" icing to fill in the lines. I find that it is a huge pain to have to make two consistencies of every icing color so in this method, there's one consistency that's used for everything.
How to Tell When Your Icing is Ready to Use
To test it, I run a toothpick through the center of the icing. You want to icing to naturally fill that line back in – but not too quickly. It should actually need some encouragement in the form of shaking from you to come completely back together. You'll notice in the video that I let the icing sit for couple seconds, then shake it to come together completely. I do the same thing when icing the actually cookies. When I fill in the icing, it'll mostly come together on it's own but I shake it a little bit to help it come together completely.
You could also use a toothpick to move the icing around and help it come together, but I find that I get more air bubbles in my icing when I do that. No good.
To pipe the icing onto the cookies, you'll need icing bags, couplers, icing tips (I used tip 3 for everything, but you could go smaller for smaller details), icing bag ties and icing tip covers. I suggest having enough icing tips for each color so you aren't needing to switch out the tip constantly. The ties and covers are important for keeping your icing from drying out while in the bags during your decorating session. The icing can quickly dry out and leave your tip clogged and hard to work with, so the cover is important. If that does happen, a toothpick can help remove the blockage, but something it still can cause an issue once it's started drying out.
Once you have your icing ready and into your bags, it's time to get to piping! 🙂
You'll want to keep even pressure on the bag as you squeeze out the icing. In the video, notice that for the most part I don't keep my icing tip super close to the cookie. I actually lift up a bit so that icing falls in a more natural, soft line around the cookie.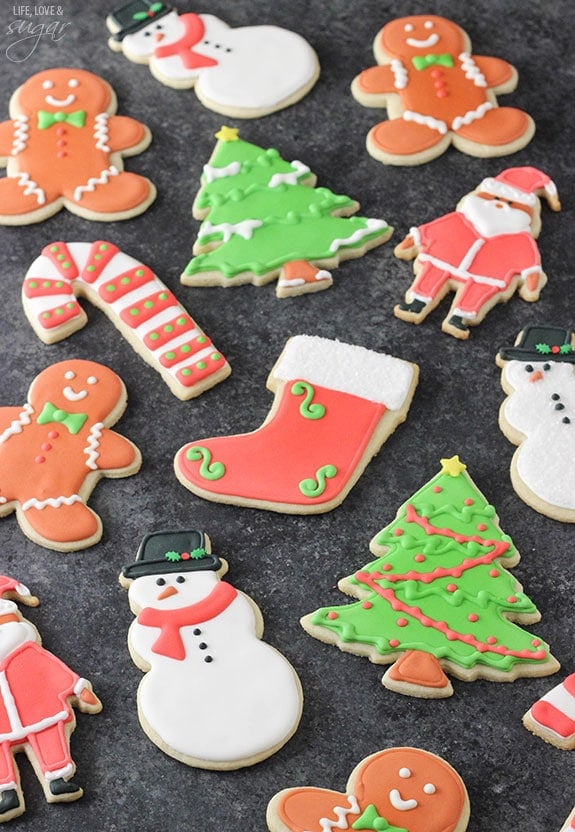 You'll want to think through the decorating before you start so you know what details you want to include and if the icing should dry or not before adding details. Notice in the video below that I add the hat and main who body of the snowman and then let it dry before adding the rest. If you add the details before it dries, they won't sit on top of the icing but will settle into it. If you prefer that look, you can do that too. But you'll want to think it through before you begin. Use the video below to help give you guidance in thinking through the best way to ice your specific cookie.
And above all else, have fun! Decorating cutout sugar cookies with royal icing has become super fun for me. The first couple of times it drove me crazy, but now I love it. If you aren't in love with your cookies the first time, don't give up. After a few tries, you'll develop "your touch" and everyone will be begging you to make their cookies. 🙂
Enjoy the video! I'd love your feedback. 🙂
[adthrive-in-post-video-player video-id="l0e8Q5BU" upload-date="Fri Aug 05 2016 00:55:31 GMT+0000 (UTC)" name="How to decorate sugar cookies with royal icing" description="How to decorate sugar cookies with royal icing"]
Read transcript
Print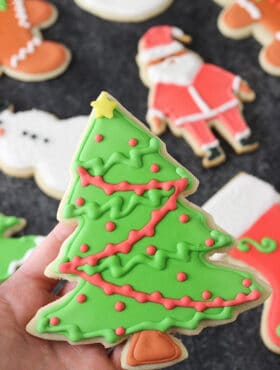 Recipe
Author:

Category:

Dessert

Method:

Bowl

Cuisine:

American
---
Description
Last week I promised that I'd have a video, tutorial and all the info you need to learn How to Decorate Cookies with Royal Icing and today is the day! If you've ever wanted to make beautifully decorated cookies, follow this simple guide!
---
Ingredients
3 tbsp

meringue powder

4 cups

(

460g

) powdered sugar

6

–

8

tbsp (90-120ml) water

1 tsp

vanilla extract
---
Instructions
1. Combine meringue powder and powdered sugar in the bowl of a mixer.
2. Add 6-7 tablespoons of water and mix with whisk attachment at medium speed for about 7-10 minutes, or until icing looses it's sheen. Begin with 6 tablespoons and add up to an addition tablespoon if needed to get the icing smooth for mixing.
3. Once icing is ready, add additional water to get the right consistency for piping and the vanilla extract. See notes and video above for guidance on consistency, coloring and piping.
Notes
Once icing is ready, cover with a damp cloth to keep it from drying out. Icing can be stored in an airtight container for 1-2 weeks. Stir again before using.
Keywords: homemade icing, homemade icing recipe, sugar cookie icing recipe, sugar cookie royal icing, sugar cookie icing that hardens, easy sugar cookie icing, sugar cookie frosting recipe, icing for sugar cookies, how to make icing for sugar cookies
Filed Under:
Enjoy!
This post contains affiliate links.