This post may contain affiliate sales links. Please read my disclosure policy.
These Gingerbread Cookies with Eggnong Icing are soft, moist, chewy and delicious! With the tasty combination of eggnog and gingerbread, these are the ultimate Christmas cookies!
Want more gingerbread deliciousness? You have to try my Gingerbread Cheesecake Trifle!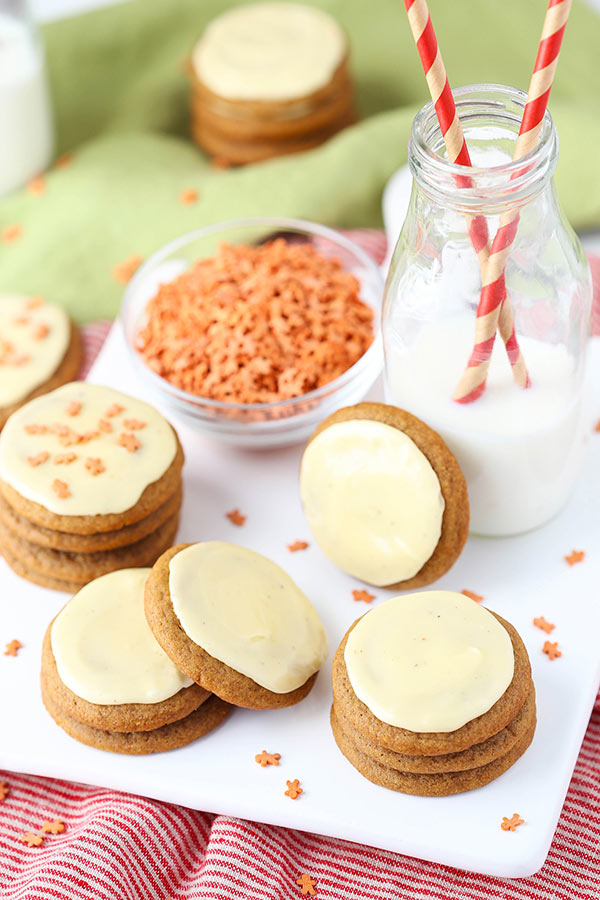 One of my favorite kinds of messages that we've heard at our church recently are ones where Andy Stanley takes a topic and turns it on it's head a bit. He'll take a topic in kind of an unexpected direction and end up giving a bit of a history lesson. I love it because there's plenty of history that I don't know. I also love it because it gives me a different way to think about something I've already thought and heard about plenty. Here's one of my recent favorites on the Bible – Who Needs God. Like I said, it's not what you'd expect. 🙂
And now he just started a new series on Christmas. That's no surprise since it's just a couple weeks away. I fully expected the first message to focus on the birth of Jesus, but he surprised me again and I love it! Instead, he focused the first message in the series around events in the Old Testament and what led to the birth of Jesus. He also illustrated how the birth of Jesus is evidence that God fulfills his promises even when it seems like it isn't possible. How powerful is that? I can say there have definitely been times I felt like there was no way I could get through something and God not only pulled me through it, but I ended up in an even better place than I could've predicted. What an amazing gift God gave us when he sent his Son all those years ago. This is one of my favorite times of year because we get to celebrate it.
I really do find history so interesting and if you do too, you should check out the message. It's great. It's awesome too because often the stories in the Bible are read and thought of as simply stories, not history. But it is history – and Andy has such a neat way of explaining it. I'm looking forward to where he takes the rest of the series.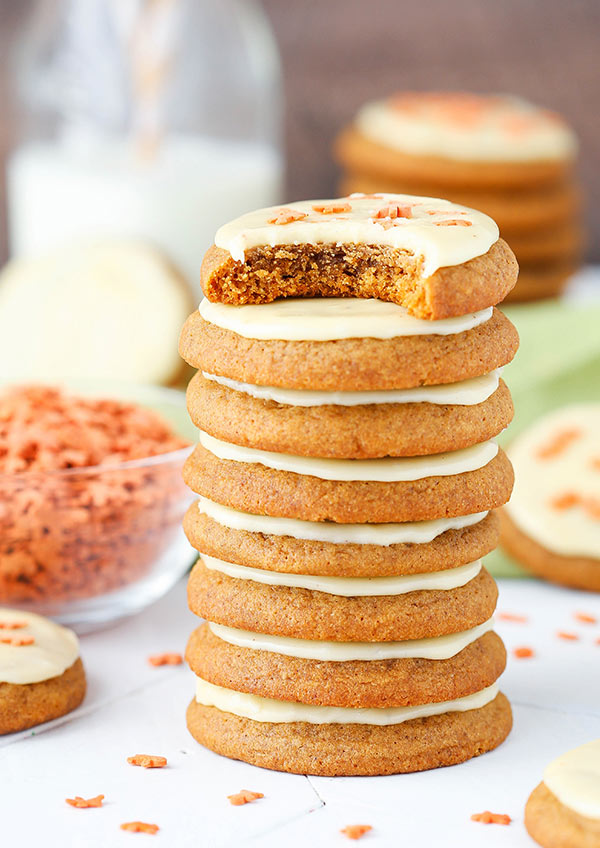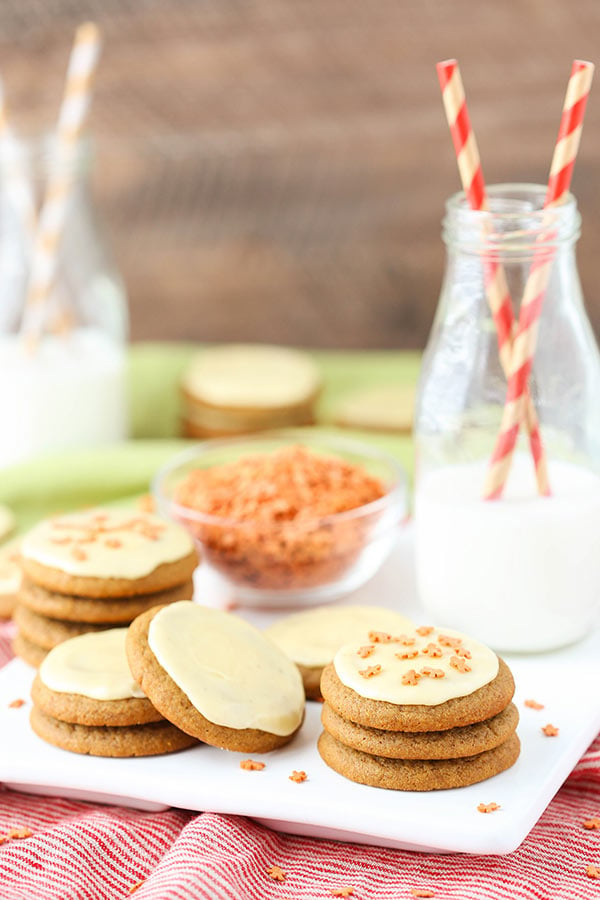 Now let's chat about these cookies! They are certainly a tasty treat to enjoy this Christmas and I'm a big fan. 🙂
The cookies are moist and chewy and they are topped with a delicious eggnog icing. The cookies start off with some butter and brown sugar. Brown sugar is a terrific way to go with these, since brown sugar actually has molasses in it. Makes perfect sense with gingerbread. It's creamed with the butter until light and fluffy. Always be sure to fully cream them!
Next you've got the egg for lift, binding things together and chewiness, and the molasses because it's absolutely necessary in gingerbread. 🙂
I used a mix of spices in these little bites of heaven. Of course there's plenty of ginger. Then we've got some cinnamon, nutmeg and cloves. I love the extra punch of flavor from the cloves. A little baking soda for leavening and salt for taste and you're ready to bake!
I made them into balls of about 1 1/2 tablespoons of dough and baked them for about 7-8 minutes. I often like to take cookies out of the oven when the centers are just a touch underdone, but I found I liked these best when they were taken out of the oven just as the center looks cooked. There's a small window of time there, but if you can get it they're perfect! 🙂 It was right at about eight minutes for me.
The eggnog icing is easy to put together right on the stove. I love it because it's nice and smooth but it also firms up a bit after it dries. It adds just the right amount of eggnog flavor – it doesn't overpower the gingerbread.
These cookies are super easy to make and SO delicious! Two of my favorite Christmas flavors in one!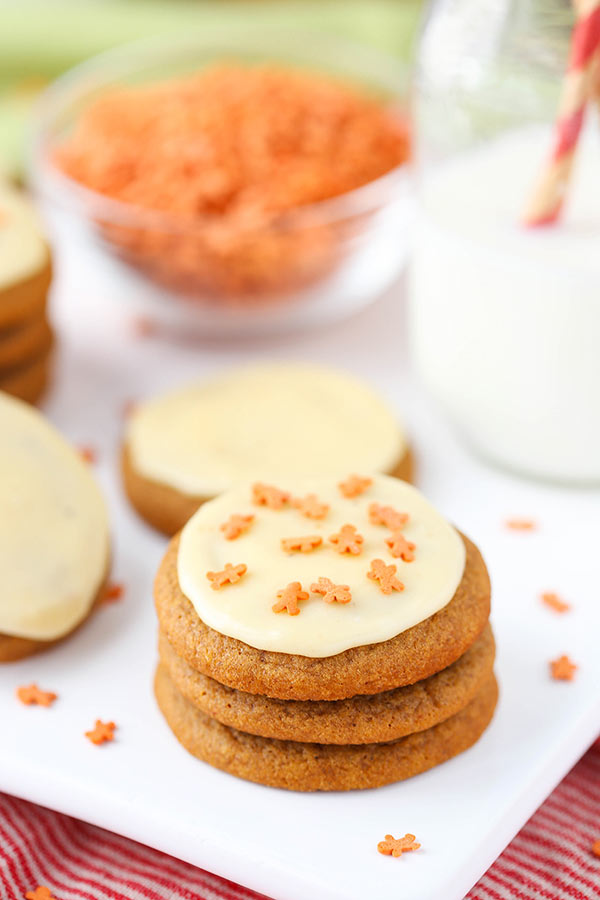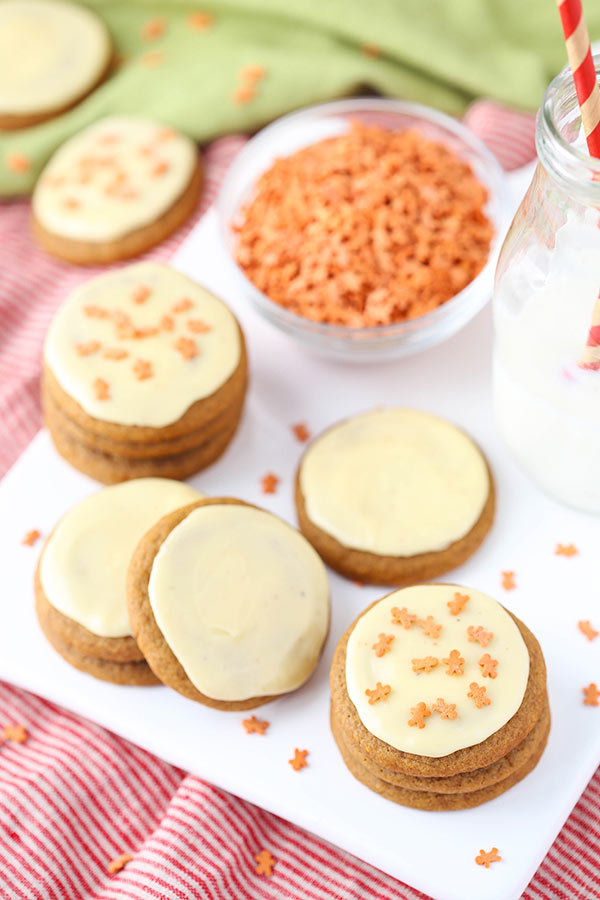 More Gingerbread Treats
Best Gingerbread Cookies (Soft and Chewy Cutouts)
Gingerbread Layer Cake
Gingerbread Cheesecake
Gingerbread Cheesecake Cookie Cups
Gingerbread Cheesecake Trifle
Gingerbread Cupcakes with Caramel Molasses Frosting
Slow Cooker Gingerbread Latte
Print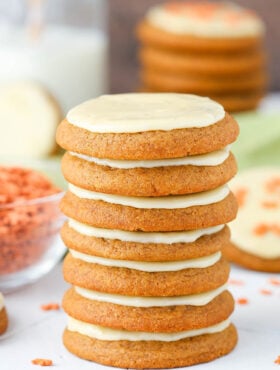 Recipe
Author:

Prep Time:

20 minutes

Cook Time:

10 minutes

Total Time:

30 minutes

Yield:

30-32 cookies

Category:

Dessert

Method:

Oven

Cuisine:

American
---
Description
These Gingerbread Cookies with Eggnong Icing are soft, moist, chewy and delicious! With the tasty combination of eggnog and gingerbread, these are the ultimate Christmas cookies!
---
Ingredients
GINGERBREAD COOKIES
3/4 cup

(

168g

) unsalted butter, room temperature

1 cup

(

144g

) lightly packed brown sugar

1

egg

3 tbsp

(45ml) molasses

2 1/4 cups

(

293g

) all purpose flour

2 1/2 tsp

ground ginger

1 tsp

cinnamon

1/4 tsp

nutmeg
pinch of cloves

1 tsp

baking soda

1/4 tsp

salt
EGGNOG ICING
2 tbsp

(

28g

) salted butter

1/4 cup

(

52g

) sugar

1/2 cup

(120ml) eggnog

1 1/2 cups

(

172g

) powdered sugar

1/8 tsp

nutmeg
---
Instructions
1. Preheat oven to 350°F (176°C) and line a cookie sheet with a silicone baking mat or parchment paper.
2. Cream the butter and brown sugar together for 3-4 minutes, until light and fluffy. Don't skimp on the creaming time.
3. Add the egg and molasses and mix until well combined.
4. Combine the dry ingredients in a separate bowl, then add to the wet ingredients and mix until smooth. Dough will be thick.
5. Make balls of cookie that are 1 1/2 tablespoons in size and place them on the prepared cookie sheet.
6. Bake for 7-8 minutes or until the centers of the cookies are just cooked. Don't over bake.
7. Allow cookies to cool for 3-4 minutes, then remove to a cooling rack to cool completely.
8. To make the eggnog icing, combine all the ingredients except for the powdered sugar in a small sauce pan. Heat on low until the sugar is melted, then turn heat to medium to bring to a boil.
9. Boil for 3 minutes, stirring occasionally, then remove from heat and immediately pour into a heat-proof glass bowl.
10. Whisk in powdered sugar and allow to cool slightly and thicken. If you find your icing to be a little thick, just add a touch of cream or water to thin it back out. If it cools too much and firms before adding to the cookies, just microwave it for about 10 seconds.
11. Frost the cookies with the icing and add sprinkles, if desired.
12. Store in an airtight container until ready to serve.
---
Nutrition
Serving Size:

1 Cookie

Calories:

130

Sugar:

12.3 g

Sodium:

70.5 mg

Fat:

5.5 g

Carbohydrates:

19.3 g

Protein:

1.4 g

Cholesterol:

21.5 mg
Keywords: gingerbread cookies recipe, easy gingerbread cookies recipe, best gingerbread cookies recipe, gingerbread cookies with icing, how to make gingerbread cookies, best christmas cookies recipe
Enjoy!