This Bananas Foster Layer Cake is a delicious combination of the wonderful flavors of bananas foster. The soft cinnamon cake, the rum fosters icing and the bananas come together in one amazing cake!
If you love this cake, you have to try the cheesecake version! My Bananas Foster Cheesecake is to die for.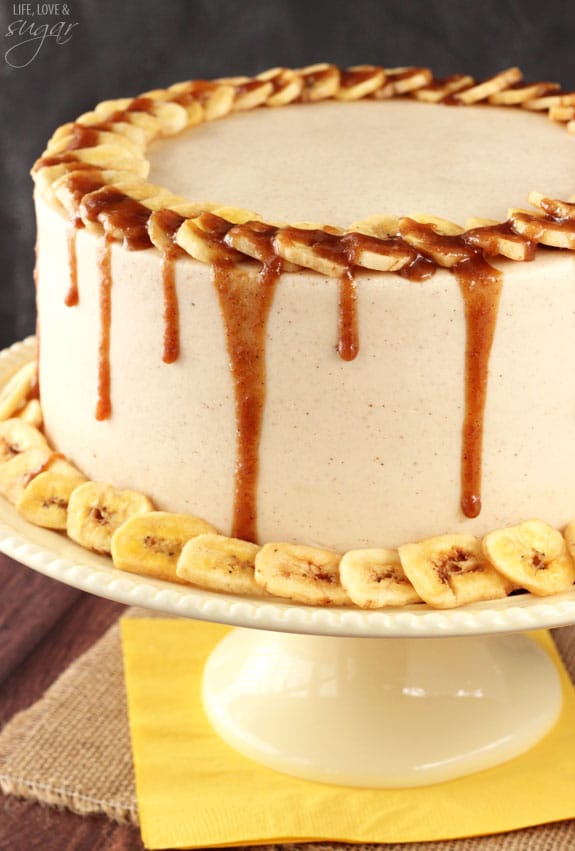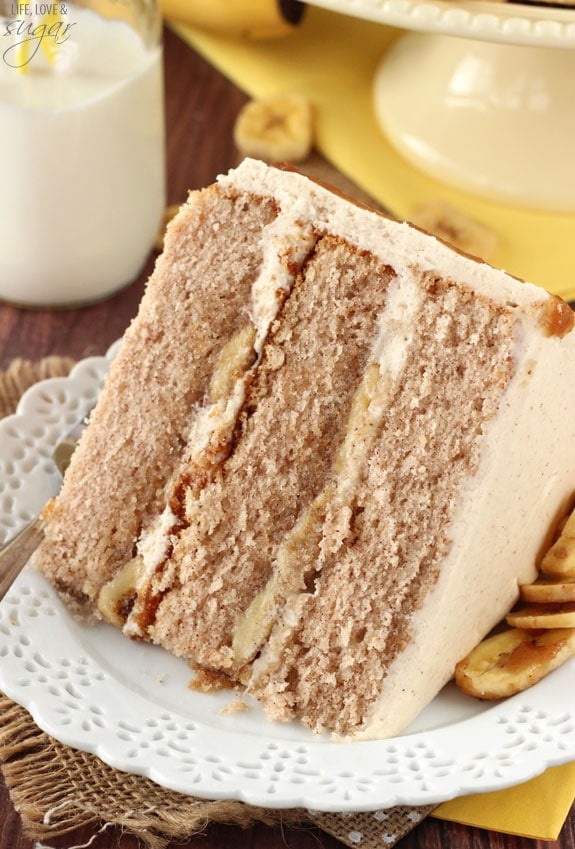 Bananas Foster Cake
Well, we had a lovely weekend. One of the things that stuck out in my mind a lot after the blog conference I went to last weekend was that I need to make more time for myself to relax and recharge a bit. Between working full time and all the work that goes into this blog, it's hard. It's so much easier said than done, but I'm making a big effort.
First of all, the hubs got his notice that he will officially become a citizen Wednesday morning. YAY!!! We will be submitting his paperwork for his passport later that day. 🙂
Then, the weather here was absolutely beautiful all weekend. Both days, we put Jessie in the car and drove over to the Greenway. It's basically a big long boardwalk/path that goes through the woods in our area. It goes for miles and miles. We went on nice walks and enjoyed the warmth and outdoors.
We actually wanted to go to another park yesterday, but sadly it seems that the majority of parks in our area don't allow dogs. We aren't too far from Lake Lanier and every park we've looked at around there has a policy against dogs. It's pretty frustrating, because we love to take Jessie to new parks with new smells and things for her to explore.
Oh well. At least we have the greenway.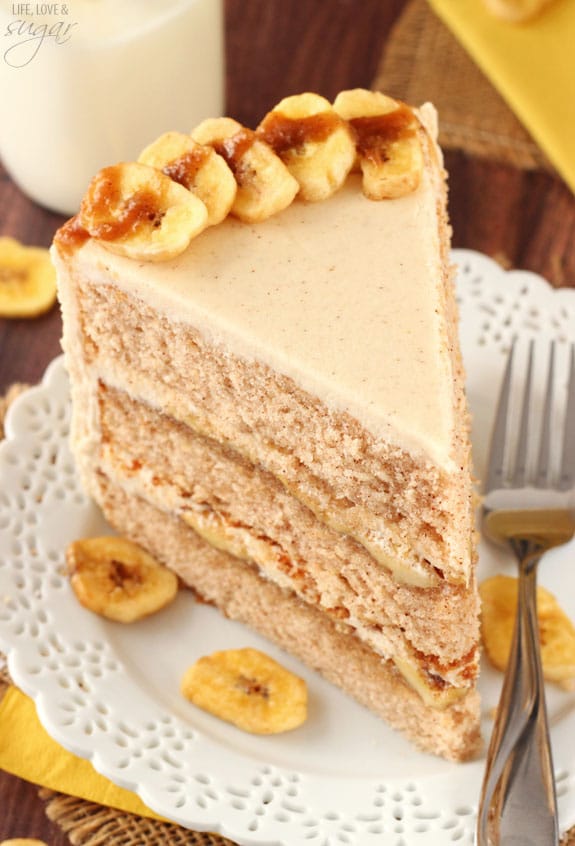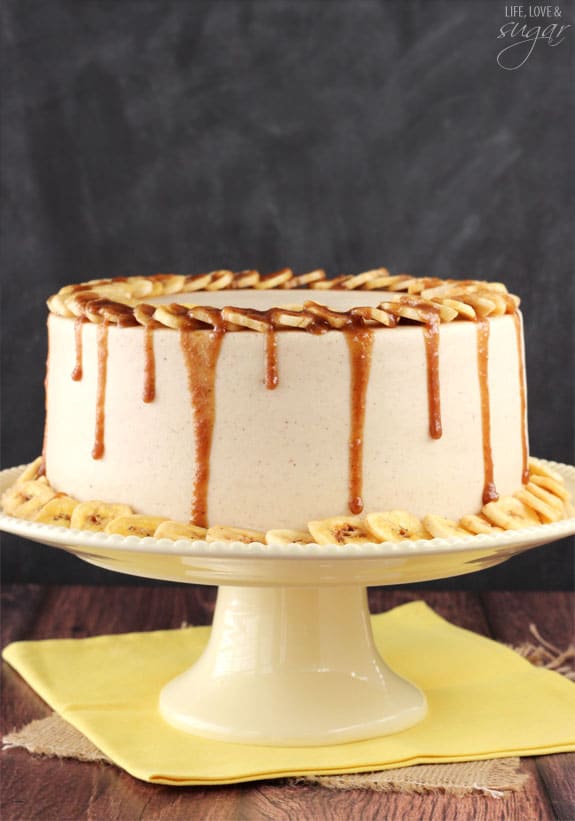 There's a lot of water around part of it near us. Some of it is standing water, and you hear frogs like crazy, and other parts are moving streams. There's one spot where we let Jessie go into the water a little bit. She stays on the least, but walks in and runs around a little. She doesn't actually like water, but she seems to like that water. It mostly just covers her paws.
It's funny though, because she'll walk into the water and walk around a bit. Then it's like she all of a sudden realizes she's in water, freaks out, and runs out onto the bank and looks at you all wide-eyed. Then she runs back in and does it all again. It's the cutest thing.
Other than that, we didn't do much. We purposely tried to relax and stay at home a little more this weekend after being gone two weekends in a row. We just enjoyed being home.
Of course there was some baking, photo taking and general blogging stuff thrown in there. But I mostly just got caught up after being gone so much. It was quite nice.
And I couldn't wait to share this cake with you. It is a bananas foster dessert at its finest.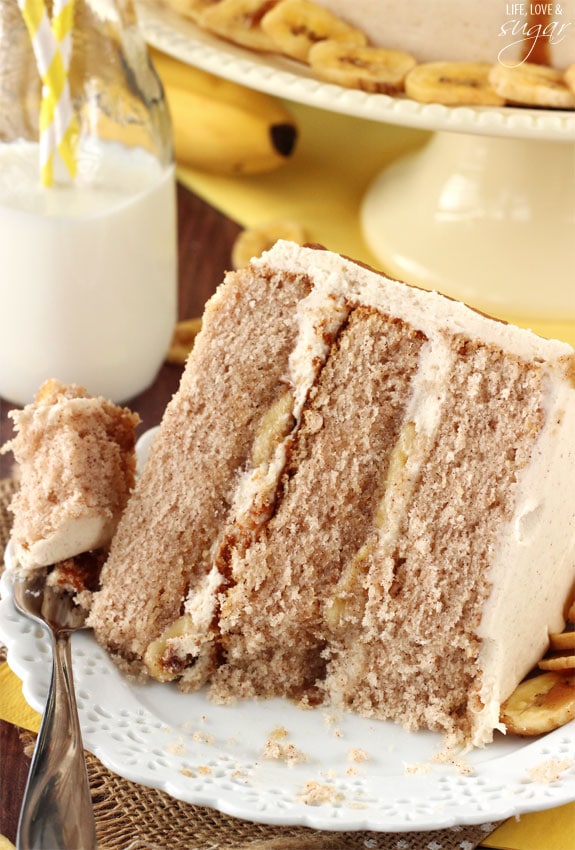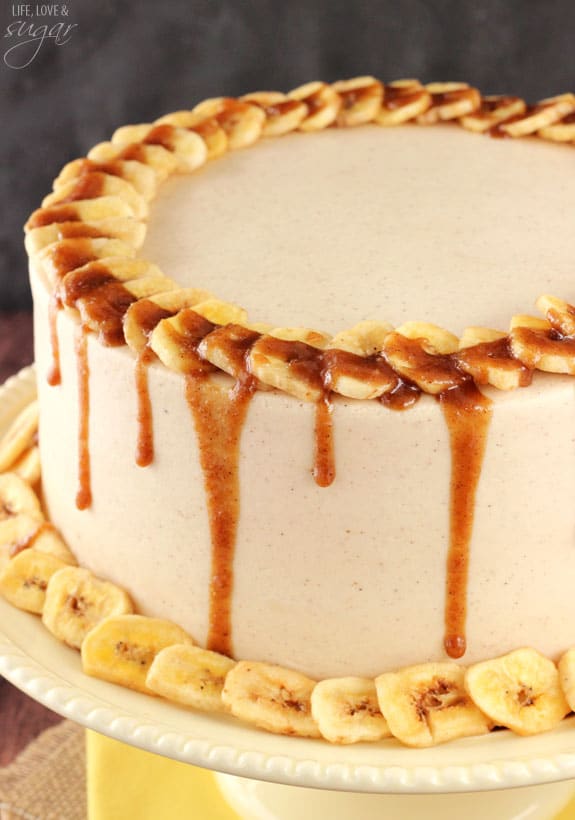 Why I Love This Banana Cake
Surely you guys know by now that I love cinnamon. I'm pretty sure I've said it here about 5,462 times. It's a weakness. When you throw in bananas and rum, you might as well stick a fork in me – I'm done. I can't say no.
The cake layers are actually a cinnamon version of  this vanilla cake from BakeSpace I've made several times over the last few years. It's a wonderfully moist and light cake. So soft. And it gets even better after you've frosted it. Seriously yum.
I will tell you though – it doesn't work well as cupcakes. Sadly, the cupcakes actually separate from the liners when they cool. I know, bummer. But it's nice when you're making a cake – it doesn't stick to the sides of the pan. I'd still recommend greasing the pan though,just in case.
Obviously the fosters sauce is one of the most important parts of this cake. Omg, the fosters sauce. I could drink it with a straw. And it could not be more fun to make.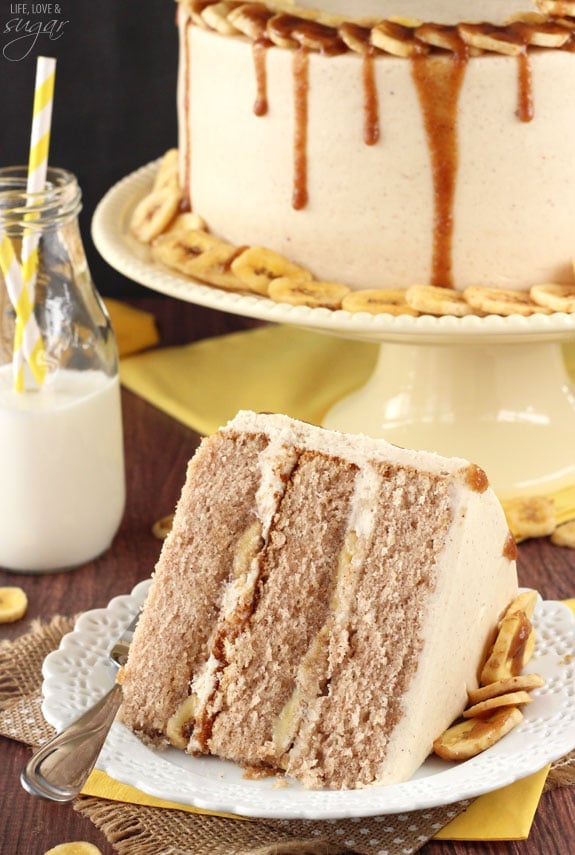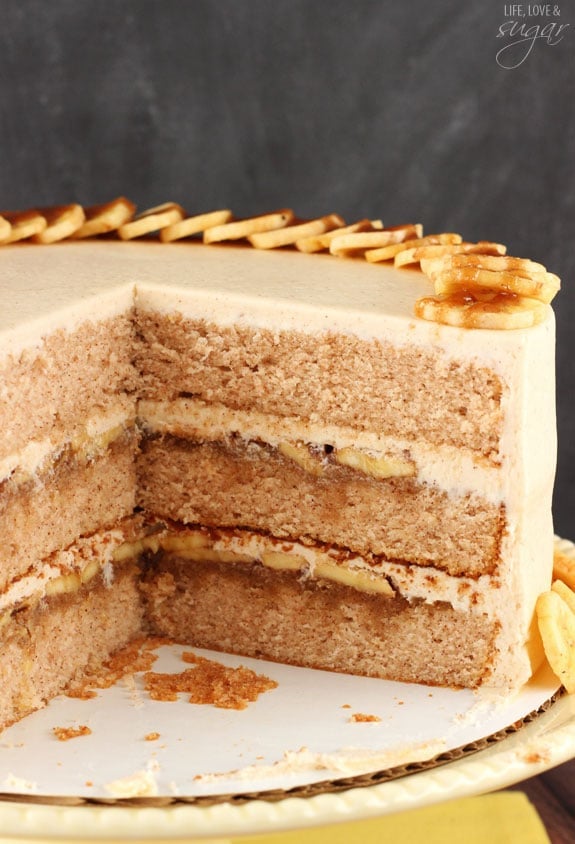 Of course, every time I make it the hubs worries I'm going to burn the house down. If you haven't made fosters sauce before, after you add the rum, you light it on fire. It makes me feel like one of the guys that cooks in front of you at the Japanese restaurants. I feel so fancy. 🙂
You do need to be careful though. It is fire, after all.
The fosters sauce is used in the icing, on top of the cake, and on the cake layers – it soaks right into them. It all ensures that you don't miss the fosters in this bananas foster layer cake.
And then the bananas. Of course. Love those suckers too. They are in between the layers of cake. You'll need to have an edge of icing around the edge of the cake when you add the bananas (known as a dam). It holds the bananas in place so that they don't start poking out of the sides of the cake. Very important. You can add as many bananas as you want, really, but too many and the cake might slide around a bit.
The icing is flavored with the fosters sauce and is to.die.for. You'll fill in blank space around the bananas with some of the icing to help the next cake layer have something to grab onto and stay in place. Bananas are slippery little things.
The whole cake, after being iced, is topped with more bananas and a drizzle of fosters sauce. I used banana chips on the outside so that they didn't get brown and gross looking, but go with your preference.
Either way, this cake is a stunner and is absolutely to die for. Heaven in cake form. You have to try it.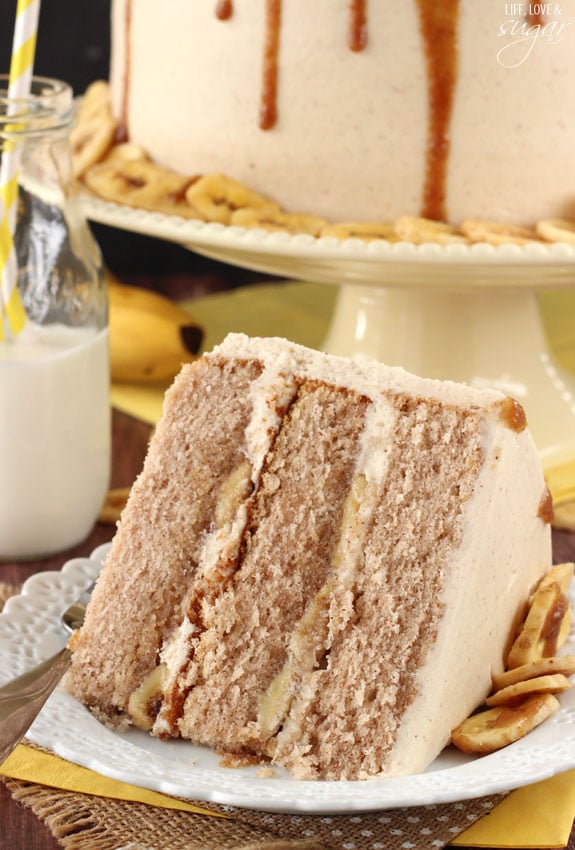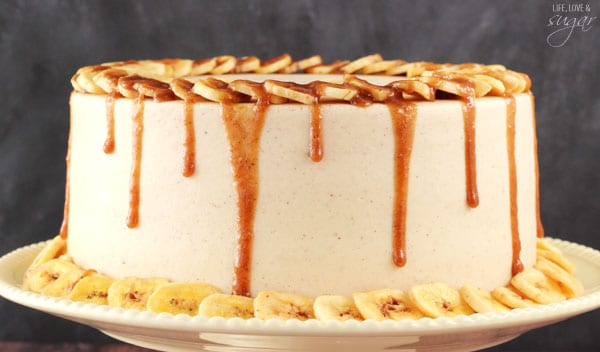 You might also like:
Bananas Foster Cheesecake
Banana Split Layer Cake
Banana Mocha Chocolate Ice Cream Cake
Banana Cream Pie Cupcakes
Banana Chocolate Chip Cookies
Bananas Foster Banana Bread


Print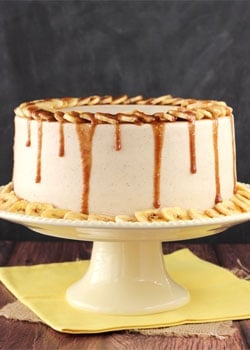 Recipe
Bananas Foster Layer Cake
Author:

Prep Time:

50 minutes

Cook Time:

30 minutes

Total Time:

1 hour 20 minutes

Yield:

12-14 Slices

Category:

Dessert

Method:

Oven

Cuisine:

American
---
Description
This Bananas Foster Layer Cake is a delicious combination of the wonderful flavors of bananas foster. The soft cinnamon cake, the rum fosters icing and the bananas come together in one amazing cake!
---
Ingredients
CAKE LAYERS
1 1/2 cups

salted butter

2 1/3 cups

sugar

3

egg whites

2 tsp

vanilla extract

3 cups

cake flour

3/4 tsp

baking soda

1 1/2 tsp

baking powder

4 tsp

ground cinnamon

1 1/2 cups

buttermilk
FOSTERS SAUCE
1/2 cup

salted butter

1 cup

dark brown sugar, packed

1/4 tsp

nutmeg

1 tsp

cinnamon

2 tbsp

heavy cream

1/4 cup

dark rum
BANANAS
3 tbsp

sugar

1 tsp

ground cinnamon

2

–

3

large bananas, sliced
ICING
1 cup

butter

1 cup

shortening

8 cups

powdered sugar
fosters sauce, from sauce made above

1/2 tsp

ground cinnamon

4 tbsp

water
---
Instructions
TO MAKE CAKE LAYERS:
1. Grease the sides of three 9 inch round cake pans and line the bottoms with parchment circles. Preheat oven to 350 degrees.
2. In a large bowl, beat the butter and sugar until light and fluffy, about 2 minutes.
3. Add egg whites and vanilla and beat on medium speed for about 1 minute.
4. Combine flour, baking soda, baking powder and cinnamon in a medium bowl.
5. Add about 1/3 of the flour mixture to the egg mixture and mix until incorporated.
6. Add about half of the buttermilk and mix until incorporated.
7. Continue adding dry and wet ingredients alternatively and beating until incorporated after each addition. End with dry ingredients.
8. Divide batter evenly into cake pans.
9. Bake 25-35 minutes, or until a toothpick inserted comes out with a few crumbs.
10. Allow cakes to cool for 5-10 minutes, the remove to a cooling rack to finish cooling.
TO MAKE FOSTERS SAUCE:
1. Once cake is cool, melt butter in a large skillet over medium-high heat.
2. Add brown sugar, nutmeg, cinnamon and heavy cream and stir until sugar is dissolved.
3. Pour rum into pan, then use a lighter (or something similar) to light the rum. Be careful, the flame can get somewhat high. Once lit, allow it to cook, swirling the pan a few times to disperse the rum and flames. It should burn out within a minute or two, but if not, swirl a little more to help it burn out.
4. Continue cooking another 1-2 minutes to thicken sauce.
5. Remove from heat, whisk another minute, then pour into another bowl to cool for about 15 minutes. Set about a 1/2 cup plus 3 tbsp of sauce aside in another bowl. The larger amount of sauce will go into the icing. The smaller amount will be used in the cake and on top.
TO PREPARE BANANAS:
1. While fosters sauce cools, combine cinnamon and sugar in a small bowl.
2. Pour over sliced bananas and toss to coat.
TO MAKE ICING:
1. In a large bowl, beat butter and shortening until smooth.
2. Add 4 cups of powdered sugar and mix until smooth.
3. Add the fosters sauce made above and mix until combined. There should still be another 1/2 cup plus 3 tbsp set aside for the rest of the cake.
4. Add cinnamon and remaining powdered sugar and mix until smooth. Add water until you get a nice, smooth consistency.
TO PUT THE CAKE TOGETHER:
1. Remove the domes of the cake layers with a large serrated knife. The cakes should be fairly flat, but flatten them out as needed.
2. Place first layer of cake on your cake stand or plate.
3. Spread 1/4 cup of fosters sauce over the cake layer and let it soak into the cake.
4. Pipe an icing dam around the edge of the cake.
5. Add a layer of sliced bananas within the cake dam. Fill in the space between the bananas and spread a thin layer of icing over the bananas. The bananas can poke through the icing, but it should be an even layer, so that the cake is flat.
6. Repeat steps 2-5 with the second layer of cake.
7. Place remaining layer of cake on top.
8. Ice the outside of the cake. Start by filling in the spaces between the cake layers, then ice the full cake.
9. Top cake with banana slices (fresh or dried) and drizzle remaining 3 tbsp of fosters sauce around the edge.
---
Nutrition
Serving Size:

1 Slice

Calories:

1130

Sugar:

143.7 g

Sodium:

451.9 mg

Fat:

50.4 g

Carbohydrates:

170 g

Protein:

5.3 g

Cholesterol:

114.9 mg
Keywords: bananas foster cake, banana cake, banana cake recipe, best banana cake recipe, banana split cake, layer cake recipe, layer cake, banana dessert recipe
Filed Under:
Enjoy!

This post may contain affiliate sales links. Please read my disclosure policy.