This post may contain affiliate sales links. Please read my disclosure policy.
This Bananas Foster Cheesecake recipe is made with a thick and creamy banana brown sugar filling, cinnamon cookie crumb crust and bananas foster topping! It's a wonderful combination of bananas, cinnamon, brown sugar and rum that makes the most AMAZING cheesecake!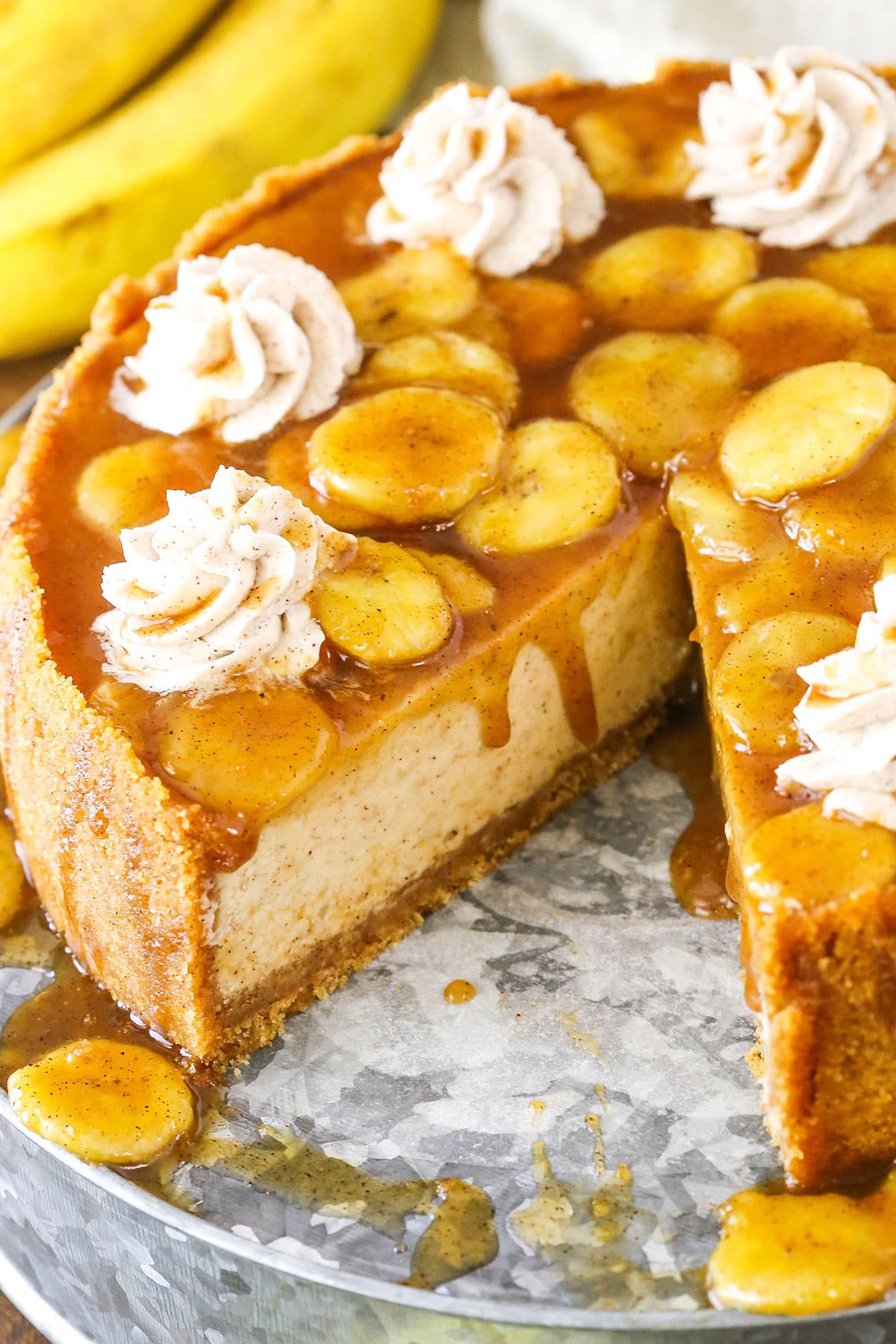 So I'm a little delayed in sharing this Bananas Foster Cheesecake with you. I actually wanted to share it back in October, but had so many fun pumpkin things I wanted to share before it was too late that it ended up being pushed back until now. After all, banana is great any time of year!
The reason for wanting to have shared it earlier though is that I made it to celebrate the 2 year anniversary of the release of my cookbook, Simply Beautiful Homemade Cakes! It's hard to believe it's been just two years since it's release, as life has been one crazy thing after another since then. In fact, when I made the decision to write my cookbook, the hubs and I did it knowing that it would push back when we decided to try IVF and move forward with starting our family. We decided cookbook first, IVF second. It's crazy to look back and realize that now here we are – the cookbook and twins! Like I said, a lot has happened! 🙂
But before my twin babies, this cookbook was definitely a baby of mine. It kept me up nights, had me up early and was a labor of love. And the first time I saw it in person was a great day and feeling. Even two years later, the recipes in it are some of my favorites. If you haven't checked it out yet, you really should. And with the holidays coming up, it'd make a great gift for the bakers in your life!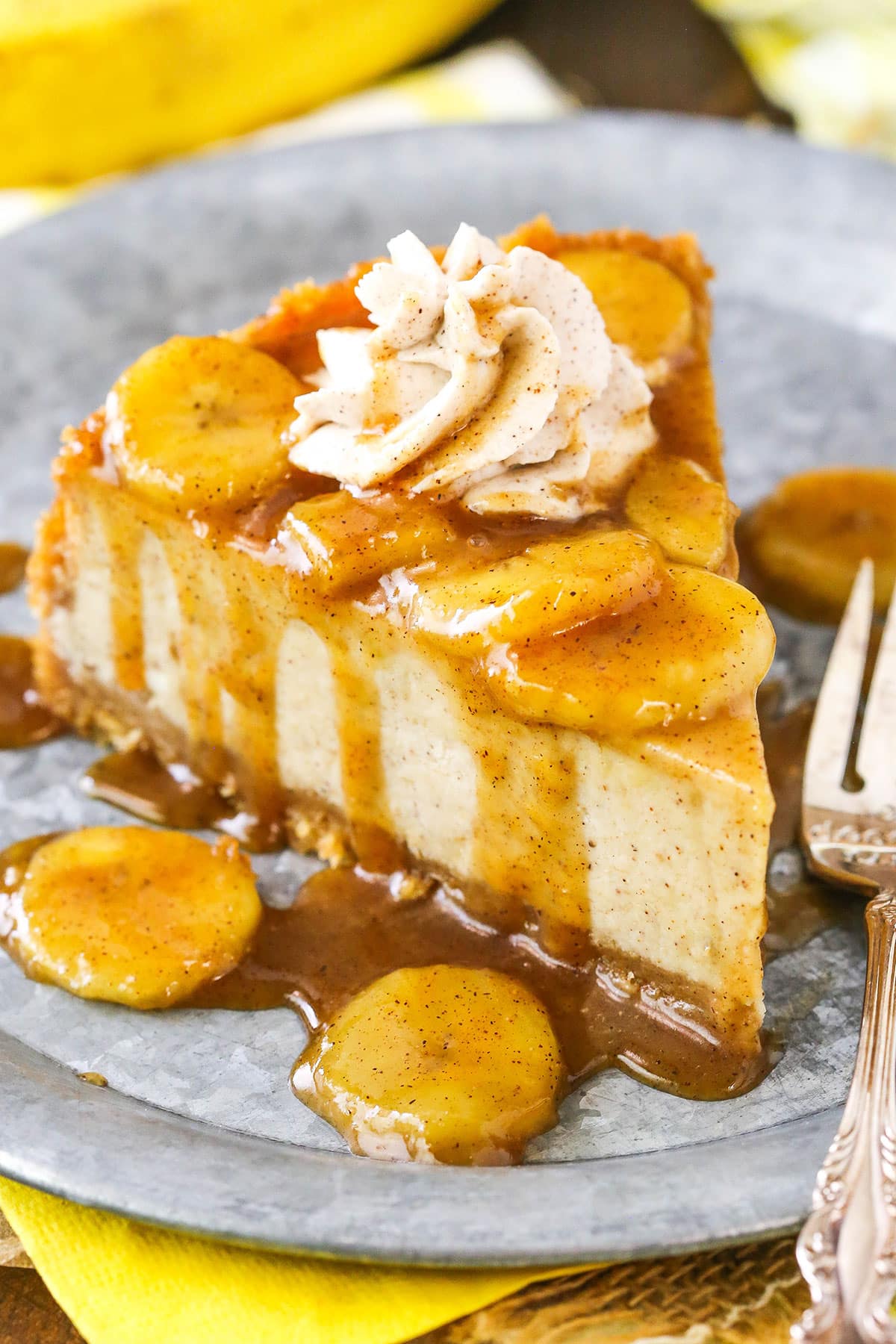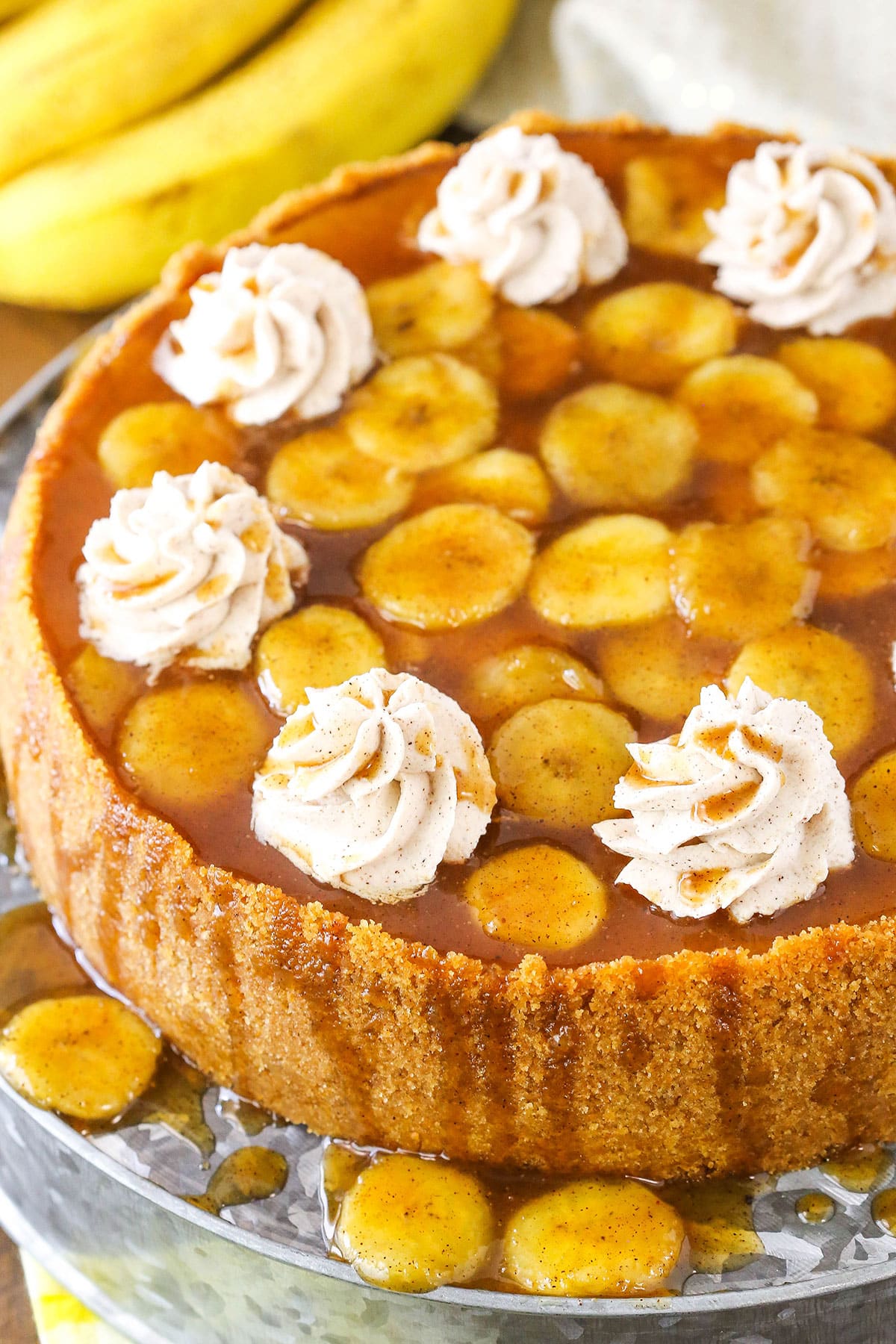 How to Make Bananas Foster Cheesecake
So to make this Bananas Foster Cheesecake, you'll actually start with the crust. I made a slight change in the crust this time around and added some cinnamon. It's now made with a combination of both brown sugar and cinnamon and I love the little addition. It just take the crust up a notch!
The filling is made next and is full of brown sugar, cinnamon, nutmeg, a bit of rum and plenty of mashed bananas! So many amazing flavors, yet none of them overpower any of the others too much. You taste them all and they are decadent.
The cheesecake is baked in a water bath, as I do with all of my cheesecakes. It's the best way to ensure a creamy cheesecake that doesn't crack, fall in the center, brown too much on the edges or dry out. Definitely the way to go, even though it adds a few more steps and a little baking time.
After the cheesecake bakes, it should be refrigerated until cold and firm, then you'll want to add the topping.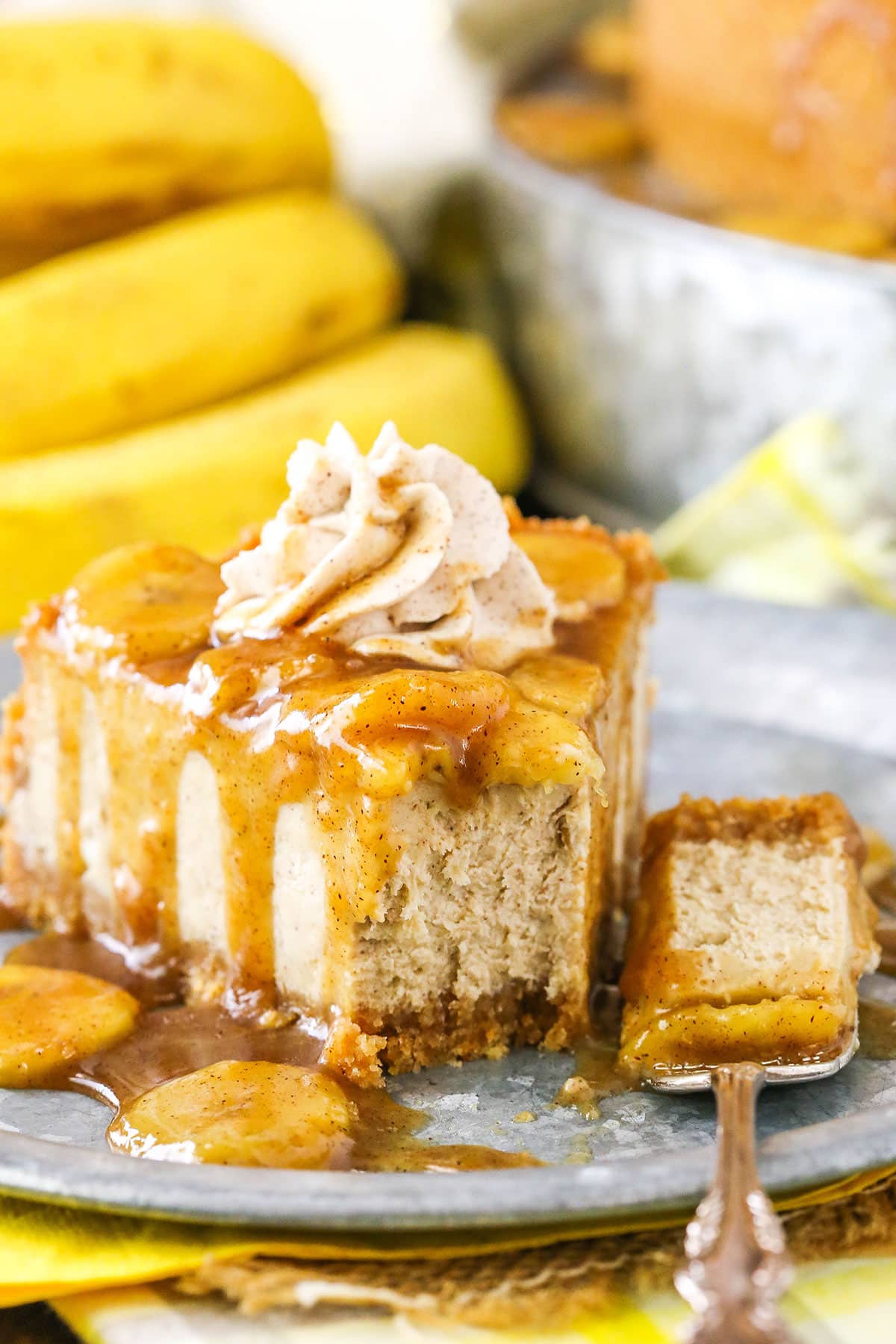 How to Make Bananas Foster
The topping of this Bananas Foster Cheesecake is exactly what you want it to be – bananas foster. One of my very favorite things and it's so easy to make.
You'll combine butter, brown sugar, nutmeg, cinnamon and some heavy cream in a pan over the stove until the sugar has melted. Then you'll add the rum and that's when the magic happens. I definitely recommend a dark rum. You want to be careful for this next step when you light the rum. It makes a nice flame, so you'll swirl the rum around the pan a bit and let it burn off.
Next, add the bananas and let things cook for another minute or two to thicken up and you're done! Easy, delicious bananas foster and it goes right on top of your cheesecake!
The Best Bananas Foster Cheesecake
This cheesecake is seriously amazing. Thick, creamy and FULL of flavor! One of my favorites from the cookbook and a recipe my dad goes a little nutty over every time I make it. If you've never tried a little rum in your baking before, this is definitely the time and the recipe. The dark rum has a little spice of it's own that only adds to the flavor of the cinnamon and bananas and will have you taking just one more bite until you realize that you've taken all the bites and there are none left. All the flavors together just melt in your mouth and you can't get enough.
I hope you give the cheesecake a try and love it as much as we do! And if you do, be sure to check out my cookbook – Simply Beautiful Homemade Cakes as well because there are more cheesecakes, cakes, cupcakes, ice cream cakes and more just waiting for you! 🙂
See a few other recipes from my cookbook – Simply Beautiful Homemade Cakes.
More Great Banana Recipes:
Bananas Foster Layer Cake
Banana Cream Cheesecake
Mini Banana Pudding Cheesecakes
Banana Cream Layer Cake
Bananas Foster Pancakes
Bananas Foster Ice Cream
Print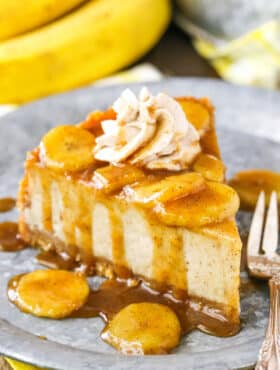 Recipe
Bananas Foster Cheesecake
Author:

Prep Time:

2 hours

Cook Time:

2 hours, plus cooling

Total Time:

4 hours, plus cooling

Yield:

12-16 servings

Category:

Dessert

Method:

Oven

Cuisine:

American
---
Description
This Bananas Foster Cheesecake is made with a thick and creamy banana brown sugar filling, cinnamon cookie crumb crust and bananas foster topping!
---
Ingredients
Crust
2 1/4 cups

(

302g

) vanilla wafer crumbs

1/2 cup

(

112g

) salted butter, melted

5 tbsp

(

45g

) light brown sugar, loosely packed

1 tsp

ground cinnamon
Cheesecake filling
24 ounces

(

678g

) cream cheese, room temperature

1 cup

(

144g

) brown sugar, loosely packed

3 tbsp

(

24g

) all purpose flour

1 cup

(240ml) mashed ripe bananas (

2

–

3

bananas)

1 1/2 tsp

ground cinnamon

¼ tsp

ground nutmeg

2 tbsp

(30ml) dark rum

3

large eggs, room temperature
Bananas Foster
1/4 cup

(

56g

) salted butter

1/2 cup

(

113g

) light brown sugar, packed

1/8 tsp

ground nutmeg

1/2 tsp

ground cinnamon

1 tbsp

(15ml) heavy whipping cream

2 tbsp

(30ml) dark rum

2

medium bananas, sliced into coins
Whipped Cream
1/2 cup

(120ml) heavy whipping cream, cold

¼ cup

(

29g

) powdered sugar

½ tsp

ground cinnamon
---
Instructions
1. Preheat oven to 325°F (163°C). Line a 9-inch springform pan with parchment paper in the bottom and grease the sides.
2. Combine the crust ingredients in a small bowl. Press the mixture into the bottom and up the sides of the springform pan.
3. Bake the crust for 10 minutes then remove from oven to cool.
4. Cover the outsides of the pan with aluminum foil so that water from the water bath cannot get in. See my tutorial for preventing a water bath from leaking. Set prepared pan aside.
5. Reduce oven temperature to 300°F (148°C).
6. In a large mixer bowl, blend the cream cheese, brown sugar and flour on low speed until completely combined and smooth. Be sure to use low speed to reduce the amount of air added to the batter, which can cause cracks. Scrape down the sides of the bowl.
7. Add the mashed bananas, cinnamon, nutmeg and dark rum. Beat on low speed until well combined.
8. Add eggs one at a time, beating slowly and scraping the sides of the bowl as needed.
9. Pour the cheesecake batter into the crust.
10. Place the springform pan inside another larger pan. Fill the outside pan with enough warm water to go about halfway up the sides of the springform pan. The water should not go above the top edge of the aluminum foil on the springform pan. Bake for 1 hour.
11. Turn off the oven and leave the cheesecake in oven with the door closed for 30 minutes. Do not open the door or you'll release the heat.
12. Crack oven door and leave the cheesecake in the oven for another 30 minutes. This cooling process helps the cheesecake cool slowly to prevent cracks.
13. Remove the cheesecake from the oven from oven and let sit on the counter for 15 minutes.
14. Remove the pan from water bath and remove aluminum foil. Refrigerate cheesecake until completely cooled and firm, 6-7 hours.
15. When cheesecake has cooled, make the bananas foster. Melt the butter in a large pan over medium-high heat.
16. Add the brown sugar, nutmeg, cinnamon and heavy cream and stir until sugar is dissolved.
17. Pour the rum into the pan, then use a lighter to light the rum. Be careful, the flame can get somewhat high. Once lit, allow it to cook, swirling the pan a few times to disperse the rum and flames. It should burn out within a minute or two, but if not, swirl a little more to help it burn out.
18. Add the bananas to the sauce and continue cooking another 1-2 minutes to thicken the sauce. Remove from heat and set aside to cool and thicken before adding to the cheesecake.
19. While bananas foster cools, remove the cheesecake from the springform pan and set on a serving plate.
20. To make the whipped cream, add heavy whipping cream, powdered sugar and cinnamon to mixing bowl and whip until stiff peaks form.
21. Pipe a swirl border with the whipped cream around the outside edge of the cheesecake.
22. To finish off cheesecake, add the bananas foster on top, in the middle of the whipped cream. Drizzle the sauce over the bananas and down the sides of the cheesecake.
23. Refrigerate cheesecake until ready to serve. Cheesecake is best for 2-3 days because the bananas on top can spoil.
---
Nutrition
Serving Size:

1 Slice

Calories:

370

Sugar:

29.6 g

Sodium:

277.5 mg

Fat:

20.9 g

Carbohydrates:

40 g

Protein:

5.9 g

Cholesterol:

92.1 mg
Keywords: bananas foster cheesecake, cheesecake recipe, banana cheesecake recipe, banana dessert idea
Categories
Enjoy!