So one of the things I learned from my reader survey last week was that you guys want to know more about me and the hubs. Our lives. Not just the food I make. Which is totally awesome because I've been wanting to share. I've been writing nuggets of things for a while and just haven't ever felt sure about sharing it all.
I'm sure like everything else, this will evolve as I go. 🙂
So here's what going one in our house!
Tennis! – The hubs made a big job change this past February. It's been a bit of an adjustment. He went from doing sales and being in the corporate world to teaching tennis full time. It's been a crazy change, but a really good one and he's loved getting back into tennis. He grew up playing and played Division 1 in college at UNCG. He has such a talent for teaching tennis – it amazes me how he sees every little thing and works with people.
This past weekend he played in his first Pro-Am tournament. I was really proud of him and it was so fun to watch him play competitively again (we've been dating since we were 17, so I've seen him play plenty, just not in recent years). Some great friends came to watch with me too, so that was really awesome.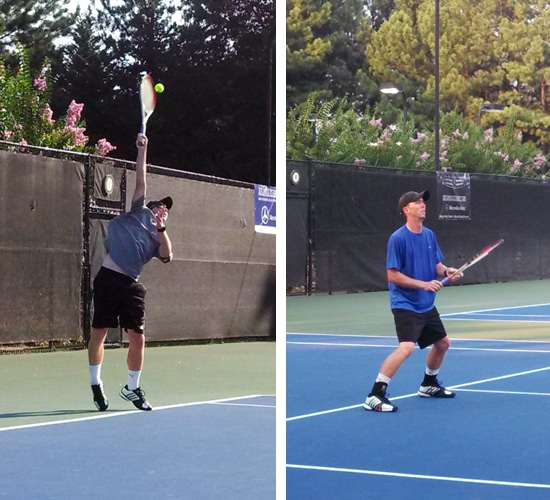 I have also started playing again – mainly for him. When we first moved into our neighborhood about 2 1/2 years ago, I joined a team, but got tired of it after a year or so.
Now that the hubs is teaching, I'm playing again and he's our coach. 🙂
Date night! – We've been pretty busy with friends and family visiting recently so it was really nice to have date night this past weekend. We got sushi, which is one of our faves. We hadn't gone out for sushi for a while cuz it gets kinda pricey. We went to a place we hadn't been before, but had been recommended to us and it was delicious! We love trying different kinds of rolls.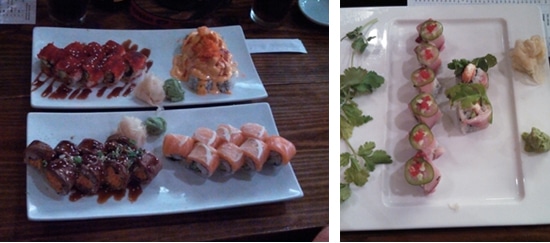 Our latest obsession! – We got Netflix a month or two ago and since summer tv is generally pretty lame, we've been watching stuff on it like crazy. The first series we watched was The Walking Dead.
OMG – The Walking Dead!! I'm obsessed! Neither of us had any interest in watching it whatsoever. Zombies? Not our thing. The hubs' good friend has been watching it from the start and loves it, but we resisted. It was when his wife told us that she actually just finished watching it and was in love too and that the main character is a cop (the hubs loves anything with cops – the show Cops, Southland, Law and Order – you name it) that we gave it a shot.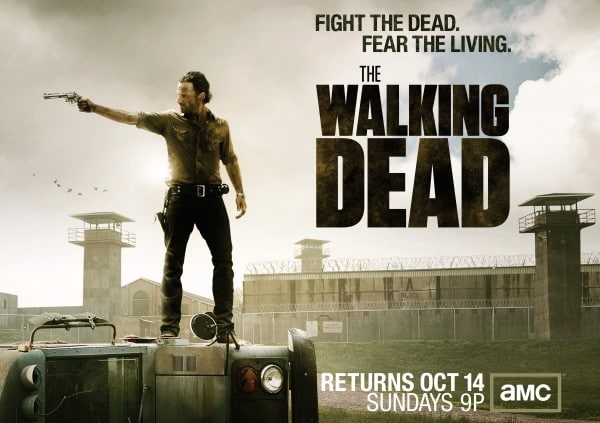 I have never lost so much of my life before. Addicted doesn't even describe how bad we were for the next week and half. We accomplished absolutely nothing until we finished all three seasons. Nothing. Every night was about what how many episodes we could fit in. I started dreaming about zombies. I'm not even sure I baked anything. It was crazy. Then when we were done, I re-watched some of them.
Addicted. Obsessed. Take your pick of word to describe it. I can't wait until season 4 starts October 13.
New photo stuff! – I've been really loving trying to improve my food photography.
Well, actually it's kind of a love/hate relationship. Sometimes getting it just right and loving the pictures is hard.
But recently I've discovered that a great way to add color is with pretty cloth napkins. So I've been keeping an eye out for some.
I'm a little picky. I like pattern, but I don't want things to be too busy. And I want all the colors!
Home Goods is one of my favorite stores, but I hadn't had much luck there. And when I did buy a red one, it got all messed up when I washed it. World Market tends to have really cute things, but it's not really convenient for me to get to.
Well, the other day I went to Stein Mart. I hadn't been in there in a while and I do like it. It's my grandmother's favorite store.
I hit the cloth napkin jackpot! Look at all those awesome colors! And a lot of them have subtle textures running through them, which I love. And even better they were all around $3 a piece! If you're in the market for some super cute cloth napkins, check out Stein Mart.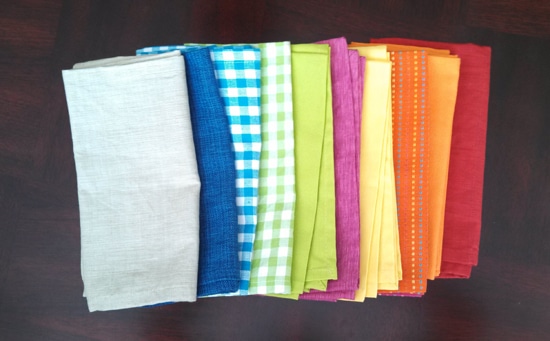 So that's it for now! We are off to spend the weekend with my mom's side of the family. I can't wait! Some of my favorite people ever!
Have an awesome Labor Day!
This post may contain affiliate sales links. Please read my disclosure policy.