May 10, 2018
Mint Chocolate Chip Cupcakes
These Mint Chocolate Chip Cupcakes are made with a moist chocolate cupcake, mint frosting and mini chocolate chips! A classic flavor combination in cupcake form!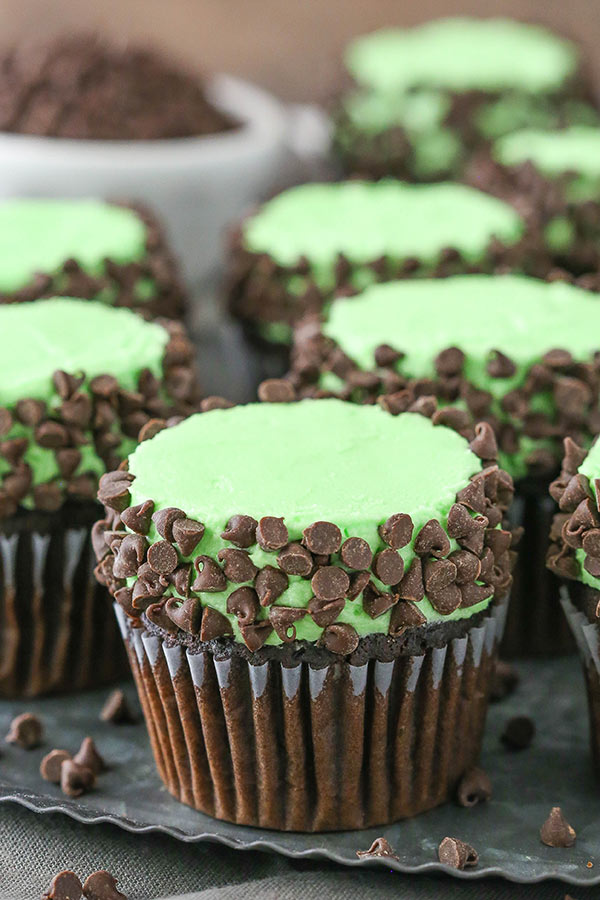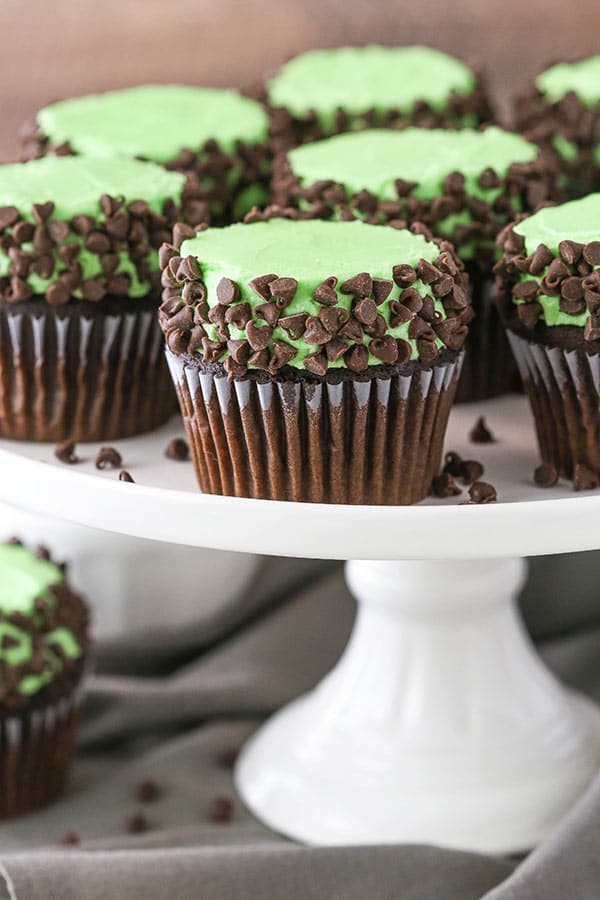 So I am a big fan of music in general. I love jammin' out and I love to dance, even though I might not really look that great doing it. Lately, music is one of those things I haven't been able to listen to as much. Now I tend to listen to the sound of baby toys or baby monitors. In fact, the first time I got in the car to go to the grocery store after the boys were born, I heard music that wasn't a baby toy and realized how much I'd missed it. I turned it up and car danced all the way to the store.
Now that the boys are a few months old, we play more than just the music that comes out of baby toys, but that's still the majority of what we hear on a regular basis.
Well, the other day I was washing dishes and humming a tune when all of a sudden the hubs and I looked at each other with matching shocked and nearly terrified looks on our faces. We both realized at the same moment that I wasn't humming my usual 90s jam, I was humming BABY TOY MUSIC! The horror!! Toy music has officially become so burned into my mind that I hum it. This is a problem that I imagine will not go away any time soon and I'm a little afraid. I must drown myself in these cupcakes, since you can't have alcohol while breastfeeding. Ha!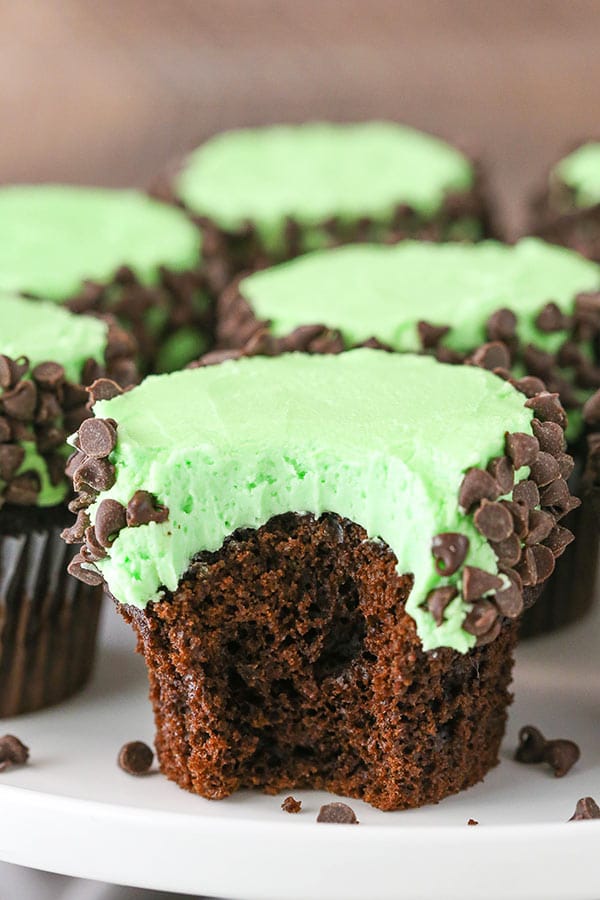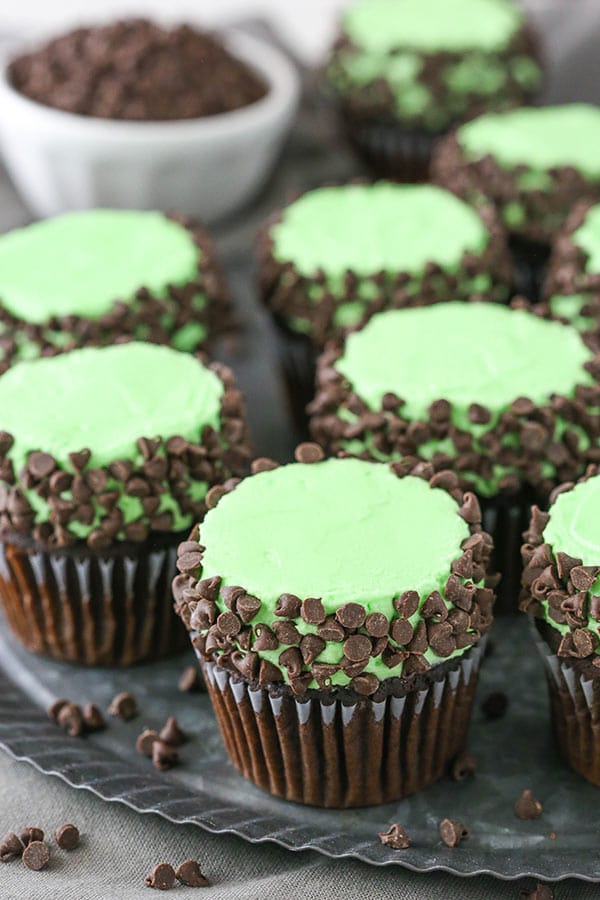 Speaking of these cupcakes, I've been super excited to make them. It was a flavor combination that I wanted to make for the hubs, since he's always been a fan of other mint chocolate desserts I've made.
To start off, you'll make the cupcakes If you've tried my Most Vanilla Layer Cake and love it as much as I do, then you'll love this chocolate version. Moist and soft and such a great butter-based chocolate cupcake with just a touch of oil for some added moisture. Love them!

MY OTHER RECIPES
The frosting is mint flavored using mint extract. I also added some vanilla extract and as simple as it seems, the vanilla extract is an important part of the flavor. Mint can sometimes seem a little toothpaste-y. When you add the vanilla, it sweetens up and evens out the mint a bit so that it's more of that dessert mint flavor that we want.
To frost the cupcakes, I decided that I didn't just want to drop a few mini chocolate chips on top, I wanted plenty of them packed around the edge so that you get plenty of mini chocolate chips in every bite. To achieve this, you want to pile the frosting onto the cupcake. I used a large round tip to add it evenly to the top. It doesn't have to be pretty because next you'll use an offset spatula to smooth out the sides and the top. Then, before the frosting sets and while it's still sticky, dip the sides of the frosting into the mini chocolate chips. I like to hold a few chocolate chips in my hand and dip it that way, but you could also use a small bowl.
The final cupcake has the classic mint and chocolate chip flavor that I love so much. It just about melts in your mouth, with the exception of the lovely crunch of the mini chocolate chips. We loved them in our house and I hope you'll love them in yours too!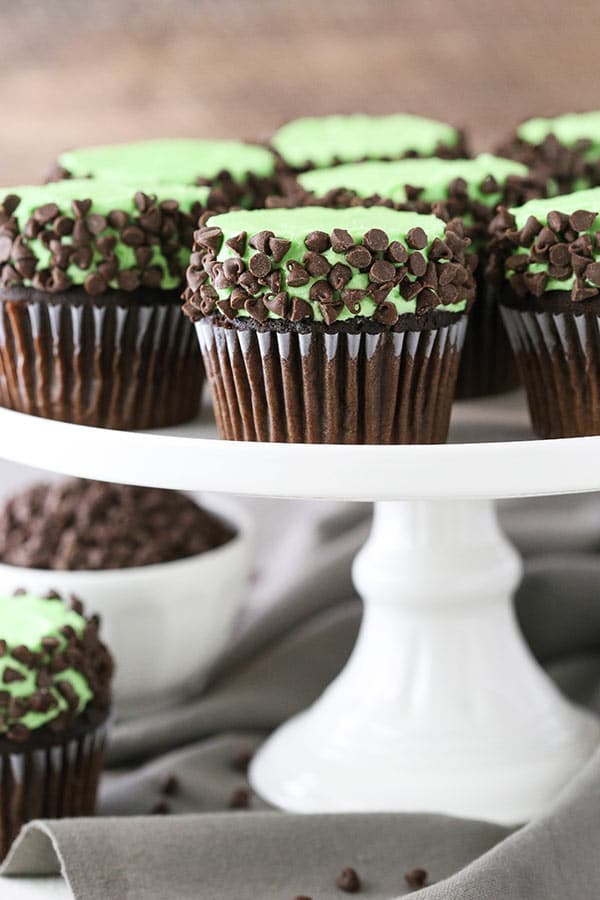 Mint Chocolate Chip Cupcakes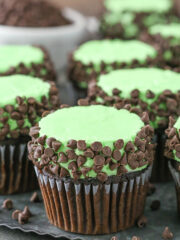 Ingredients:
Chocolate Cupcakes
3/4 cup + 2 tbsp (114g) all purpose flour
6 tbsp (43g) natural unsweetened cocoa
1/2 tsp baking soda
1/4 tsp salt
6 tbsp (84g) unsalted butter, room temperature
3/4 cups (155g) sugar
1 1/2 tbsp vegetable oil
3/4 tsp vanilla extract
2 large eggs
1/2 cup + 2 tbsp (150ml) milk
Mint Frosting
1/2 cup salted butter
1/2 cup shortening
4 cups (460g) powdered sugar
2 tsp mint extract
1 tsp vanilla extract
2-3 tbsp water or milk
Green gel icing color
Mini chocolate chips
Directions:
1. Preheat the oven to 350°F (176°C) and prepare a cupcake pan with cupcake liners.
2. To make the cupcakes, combine the flour, cocoa, baking soda and salt in a medium sized bowl and set aside.
3. Add the butter, sugar, oil and vanilla extract to and large mixer bowl and beat together until light in color and fluffy, about 3-4 minutes. Do not skimp on the creaming time.
4. Add the eggs one at a time, mixing until mostly combined after each. Scrape down the sides of the bowl as needed to be sure all ingredients are well incorporated.
5. Add half of the dry ingredients to the batter and mix until mostly combined.
6. Slowly add the milk and mix until well combined. The batter will look curdled, but that's ok.
7. Add the remaining dry ingredients and mix until well combined and smooth. Scrape down the sides of the bowl as needed to be sure all ingredients are well incorporated. Do not over mix the batter.
8. Fill the cupcake liners about three quarters full. Bake for 16-18 minutes, or until a toothpick inserted comes out with a few crumbs.
8. Remove cupcakes from oven and allow to cool for 2-3 minutes, then remove to cooling rack to finish cooling.
9. To make the frosting, combine the butter and shortening in a large mixer bowl and mix until smooth.
10. Add 2 cups of powdered sugar and mix until smooth.
11. Add the vanilla and mint extracts and 1 tablespoon of water or milk and mix until smooth.
12. Add remaining powdered sugar and mix until smooth.
13. Add remaining water or milk as needed and mix until smooth.
14. Pipe the frosting onto the cupcakes. I used a large round tip to pipe frosting evenly on to the top, then smoothed the top and sides with an offset spatula.
15. Add mini chocolate chips to a small bowl (or hold some in your hand) and dip the sides of the frosting into the chips so that they stick.
Enjoy!