This post may contain affiliate sales links. Please read my disclosure policy.
This Oatmeal Chocolate Chip Cut-Out Cookie Recipe is a healthy alternative to sugar cookies that tastes amazing! I made them for my best friend's wedding and everyone was obsessed!
Just a warning – this post is long. If you just want to see the cookies and recipe, scroll to the bottom.
One of my very best friends, Janelle, got married Labor Day weekend. She and Jeff, her new husband, had about 25 people join them out in Monterey, California for an amazing weekend. I was so honored to be included in the festivities and to be considered one of her closest friends (though I already knew that 🙂 ).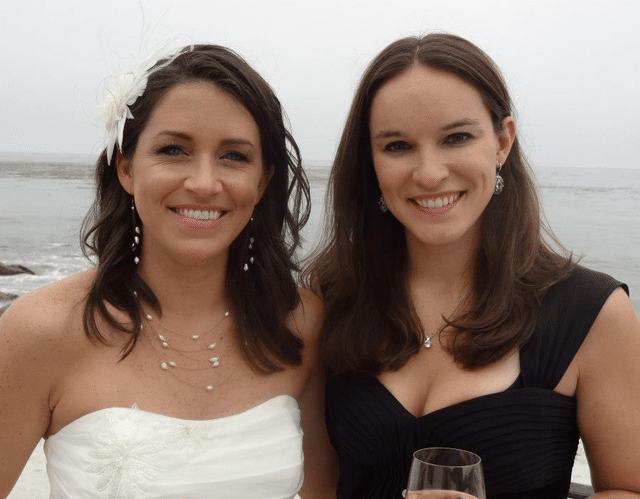 I have known this fabulous lady since we were 9. We are now 27. That is 18 years. More than half of my life. Janelle pointed this out to me about a week before the wedding. Mind blown.
And let me tell you – there is not a better person out there than her. In all the 18 years I have known her, there has never been anyone who doesn't just fall in love with her whenever they meet her. She is the most caring and fun-loving person I know. No joke. If she was a dude, I'd have married her. I can talk to her about anything and she never judges. In fact, some of my best conversations are with her. She is just plain awesome. And as she says, her new hubby is the male version of her.
This was easily one of the best weekends. We did lots of awesome things, like kayaking in Monterrey Bay with the otters and seals, but their wedding was the best by far. I am so happy that Janelle found the perfect guy for her.
So how about some wedding details?!
My Best Friend's Wedding
To start, the walk down the aisle was anything but traditional. Janelle came down the aisle carrying our video camera, then handed it off to my husband. She proceeded to ask everyone where her groom was, then whipped out a remote control and started playing "Shake your rump" by the Beastie Boys. When Jeff came out she threw out an imaginary fish line, "caught" her groom and reeled him in! It was so funny and so them!
(my pics are not the best, but they get the idea across)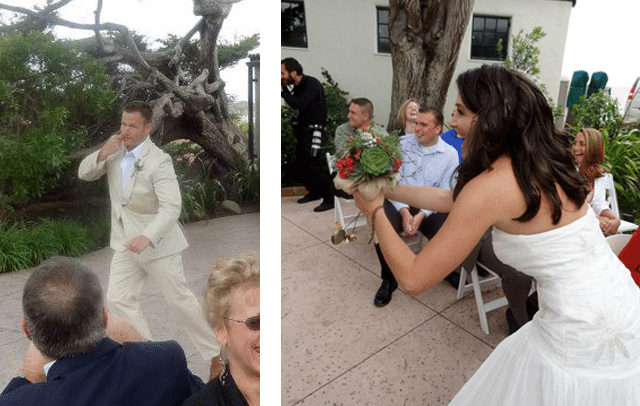 The ceremony was beautiful and they both wrote their own vows. Hers were sweet and beautiful. His were sweet and funny. Again, totally them.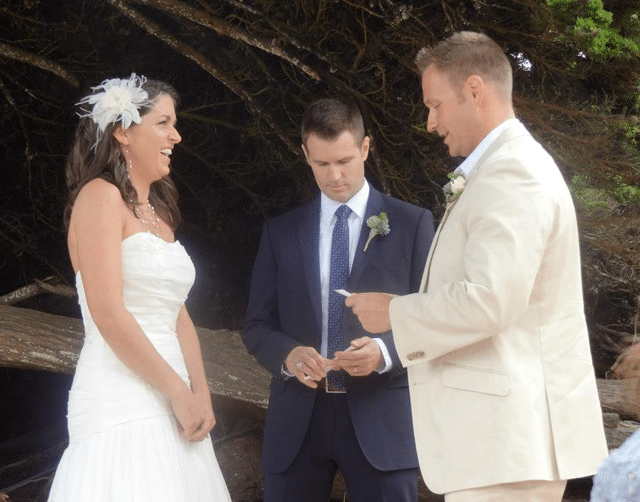 After being pronounced husband and wife, Jeff waved a white flag (in surrender). Again, awesome. 🙂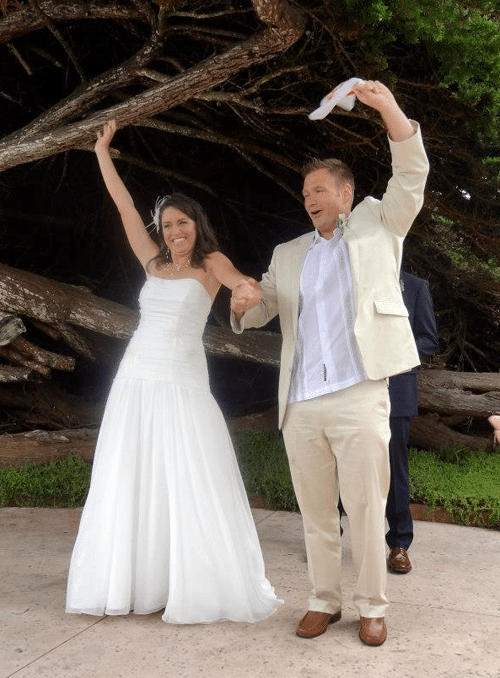 It was a midday wedding, so we then had lunch and took lots of pictures with the photographer (Scott MacDonald Photography), capping it off with a great group shot in the crazy cool tree that served as their ceremony backdrop. Check out that pic here.
One of the best touches of the wedding was the way the bride included her father who passed away. She carried pieces of a plant that belonged to him in her bouquet (the pieces sticking out of the bouquet), as well as a locket with a picture of him in it and a ring of his. She also set up a table in the reception area with pictures of him and candle where she later added the bouquet and locket. It was beautiful.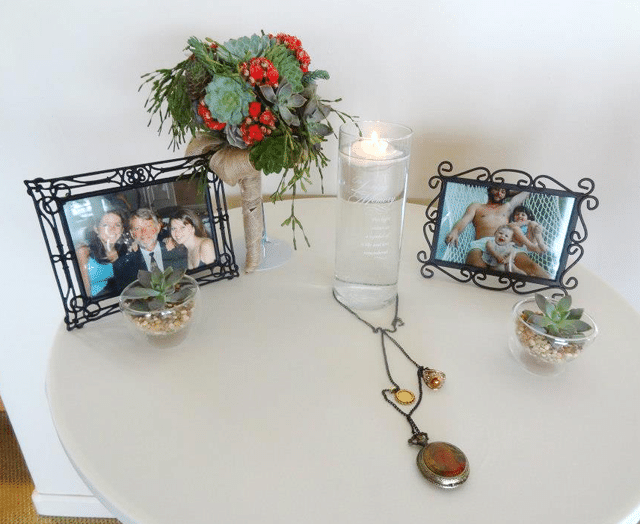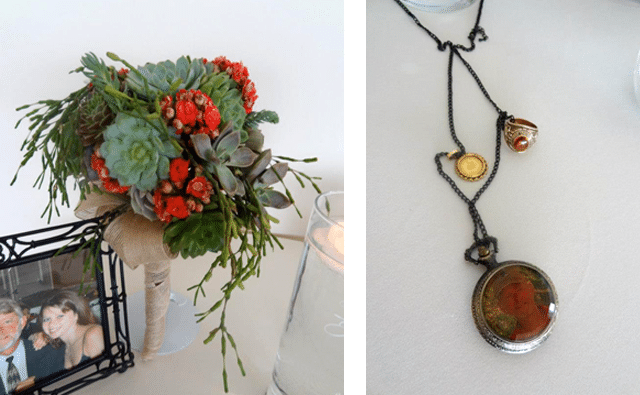 Another cool touch was that her centerpieces doubled as her favors, which is such a great idea! Most flowers cost quite a bit and die a week later. Janelle ordered succulents online that were like individual plants, so once the wedding was over, each person could take a plant with them to replant at home. Such a cool way to remember her wedding! Below is a picture of the centerpieces (left) and the succulents I replanted when I got home (right).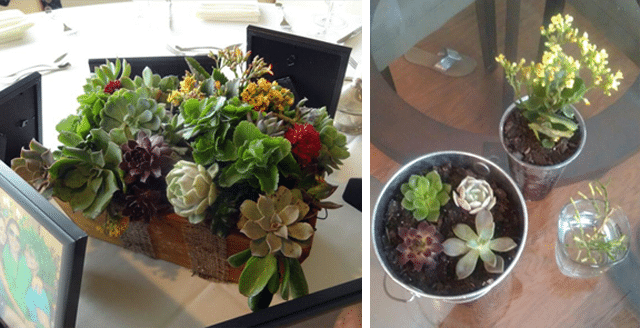 Janelle also found a way to use her mom's wedding dress. Initially, she was going to alter the dress and make it her dress. In the end though, she decided it wasn't the right dress for her and got a different one. Instead, she used the fabric to have a shawl and clutch made for herself and handkerchiefs with embroidered notes made for the mothers.
Later that evening was dinner and then karaoke. Although the karaoke ended up not working out, that didn't stop them from bringing out the party! They invited everyone back to their room after dinner to surprise us with costumes and props galore to dress up and go out in! The bride was decked out in feathers and leis and the groom was dressed as a hot dog. Awesome!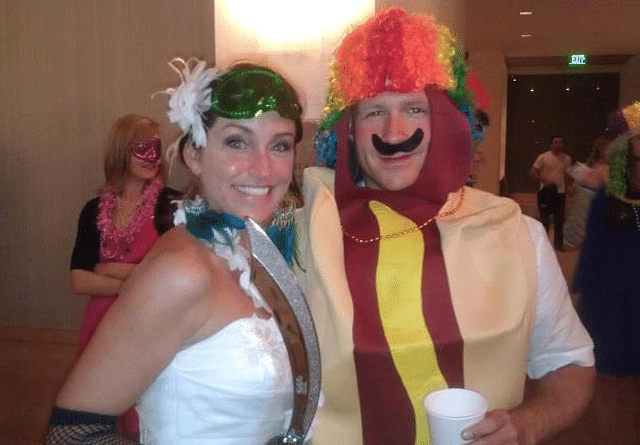 The only potential downer to the weekend was that 2 of our very best friends weren't able to attend. One of them is studying abroad in Australia and the other had knee surgery about 6 weeks before the wedding. She was supposed to be heal enough to be able to make it, but in the end was unable to. Janelle still very much wanted to include both ladies, so she brought them "on a stick". The picture below is from the night before the wedding.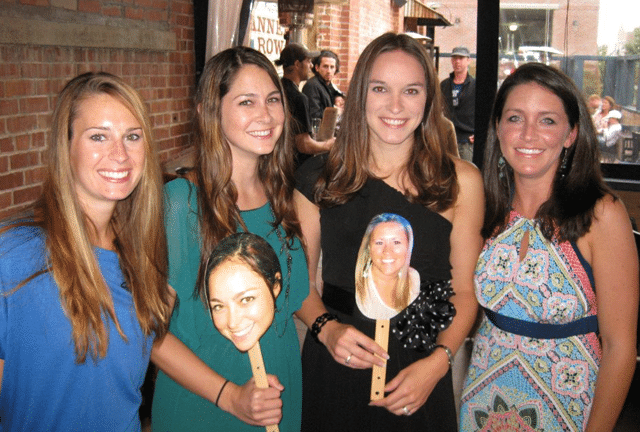 Sidebar: People on a stick is not a new thing for us. It actually began when Jeff (the groom) was in Afghanistan for a year. Janelle took him everywhere "on a stick" so that they could still do things together while he was gone. It was totally awesome!
The picture below is Janelle and Jeff-on-a-stick at a wedding. Jeff caught the garter and Janelle caught the bouquet! My hubs was the volunteer Jeff-on-a-stick that night. 🙂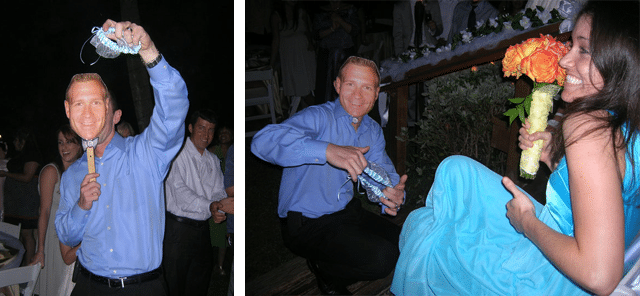 I wanted to contribute something, like cake, but traveling with cake is not an easy thing. Trust me. I've done it. And being the wonderful and ever caring person she is, Janelle wanted me to enjoy the weekend and not worry about a cake. So she asked me to make some personalized cookies.
Inspired by this cookie design, there were 8 different pairs of cookies depicting things they like to do together. In addition, there were hearts, J squared (both their names start with J), and cookies with her new last name, among others. Once all done and together I thought they looked great. And they were oatmeal chocolate chip, which is her fave.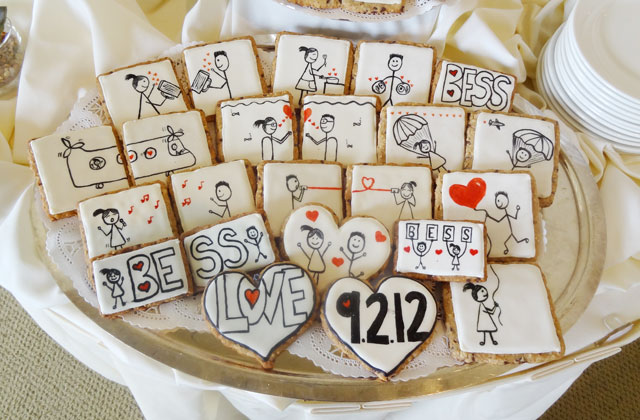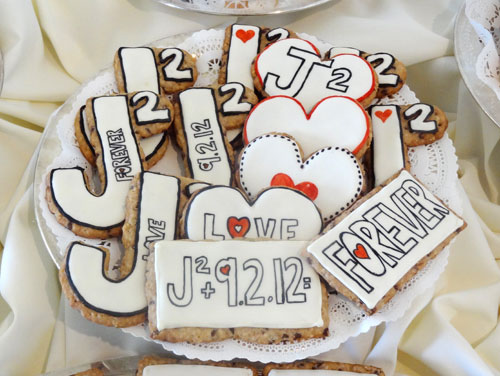 And they were easy to get through security with. For once, I wasn't patted down because I had a suspicious bag of powdered sugar with me. 🙂
Fortunately, everyone love them! Yay! They were quite tasty too, so if you are interested in the recipe, check it out below.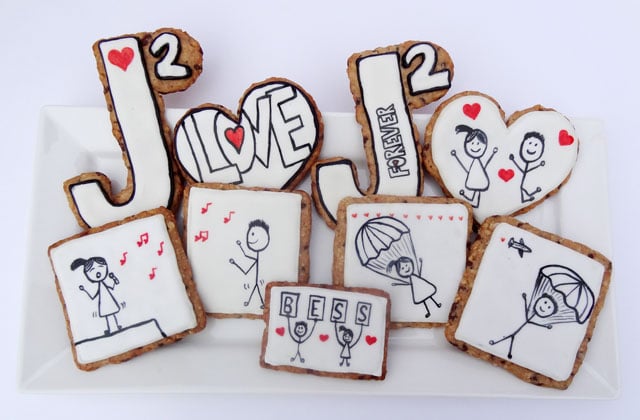 To paint onto the cookies, I used Wilton icing color and vodka. The vodka evaporates and dries fairly quickly.
Print
Recipe
Author:

Prep Time:

1 hour 30 minutes

Cook Time:

30 minutes

Total Time:

2 hours

Yield:

48

Category:

Dessert

Method:

Oven

Cuisine:

American
---
Description
This Oatmeal Chocolate Chip Cut-Out Cookie Recipe is a healthy alternative to sugar cookies that tastes amazing! I made them for my best friend's wedding and everyone was obsessed!
---
Ingredients
For the Cookies
1 cup

butter

1 cup

brown sugar

1

egg

1 1/2 cups

flour

2 tsp

vanilla extract

1 tsp

cinnamon

2 tsp

baking powder

1 1/2 cups

Old Fashioned Quaker Oats (cut up with knife or chopped with food processor – I've tried both and don't see a huge difference as long of you don't demolish the oats in the food processor)

3/4 cup

mini chocolate chips
For the Royal Icing
3 tbsp

meringue powder

4 cups

(

1

lb) powdered sugar

5

–

8

tbsp water to desired consistency
---
Instructions
Cookies
1. Beat butter and sugar together.
2. Add egg and mix thoroughly.
3. Add flour, vanilla cinnamon, baking powder and oats. Mix well.
4. Add chocolate chips.
5. Roll out dough on WELL FLOURED surface. It's best if the dough stays chilled. I took small amounts out of the refrigerator at a time while I used it.
6. Cut out cookies in desired shape.
7. Place on parchment paper on cookie sheet and bake at 350 degreed for 7-9 minutes or until edges are golden.
8. Makes 4 dozen cookies, depending on size of cookie of course.
Royal Icing
1. Whisk meringue powder and sugar together.
2. Add 5 or 6 tbsp of water. Mix on high for 7 – 10 minutes or until icing loses it's sheen.
3. Add more water to get correct consistency.
* For the icing around the edges, I wouldn't add much more water. I use a thicker icing to outline the cookie.
* For the flood icing, I'd add about a teaspoon at a time. You know it's right when you can drag a knife/spatula through the icing and the line in the icing disappears within 5-6 seconds. You could leave it a little thicker, like 8-10 seconds, but this is the consistency I prefer to work with.
---
Nutrition
Serving Size:

1 Cookie

Calories:

123

Sugar:

13.1 g

Sodium:

5.4 mg

Fat:

5 g

Carbohydrates:

18.9 g

Protein:

1.2 g

Cholesterol:

14 mg
Keywords: oatmeal chocolate chip cookies, cut out cookies, royal icing recipe, easy royal icing recipe, healthy oatmeal chocolate chip cookies, best oatmeal cookies, cookie decorating
Filed Under:
Modified from Created by Diane
For a video on how to outline and fill cookies with royal icing, check out Sweetopia. She uses a 10 second icing, but the method is the same.
Thanks for reading and congratulations Janelle and Jeff! You guys rock and I have no doubt your lives together with be full of love and laughter! No doubt at all.
Enjoy!