This post may contain affiliate sales links. Please read my disclosure policy.
This Neapolitan Millionaire Cake is a fun mix of flavors and textures! It has chocolate cake on the bottom, strawberry cheesecake in the middle and vanilla bean mousse on top. It's a beautiful party in your mouth!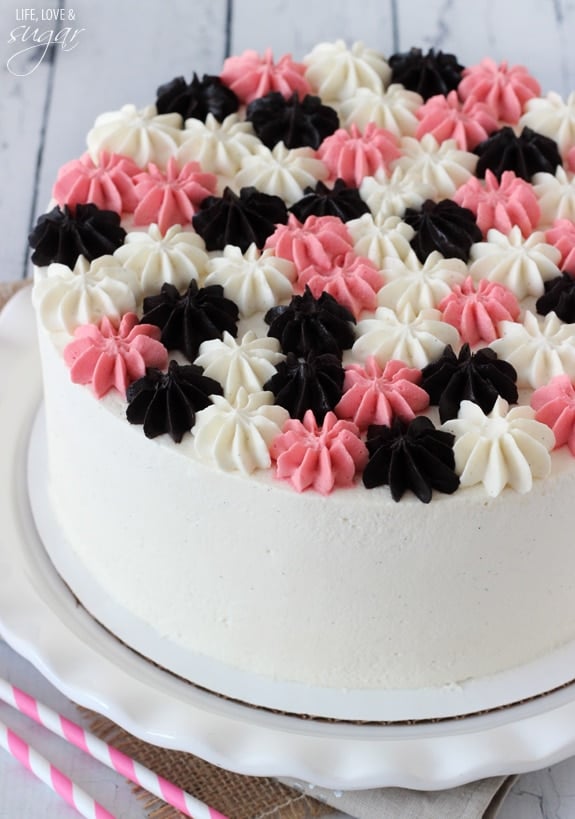 Neapolitan Millionaire Cake Recipe
Well I hope everyone had a great weekend and enjoyed the holiday. The hubs was out of town until late Saturday night, so I actually spent some time baking and catching up on some shows. It's always nice to get a little time to catch up on my girly shows that the hubs doesn't watch. 🙂
I did still get together with some friends for dinner and fireworks. I love watching fireworks and the past couple years we've had rain, so it was nice to finally see some fireworks this year!
Saturday I spent the third Saturday morning in a row taking Jessie (our black lab) to the vet. She has terrible summer allergies that cause her to scratch a bunch, which she has some medicine for, and it causes her to get ear infections if we don't stay on top of cleaning them.
I do my best, but sometimes they get infected. She has a lot of skin folds in her ears where the doc says she's more likely to get infection.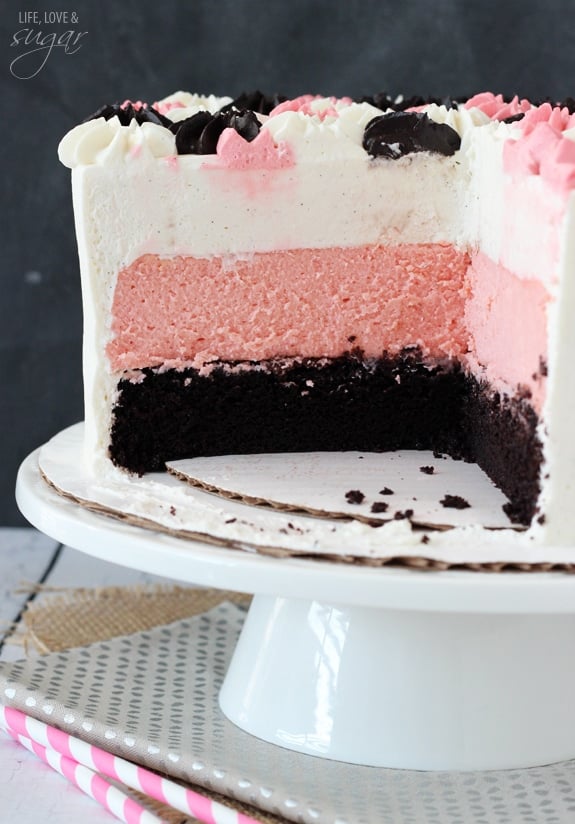 The first week they told us it was an infection on the outer part of the ear, then they checked again and it was the inner ear. Finally she got a clean bill of ear health this weekend. And I could tell even before we went that she was better.
She'd started not really being herself – kind of being a loner and not as playful. Finally she was back to being herself and constantly under my feet as I was baking. Of course, now I'm glad to have her there because it means she's better. Want to sit right under where the mixer is and have powdered sugar rain down on you? Go for it. 🙂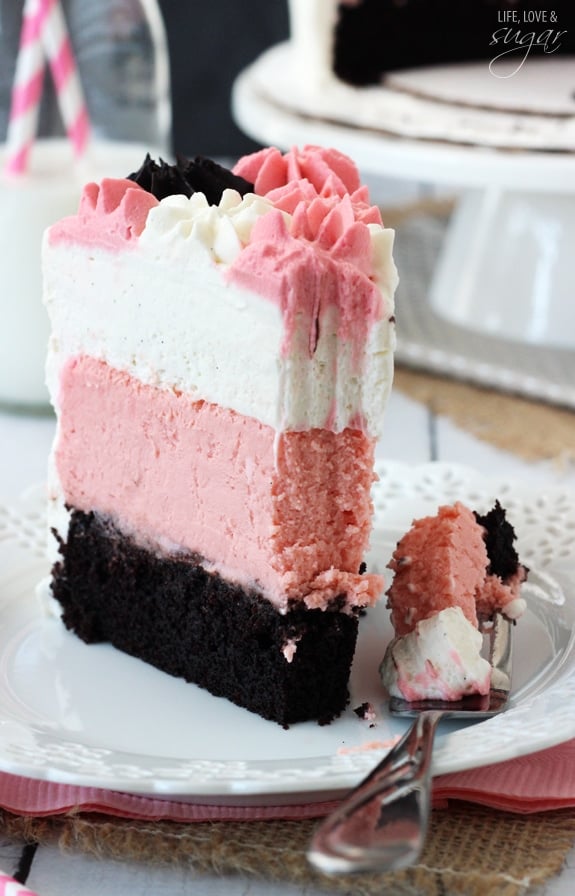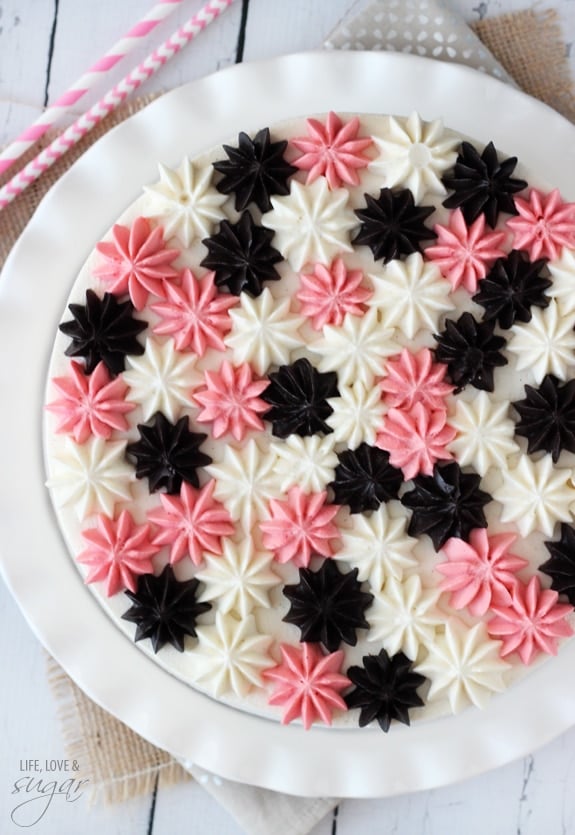 So getting back to the cake, I made a funfetti version (Funfetti Millionaire Cake) a while back and it was seriously AMAZING! Like, really. So I knew I needed to do another version at some point.
Neapolitan always reminds me of the neapolitan ice cream sandwiches we'd eat as kids. I always loved them because of the strawberry. I think I've said it before, but I've always been a strawberry fan. I'd eat the other flavors first and save the strawberry part for last. Plus, it's pink. 🙂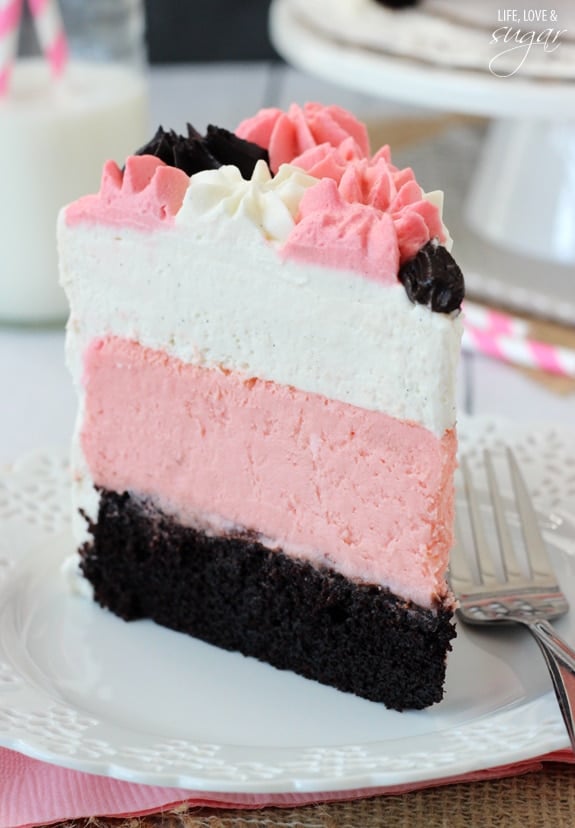 How to Make The Best Neapolitan Layer Cake
I used my favorite chocolate cake for the bottom layer. I always use Hershey'd Special Dark Cocoa, so it's a pretty dark chocolate layer, but you could sub that out for regular cocoa, if you'd prefer.
I went with a strawberry cheesecake center and it is delicious! It took a couple tries to get the flavor just right. Strawberry surprising gets pretty hidden in a baked cheesecake in ways it didn't when making a no bake version – No Bake Strawberry Milkshake Cheesecake. This one uses strawberry extract and then some food color, and the strawberry flavor is terrific. I could eat that all by itself – being a strawberry kid and all.
And then the vanilla bean mousse – I just love those little speckles! And the whipped vanilla icing on the outside is one of my favorite icings. So light and vanilla-y. Mmmm mmm.
There's a bit of work required, but it's really not a hard cake to make. The fun mix of textures make it super unique and totally worth it.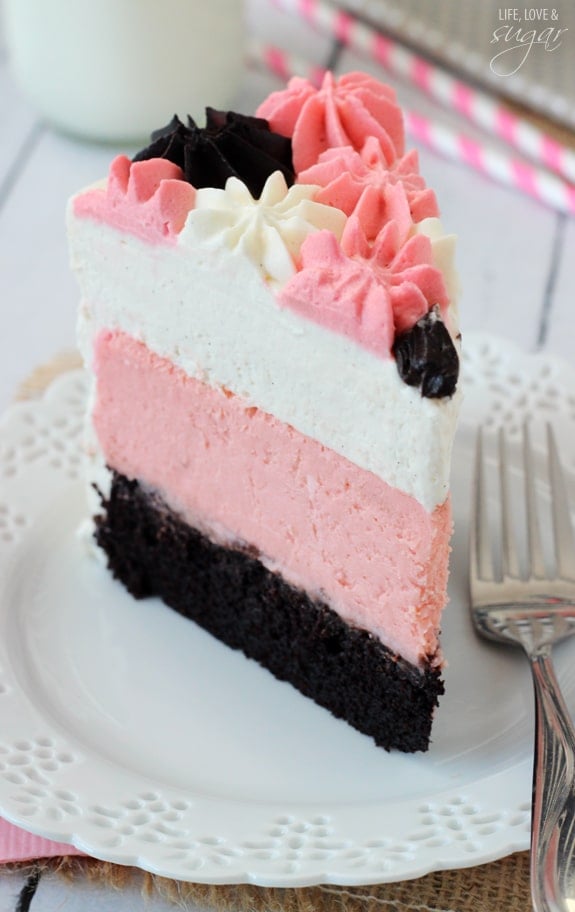 Print
Recipe
Neapolitan Millionaire Cake
Author:

Prep Time:

40 minutes

Cook Time:

2 hours 10 minutes

Total Time:

2 hours 50 minutes

Yield:

12-14 slices

Category:

Dessert

Method:

Oven

Cuisine:

American
---
Description
This Neapolitan Millionaire Cake is a fun mix of flavors and textures! It has chocolate cake on the bottom, strawberry cheesecake in the middle and vanilla bean mousse on top. It's a beautiful party in your mouth!
---
Ingredients
CHOCOLATE CAKE
1 cup

flour

1 cup

sugar

1/4

+

1/8 cup

Hershey's Special Dark Cocoa powder

1 tsp

baking soda

1/2 tsp

salt

1

large egg

1/2 cup

buttermilk

1/2 cup

vegetable oil

3/4 tsp

vanilla

1/2 cup

boiling water
STRAWBERRY CHEESECAKE
24 oz

cream cheese

1 cup

sugar

3 tbsp

flour

1 cup

sour cream

4

eggs

3 tbsp

strawberry extract
about

20

drops red food color
VANILLA BEAN MOUSSE
1 1/2 tsp

powdered gelatin

1 1/2 tablespoons

water

2 1/3 cups

heavy cream, divided

1/2 cup

sugar

2 1/2 tsp

vanilla bean paste
WHIPPED VANILLA ICING
2 cups

heavy whipping cream

1 cup

powdered sugar

1 tsp

vanilla bean paste

1/4 tsp

vanilla extract
---
Instructions
TO MAKE THE CHOCOLATE CAKE:
1. Preheat oven to 300 degrees.
2. Put all dry ingredients in a large bowl and whisk together.
3. Add eggs, buttermilk and vegetable oil to the dry ingredients and mix until smooth.
4. Add vanilla to boiling water and add to mixture.
5. Mix until smooth.
6. Pour into prepared 9 inch pan and bake 35-38 minutes.
7. Remove from oven and let cool for 5-10 minutes in pan, then remove to cooling rack to finish cooling.
8. Once cooled, cut off cake dome with a long serrated knife.
TO MAKE THE STRAWBERRY CHEESECAKE:
1. Preheat oven to 300 degrees. Line the bottom of a 9 inch springform pan with parchment paper and grease the sides.
2. In a large bowl, blend the cream cheese, sugar and flour. Use low speed to keep less air from getting into the batter.
3. Add the sour cream and 2 eggs. Beat until just combined.
4. Add other 2 eggs, strawberry extract and red color. Beat until combined.
5. Pour the filling into the pan. Drop onto the counter a few times to release any air bubbles.
6. Wrap bottom of pan in aluminum foil and prepare it for a water bath.
7. Place foil wrapped pan in a another pan large enough for a water bath. Fill water pan with warm water about half way up the sides of the springform pan.
8. Bake for 1 hour and 35 minutes.
9. Turn off heat and leave in oven with door closed for 20 minutes or until set. Center of cheesecake will not look fully cooked, but will continue to cook in the oven.
10. Open oven door halfway and let cool for about 10 minutes.
11. Refrigerate until firm 5-6 hours.
12. Remove cheesecake from springform pan.
TO MAKE THE VANILLA BEAN MOUSSE:
1. In a small bowl, sprinkle the gelatin over the water, let stand for about 5 minutes. Place mixer bowl and whisk attachment into the freezer for about 10 minutes.
2. Take bowl out and whisk out of freezer and whisk 2 cups heavy cream at high speed until it begins to thicken.
3. Add sugar and vanilla bean paste and continue whisking on high until stiff peaks form.
4. Heat remaining heavy cream in the microwave for about 30 seconds, or until warm.
5. Add gelatin to heavy cream and stir to combine. Allow to cool.
6. Add gelatin mixture to whipped cream. Stir to incorporate and whip back to stiff peaks, if needed.
TO BEGIN PUTTING IT ALL TOGETHER:
1. Prepare the same springform pan you used to make the cheesecake and cake. Put parchment paper on the bottom and around the edges, sticking up above the top edge of the pan.
2. Place the cheesecake into the cake pan.
3. Pour the vanilla bean mousse on top of the cheesecake and spread evenly.
4. Refrigerate until set, about 2 1/2 hours.
ONCE THE MOUSSE HAS SET, MAKE THE WHIPPED VANILLA ICING:
1. Put mixing bowl and whisk attachment in freezer for about 10 minutes.
2. Remove bowl and whisk from freezer and whip cream on high until it begins to thicken.
3. Add vanilla extract and powdered sugar and whip on high until thick and creamy.
TO FINISH OFF THE CAKE:
1. Get cheesecake/mousse out of refrigerator.
2. Place chocolate cake on a cake board, or the plate you will serve it on.
3. Remove cheesecake and mousse layers from springform pan.
4. Spread a thin layer of icing on top of the chocolate cake. You can add a little cocoa to the icing for that layer if you don't want to see the white icing between the cake and cheesecake layer.
5. Place the cheesecake and mousse layers on top of the cake, using the cheesecake to lift it. The cheesecake should end up as the middle layer, with the cake on bottom and the mousse on top.
6. Ice the cake with the whipped icing.
7. Separate remaining icing into three bowls and color one brown with cocoa and one pink with food color. Pipe the three different colors onto the top of the cake in a pattern.
7. Refrigerate until ready to serve.
---
Notes
I used the Ateco 849 icing tip
 for the top of the cake.
Nutrition
Serving Size:

1 Slice

Calories:

762

Sugar:

47.4 g

Sodium:

393.4 mg

Fat:

55.7 g

Carbohydrates:

58.4 g

Protein:

10.4 g

Cholesterol:

205.6 mg
Keywords: neapolitan cake, layer cake recipe, layer cake, chocolate strawberry cake, strawberry vanilla cake, strawberry cheesecake, strawberry cheesecake recipe, vanilla mousse
Filed Under:
Note: I used the Ateco 849 icing tip for the top of the cake.
Enjoy!
Other Amazing Cake Recipes
Recipes From Friends
Neapolitan Cheesecake from I Am Baker
Neapolitan Greek Yogurt Pudding Pops from In Katrina's Kitchen
Neapolitan Cake From Brown Eyed Baker