This post may contain affiliate sales links. Please read my disclosure policy.
This Mint Chocolate Brownie Brittle Bark is smooth, crunchy and super easy to make. It comes together in no time, and it's great for snacking & sharing!
Love this chocolatey, minty dessert recipe? You should also give my Double Mint Chocolate Cookies a try!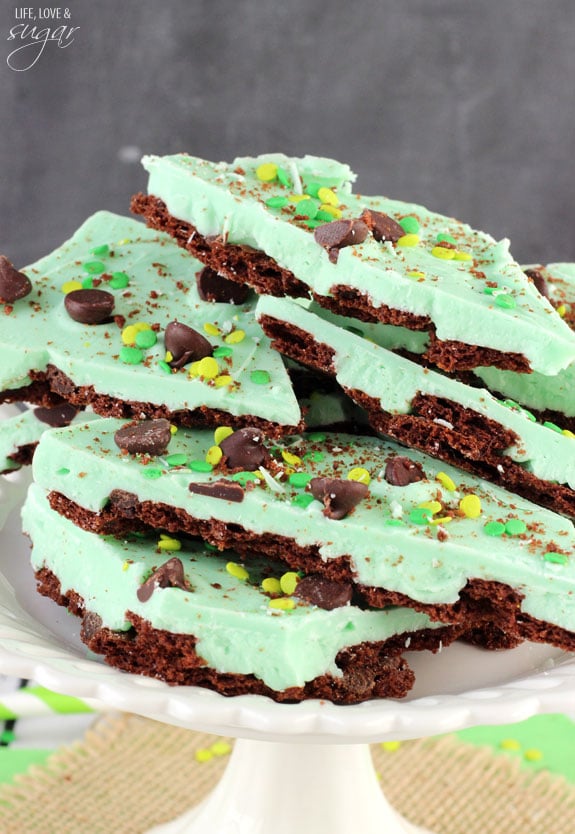 Mint Chocolate Brownie Brittle Bark
So with many of our friends starting to have kids, it seems one of the first things we do when we see the babies for the first time is try to decide who the baby looks most like. Mom or dad? Then, as they grow up, there's still those comments about who the kids are more like. And even as an adult, it happens.
"oh, you get that from your father."
Usually it's the bad stuff that one parent is blaming on the other. I totally get it. Whatever bad things our kids do one day, I'm definitely blaming on the hubs.
And the truth is, I'm very much like my parents. The good and the bad. Today let's talk about ways that I'm like my dad.
1. Dancing. He loves it. You can't put on music that he likes and expect him to sit still. I will never forget him car dancing like a fool while listening to Mariah Carey's "Dreamlover". Or Tina Turner. He does a lot of dancing to Tina. So it should be no surprise that I dance like a fool regularly. In my car, while baking. Bring it. Sometimes listening to music while working out is even difficult when a good beat comes on and want to stop my cardio action and bust a move.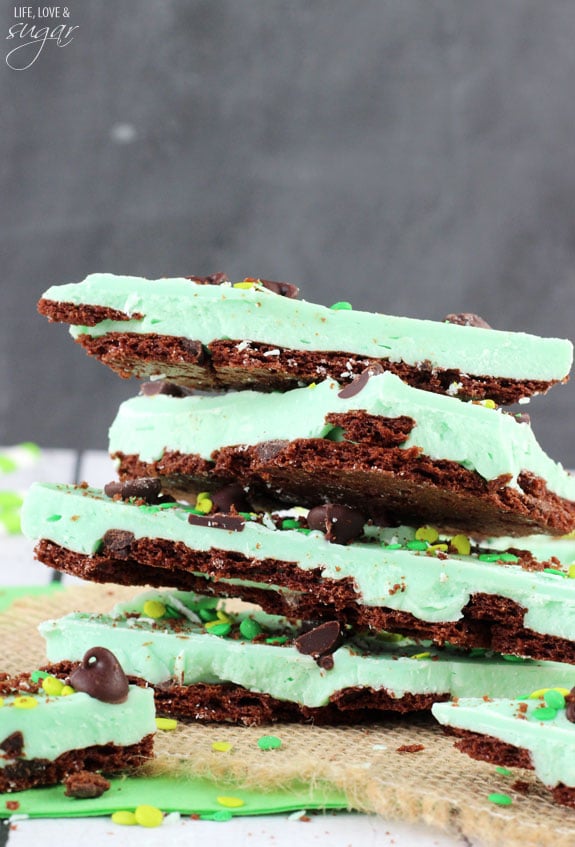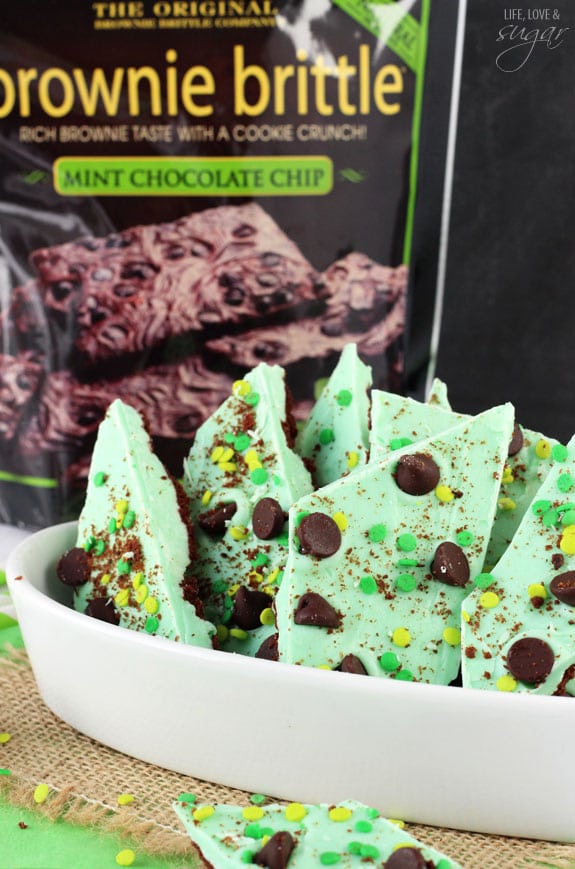 2. Pack rats. You can't teach this. It's ingrained. Please don't look in either of our closets. The things you'll find there…well, they should've been thrown away a long time ago. But they won't be thrown away. You know why? Because we might need that notebook from the 3rd grade one day. You just never know.
3. We like our sweets. I can count on him at a buffet to want to try all the desserts with me. And then we'll pile the gummy bears from the ice cream topping bowl into a napkin and sneak them out and devour them later. Heck, they might even end up a in a to go box. Classy, I know. That's how we roll.
4. This goes along with 3. When we find a food we like, we want to share it with everyone so that they know just how good it is. I would happily force feed you a delicious treat just so that you know it's amazing-ness. "You have to try it!"
Well, when he visited recently I had him try Brownie Brittle. Obviously he was a fan. How could you not be? It's amazing stuff. I sent him home with a few bags. Then when I talked to my mom the next week she said he was making everyone that came to the house taste it. Seriously, we are cut from the same mold. 🙂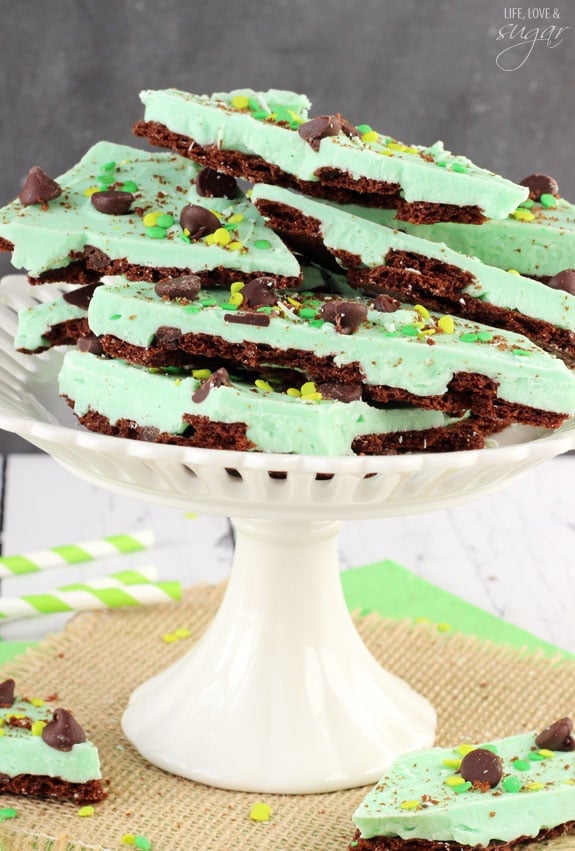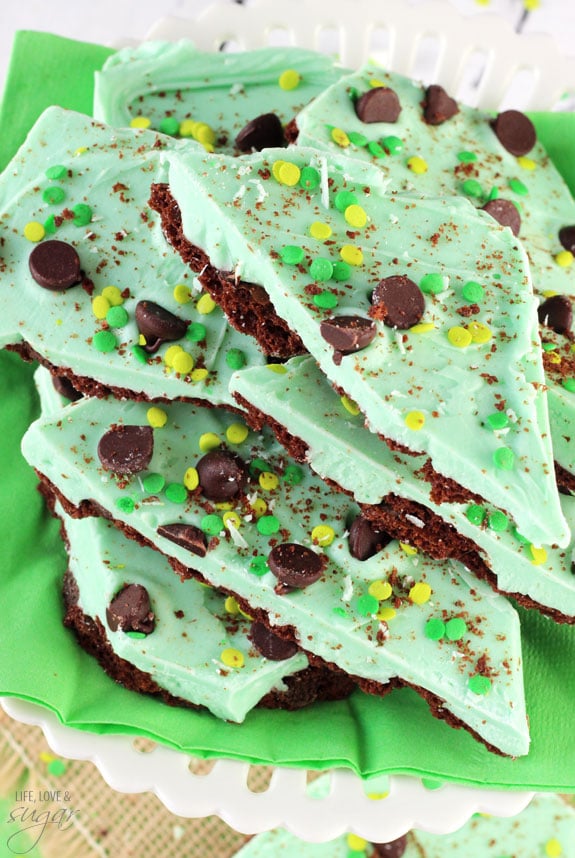 The mint was his favorite flavor and he'd love this bark. And so will you. And it's so easy to make, my mom could even make it for him (hint, hint mom 😉 ).
Why I Love This Easy No Bake Dessert Recipe
The Brownie Brittle is the best part too. Instead of just using chocolate in a bark, the Brownie Brittle gives it a great brownie flavor and a ton of crunch! How fun is that? You get a layer of smooth, delicious, minty white chocolate and a layer of crunchy, minty, chocolatey brownie. Brownie, bark and chocolate unite!
This bark is one of those great treats that you can easily toss in a lunch box, as I've been doing for myself, or take and share with friends and give it away as a nice little gift. You could package it up all cute and everything.
So you should totally make this bark then be like my dad and share it with everyone. They'll love you for it. 🙂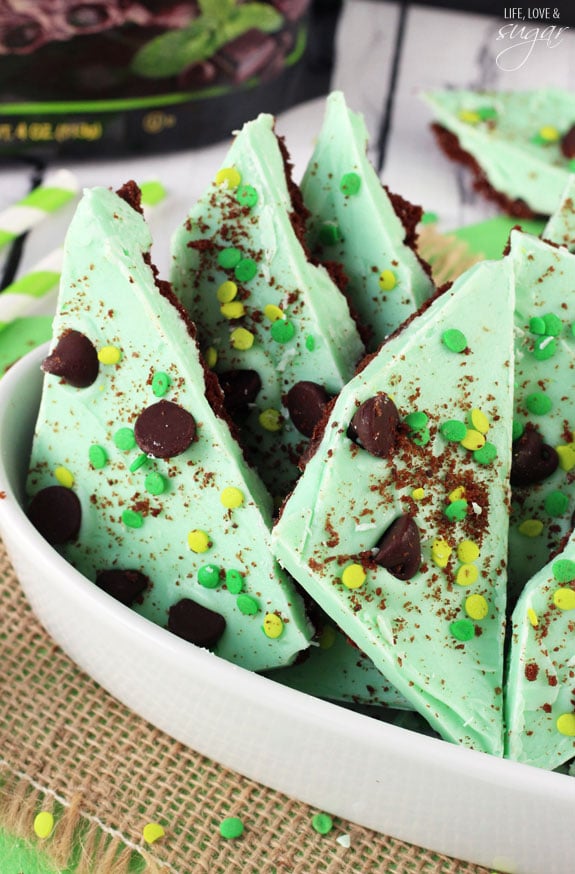 This post is sponsored by Brownie Brittle™ but all thoughts and opinions are my own.
You might also like
Mint Chocolate Cookie Cups
Mini Mint Chocolate Oreo Cheesecakes
Mint Chocolate Chip Cupcakes
Brownie Brittle Birthday Cake Icebox Cupcakes
Brownie Brittle Grasshopper Pie
Shop the recipe

Print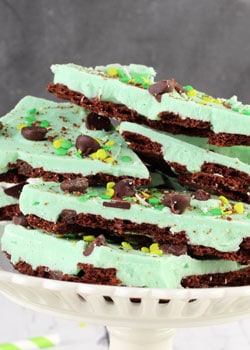 Recipe
Mint Chocolate Brownie Brittle Bark
Author:

Prep Time:

15 minutes

Cook Time:

0 minutes

Total Time:

15 minutes

Yield:

About 12 servings

Category:

Dessert

Method:

No Bake

Cuisine:

American
---
Description
This Mint Chocolate Brownie Brittle Bark is smooth, crunchy and super easy to make. It comes together in no time, and it's great for snacking & sharing!
---
Ingredients
two

4 oz

bags mint brownie brittle

24 oz

white chocolate chips

1 1/2 tbsp

shortening

3 1/2 tsp

mint extract

10

drops green food color
chocolate chips, for decoration
sprinkles, for decoration
---
Instructions
1. Line a 9×13 pan with parchment paper or aluminum foil. Make sure to have it sticking above the edges, you'll uses it to lift the bark out of the pan when it's done.
2. Place pieces of Brownie Brittle in an even layer on the bottom of the pan. Fill in holes with smaller pieces.
3. Place white chocolate chips in microwave safe bowl and heat in 30-45 second increments, stirring between, until it starts to melt and you can stir it.
4. Add shortening and mint extract and microwave another 30-45 seconds. Mix it all together.
5. Continue to microwave chocolate until smooth.
6. Add food color and mix together.
7. Drop spoonfuls of chocolate on top of Brownie Brittle and carefully spread into an even layer with an offset spatula.
8. Sprinkle chocolate chips and sprinkles on top of chocolate and press into chocolate. You can also sprinkle some Brownie Brittle crumbs on top.
9. Place in refrigerator to harden, then remove from pan and cut into pieces.
---
Nutrition
Serving Size:
Calories:

394

Sugar:

41.7 g

Sodium:

105.8 mg

Fat:

22 g

Carbohydrates:

46.3 g

Protein:

3.9 g

Cholesterol:

11.9 mg
Keywords: brownie brittle recipe, chocolate bark recipe, mint brownies, easy brownie recipe, no bake dessert recipe, easy no bake dessert, best brownie recipe
Filed Under:
Enjoy!