I have always loved strawberries. Growing up, they were my favorite fruit. I'd always get a bunch of them when they were in season, wash and cut them, and cover them in sugar. Duh! Then I'd have them ready to eat everyday after school.
So naturally I am a big fan of a good strawberry cupcake as well. And these puppies don't disappoint.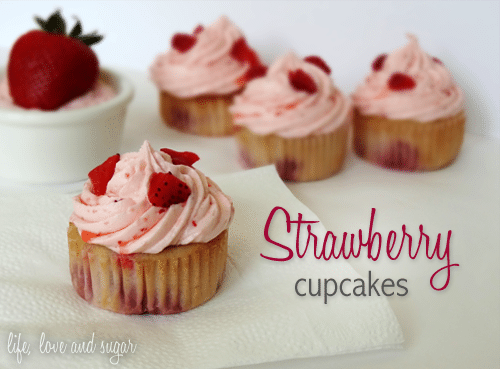 The strawberry speckled cake and the light strawberry icing just melts in your mouth. I could eat these all day long.
My husband, who is not a big sweets person (I know, crazy right!?), is one of my taste testers. I know. That seems weird since I just said he's not a sweets person. But he's great at giving me his honest opinion and if he tells me it's good, just too sweet, I totally ignore him :). There's no such thing as too sweet.
However.
When I took a forkful of this cupcake to him to taste, he immediately stopped what he was doing, gave me a wide eyed look, and said "That is gooooood." He then followed me to the kitchen to come get his own. No joke. And I couldn't blame him. Like I said, this recipe doesn't disappoint. Not if you like strawberry. Whether you like things super sweet or not, this delivers.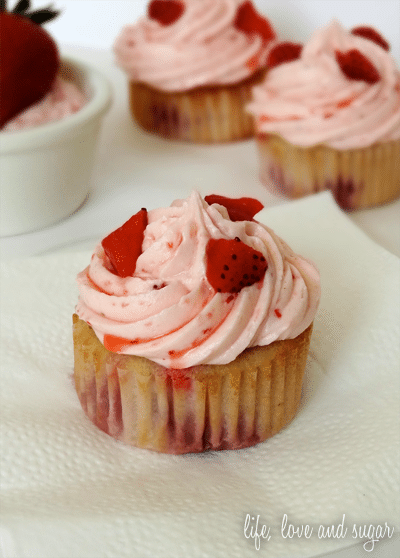 So here you go! Enjoy!
My strawberry cupcakes have been updated and improved!
You can find the new Fresh Strawberry Cupcakes recipe here.
This post may contain affiliate sales links. Please read my disclosure policy.