This post may contain affiliate sales links. Please read my disclosure policy.
This Loaded Butterscotch Cheesecake might literally be the best cheesecake I've ever had, let alone made. It is so darn good. Every bite explodes with creamy, rich butterscotch flavor.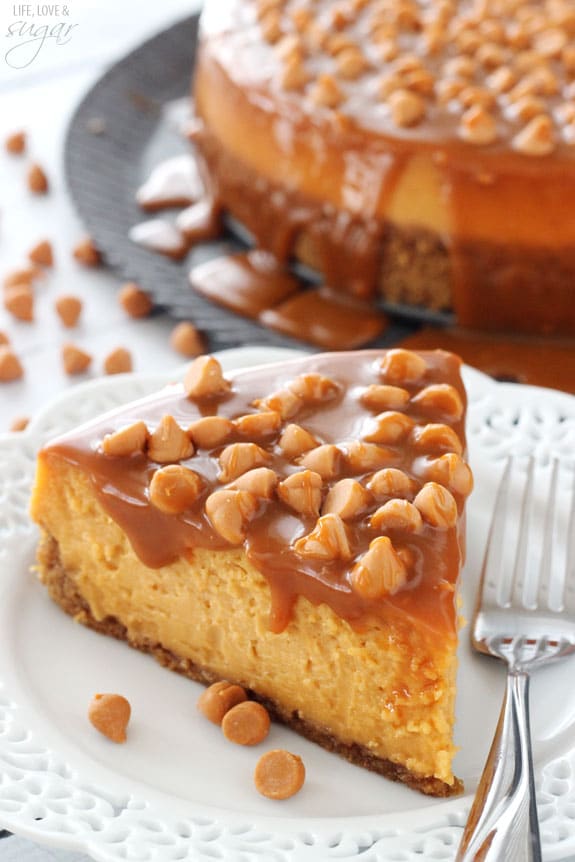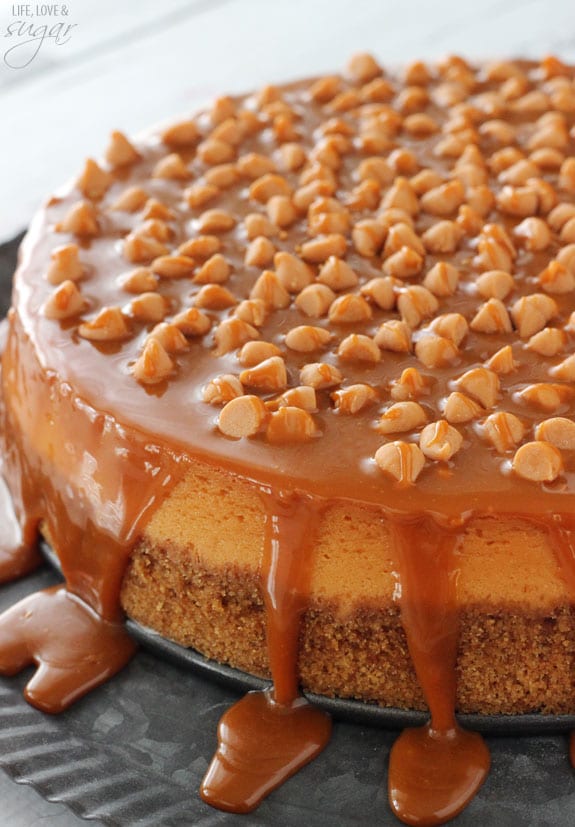 Loaded Butterscotch Cheesecake
So I have a tendency to fall in love with new songs and then play them over and over. It's totally a thing I do. I'll bake, work, whatever with the song, or few songs, basically on repeat in the background.
Lately I've had 3 or 4 that I'm totally into. I've been listening to them while I bake at night.
Then the hubs and I were in the car the other day and one of them (Ellie Goulding – Love Me Like You Do) came on the radio. I was like, "Ohhh, it's my song." And he was like, "Oh, I know."
For some reason, I'd kind of assumed he totally ignored me, what I was listening to and my singing. He's usually in his office with the door closed.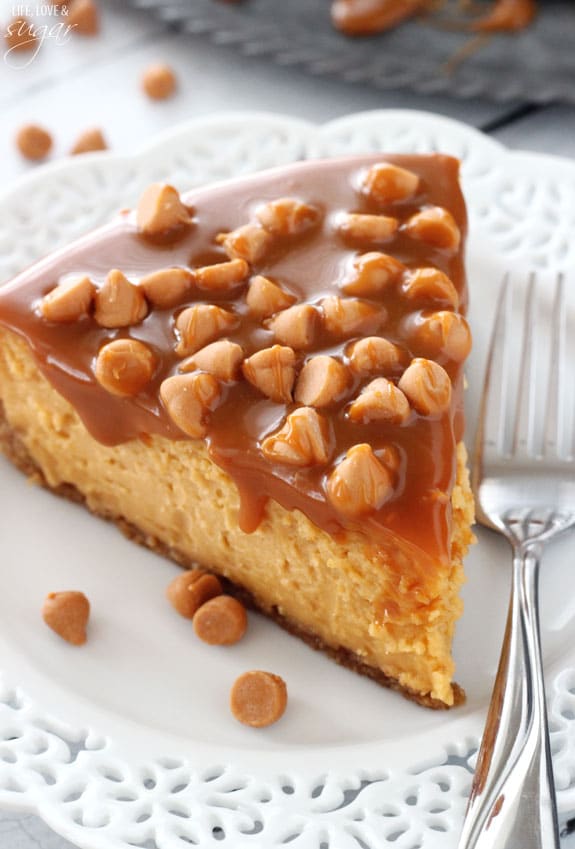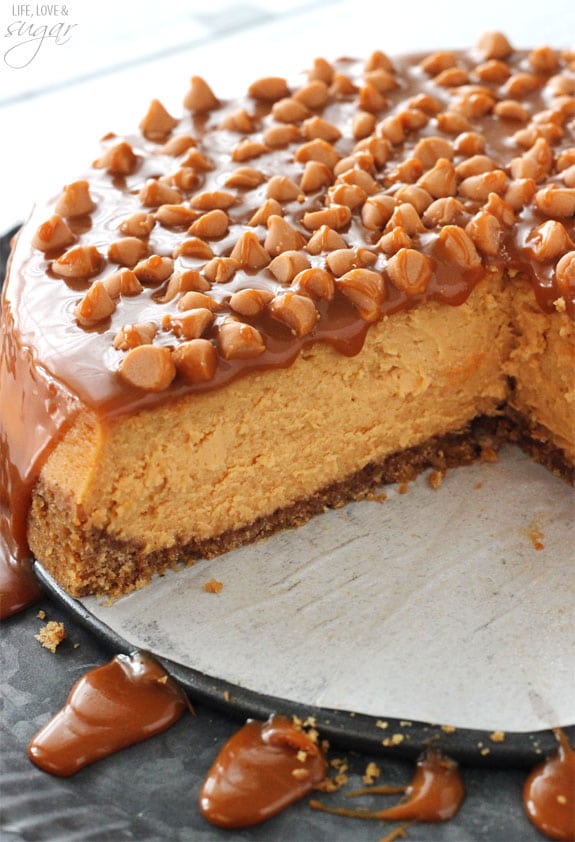 Then he was all, "And you always sing the same part." And I had no idea what he was talking about. The same part? All I could remember was singing the song in general. No specific part. But whatever.
Then a part of the song came on and I immediately started to sing it out loud and he was like, "There it is!"
I couldn't help but laugh. It's amazing to me sometimes that he notices that stuff. I had no idea I tended to do that. Now every time I hear the song, I think about it – and I always want to belt out the same part. Thank goodness he loves me. 🙂
Truth is I love to sing (although I can't actually sing) and dance around. And sometimes, when I'm lucky, the hubs will get goofy with me and sing things like Disney songs with me. Don't tell him I told you though! He'll never do it again! And that would make me sad.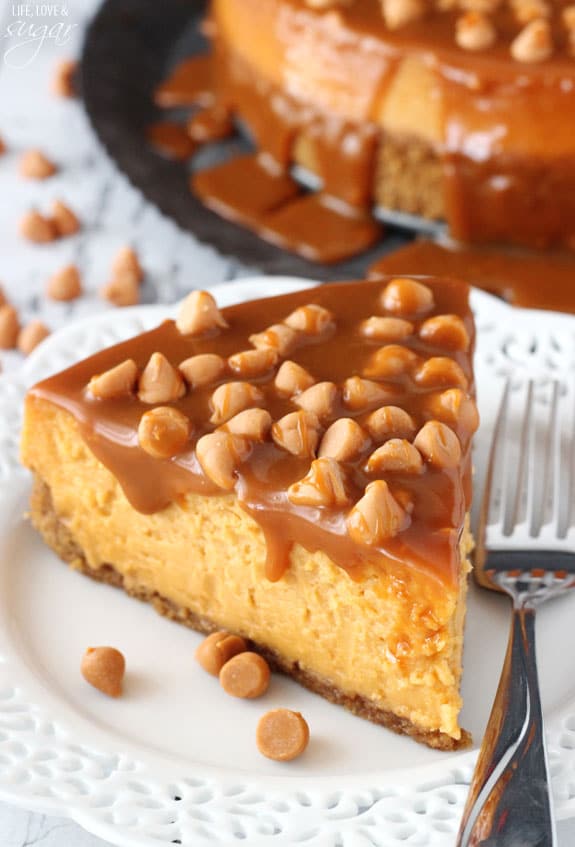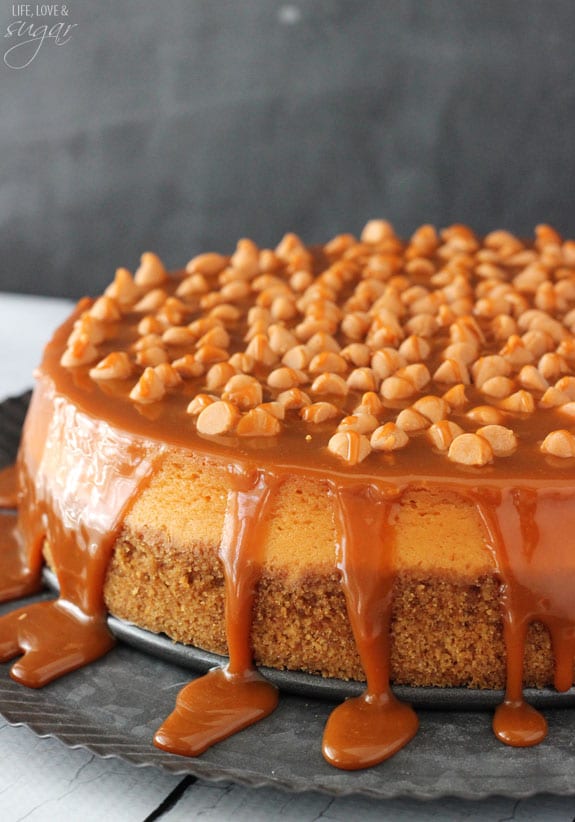 On another note, it would also make me sad if I'd never gotten to eat this cheesecake. You might not believe me, but you need this cheesecake. Ridiculous. So good.
I packed it with butterscotch flavor – because that's what I do. Strong flavors.
Tips for Making Loaded Butterscotch Cheesecake
At first, I just used a butterscotch pudding mix to flavor the cheesecake. It was fine, but not enough. I wanted straight butterscotch.
So I added butterscotch chips. And then more butterscotch chips in the form of ganache. Then more on top. The final result is perfect. You will want to keep the whole cheesecake to yourself. It's addicting.
The butterscotch chips get melted on the stove, then the pudding is added (with less milk than normal). It will definitely thicken when combined, so you want to make sure you add it to the cream cheese mixture while warm so that it incorporates well.
This baby was a hit! So loved by all. You might be tempted to be all, "I just want one bite," but you will break after that one bite. You will. It's that good.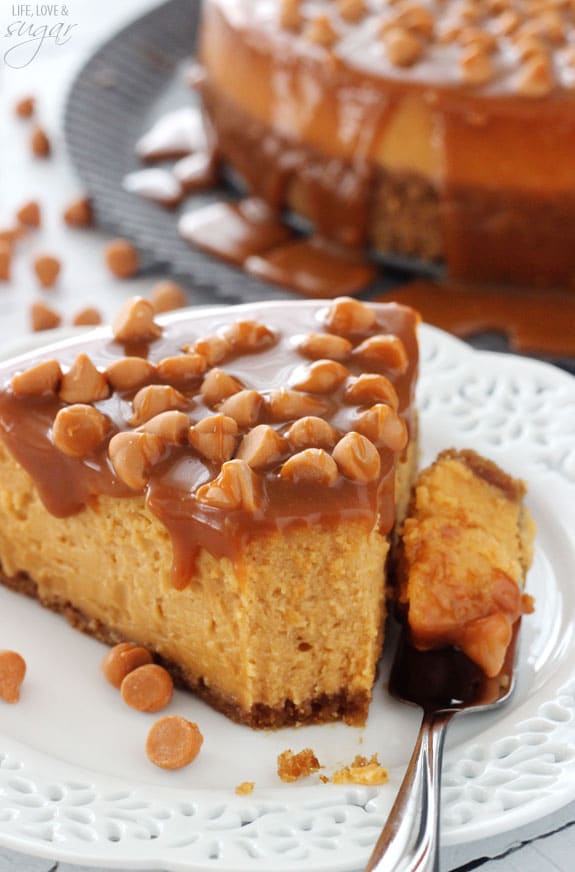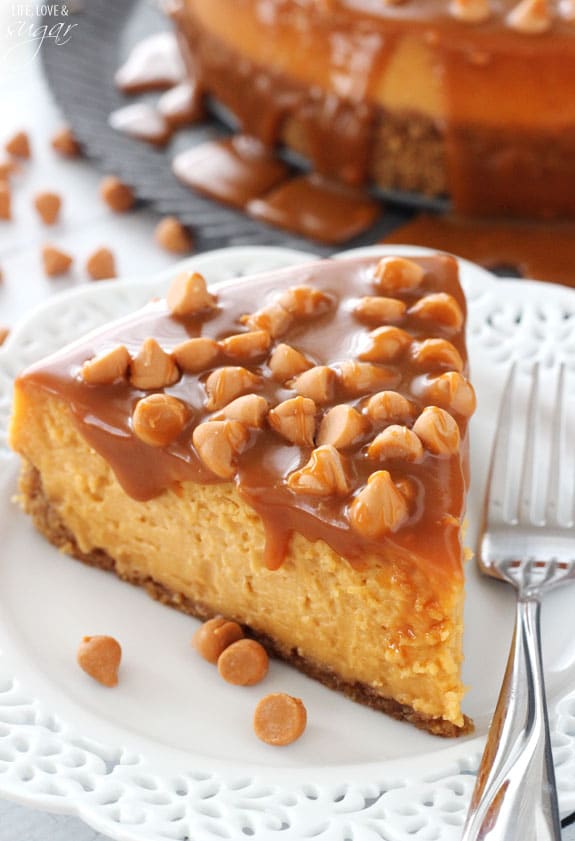 You might also like:
Ultimate Butterscotch Cake
Pumpkin Butterscotch Chip Cookies
White Chocolate Butterscotch Tart
Double Pumpkin Butterscotch Rice Krispy Treats
Butterscotch Toffee Cookies


Print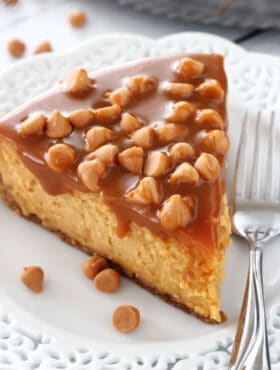 Recipe
Loaded Butterscotch Cheesecake
Author:

Prep Time:

45 minutes

Cook Time:

2 hours 25 minutes

Total Time:

3 hours 10 minutes

Yield:

12-14 Slices

Category:

Dessert

Method:

Oven

Cuisine:

American
---
Description
This Loaded Butterscotch Cheesecake might literally be the best cheesecake I've ever had, let alone made. It is so darn good. Every bite explodes with creamy, rich butterscotch flavor.
---
Ingredients
CRUST
1 1/4 cups

nilla wafer crumbs

4 tbsp

butter

4 tbsp

brown sugar
FILLING
24 oz

cream cheese, room temperature (three

8 oz

packages)

1 cup

sugar

3 tbsp

flour

4

eggs, room temperature

1 tsp

vanilla extract

1 cup

milk, divided

1 cup

butterscotch chips

3.4 oz

package dry Butterscotch pudding mix
TOPPING
1 1/2 cups

butterscotch chips

4 1/2 tbsp

heavy cream
---
Instructions
CRUST
1. Heat oven to 325 degrees.
2. In a small bowl, combine crust ingredients and mix well.
3. Press mixture into the bottom and up the sides of a 9-inch springform pan with parchment paper in the bottom.
4. Bake crust for 10 minutes.
5. Remove pan from oven and allow to cool.
6. When cool, prepare the pan for a water bath by covering the outsides of the pan with aluminum foil. Set aside.
CHEESECAKE FILLING AND TOPPING 
1. Reduce oven to 300 degrees.
2. In a large mixer bowl, blend the cream cheese, sugar and flour with an electric mixer until combined (Use low speed to keep less air from getting into the batter, which can cause cracks). Scrape down the sides of the bowl.
3. Add eggs two at a time, beating slowly and scraping the sides of the bowl after each addition.
4. Add the vanilla extract. Beat on low speed until well combined. Set aside.
5. Add 1/2 cup of milk and 1 cup of butterscotch chips to a medium sized saucepan. Heat on medium heat until butterscotch chips are completely melted. Do not boil.
6. In a small bowl, add butterscotch pudding mix to remaining 1/2 cup of milk. Whisk until combined, then slowly pour into the saucepan with the melted butterscotch chips. Whisk mixture until everything is melted and smooth. Mixture will begin to thicken.
7. With the mixer running, slowly add the butterscotch mixture to the cheesecake mixture and mix until smooth.
8. Pour the filling into the pan.
9. Drop the cheesecake on the counter a few times to release air bubbles that can cause cracks.
10. Place aluminum foil covered springform pan inside another pan. Fill outside pan with enough warm water to go about halfway up the sides of the springform pan. The water should not go above the top edge of the aluminum foil on the springform pan.
11. Bake for 1 hour and 30-35 minutes. Center will be jiggly.
12. Turn off heat and leave cheesecake in oven with door closed for 30 minutes.
13. Crack oven door and leave the cheesecake in the oven for another 10 minutes or until set. This cooling process helps the cheesecake cool slowly to prevent cracks.
14. Remove cheesecake from oven and chill.
15. Once cold and firm, remove cheesecake from springform pan and place on serving plate.
16. Place 1 cup butterscotch chips and heavy cream in a microwave safe bowl and heat until the cream begins to boil.
17. Whisk butterscotch mixture until smooth, then pour over the top of the cheesecake.
18. Top cheesecake with additional 1/2 cup of butterscotch chips, if desired.
---
Nutrition
Serving Size:

1 Slice

Calories:

288

Sugar:

28.5 g

Sodium:

372.5 mg

Fat:

13.8 g

Carbohydrates:

34.9 g

Protein:

6.9 g

Cholesterol:

87.8 mg
Keywords: butterscotch cake, butterscotch pie recipe, butterscotch pie, butterscotch recipe, best cheesecake recipe, homemade cheesecake, homemade cheesecake recipe
Filed Under:
Enjoy!