This caramel sauce is to die for! It's a classic homemade caramel recipe that you'll make over and over again. I know because I'm doing it right now. Caramel sauce on all the things!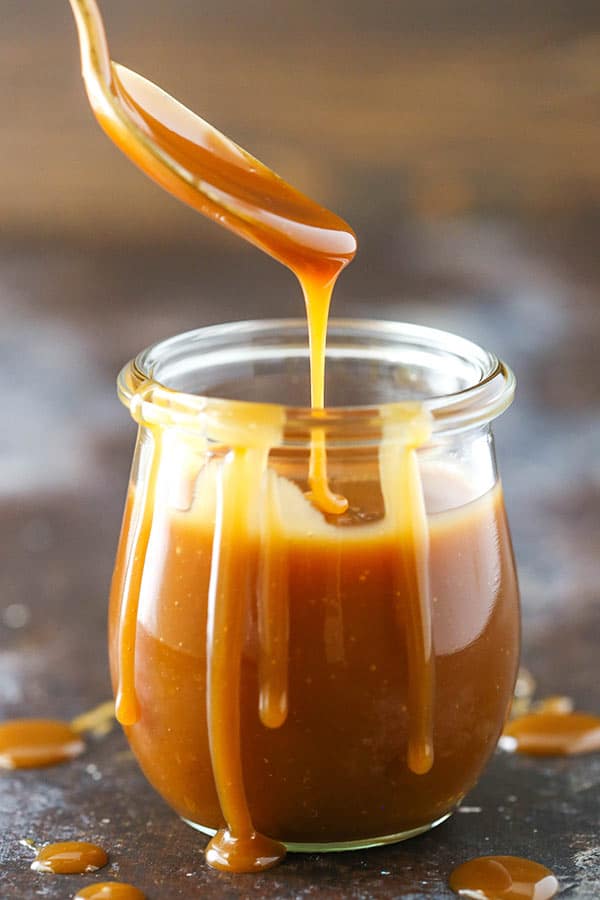 Homemade Caramel Sauce for the Win!
You guys, it's officially September. Can you believe it? Get ready for all things fall! I'm so excited for apples, pumpkin, and all the awesome flavors of the holidays! Bring it.
And yet I CANNOT believe it's already September! Where has the year gone?! I feel like the end of the year is fast approaching and I'm totally not ready. Baking-wise, I say let's do this. Life-wise, however – slow down!
Whatever. I'll drown my disbelief in a jar of this caramel sauce. It's so darn good it eases the pain of time flying by.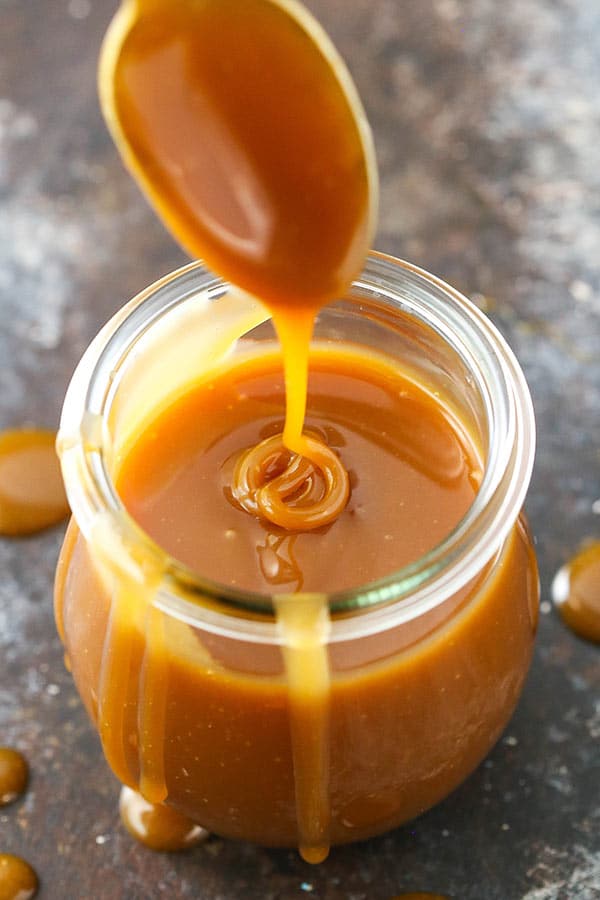 Why Make Caramel Sauce from Scratch?
Last year I shared this brown sugar caramel with you and this year I'm taking it up a notch with a traditional recipe! This caramel sauce has a lovely rich flavor to it. It takes a little more care in making, but is totally worth it.
Homemade caramel sauce has better flavor and you know exactly what is going into it, so if you are not a fan of preservatives in your food then homemade is the way to go.
Only 3 Ingredients!
What goes into caramel sauce anyways? Here is a quick overview of the main ingredients. Be sure to scroll down to the recipe card for specific amounts.
Sugar – We are going to be using regular granulated sugar in this recipe.
Butter – Unsalted butter at room temperature is best. This way you don't need to worry about an overly salty caramel sauce and can add a pinch of salt if you want later. I also have this salted caramel recipe you may want to check out.
Heavy Whipping Cream – Make sure it is at room temperature. Don't replace this with milk or half and half, you need the fat content from the whipping cream to get a smooth, creamy texture on the caramel sauce.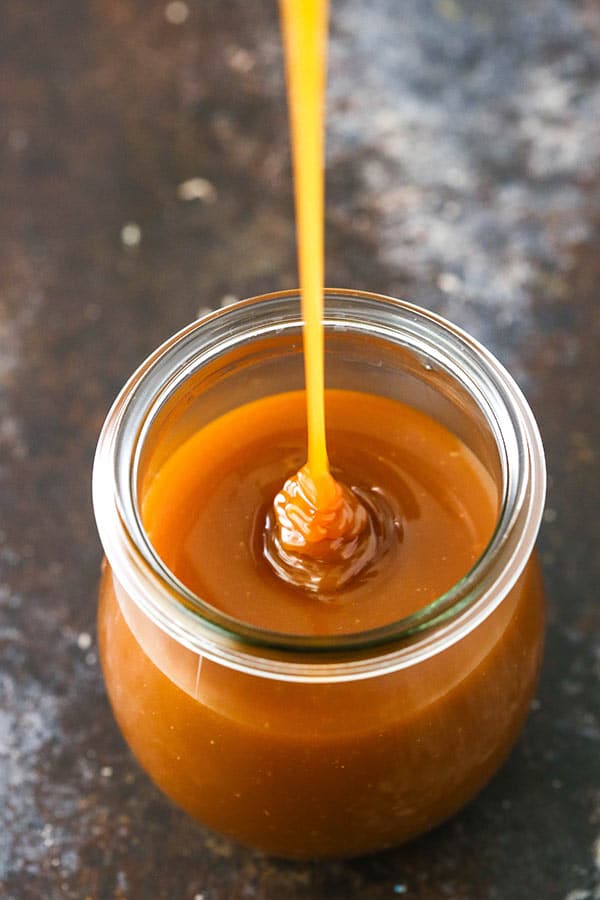 How to Make Caramel
Ok let's make some caramel sauce! Get ready to feel eminently fancy and elegant with practically zero effort.
Melt down the sugar. This may seem intimidating, but it really shouldn't be. Melt it over medium-high heat and just watch it, whisking it as it goes. It'll start to clump together first, then you'll notice it start to melt. That's when it gets exciting! The whole melting process should take about 10 minutes, give or take.
Let it caramelize. Once the clumps in the sugar are gone and it is completely melted, stop whisking and allow the sugar to cook a little more. Keep a very close eye on it. The color will turn to a deeper amber color and you should notice a nutty aroma. It'll happen quickly! As soon as it does, you want to remove it from the heat. If you let it go too long, it'll burn. Pressure, I know. But once you notice it really start to turn darker, just take it off the heat.
Add the butter. Whisk it into the sugar. It'll bubble up, but keep whisking. The butter seems to resist coming together completely, but it will.
Next, add the heavy cream and again whisk until combined. There'll be more bubbles, but then you're done!
Cool for about 15 minutes. As your caramel sauce cools it will thicken up. I usually pour it into the jar I'm going to store it in, then spoon it out onto the dessert I'm serving it with.
Tips for Success
While this caramel sauce recipe is simple, it is also particular in that each step needs to be done correctly in order to avoid issues with the finished product.
Don't use too much heat. It is important not to set your flame too high or your sugar will burn. I recommend no more than medium-high heat. Even medium heat will work if your stovetop tends to produce a very high flame.
Don't walk away. The most common issue readers have with this recipe is with the sugar burning because it was not watched carefully. Since the sugar is melted using a "dry method" with no other ingredients, it can quickly go from melting to burning. So pay close attention to the sugar. For a simpler method, I do have this caramel sauce that uses water along with the sugar.
Whisk. While the sugar is melting, make sure you are moving the sugar about with a whisk or wooden spoon. I know most recipes say not to do this, but I find that if I don't stir the sugar while it is melting then it tends to clump together too much. You will get some small sugar crystals on your whisk while you do this, but that is totally fine.
Use room temperature (or warm) butter and cream. It is extremely important not to add cold butter or cream to your melted sugar. If you add cold liquid the sugar will seize and become rock hard. Use room temperature ingredients, or even slightly melted butter and warmed cream. You can warm both the butter and cream briefly in the microwave.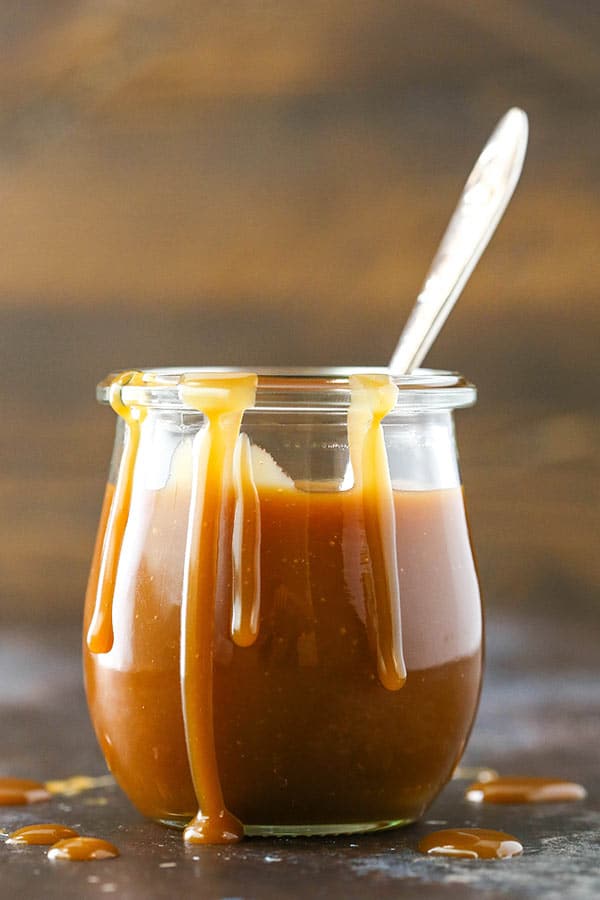 How Much Does This Recipe Make?
The recipe below makes about 1 1/2 cups of caramel sauce.
How to Store & Reheat Caramel Sauce
Pour it into a jar and store it in the fridge for a couple of weeks.
Since the caramel with thicken as it cools, it is normal for your sauce to be quite stiff when you take it out of the fridge. The easiest way to warm it up is to place the jar in a small saucepan with hot water. There should be enough water to cover the jar halfway, and no more than 3/4 of the way. (You don't want any water getting into the caramel sauce.) Let the sauce sit in the hot water for about 15 minutes, then give it a vigorous stir with a spoon and drizzle it on your desserts!
Recipes that Use Caramel
Be sure to check out my new Easy Salted Caramel Sauce too!
Print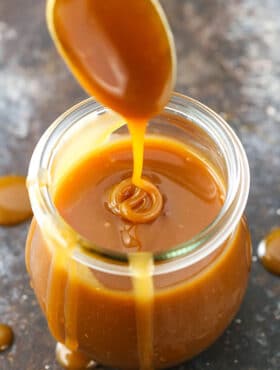 Recipe
Homemade Caramel Sauce
Author:

Prep Time:

5 minutes

Cook Time:

5 minutes

Total Time:

10 minutes

Yield:

About 1 1/2 Cups

Category:

Dessert

Method:

Stove

Cuisine:

American
---
Description
This easy caramel sauce recipe is to die for! It's a classic homemade caramel recipe that you'll make over and over again.
---
Ingredients
1 cup

sugar

6 tbsp

salted butter, cubed, room temperature

1/2 cup

heavy whipping cream, room temperature
---
Instructions
Pour sugar into an even layer in a large saucier pan.
Heat on medium-high heat, whisking the sugar until melted. The sugar will clump up first, but will eventually completely melt. This will take about 10 minutes.
Once the sugar has melted, stop whisking. You can allow to cook until the sugar has turned to a little darker amber color to get a deeper caramel flavor, if you like. You may notice a nutty aroma. The change in color will happen quickly, so don't let it go too long or get too dark or it'll burn. Remove caramel from the heat.
Add butter and whisk until combined. The mixture will bubble up, but keep whisking until all the butter has melted and combined.
Slowly pour the heavy cream into the caramel and whisk until incorporated. I find it can help to add just a bit at a time until the caramel starts to thin out, then you can add the rest.
Cool for about 10-15 minutes before using. Store leftovers in a jar with a lid. Refrigerate up to 2 weeks.
Nutrition
Serving Size:

1/4 cup

Calories:

298

Sugar:

33.9 g

Sodium:

97 mg

Fat:

18.7 g

Carbohydrates:

33.9 g

Protein:

0.7 g

Cholesterol:

52.9 mg
Keywords: homemade caramel sauce, easy caramel sauce, make caramel sauce
Categories
Enjoy!
This post may contain affiliate sales links. Please read my disclosure policy.