This post may contain affiliate sales links. Please read my disclosure policy.
These Gingerbread Cupcakes are some of the moistest cupcakes ever, and they're topped with my new favorite icing. The cupcake is light and fluffy and the icing is a mix of caramel, molasses and cream cheese! Yum!
If you like these cupcakes, be sure to try my yummy Gingerbread Cookies with Eggnog Icing too!
Gingerbread Cupcakes with Caramel Molasses Cream Cheese Frosting
So I recently started reading a new book/study. It's called "Blueprint for Life". It's about discovering your purpose for your life based on God's plan for you and creating a plan to achieve it. I'm only a couple chapters in, but so far I love it.
I was talking to my mom about it (because we pretty much talk about everything) and she said this one thing that I thought was so true and relevant. Sometimes we look for God's purpose for us to be some hugely profound thing, and sometimes we are just making too much of it.
One of the things the book talks about is that our purpose doesn't have to be mission work, or something big and obvious in order to serve God. The connection between what we do and God's purpose can be indirect. It can be through donations, our roles as a wife, mother, neighbor, friend, etc. Sometimes, it's as simple as stepping out of our comfort zone and giving someone a hug when they need it.
That was such a great thing to read. I've recently been trying to figure out – in a more tangible way – what God's plan for my life is. And given our struggle to have kids, I'm wondering what it all means. Is there another purpose for me that I'm missing? I've been feeling like it should be something much bigger and more obvious than what I'm already doing. What I'm realizing is that that isn't necessarily true. God puts certain desires in our heart in order to lead us to his purpose, and that purpose can change with time.
It's a great read and while it's actually given me some peace with some things, it's also made me realize that I could be better in others – particularly the things I do for others.
Between working full-time and all the work I put into this blog, I sometimes don't follow through in my relationships and doing things I'd like to do. For example, I've been meaning to reach out to a neighbor I know is going through a tough time and I haven't done it. I need to be better about those things. That feeling should not be ignored.
I've also realized (through the helpful pointing out of my mom 🙂 ) that there are some things that I need to let go of. For me, I am a total perfectionist in so many things. It ends up making me a bit of a control freak with those things – unwilling to accept help because I'm afraid it won't be done the way I want it to be done.
So a couple nights ago, I began to hand over control of the bill paying to the hubs. I've just always done it, have a method down, and it's SO hard for me to let go. So hard that even talking about it with the hubs and telling him I wanted to do that made me cry. And yet, he's thrilled. He's been wanting to do it. It's great because it takes something off my plate, and also will be something that he'll like doing. Why has it taken me so long?
Anyways, I just felt like sharing. 🙂 It's a great book so far. But back to the cupcakes.
How to Make The Best Gingerbread Cupcakes
The molasses and brown sugar in the cupcake add great moisture and flavor. And it's got just the right amount of spice. I started with my vanilla cupcake recipe (which you guys are loving!) and altered from there. I just love the recipe as a base, because it's such an easy one to throw together. One bowl, no crazy mixing, just regular ingredients. The only thing to make sure of when mixing everything together is that you don't over mix the batter. Unlike other batters, you don't want to mix this for very long, just enough time for everything to come together, scrape down the sides and mix again. Once it's smooth, you're done. Over-mixing these cupcakes can cause them to sink in the middle.
The icing is a new favorite. Instead of making caramel on the stove, I decided to try a microwave method. The brown sugar and butter are melted together in the microwave for a few minutes, until the sugar has mostly dissolved. The caramel cools for a few minutes, while you put together the other parts of the icing, and then added in. The caramel and molasses make a great combo.
One note about the icing – it may seem a little gritty at first from the brown sugar, but once the icing sits for a few hours it'll be smooth. I've made it a few times now and just go ahead and ice the cupcakes and let them sit until ready to serve. The icing gets smooth and is so delicious!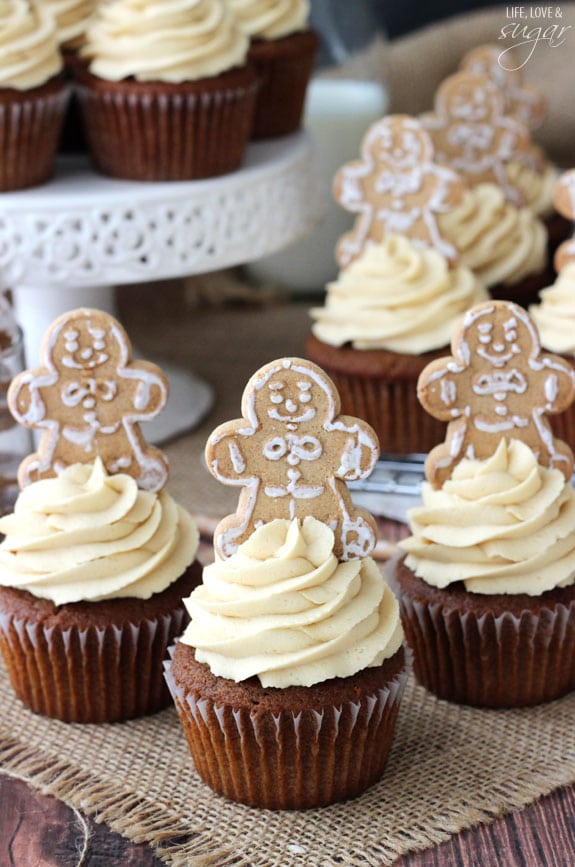 Other Gingerbread Treats
Moist Gingerbread Layer Cake
Gingerbread Cheesecake
Gingerbread Cookies with Eggnog Icing
Nutty Gingerbread House
Gingerbread Roll Cake


Print
Recipe
Gingerbread Cupcakes with Caramel Molasses Cream Cheese Icing
Author:

Prep Time:

20 minutes

Cook Time:

18 minutes

Total Time:

38 minutes

Yield:

14-16 cupcakes

Category:

Dessert

Method:

Oven

Cuisine:

American
---
Description
These Gingerbread Cupcakes are some of the moistest cupcakes ever, and they're topped with my new favorite icing. The cupcake is light and fluffy and the icing is a mix of caramel, molasses and cream cheese! Yum!
---
Ingredients
GINGERBREAD CUPCAKES
1 2/3 cups

(

240g

) all purpose flour

1 cup

(

200g

) packed brown sugar

1/4 tsp

baking soda

1 tsp

baking powder

1 1/2 tsp

ground ginger

1 1/2 tsp

ground cinnamon

1/8 tsp

ground cloves

3/4 cup

salted butter (

170g

), room temperature

1

egg white

1

egg

1 tsp

vanilla extract

1/2 cup

(120ml) molasses

1/4 cup

(60ml) sour cream

1/2 cup

(120ml) milk
CARAMEL MOLASSES CREAM CHEESE ICING
1 cup

butter, divided

1/2 cup

brown sugar

4 oz

cup cream cheese

4

–

5

cups powdered sugar

2 tbsp

molasses

1

–

2

tbsp milk or water, if needed
---
Instructions
CUPCAKES:
1. Preheat oven to 350 degrees.
2. Whisk together all dry ingredients (everything before the butter) in a large mixing bowl.
3. Add remaining ingredients and mix on medium speed just until smooth. Do not over mix.
4. Fill cupcake liners about half way.
5. Bake 18-20 minutes.
6. Allow to cool for 1-2 minutes, then remove to cooling rack to finish cooling.
ICING:
1. Place 1/2 cup of butter and brown sugar into a microwave-safe bowl. Microwave for about 30 seconds at a time, stirring after each interval, until the sugar is mostly dissolved, about 3 minutes. It'll boil and bubble up. Set caramel aside to cool.
2. Cream remaining 1/2 cup butter and cream cheese until smooth.
3. Add 3 cups powdered sugar and 1 tbsp milk or water to butter mixture and beat until smooth.
4. Pour caramel into icing and mix until smooth.
5. Add another 1-2 cups of powdered sugar.
6. Add molasses and milk or water, if needed, to reach desired icing consistency.
---
Notes
Icing might seem a little gritty at first, from the brown sugar, if it didn't dissolve all the way. After the icing sits for a few hours, it'll absorb into the icing and become smooth. Also, you may notice little bits of butter in the batter, but that's ok. They will melt into the cupcake as they bake.
Nutrition
Serving Size:

1 Cupcake

Calories:

682

Sugar:

60.8 g

Sodium:

296.7 mg

Fat:

41.1 g

Carbohydrates:

74.9 g

Protein:

6.5 g

Cholesterol:

125 mg
Keywords: gingerbread cupcakes, gingerbread icing, caramel icing recipe, cream cheese icing, cream cheese icing recipe, gingerbread recipe, how to make gingerbread
Filed Under:
Enjoy!