Who doesn't love a good Tiki Party?! Coconut bras and drinks, leis, grass skirts. Sounds like fun to me! And a great excuse to dress up, no less.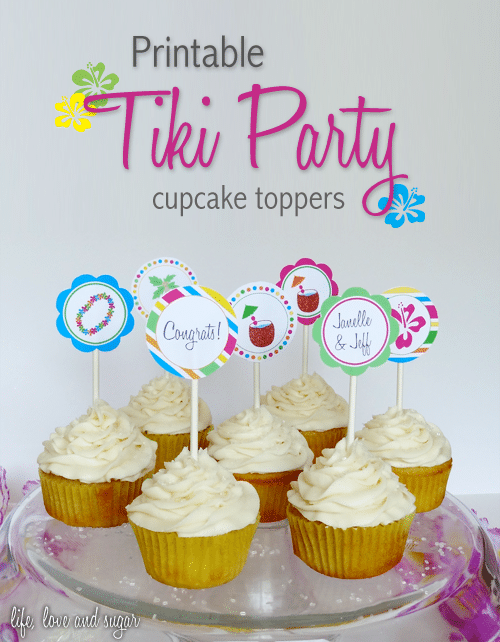 So I made these cupcake toppers for an engagement party for one of my very best friends and one of my favorite couples! They'd be great for any kind of party though – engagement, birthday or just for the sake of a good party.
And they are easy to cut out and put together.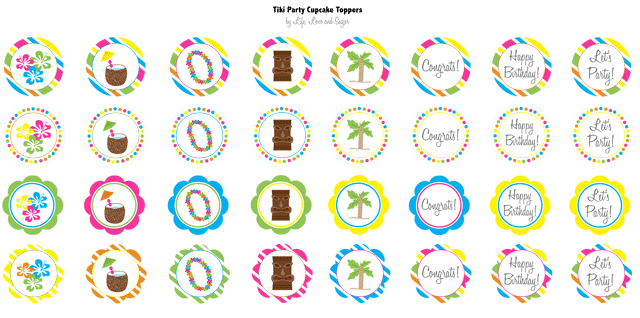 So easy that my mom actually helped me with the ones for the engagement party. When she saw the supplies I had – paper, sissors, sticks and glue – she immediately tried to make a getaway saying "I'm SOOOO not a crafty person!" Well even for someone that's not crafty, these are easy. When she finally gave up the fight, she was quite successful. 🙂
Download the FREE printable cupcake toppers here!
How to put them together:
Supplies
– Cutouts of cupcake toppers
– Sticks (I used cake pop sticks, since I had them handy, but I'd recommend toothpicks or popsicle sticks that aren't quite so thick)
– Scissors
– Glue Stick
Note: I made two-sided toppers, so I used two cutouts for each topper. That way they had a front and a back. You could just do a one sided topper if you wanted.
Directions
1. Put glue on the back of one of the cutouts.
2. Place a stick in the center of the back of the cutout. I put the top of my stick about halfway between the bottom and top of the cutout.
3. Put a little glue on the area of the second cutout (this will be the back of the topper) that will be touching the back of the stick.
4. Put the two pieces together and let it dry. Since it's a glue stick, the glue shouldn't be too thick and should dry quickly.
And in case you didn't see the link above, here it is again:
Download the FREE printable cupcake toppers here!
This post may contain affiliate sales links. Please read my disclosure policy.