September 16, 2015
Copycat Bojangles Cinnamon Biscuits
I have been so excited to share these Copycat Bojangles Cinnamon Biscuits with you! Those biscuits are some of my favorites of all time and being able to make them at home has made all my biscuit dreams come true!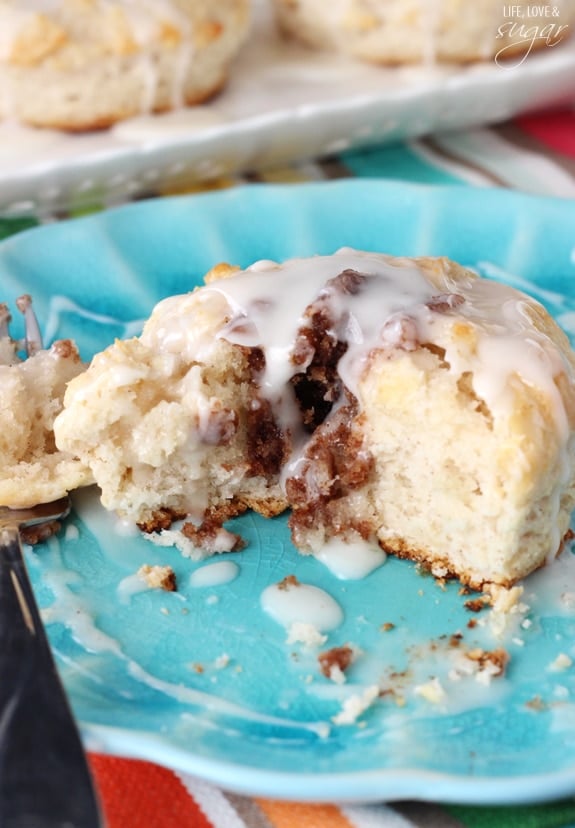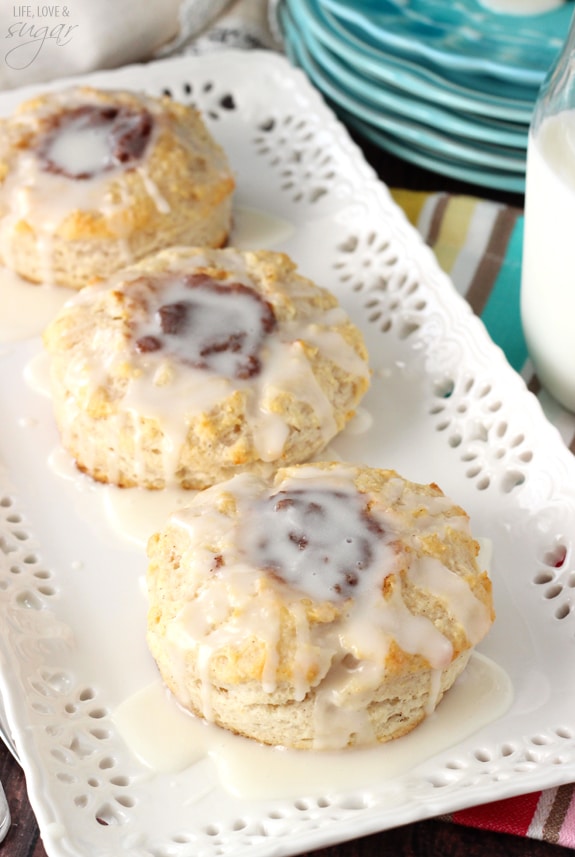 While that may seem a bit over-the-top, it's for real. Bojangles is a fried chicken fast food restaurant, but sadly it's only on the East Coast, primarily in the South. So while you may not have heard of it, if you are ever near one, you must try it – and get the fries! OMG! The best seasoning!
And I'd tell you to also get the cinnamon biscuits, but sadly they got rid of them many years ago. 🙁 🙁 🙁
My life was over on that sad, sad day. I almost boycotted right then and there. A soft, buttery, amazing biscuit soaked with a cinnamon filling and smothered in vanilla glaze icing? I mean, YEA! Why would you ever stop making them?!
They switched to a cinnamon pecan twist and it just wasn't the same.
The cinnamon biscuits didn't leave the stores all at once. You could still find them sometimes. I remember when the hubs and I were in college and were driving out to the coast of North Carolina, we happened to see one and I made him stop just to check and see if they still had the biscuits. They did and I got several. 🙂
But now they really are gone. For good.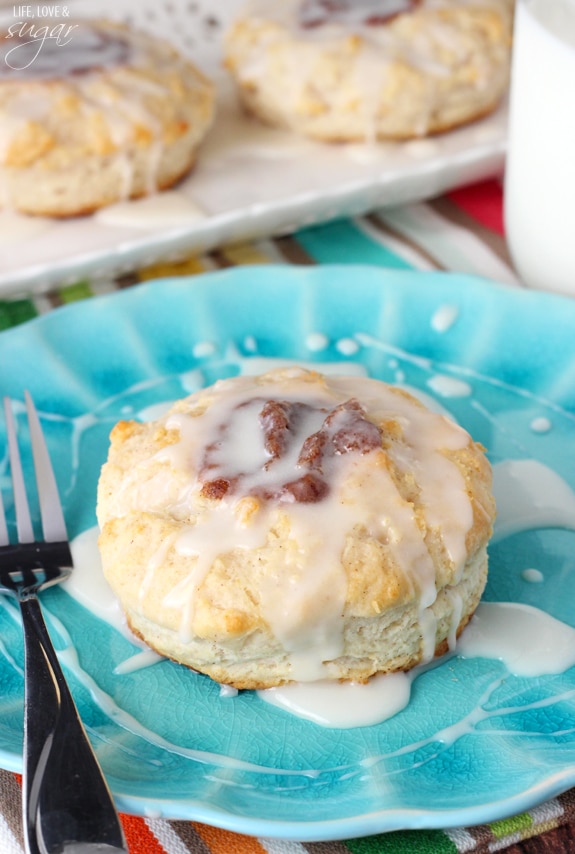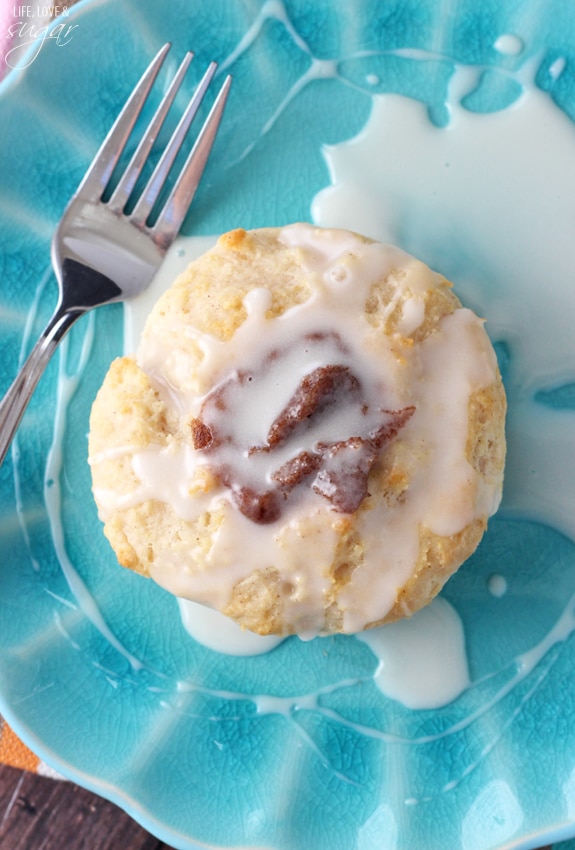 But not totally because now I made them! Finally! Sorry for my over-exhuberance, but really you need to join the excitement. They are worth it. I've been wanting to make a copycat version since the blog began just over 3 years ago and I'm glad I finally did! It took so long in part because I was afraid of biscuits, but I have to tell you they aren't hard to make. Don't be afraid!
To prove it, I took pictures of the process for you. Allow me to break it down:
1. Start by adding your flour, baking powder, powdered sugar, cinnamon, butter and shortening to a bowl. I know some aren't big fans of shortening. You can replace it with butter, but I tried it both ways and thought it was better with a mix of both. Your call.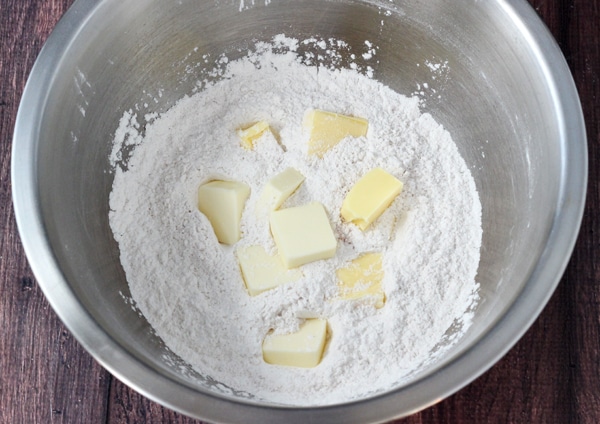 2. Cut the butter and shortening into the dry ingredients until you just have little bits of butter left, between the size of a small pea and a grain of rice.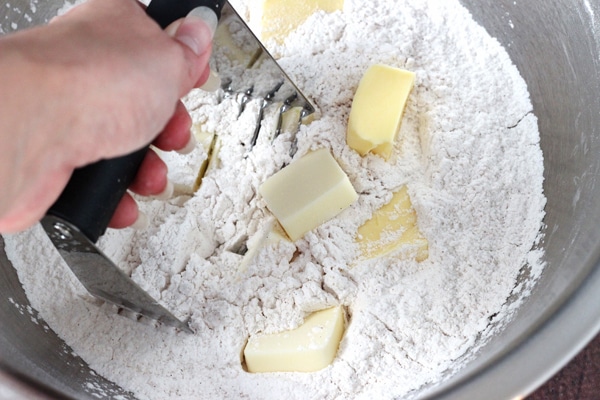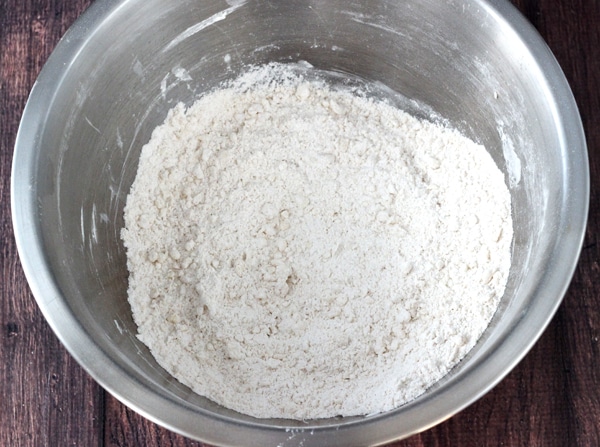 3. Make a little hole in the center of your flour mixture, then pour the buttermilk into that hole and use a wooden spoon to cover it with the flour mixture.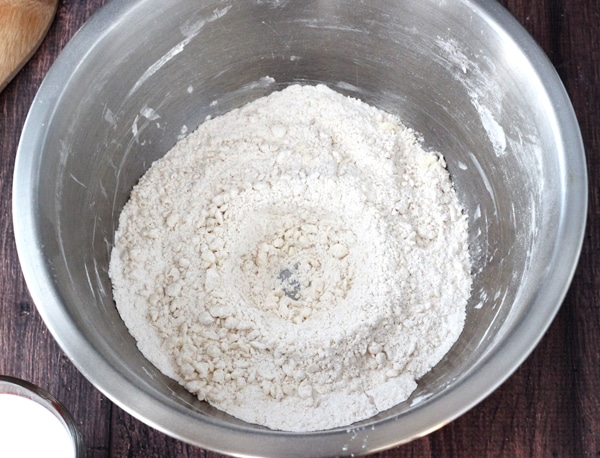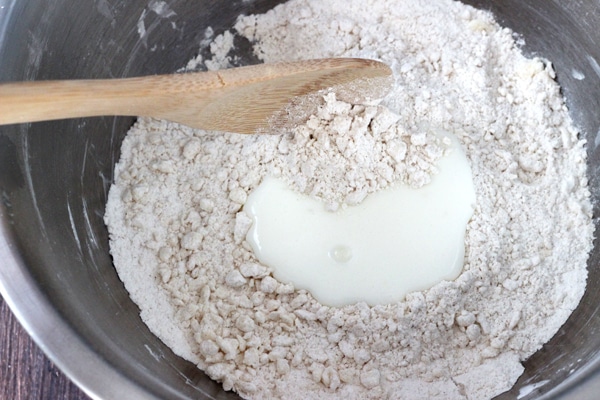 4. Fold ingredients together until just combined. Don't over mix.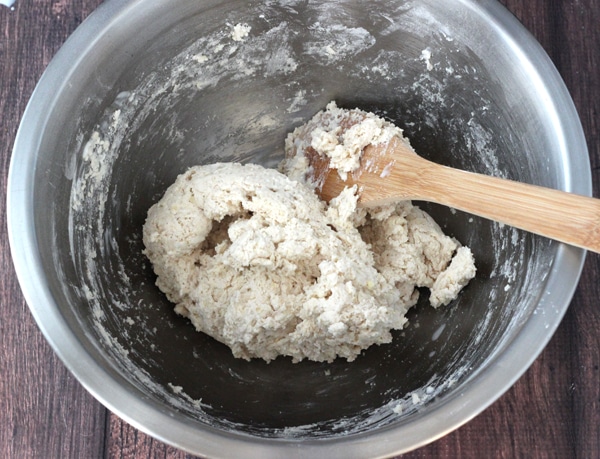 5. Turn dough out onto a floured surface and knead 2-3 times, then spread to desired thickness. Mine was big enough to cut 4 biscuits the first time, then about 2 more the second time. Use a biscuit cutter to cut out biscuits.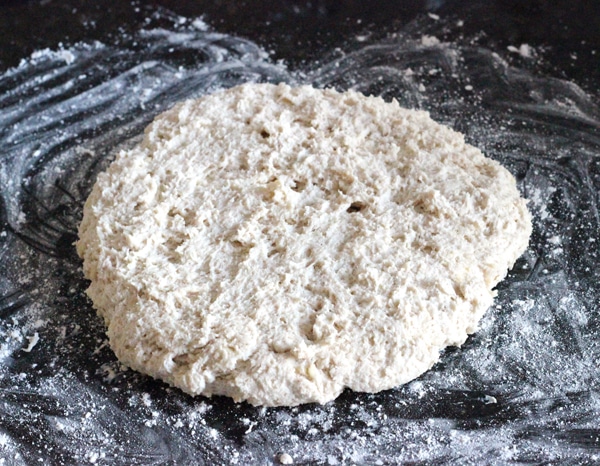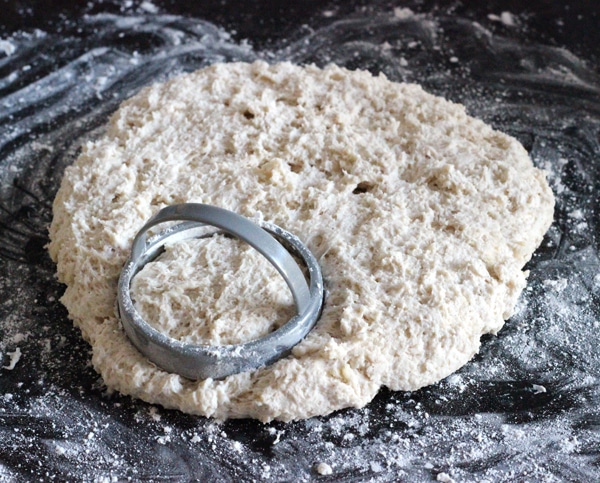 6. Place biscuits on a cookie sheet, then press a little dent/hole in the center of the biscuit.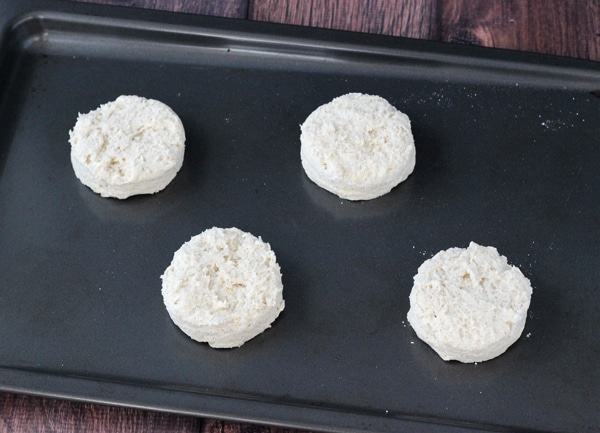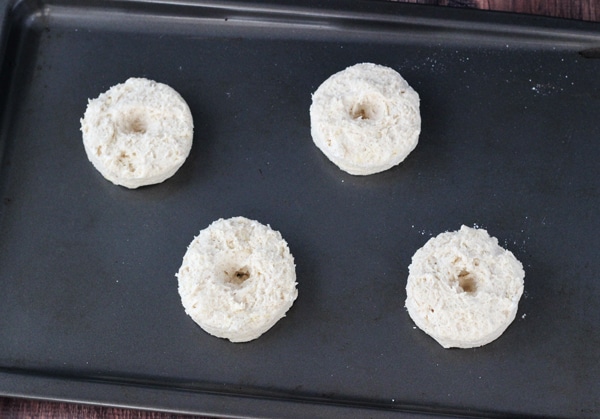 7. Fill the hole with about 1 tablespoon of cinnamon filling.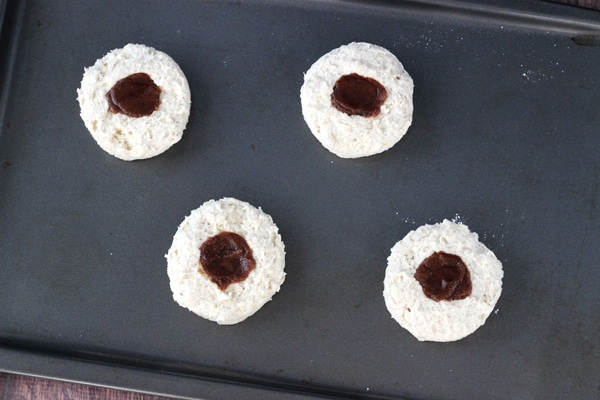 Then bake those babies! And when they are done, brush them with some melted butter, then cover them in vanilla glaze! To die for!
If you've never tried Bojangles before, you'll want to after trying these babies. Any place that came up with biscuits as amazing as these can't possibly be bad.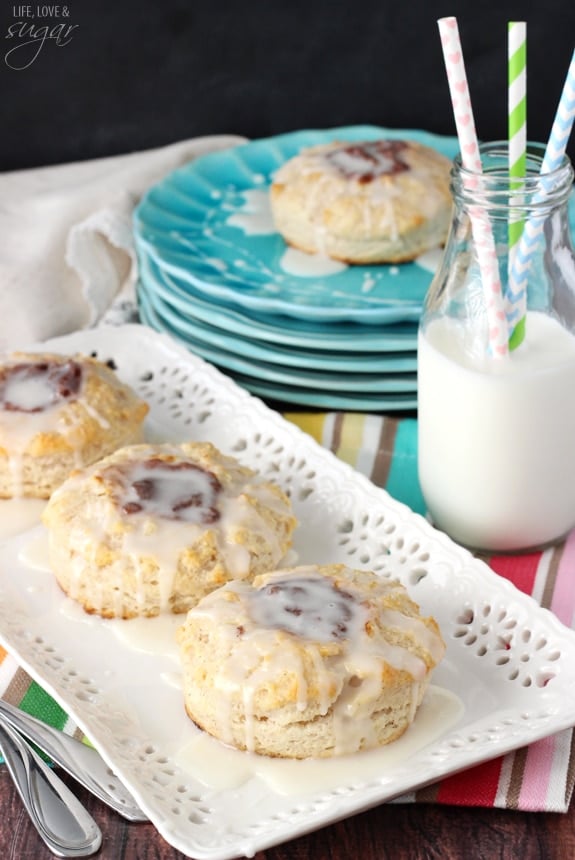 Copycat Bojangles Cinnamon Biscuits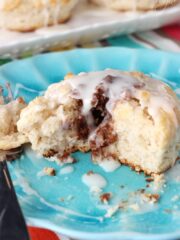 Yield:

6

Biscuits

1

x
Category:

Dessert

Method:

Oven

Cuisine:

American
Ingredients
CINNAMON FILLING
1/2 cup

brown sugar, lightly packed

1 tbsp

ground cinnamon

3 tbsp

flour

2 tbsp

butter, melted
BISCUITS
2 cup

s self rising flour

2 tsp

baking powder

2 tsp

powdered sugar

1/2 tsp

ground cinnamon

1/2 cup

salted butter, very cold, cubed*

1/4 cup

butter flavored shortening, very cold, cubed

3/4 cup

plus 2 tbsp buttermilk
VANILLA GLAZE
3/4 cup

powdered sugar

1

–

2

tbsp milk
Instructions
1. Preheat oven to 450 degrees.
2. Make cinnamon filling by combining brown sugar, cinnamon, flour and melted butter. Set aside.
3. In a separate medium-size bowl, combine flour, baking powder, powdered sugar and cinnamon.
4. Use a pastry cutter to cut 1/4 cup butter and shortening into the flour mixture. Your butter and shortening should be cold enough to stay in pieces and not blend into the flour. You want to have little bits of butter and shortening throughout.
5. Make a hole in the center of your flour mixture, then pour in the buttermilk.
6. Use a wooden spoon to carefully fold the ingredients together until just combined. Dough will be sticky.
7. Knead the dough 2-3 times on a lightly floured surface. Do no over knead. You should still see bits of butter and shortening and dough should be coarsely combined, not smooth. Spread the dough out to desired thickness. I was about to get 4 biscuits from the first round of cutting.
8. Use a sharp biscuit cutter to cut out biscuits. Do not use a spinning motion to cut biscuits. Press down, then lift up. You'll have more dough that you can cut a couple more biscuits from, but be careful not to over knead it when re-spreading it.
9. Place biscuits on an unlined baking sheet, preferably lighter in color.
10. Make a little dent in the center of the biscuits. Add about 1 tablespoon of cinnamon filling to the hole.
11. Bake for about 12 minutes, or until lightly brown on the lights and edges.
12. Remove biscuits from oven, then brush with remaining 1/4 cup of butter, melted.
13. Remove biscuits to a plate to cool and top with vanilla glaze.
Notes
Half of the butter will be used in the biscuits and the other half is melted for brushing over the top of the baked biscuits.
Enjoy!