This post may contain affiliate sales links. Please read my disclosure policy.
The time is finally here! My cookbook is off to the printers and I'm ready to share all the fun details with you! It's hard to believe it, but let's do this. 🙂
You may remember that I announced me cookbook last year and have talked about it occasionally since then. Well get ready, because I'm going to be talking about it plenty over the next several months. The first thing you need to know is the title. I don't think I've shared it previously, so here it is – Simply Beautiful Homemade Cakes: Extraordinary Recipes and Easy Decorating Techniques. It's full of 65 new recipes (including cookie cakes, single layer cakes, cupcakes, layered cakes, ice cream cakes, cheesecakes and more!) and an entire chapter showing you all the tips, tricks and techniques I used to bake and decorate the cakes in the book! Everything from setting up cake pans and piping bags to 15+ tutorials showing you the decorating techniques used in the book. You can officially pre-order it at any of these fine retailers. 🙂
The official release date is October 25 – just in time for all of your holiday baking. There's even a holiday chapter! The image below is the official cover. I only took about 500,000 photos to get that one. 🙂
So let's back up a bit. Because I've been working on this baby since about April of 2015. That is some time, my friends. I can't even tell you how much butter, sugar, flour, time and everything else went into the making of this cookbook. Not to mention the loss of sleep that it was responsible for. 🙂 It was a labor of love that I thought might kill me at times, but the truth is – all of you who read this blog were the motivation for me to finish this book and have it be the best it could be. Without a doubt, this book is for you.
Whether you've been reading my little space here on the internet for 1 week, or for the full 4 years that I've been blogging, I appreciate you. And I love all the feedback – emails, comments, shares and interactions on social media, etc. I may not always be able to respond to everything, but I take all the feedback and use it to consistently work harder and bring you bigger and better desserts. Part of the reason this book means so much to me is because it was written with all of your feedback in mind. The whole time I was writing it, I was very focused on how all the pieces went together to make it a wonderful guide to making beautiful cakes that (hopefully!) anyone can follow.
I tried to make this cookbook in such a way that it would be useful to people of all skill levels. If you are a beginner, this book is great for you. It walks you through the basics while also giving you space to grow your skills as you get more comfortable. For those that know the basics well, there are 15+ tutorials showing you techniques and tips so you can grow and perfect your skills. The tutorials chapter is even set up so that if you want to focus on particular technique, it'll show you how to do it and then give you a list of all the cakes that use that technique and what page you can find it on so you can practice on the same cakes I did. Not to mention that you could take any cake in the book and apply any technique you'd like. There are so many possibilities – you are limited only by your imagination! And if you have absolutely no desire to acquire any kind of skills, you can ignore that chapter and focus on 65 DELICIOUS recipes! 🙂 I really am happy with the way it's all come together and I'm so excited to share it with you!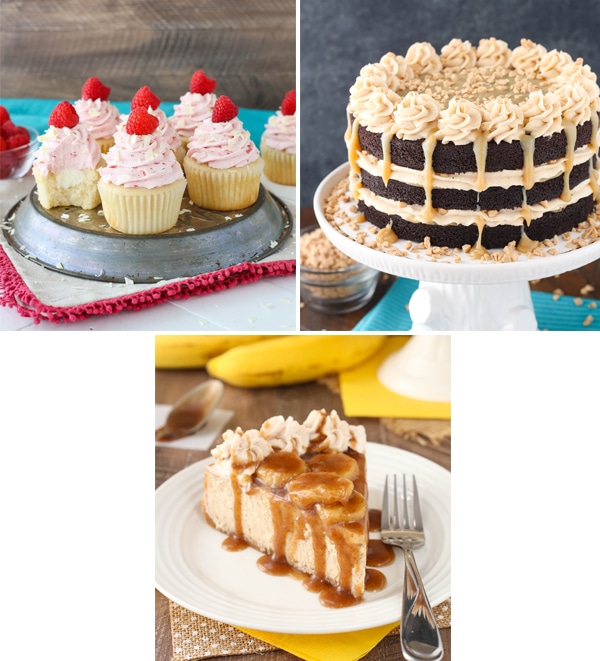 And speaking of the recipes, don't assume the whole cookbook is layer cakes just because that's what's on the cover. It's full of all kinds of cake! Let's break down the chapters:
Chapter 1: The Best First Steps to a Beautiful Cake
Chapter 2: Grand Simplicity – Icebox Cakes, Cookie Cakes and Single Layer Cakes
Chapter 3: Delightful Little Bites – Cupcakes
Chapter 4: Towering Beauties – Layered Cakes
Chapter 5: Lovely Frozen Treats – Ice Cream Cakes
Chapter 6: Marvelous Sweets – Cheesecakes
Chapter 7: Dress Up the Season – A Variety of Cakes for Your Favorite Holidays
Chapter 8: Decorating Tips and Tutorials That Take Your Cake from Average to Beautiful
So much great content in one cookbook! A few recipes that I'm especially excited about (pictured above):
White Chocolate Raspberry Mousse Cupcakes
Bourbon Spice Toffee Layer Cake
Bananas Foster Cheesecake
And so many more!
To celebrate the fact that this cookbook is just over 2 MONTHS away from being released and that you can pre-order it, I've got a giveaway for you! Let's get this party started! There will be another giveaway coming, but this time around I've got all kinds of baking supplies for you. Here's what's included:
8×2 inch cake pan
8×3 inch cake pan
Turntable
Cake Smoother & Decorating Comb
7 of my Favorite Icing Tips
3 Piping Bags
Couplers
Offset Spatula
Bench Scraper
2 Sets of Sprinkles
Icing Color Gel
Cake Stand
Cupcake Notepad
Buttercream Icing Scented Candle
Be sure to preorder the cookbook at one of these great locations and then enter giveaway below! Woot woot!
And last, but certainly not least, I want to say thank you to everyone who volunteered to help test recipes several months ago. I was shocked at the number of people who wanted to help and unfortunately wasn't able to send something to everyone. Just know that I appreciate every single one of you – thank you!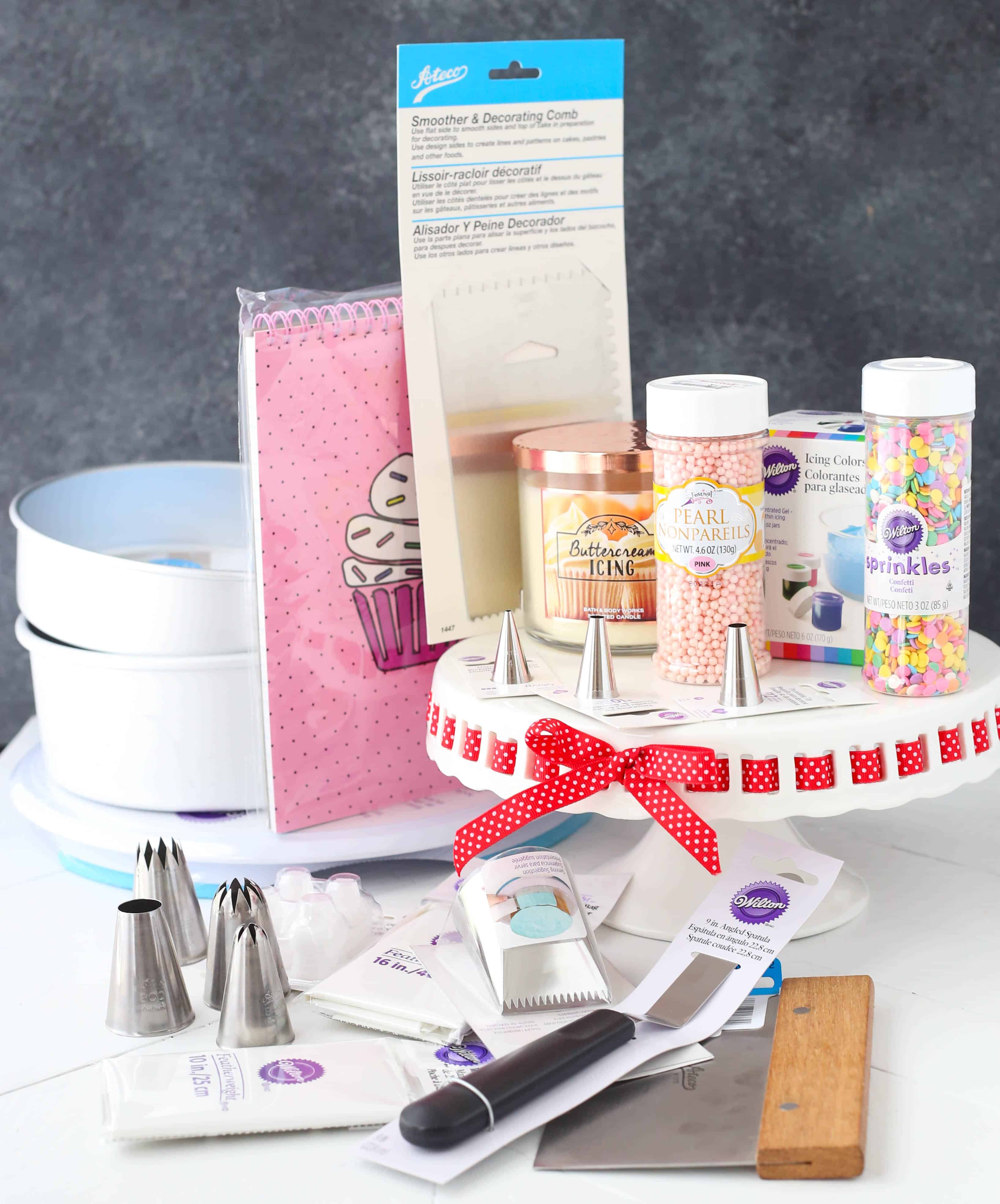 Preorder the cookbook here: