This post may contain affiliate sales links. Please read my disclosure policy.
This Caramel Apple Blondie Cheesecake is pure heaven, I kid you not. It has layers of apple spice blondie and no-bake caramel cheesecake. Then it's topped with cinnamon apples and caramel sauce!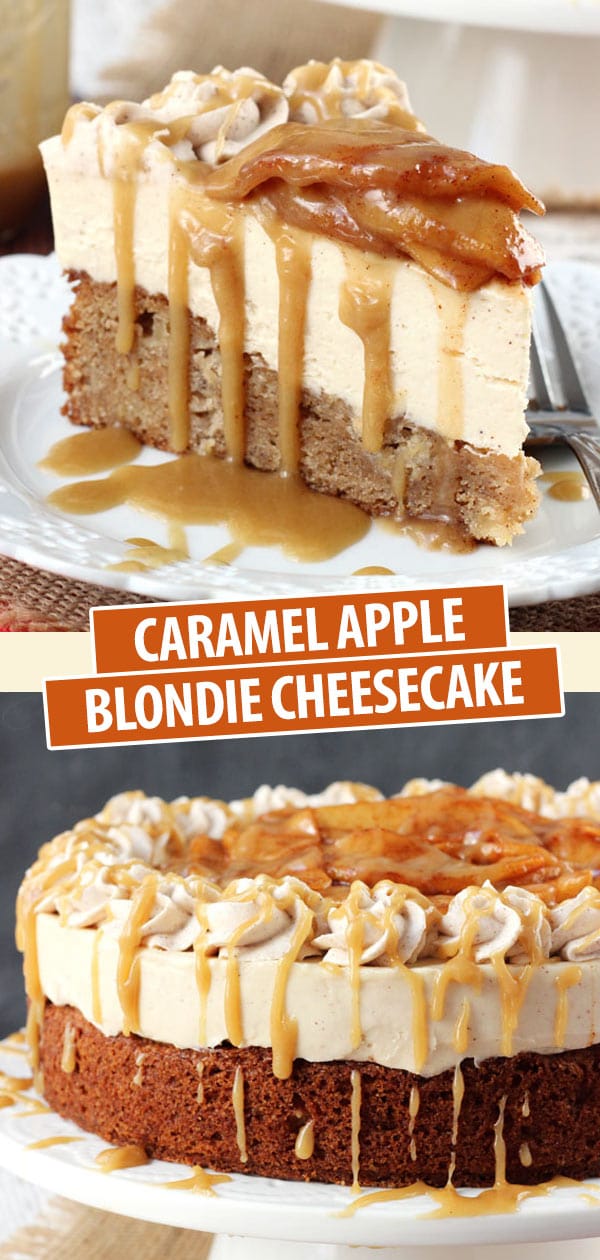 Caramel Apple Blondie Cheesecake
This is one of my new favorite desserts ever and the perfect way to start off Apple Week!
This week my bloggy BFF, Julianne from Beyond Frosting, and I will be bringing you all the apple recipes you'll need for fall! Get ready, because we've got some awesome recipes planned.
And before I go any further, I want to thank everyone who read, commented, emailed, etc in response to my post on Friday. Thank you so much for the support. I'm trying to respond to everyone, but haven't been able to get to everyone yet, so know that I appreciate it SO much!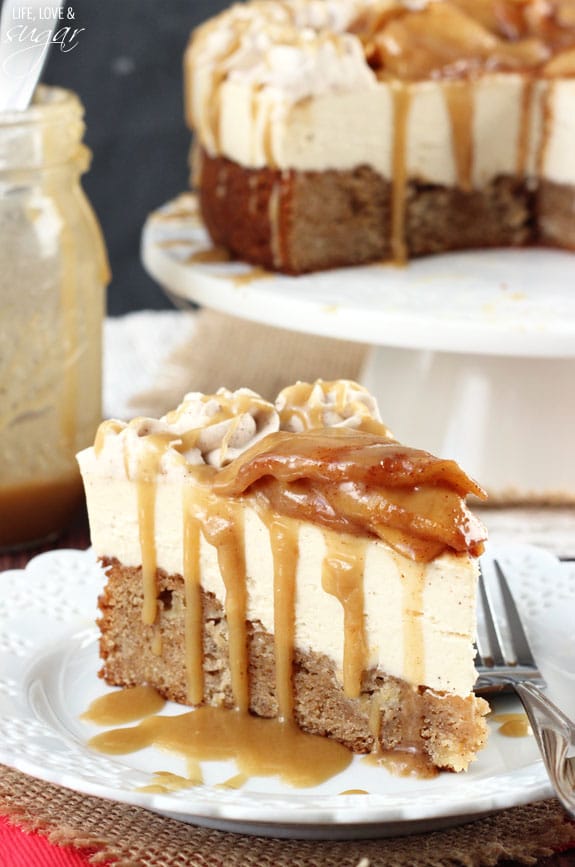 So this weekend was quite nice. Funny enough, I ended up picking apples at an apple orchard, which I'd never done before. Quite the perfect lead-in to apple week, don't you think? We aren't too far south of the mountains – about an hour – so the drive wasn't too bad. I didn't have to drive, so that made it even better. 🙂
And since I've already done all the baking for this week, I get to just eat all the apples. Apples have been my snack of choice recently and I got a variety of apple types, so it'll be fun to try them all. My bag actually broke trying to fit in just one more apple type we found on the way out. Oops!
The orchards were beautiful too. Nestled right in the mountains. It's amazing the number of apples there were. It made me want to round up a bunch of horses and bring them in the orchard to eat all the discarded ones off the ground. Weird, right? For some reason the animal I think of feeding apples to is horses. I think we fed some horses apples when I was a kid. I guess it stuck. 🙂
I can't even enough to explain to you just how good this cheesecake is. I want to eat it every day. The blondie alone is the jam. It's got plenty of tasty spices and apples baked right in. It's chewy, not too heavy and absolutely delicious. The only thing that could make it better is topping it with no bake caramel cheesecake.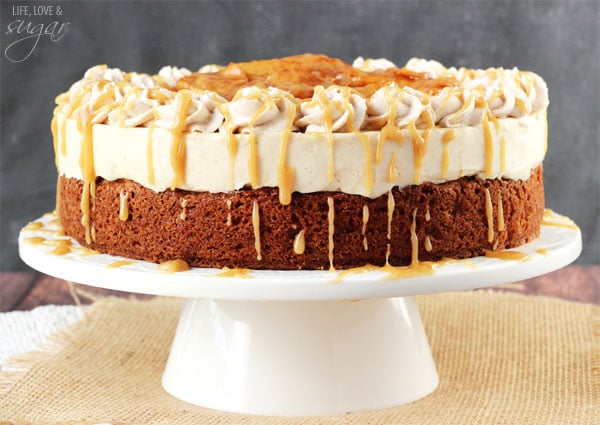 Even I was surprised at just how good this caramel cheesecake is. So smooth and creamy. And sometimes caramel as a flavor can be hard to get to really come through in something like a cheesecake, but this caramel flavor comes through perfectly! I used the easy caramel sauce that I posted a couple weeks ago and it was amazing. The chewiness of the blondie with the smoothness of this cheesecake is a killer combo.
I topped with cinnamon apples and even more caramel, because why wouldn't you? It's irresistible.
I took it over to my brother's house the other night when we were having dinner over there. Initially everyone but the hubs turned it down. In fairness, they hadn't seen it yet. Then I brought a slice down to the basement for the hubs and my brother immediately changed his mind. By the time he came upstairs, my sister in law (still in the kitchen) had gone from wanting just one bite to try it, to eating an entire piece and telling everyone they had to try it. "Restaurant quality," she said. There was lots of moaning going on – the sign of a job well done.
So yea, you definitely don't want to miss out on this Caramel Apple Blondie Cheesecake. It'll rock your socks off.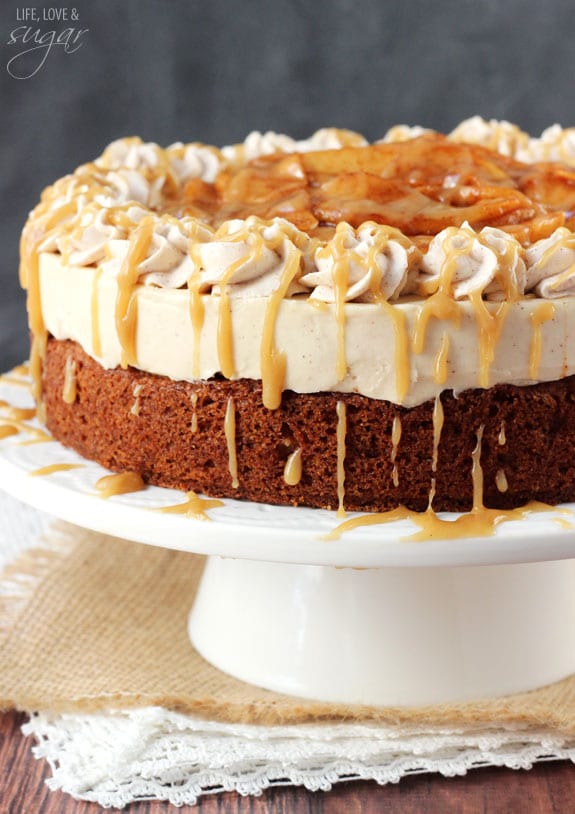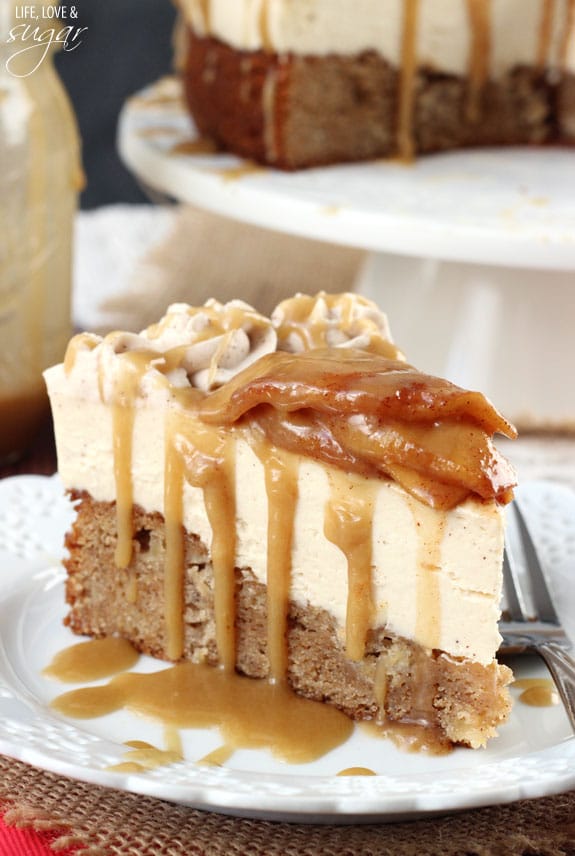 You might also like
Pumpkin Spice Blondie Streusel Cheesecake
Easy Caramel Apple Cheesecake
Caramel Apple Pecan Layer Cake
Caramel Apple Cookie Cups
Caramel Apple Pie Cake
Shop the recipe

[adthrive-in-post-video-player video-id="Gf0Shn6m" upload-date="2019-09-29T21:01:01.000Z" name="Cheesecake-Blog-1080Size" description="This Caramel Apple Blondie Cheesecake has layers of apple spice blondie, no-bake caramel cheesecake, and is topped with cinnamon apples and caramel sauce! The perfect fall treat!"]
Read transcript
Print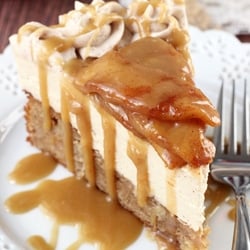 Recipe
Caramel Apple Blondie Cheesecake
Author:

Prep Time:

30 minutes

Cook Time:

30 minutes

Total Time:

1 hour

Yield:

12-14 Slices

Category:

Dessert

Method:

Oven

Cuisine:

American
---
Description
This Caramel Apple Blondie Cheesecake is pure caramel apple heaven, I kid you not. It has layers of apple spice blondie and no-bake caramel cheesecake, and it's topped with cinnamon apples and caramel sauce!
---
Ingredients
APPLE SPICE BLONDIE 
3/4 cup

(

168g

) unsalted butter

1 1/2 cups

(

216g

) brown sugar, unpacked

1 tbsp

vanilla

1

large egg

1

large egg white

1 1/2 cups

(

195g

) flour

1/2 tsp

cinnamon

1 tsp

apple pie spice

3/4 tsp

baking powder

1/4 tsp

baking soda

1/2 tsp

salt

2/3 cup

(

79g

) chopped apple (about 1/2 an apple)
CARAMEL CHEESECAKE 
16 oz

cream cheese, room temperature

1/2 cup

(

104g

) sugar

1/2 cup

(

72g

) brown sugar, unpacked

1/2 cup

caramel sauce*

1/2 tsp

apple pie spice

1/2 cup

+

2 tbsp

heavy whipping cream, cold

5 tbsp

(

44g

) powdered sugar

1/2 tsp

vanilla extract
CINNAMON APPLES 
1 1/2

apples, thinly sliced

2 tsp

lemon juice
pinch of nutmeg

1 tsp

cinnamon

4 tbsp

(

56g

) brown sugar

1 tbsp

butter
CINNAMON WHIPPED CREAM
1/2 cup

(120ml) heavy whipping cream

1/4 cup

(

29g

) powdered sugar

1/4 tsp

cinnamon
---
Instructions
1. Line the bottom of a 9 inch springform pan with parchment paper and grease the sides. Preheat oven to 350 degrees.
2. Melt the butter in a microwave safe bowl, then transfer to a mixing bowl.
3. Add brown sugar and whisk to combine.
4. Add the vanilla, egg and egg white and whisk until incorporated
5. In another bowl, combine dry ingredients.
6. Slowly add dry ingredients to wet ingredients until combined.
7. Fold in finely chopped apples.
8. Pour batter into springform pan and bake for 25-30 minutes.
9. Allow to cool for about 5 minutes, then remove to finish cooling.
11. Once the blondie and caramel are cool, make the cheesecake. Beat cream cheese and sugars until smooth.
12. Add the caramel sauce and apple pie spice and mix until combined. Set mixture aside.
13. Add the heavy whipping cream, powdered sugar and vanilla extract to a large mixer bowl and whip on high speed until stiff peaks form.
14. Gently fold the whipped cream into the cream cheese mixture in two parts.
15. Place blondie back into the springform pan.
16. Spread cheesecake evenly on top of blondie, then put in refrigerator until firm about 3-4 hours.
17. Combine apples, lemon juice, nutmeg, cinnamon and brown sugar in a medium saucepan and toss to coat.
18. Add butter and cook apples on medium-high for about 15-20 minutes, or until at preferred softness.
19. Allow apples to cool for 10-15 minutes, then put on top of cheesecake.
20. To make cinnamon whipped cream, freeze a metal bowl and whisk attachment for 10-15 minutes.
21. Remove bowl from freezer, add heavy whipping cream, and whip on high speed until it begins to thicken.
22. Add powdered sugar and cinnamon and whip until it you get stiff peaks.
23. Pipe whipped cream around edges of cheesecake.
24. Drizzle more caramel sauce over finished cheesecake, if desired.
*Recipe for caramel sauce makes about 1 1/2 cups worth of caramel. I made a whole recipe and used about half of it in the cheesecake and then drizzled more over the top of the cheesecake. You'll end up with leftover caramel.
Notes
I definitely recommend this easy caramel sauce. It firms up in the fridge, which helps your cheesecake filling firm up. If you use a store bought caramel sauce, it'll likely be soft and pourable when cold, meaning your filling won't firm up as well.
Instead of homemade whipped cream in the filling, you could use 4 oz of Cool Whip.
Nutrition
Serving Size:

1 Slice

Calories:

490

Sugar:

47.8 g

Sodium:

252.3 mg

Fat:

26.6 g

Carbohydrates:

60.6 g

Protein:

5 g

Cholesterol:

84.2 mg
Keywords: caramel apple cake, caramel apple dump cake, caramel cheesecake, apple cheesecake, apple cheesecake pie, blondie recipe, apple cake, apple cake recipe, best apple cake recipe, moist apple cake recipe
Filed Under:
Enjoy!