This post may contain affiliate sales links. Please read my disclosure policy.
This Cannoli Poke Cake is a lovely vanilla cake soaked with sweetened condensed milk and covered in sweet cannoli filling. It's a moist, indulgent dessert that will rock your socks off!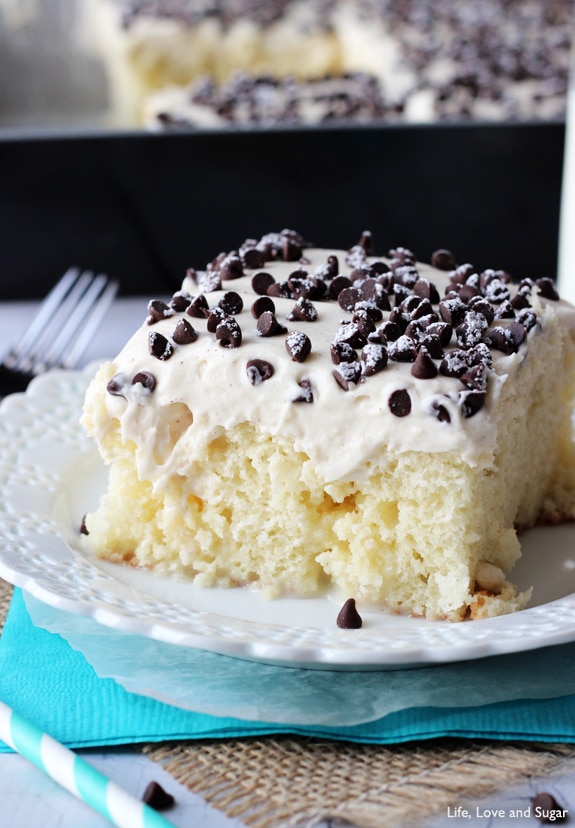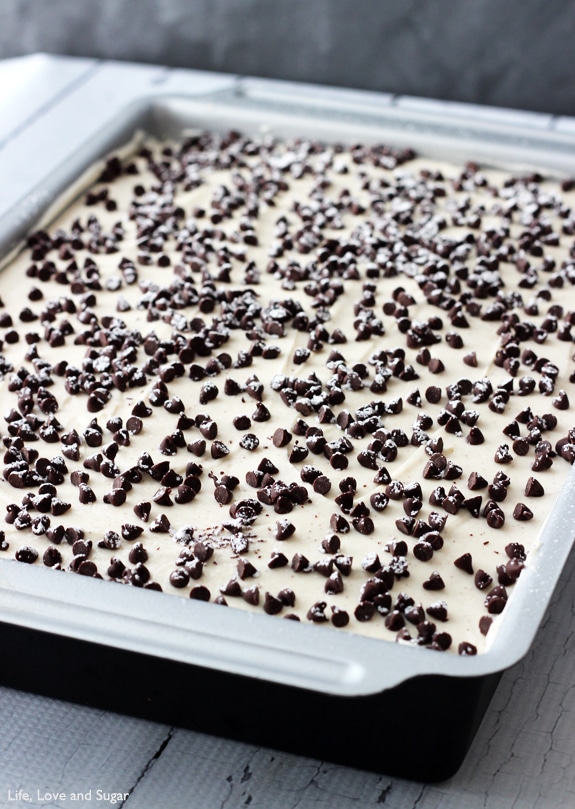 Cannoli Poke Cake
Can you believe I've never made a poke cake before? I've been wanting to for forever, but never quite got around to it. Until now. And boy have I been missing out! This Cannoli Poke Cake is super easy to make and SO tasty!
If you don't know much about poke cakes, they are basically a cake that's baked, covered in sweetened condensed milk which soaks up into the cake, making it incredibly moist, and then usually topped with some kind of whipped topping. There are a ton of variations out there. The sky is the limit!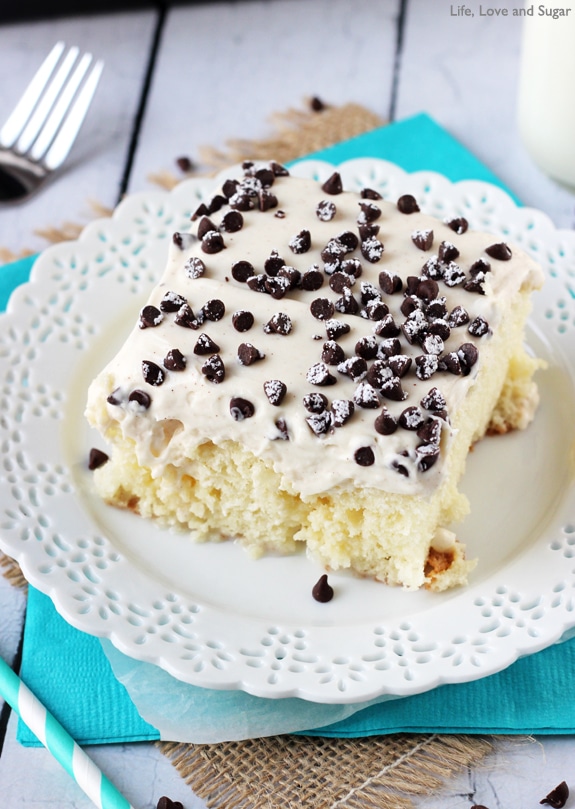 A friend requested something "cannoli flavored" for her husband's birthday a while ago and since I've been wanting to make a poke cake for so long, it just popped into my head and I knew I had to do it!
There are so many ways to make cannoli's – particularly the filling – and when done right, they are absolutely delicious!
The filling really is the best part – and that's exactly what this cake is covered in. Get pumped!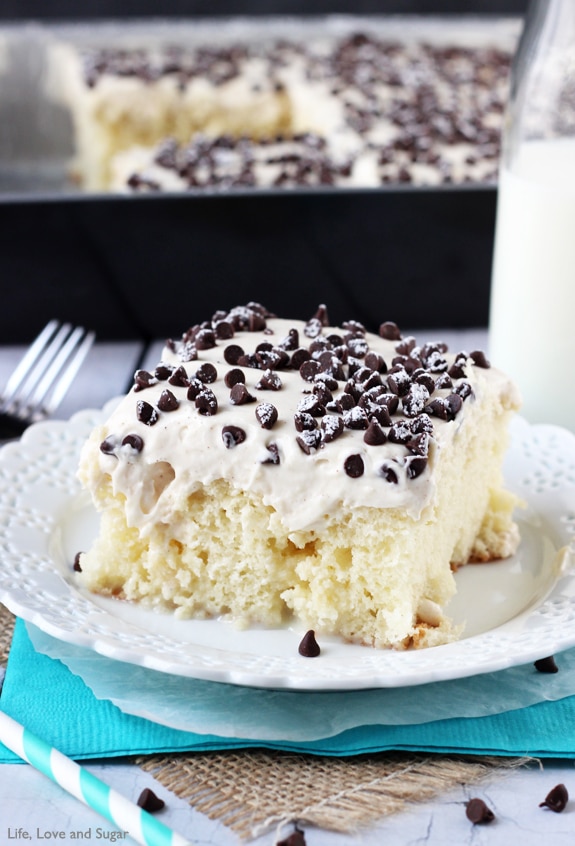 The cannoli filling "icing" on this cake is one of those things that you just cannot get your finger out of. I was lucky any of it made it onto the cake.
And my small group felt exactly the same way! They were basically licking the sides of the pan where the topping was left behind – using their finger of course. So stinkin' good.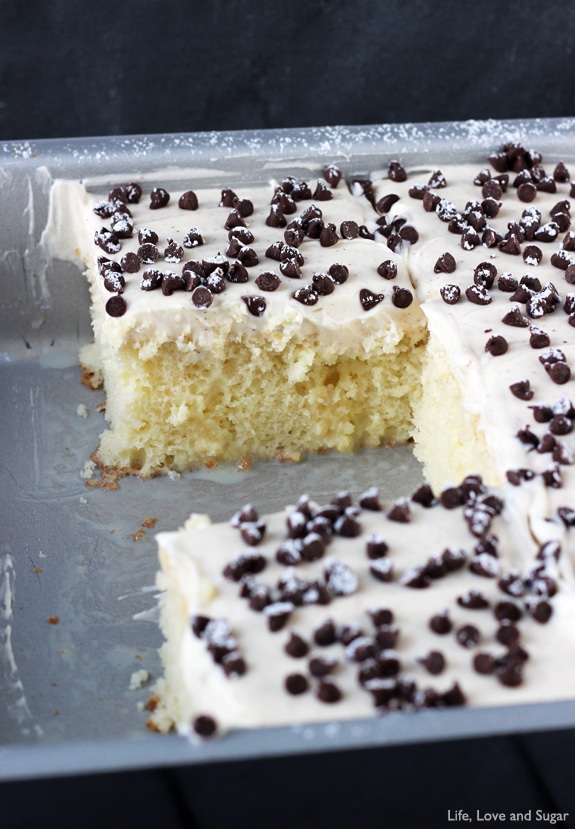 One thing I did a little differently with this poke cake is that I didn't use an entire can of sweetened condensed milk when pouring it over the cake. I didn't want to the cake to be too soggy, but I wanted it to have the moist-ness and delicious-ness that the sweetened condensed milk gives.
But since it didn't all go into the cake, and I hate wasting things, I put it into the cannoli filling.
Best. Decision. Ever.
It sweetened the topping up just enough and made it even harder to resist. Pure deliciousness.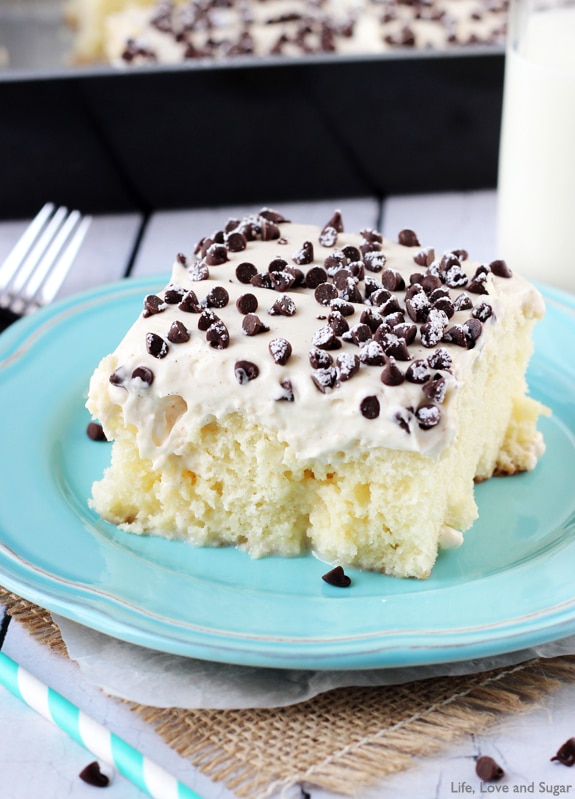 Have you seen my Baklava Poke Cake? Or my Cannoli Icebox Cake? So yummy!
Update 6/10/14: One thing to note about the topping on this cake is that it is not like a traditional icing. It is meant to be more like cannoli filling. The texture is kind of like whipped cream at the soft peak stage. If you'd prefer it to be thicker, you can do one or both of these two things – leave the sweetened condensed milk out of the topping (as it thins it out a bit) and/or add up to about 3 cups of powdered sugar (which would thicken it). I chose to leave it thinner so that I didn't dilute the cannoli flavor from the cheeses – I love that flavor! And though it's thinner, it's still plenty thick to be on top of the cake. I've made this cake a couple of times and it has sat out at parties and the icing stays in place. So it isn't so thin that it runs or anything, it's just not a traditional icing. I hope that helps, as I know many have been surprised the fact that it isn't thicker.
You might also like
Cannoli Layer Cake
Cannoli Cheesecake
Cannoli Tart
Cannoli Icebox Cake
Baklava Poke Cake
Cannoli Stuffed French Toast
Print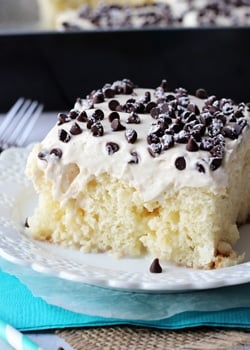 Recipe
Cannoli Poke Cake
Author:

Prep Time:

20 minutes

Cook Time:

Box Directions

Total Time:

55 minutes

Yield:

15-18 Servings

Category:

Dessert

Method:

Oven

Cuisine:

American
---
Description
This Cannoli Poke Cake is a lovely vanilla cake soaked with sweetened condensed milk and covered in sweet cannoli filling. It's a moist, indulgent dessert that will rock your socks off!
---
Ingredients
1

box white cake mix, plus ingredients on box

1

14 oz cans sweetened condensed milk

1 1/2 cup

ricotta cheese

1 1/2 cup

mascarpone cheese

1 tsp

vanilla extract

1 cup

powdered sugar

1/2 tsp

cinnamon, optional

1/2 cup

mini chocolate chips
powdered sugar, for dusting
---
Instructions
1. Bake cake according to directions on box for a 9×13 pan.
2. Remove cake from the oven and poke holes all over the top of the cake. (I used a straw)
3. Reserve half a cup of sweetened condensed milk and pour the rest of the sweetened condensed milk over the cake.
4. Put cake in refrigerator for about an hour to absorb milk.
5. Combine ricotta cheese, mascarpone cheese and vanilla extract in a mixer bowl. Mix until smooth.
6. Add powdered sugar and cinnamon, if using and mix until combined.
7. Add reserved sweetened condensed milk and mix until combined.
8. Once cake has absorbed milk, spread cannoli topping evenly over cake.
9. Top with mini chocolate chips and a sprinkling of powdered sugar.
10. Cover cake and allow to set in refrigerator for 2-3 hours. Cake should keep for 4-5 days.
---
Notes
Do consider straining the ricotta before using, especially if it's a particularly watery brand. Also, when mixing together the ricotta and mascarpone cheese, DO NOT over mix it. If mascarpone cheese is over mixed, it becomes very thin.
Nutrition
Serving Size:

1 Slice

Calories:

429

Sugar:

28.5 g

Sodium:

144.5 mg

Fat:

22.7 g

Carbohydrates:

50.6 g

Protein:

8.3 g

Cholesterol:

75.7 mg
Keywords: cannoli cake, cannoli cake recipe, poke cake, poke cake recipe, cannoli recipe, cannoli cream recipe, italian christmas cake, italian dessert recipe, moist vanilla cake recipe, moist cake recipe
Filed Under:
Enjoy!
Cannoli topping modified from The Vintage Mixer.